This text was taken from an email alert sent out on August 12, 2021. Sign up for email alerts >>
Well, that was fast! Less than two weeks after gaveling in on Monday, Aug. 2, the Virginia General Assembly concluded its special session on Tuesday, Aug. 10.
As I noted when I wrote to you in late-July, Governor Northam called this special session to allocate more than $4.3 billion in federal Covid-19 relief funding – Virginia's share of Congress's $195 billion American Rescue Plan Act (ARPA).
While we were encouraged by conservation-related budget requests, sadly the introduced budget failed to include much of that funding. On Monday, Aug. 9, the General Assembly adopted the Governor's budget proposal as presented, except for a small number of amendments unrelated to natural resources programs.
Funding for environmental programs
Keeping around $1.1 billion unallocated in case unexpected needs arise, Virginia's ARPA budget provides millions in funding to improve water quality, increase access to food and clean water, and address maintenance needs at state parks. Some highlights include:
$175 million to the Department of Environmental Quality for wastewater treatment plant upgrades and septic and sewer investments.

$100 million to the Department of Health to support equal access to drinking water at small and disadvantaged community waterworks.

$25.6 million to the Department of Agriculture and Consumer Services for food assistance programs, including $9 million for the purchase of food from local farmers through the Virginia Farm to Virginia Families Food Box Program. This is great news because it builds on similar work PEC has been doing over the last year through our farm-to-food bank initiative.

$25 million to the Department of Conservation and Recreation for outdoor recreation area maintenance and construction needs. *This still leaves the state park system woefully underfunded to address maintenance backlogs.
While the ARPA funding for these initiatives is a positive step, it is still critical for Virginia to significantly increase its investment in land conservation, public access, trails, and maintenance of our shared natural spaces.
Thank you and next steps:
Thank you for having taken the time to reach out to your legislators during the special session. Though we had hoped a far greater share of this one-time federal relief funding would be put toward protecting Virginia's environment and natural spaces, your calls and emails helped convey to legislators the importance of such investments to their constituents.
Your outreach will pay dividends as attention turns in earnest to the 2022 regular General Assembly session beginning in January. PEC will be working actively to strengthen funding for land conservation, protect the Land Preservation Tax Credit, and advance policies and programs that ensure the Virginia Piedmont remains a beautiful place to live and visit for generations to come. So, thank you again—and keep your eyes on your inbox because we'll be back in touch in the coming months with more opportunities to support PEC's state policy advocacy.
As always, feel free to reach out to me with any questions.
Sincerely,
Adam Gillenwater
Senior Policy Manager
The Piedmont Environmental Council
(540) 347-2334 ex. 7061
agillenwater@pecva.org
---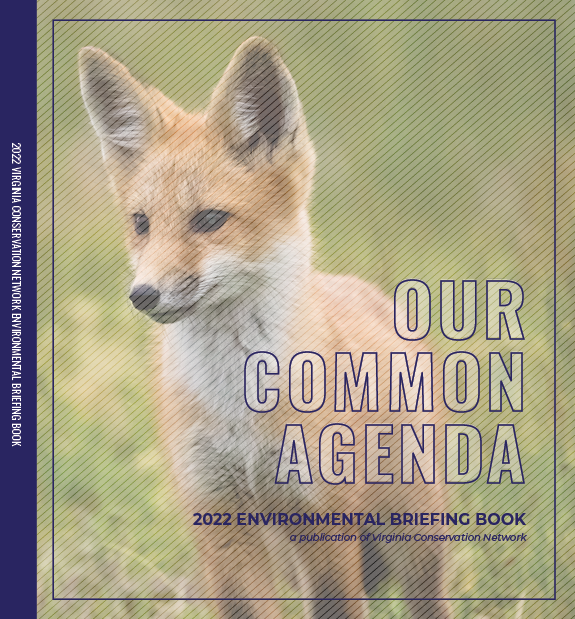 P.S. Looking ahead to the next General Assembly session, I also encourage you to check out the newly released 2022 Virginia Environmental Briefing Book Our Common Agenda.
The briefing book is an annual publication produced by the Virginia Conservation Network in partnership with organizations across the commonwealth, including PEC. It outlines the conservation community's priorities – everything from clean energy and renewables, to water quality and transportation.