There was a lot of activity last week, and this week is no different. The city's public housing agency will check in with Council about how redevelopment projects are being structured. Albemarle County will check in with the public about a corridor plan for future development on Rio Road. There are regional meetings about transit, transportation, housing, and the Rivanna River. Read on to learn the details.
It's quiet in Fluvanna County and Greene County this week, and several of Albemarle's community advisory committees are taking the month off from regular meetings in favor of one big meeting on September 27.
Thanks to the Piedmont Environmental Council for their continuing support of the research that produces this newsletter each and every week.
Monday, September 20, 2021
The Charlottesville City Council begins their evening at 4 p.m with a virtual work session on the Charlottesville Fire Department. (meeting info)
There are no materials available in advance, but there's plenty to talk about these days. The Fire Department released its annual report for FY2021 earlier this month in an easy-to-read StoryMap format. There is also a new fire chief in Hezedean Smith, who has been serving since December 2020 after a long stint in the Orlando Fire Department. (annual report)
One topic that will likely come up is a new protocol through which public safety vehicles are routed through the area. The Charlottesville Fire Department made the change to "proximity dispatch" this summer, according to an August 31 release. At the Council meeting on September 7, several people representing the Charlottesville Albemarle Rescue Squad (CARS) told Council of what they see as shortfalls in the system. Council were told they would get a more full explanation at this work session. (read the September 8 CCE)
At 6:30 p.m., Council returns for their regular session. They'll begin with a consent agenda that has a few items on first reading worth noting:
There are four items on the regular agenda. In the first, there is a public hearing on the progress report for how Community Development Block Grant and HOME funding, as well as priorities for FY2023.
"In FY 21, CDBG projects benefited 1,691 people," reads the staff report. "Regular entitlement projects included technical assistance for microenterprises and entrepreneurs, homelessness re-entry services, park public infrastructure improvements, and homeowner rehabilitation."
The report also provides an update on infrastructure that has been built through HOME/CDBG funding dedicated to "Priority Neighborhood" projects. This includes the recently completed park in the 10th and Page neighborhood, traffic calming improvements in the Ridge Street neighborhood, and a pedestrian safety project along part of Cherry Avenue in the Fifeville neighborhood. Staff recommends reallocating funding back to a project for a sidewalk on Franklin Street.
Next, Council will hold the first reading of an ordinance to enter into a 40-year lease with the Botanical Garden of the Piedmont (BGP) for the area of McIntire Park that the group has been planning for years. In 2015, the city and the group signed a memorandum of agreement for the nonprofit group to operate on around eight acres in the northeast of the park with access from Melbourne Road. The staff report clarifies that the city will not be able to make any capital contributions to whatever improvements BGP wants to build.
"The current CIP account for East McIntire includes some funding to complete trail and bridge projects but not enough to complete improvements such as a picnic shelter, full trail, parking lot construction," reads the staff report. "No funding is currently allocated in the City's CIP for projects specific to the botanical garden."
The public hearing would be held as part of the second reading.
The third item is a resolution updating Council on the Charlottesville Redevelopment and Housing Authority's creation of new corporate entities for each of the properties that will be redeveloped. These are in addition to the Charlottesville Community Development Corporation (CCDC), which is a nonprofit version of the CRHA Board of Directors.
Several entities already exist to finance several projects through a mixture of public and private investment. The staff report details the complex financing arrangements involved.
South First Street Phase One LLC was created in February 2020 to lease the ground from the CRHA at this property to construct 62 units. This entity has received $1.125 million in grant funding directly from the City Council and the city will be asked to waive sewer and tap fees.
South First Street Management LLC is related to the above.
South Street Phase Two LLC was created to operate and finance construction of 113 units in 21 structures with similar arrangements to Phase One. No city grant funding has gone to this project yet but a request will be made in the future.
South Street Phase Two Management LLC is related to the above.
Crescent Halls Reno LLC has financed and is renovating the 105-unit Crescent Halls building and will operate it upon completion. This entity will lease the land from the CRHA. City Council made a grant payment of $1.875 million and has committed to make a payment to cover the annual cost of property taxes each year for 15 years.
Crescent Halls Reno Management LLC is related to the above.
CRHA Asset Management LLC (will not continue to exist)
Another entity to be created is South Sixth Phase One LLC which would exist to finance, construct, and operate 36 units in a new apartment building on vacant land at the public housing site owned by CRHA. CRHA will ask for $3 million in funding for this project and request a waiver of water and sewer connection fees.
In the final item, Council will consider a $50,000 request from the B.U.C.K. Squad for a community civilian policing project. BUCK stands for Brothers United to Cease the Killing. The group made a similar request around the same time earlier this year when the nonprofit Guns Down Incorporated. At the time, the BUCK Squad did not have an organization status with the Internal Revenue Service but now does.
In their materials, the BUCK Squad states they will focus on the South First Street area.
"TBS does periodic canvassing of the South First Street area to let the community know that they are present and take their mission of reducing gun violence in Charlottesville," reads the letter. "We recognize that we are NOT law enforcement. However, many in our community lack trust in law enforcement and are more comfortable dealing with TBS."
The letter prevents three scenarios where the BUCK Squad has intervened. If Council chooses to make a "charitable donation", it will come out of the Strategic Initiatives fund.
In the other meeting today:
The Louisa County Board of Supervisors meets in person at 6 p.m. There's an update from VDOT, an update on the Chickahominy Pipeline, and a presentation on changes to a compressor station at Boswell Tavern. They'll also adopt a legislative agenda for the 2022 General Assembly. To learn more in detail, go read Engage Louisa. (agenda packet)
Tuesday, September 21, 2021
In Virginia, economic development authorities are governmental entities with the power to fund projects through the sale of bonds. They also help coordinate grant proposals and other opportunities to assist businesses that seek to expand. The Board of Directors for the Albemarle Economic Development Authority meets virtually at 4 p.m. (meeting info)
The first item on the agenda is entitled "Discussion of Building Reuse Grant" and does not list a specific example. One potential example comes from 2019, when Albemarle economic development staff helped Potter's Craft Cider with a state agricultural grant to help renovate Neve Hall to serve as their new tasting room and production facility.
In what appears to be a long closed session, the authority's directors will discuss four specific projects each of which has a code name. The current batch are Packet, Poma, Cardinal, and Gadget. In a separate item, the EDA's Board of Directors will discuss "probable litigation involving a breach of contract."
In other meetings:
The MPO Tech Committee will meet virtually at 10 a.m. with items on a proposed Rivanna River bike and pedestrian crossing, the planning process for the next round of Smart Scale projects, the North 29 Corridor Study project, and the MPO's strategic plan. What is this committee? Tune in and watch! Or read the entry for the MPO on Wednesday. (agenda)
The Albemarle County Department of Social Services' Advisory Board meets at 3:30 p.m. The department is now led by Kaki Dimock, who recently took the position after having a similar one in Charlottesville for many years. On the agenda is a "a review of ways we supported the community members during the Pandemic Crisis." (meeting info)
The Sister Cities Commission will have its annual retreat beginning at 4:30 p.m. If you have any interest in such a thing, this is a good meeting to attend. (meeting info)
The Charlottesville Board of Architectural Review meets virtually at 5:15 p.m. (meeting info)
The Charlottesville Planning Commission will hold another work session on the Cville Plans Together initiative beginning at 5:00 p.m. To get caught up, watch last week's Planning Commission meeting and scrub ahead to around 03:46 hours into the meeting. This meeting is also advertised as a Council meeting in case three members would like to participate. (meeting info)
The Greene County Emergency Advisory Services Board meets in person at 6 p.m. in the administration building. (agenda)
The Albemarle Planning Commission that had been scheduled was canceled. They had been expected to see a presentation on the design of the Crozet Square Place being developed by the Downtown Crozet Initiative, but they requested more time.
Wednesday, September 22, 2021
Every metropolitan area in the United States that receives federal funding for transportation project is required to have a decision-making body to serve as a local check on infrastructure construction. In our community, that takes the form of the Charlottesville-Albemarle Metropolitan Planning Organization Policy Board which meets virtually this Wednesday at 4 p.m. There are two City Councilors, two members of the Albemarle Board of Supervisors, and the administrator of VDOT's Culpeper District. (agenda)
The first item on the agenda is a review of a six-mile corridor study of U.S. 29 that spans from the north fork of the Rivanna River in northern Albemarle up to Ruckersville.
"US 29 serves as a gateway between Greene and Albemarle Counties and as a National Highway System route facilitating regional, state, and interstate travel," reads the technical memo for the study. "As development changes the character and travel demand along US 29, investments are needed to ensure the continued safe and comfortable travel for all roadway users."
Albemarle's Comprehensive Plan designates most of the land within the study's scope as rural, while Greene County designates land for residential and mixed-use development. The memo describes several projects seeking approval from the Green Board of Supervisors including 282-units at the Village of Terrace Greene, 55 townhomes in Cedar Run Townhomes, 120 apartments at Seminole Casa, and 165 townhomes at Judo Townhomes. That also includes 580 townhomes and 600 single-family homes at Creekside and the Village at Preddy Creek.
Greene County is not a member of the MPO Policy Board, but the memo describes various transportation projects that are planned for the area. The public's input on new ones will be taken as this study continues.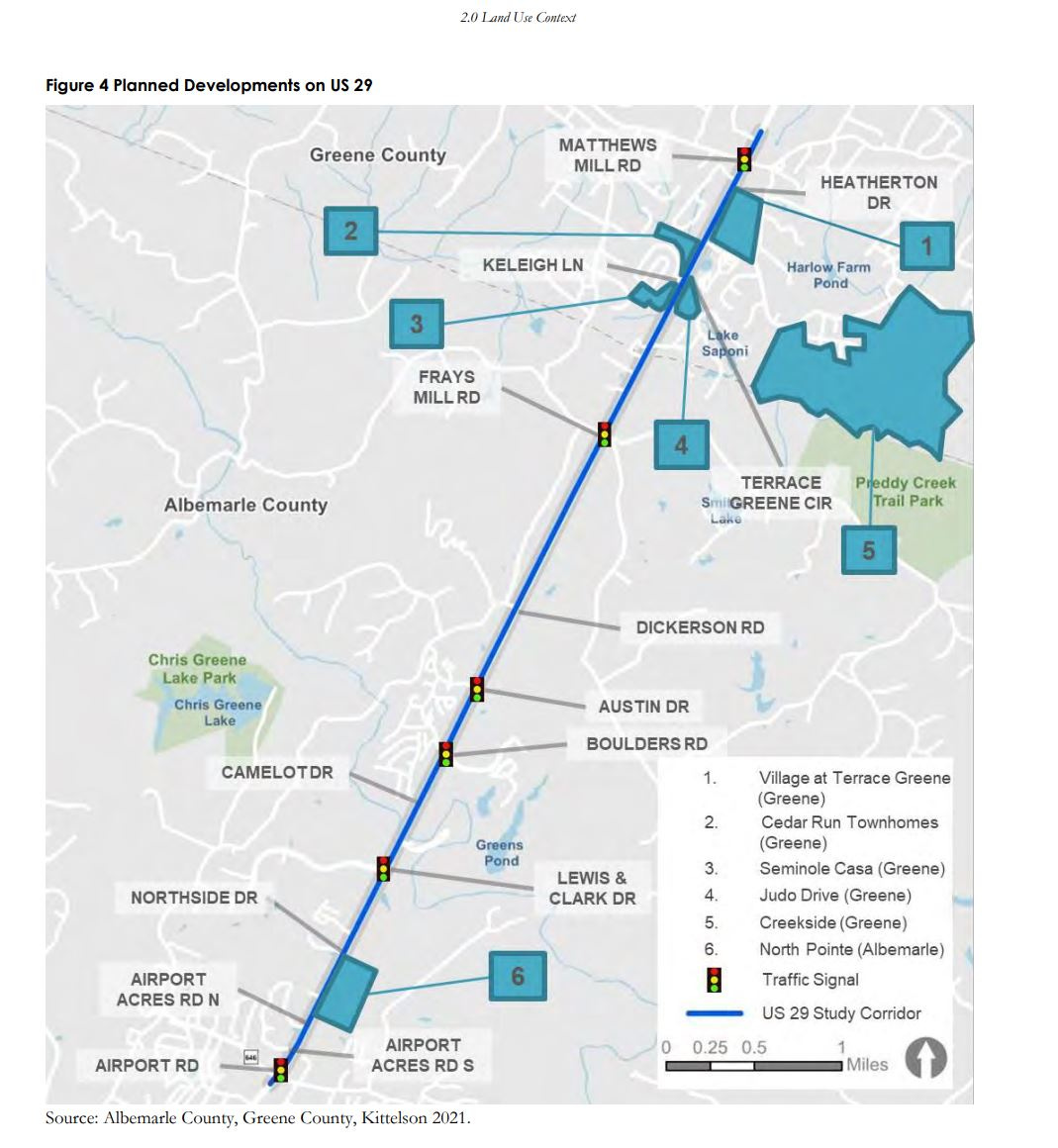 Long-time readers of the newsletter may be familiar with Smart Scale, the VDOT process by which projects are selected for funding. In the fourth round, Charlottesville received $8.73 million for Ridge Street Safety Improvements, $10.87 million for the third phase of the West Main Streetscape, $7.74 million for intersection improvements at Preston and Grady, and $20.4 million for the second phase of improvements to Emmet Street.
In addition to three other projects, Albemarle received $8.13 million for a roundabout connecting East Rio Road with John Warner Parkway. More on that below in Thursday's entry.
Submissions for the fifth round will be due in the summer of 2022, and work is underway now to ensure sufficient community support before the applications are fully scoped out. In July, the MPO Policy Board approved four potential candidates including a Rivanna River Bike and Pedestrian Crossing. At this meeting, they will appoint members of a stakeholder committee to oversee preparations of that application. (staff report)
Next, there will be a discussion of a strategic plan for the MPO. The request for proposals gives a good official description of the MPO.
"Organized for the City of Charlottesville and the urbanized area of Albemarle County immediately surrounding the City, the CA-MPO is responsible for carrying out continuing, cooperative and comprehensive transportation planning and programming processes," reads the RFP. "The MPO coordinates the transportation planning activities of the various transportation-related agencies that have both a direct and indirect impact on the Long Range Plan and Transportation Improvement Program."
One possibility would be to study whether the Regional Transit Partnership (see Thursday) should be incorporated into the committee structure of the MPO.
The final business item before a general roundtable discussion is a presentation on the VDOT Project Pipeline. (presentation)
In other meetings:
Thursday, September 23, 2021
Two meetings today related to transportation.
In one, the Jefferson Area Transit Partnership meets virtually at 4 p.m. (agenda)
One item on the agenda is a presentation from Jaunt's Stephen Johnson entitled Growing Transit Ridership through Customer Experience. They'll also discuss what community is similar enough to Charlottesville to provide comparisons in the form of a peer city review. There will be updates and some items I am curious to know more about.
What is the status of planned and reviewed changes to Charlottesville Area Transit routes?
What has ridership been on the Afton Express to date?
What are the next steps in the Albemarle County transit expansion plan?
What is the latest transit experience for each member of the partnership's board? Have they tried the new SPOT app that CAT uses now?
How is the University of Virginia evaluating its progress toward the various goals of its 2019 Parking and Transportation Master Plan?
In the second transportation meeting, the Places29-Rio Community Advisory Committee will have a discussion of the Rio Corridor Plan at their virtual meeting that begins at 6 p.m. The plan seeks to address capacity issues on Rio Road, including coordinating sidewalk and multimodal paths throughout the area. (meeting info)
"To gain a complete understanding of the challenges and opportunities of the corridor, our team analyzed the community responses and completed an in-depth investigation of traffic studies, crash data, qualitative data, and operational deficiencies," reads the website for the meeting announcement. "Following that work, the team developed a series of preliminary design concepts."
Those concepts have been presented to the community in a series of videos and podcasts which can be reviewed before this meeting. Review all the materials here.
Before this meeting, there are two opportunities to review the materials in person and ask questions. These are Tuesday from 4 p.m. to 6 p.m. at the Putt Putt and Wednesday from 12 p.m. to 2 p.m. at CATEC.
In other meetings: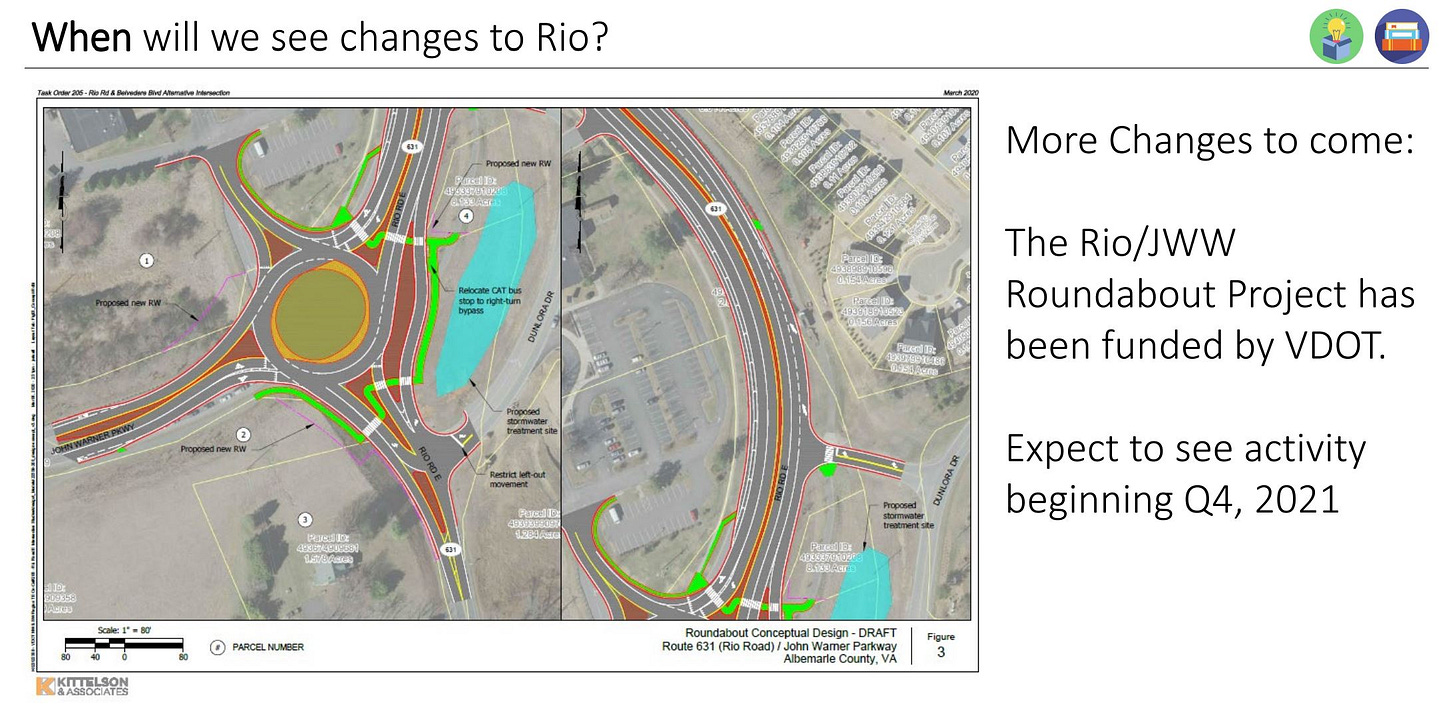 Friday, September 24, 2021
An entity called the Rivanna River Basin Commission (RRBC) was once a stand-alone entity but ran out of funding. The Thomas Jefferson Planning District Commission (TJPDC) took control of the entity and continues to operate its educational functions. That includes an annual conference which this year is virtual and runs from 1 p.m. to 2:30 p.m. There will be an update on the Rivanna River Rural Corridor Plan and the Chesapeake Bay Watership Improvement Program. (meeting info)
---
This post was contributed by Sean Tubbs. Sean is a journalist working to build a new information and news outlet centered around Charlottesville and Virginia. In 2020, he launched a daily newscast and newsletter and also created a semi-regular podcast on the pandemic.
Support for Sean's "Week Ahead" update comes from The Piedmont Environmental Council.