*Press Release*
Contact:
Mike Kane, Director of Land Conservation
The Piedmont Environmental Council
mkane@pecva.org; 540-347-2337, x7063
PIEDMONT REGION, VA. (Feb. 4, 2022) – In 2021, private landowners partnered with various land trusts and conservation agencies to permanently protect an additional 6,474 acres of land in Albemarle, Clarke, Culpeper, Fauquier, Greene, Loudoun, Madison, Orange and Rappahannock counties. Conserved lands provide important public benefits of clean air and drinking water, natural flood controls, scenic views that attract millions to the region, wildlife habitat, and strong agricultural, forestry and recreational economies. Fifty-five new conservation easements closed last year, bringing the total permanently protected land in The Piedmont Environmental Council's (PEC) nine-county region to close to 433,132 acres.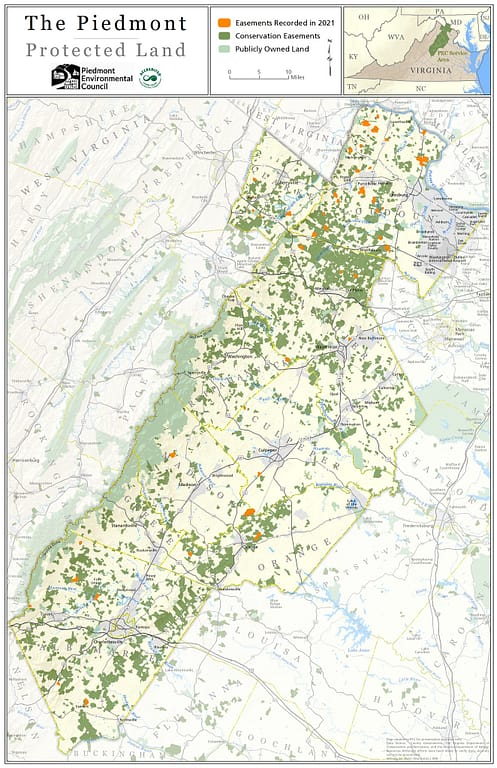 "Virginia is fortunate to have a variety of organizations willing and able to hold permanent conservation easements," said PEC President Chris Miller, who emphasized that the 2021 numbers reflect easements closed by all of these conservation organizations, including PEC, the Virginia Outdoors Foundation, the Land Trust of Virginia, state agencies, local governments and other land trusts.
"We are thankful that so many families continue to recognize the important role they can play in balancing personal and public conservation goals. The cumulative impact over the past 50 years is that just over 25 percent of public and private lands within our Piedmont service area are permanently protected. That is halfway toward fulfilling PEC's vision of working with landowners and other allied organizations to see 50 percent of the region's rural areas preserved," Miller said.
The largest property conserved in 2021 was the 761 acres of gently rolling hills and lush agricultural farmland at Horseshoe Farm in Culpeper County. Owned by Sheldon Clark since 2019, Horseshoe Farm sits at the confluence of the Robinson River and the Rapidan River, which supplies drinking water to Fredericksburg and other downstream communities. The farm's extensive frontage on both rivers, along with its adjacency to other conserved properties on the Orange and Madison sides of these waterways, gives conservation of this active, agricultural property significant water quality importance.
The easement, which is held by the Virginia Outdoors Foundation, also protects several wetland areas, prime agricultural soils used for primarily corn and soybeans, and a historic Greek revival home built in the mid-1800s. The property's history can be traced back to an English land grant to Lt. Gov. Alexander Spotswood, with historical significance in the Revolutionary War through the second world war.
"Conservation of land and history for future generations is important to me, and conservation was the goal from the moment I bought Horseshoe Farm," said Clark, who has also conserved about 3,000 acres on Clark Mountain since 2000. "Our concept has been to preserve land from Clark Mountain all the way to Culpeper, because the history, scenic views, and water quality and conservation are very important here. All of this area serves as a watershed supplying drinking water for Fredericksburg and areas east, and being somewhat close to Richmond and Washington D.C., we do have development pressures. It would be a shame to lose the history and the beauty of this area. There are many good reasons to leave it open and undeveloped," Clark said.
"Seeing a property of this size, with so many historic resources, conserved along the Rapidan River is exciting. It really supports PEC's efforts in the upper Rappahannock watershed to preserve productive farmland and restore water quality, locally and in the support of the Chesapeake Bay agreement," PEC Director of Conservation Mike Kane said.
Looking at the region as a whole, Kane said another story that really stands out is the amount of land conservation happening in Loudoun County. For the second consecutive year, Loudoun County, one of the fastest growing counties in the nation, led the region's conservation totals, with 3,507 acres. "Conservation in Loudoun County accounted for more than half the total acreage conserved in the PEC region in 2021, and significantly more than what we typically see in Loudoun in a single year," said Kane. Loudoun's totals included a new 35-acre easement near Lincoln, donated by Patrick and Susan Holden and held by PEC.
In addition to nonprofit conservation groups, a number of counties operate programs that acquire conservation easements, either through purchase or donation. In Clarke County, the county's Easement Authority conserved over 244 acres, including a heavily forested 181-acre property along Mt. Carmel Road, a designated Virginia Scenic Byway. Conservation of this property extinguished nine dwelling unit rights that will ensure the long-term protection of the property's sensitive natural and scenic resources.
A conservation easement is a voluntary agreement between a landowner and a public agency or a nonprofit conservation group, such as The Piedmont Environmental Council. As part of a suite of public policies ranging from local comprehensive plans to the multi-state Chesapeake Bay agreement, conservation easements provide important benefits to the public. By limiting development on private land, they protect the natural, agricultural, scenic and cultural resources that land provides. Landowners who donate easements may be eligible to receive tax benefits for their charitable contribution that extinguishes development rights and protects a property's conservation values. The Piedmont Environmental Council is here and happy to educate and guide landowners about land conservation options and benefits," Kane said. Landowners interested in conserving their lands might find helpful information at pecva.org/easements.
A regional map of private and protected lands in the nine-county region can be downloaded here. County-by-county maps detailing conservation easement totals and easements added in the year 2021 within the Piedmont Environmental Council region can be downloaded here.
Approximate county-by-county conservation totals are as follows:
| | | |
| --- | --- | --- |
| County | Acres Protected in 2021 by Conservation Easements * | Total Acres Protected by Conservation Easements * |
| Albemarle | 721 | 109,590 |
| Clarke | 305 | 26,786 |
| Culpeper | 869 | 21,275 |
| Fauquier | 339 | 109,826 |
| Greene | 0 | 10,648 |
| Loudoun | 3,507 | 66,191 |
| Madison | 250 | 16,365 |
| Orange | 340 | 38,894 |
| Rappahannock | 143 | 33,557 |
| PEC REGION | 6,474 | 433,132 |
*Numbers are rounded
In total, conservation easements in these nine counties have protected approximately:
10,581 acres of wetlands;
203,969 acres of forests;
30,983 acres of Civil War battlefields;
134,928 acres in historic districts
1,792 miles of streams;
129,477 acres in the viewshed of the Appalachian Trail;
205,507 acres of prime farmland soils;
26,980 acres adjacent to scenic rivers; and
114,204 acres along scenic byways.
#####

Since 1972, The Piedmont Environmental Council has proudly promoted and protected the natural resources, rural economy, history and beauty of the Virginia Piedmont. PEC empowers residents to protect what makes the Piedmont a wonderful place, and works with citizens to conserve land, improve air and water quality and build thriving communities. PEC is a 501(c)(3) non-profit and accredited land trust. Learn more at www.pecva.org