PEC has assembled an easement packet filled with important information about conservation easements — including a sample PEC easement and guidelines on how to proceed with donating an easement.
The easement packet includes: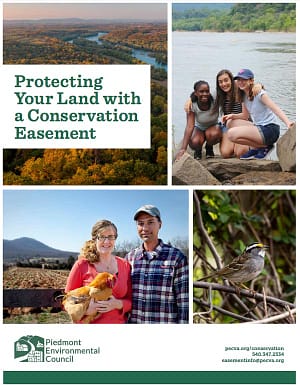 You can review / download / print the packet digitally. Or, if you would like a copy of these materials via mail, please email pec@pecva.org.
Want to learn more?
If you are interested in conserving your land, or have questions about the options that are available to you, please get in touch with our land conservation team:
Culpeper & Fauquier Counties
Maggi Blomstrom
mblomstrom@pecva.org
(540) 347-2334 x7067
Rappahannock County
Laura O'Brien
lobrien@pecva.org
(540) 347-2334 x7060
Orange & Madison Counties
Peter Hujik
phujik@pecva.org
(540) 347-2334 x7062
Clarke, Loudoun & northern Fauquier Counties
Hallie Harriman
hharriman@pecva.org
(540) 347-2334 x7066
Albemarle & Greene Counties
Kim Biasiolli
kbiasiolli@pecva.org
(540) 347-2334 x7064
Director of Conservation
Michael Kane
mkane@pecva.org
(540) 347-2334 x7063
---
Intro to Conservation Easements:
What is a Conservation Easement?
What are the Public Benefits of Conservation Easements?
Why Should I Donate a Conservation Easement?
Who Accepts Conservation Easements / How Do I Get Started?