For Immediate Release
Contact:
Rob McGinnis,
Senior Land Use Field Representative
Piedmont Environmental Council
rmcginnis@pecva.org; (434) 977-2033 x7049
Albemarle County Climate Vulnerability and Risk Assessment recognized by American Planning Association Virginia Chapter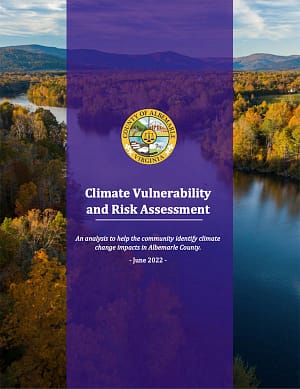 Albemarle County, Va. (July 13, 2023) – The Piedmont Environmental Council (PEC) is pleased to congratulate Albemarle County for receiving the Resilient Virginia Community of the Year Honorable Mention in the American Planning Association Virginia Awards Program. The Resilient Virginia Community of the Year category recognizes a community's commitment to building resilience through responsible planning practice and innovation on real-world solutions to buffer their community from adverse effects stemming from a variety of potential forces. Nominated by PEC and chosen by a panel of peers, Albemarle County has received the honorable mention for its broadly collaborative Climate Vulnerability and Risk Assessment exploring the potential effects of extreme heat, drought, wildfire, flooding, and disease/pestilence to county planning, programs, operations, and community members. The award will be presented at the 2023 APA Virginia Annual Conference in Roanoke, Virginia, on Tuesday, July 18.
"This award is notable in that it recognizes the county's unusual and wide collaboration, which included local government agencies, nonprofit organizations and private firms, and the range of climate impacts included in the assessment," said PEC Senior Conservation Fellow Kat Imhoff. "The level of detail around such climate measures as heat, rainfall, invasive species, human health, and even disadvantaged communities, should help inform looming land use decisions, infrastructure plans, and budget allocations."
Among its many findings, the assessment projected climate impacts that would disproportionately affect people below the poverty line, communities of color, children, older adults, and those with compromised immune systems. The County and PEC worked together with communications firm Green Fin Studio to create various public awareness messages and tools to reach community members and policymakers about the need for public investments in climate adaptation and resilience. 
"Mitigation and resilience in addressing climate change are high priorities for Albemarle County and require a collaborative community effort. I am grateful to PEC for its work on the Climate Vulnerability and Risk Assessment," said Albemarle County Supervisor Jim Andrews (Samuel Miller Magisterial District).
Albemarle's Climate Vulnerability and Risk Assessment was a collaboration of County staff, The Piedmont Environmental Council, Resilient Virginia, Virginia-based hazard-planning firm Sobis, Inc., and Virginia-based communications firm Green Fin Studio, with the generous financial support of The D.N. Batten Foundation. Rob McGinnis, PEC's senior land use field representative covering Albemarle County, said: "A particularly unique aspect of this effort was the multilateral collaboration of nonprofit staff with county staff and engineering and climate experts for more than a year, culminating in a 200+-page technical report, a public-friendly summary, story map, and a series of videos featuring local experts and community members. We look forward to building on the important work locally."
"The actions that Albemarle County officials, businesses, institutions, residents, and landowners can take are better informed by the detailed, granular analysis in the study—and getting the information out broadly in the community will help us all take those necessary steps," said Christopher Miller, President of PEC. "We hope the collaborative approach can be a model for other counties to build upon."
#####
The Piedmont Environmental Council (PEC) works to protect and restore the lands and waters of the Virginia Piedmont, while building stronger, more sustainable communities. Founded in 1972, PEC is a locally based, community-supported 501(c)3 nonprofit and accredited land trust. At the core of PEC's approach is a focus on educating, engaging and empowering people to effect positive change in their communities.