It's another busy week in local and regional government in the localities covered by the Thomas Jefferson Planning District.
The Charlottesville Planning Commission will have a public hearing for another rezoning of a church's property for housing, though in this case seven out of 60 units would be below-market.
The Economic Development Authorities for both Fluvanna County and the City of Charlottesville meet, with Charlottesville getting briefings on several initiatives underway.
Greene County Supervisors will take up a rezoning for an urgent care facility and will Jean Runyon, the sixth president of Piedmont Virginia Community College.
Both Albemarle County and Fluvanna County will have meetings on their Comprehensive Plan reviews.
The body that's overseeing construction of an urban water supply for Zion Crossroads will get an update on the permitting process.
Two of Albemarle's growth area groups will meet and both will find out more about new parks as well as other issues.
A site plan review will be held for a project in Charlottesville that will see 169 units in Fry's Spring.
Monday, September 12, 2022
Economic development meetings in Fluvanna County
As we'll learn in Tuesday's entry, Virginia law authorizes localities to create political subdivisions to help finance business development projects. The law also allows these Industrial Development Authorities to go by another name, and the Fluvanna County Economic Development Aurhority meets in person at 132 Main Street in Palmyra beginning at 5 p.m. (agenda link)
This meeting will see a lot of reports, including one from the Economic Development and Tourism Advisory Committee (EDTAC).
The Fluvanna EDA will also go into closed session for two items. When that concludes, EDTAC will meet and get updates on a business map for Fork Union, a LOVE sign at Pleasant Grove Park, and restoration of the county's courthouse.
In other meetings:
The Albemarle Fire EMS Executive Committee will meet in-person at Conference Room 2 in the Albemarle County Department of Fire Rescue. That's at the county's office building on Fifth Street Extended. On the agenda is a discussion of a program guideline for reimbursing volunteers. (meeting info)
There is no Village of Rivanna Community Advisory Committee because all of the members quit in protest earlier this year, and Supervisors have not appointed new members.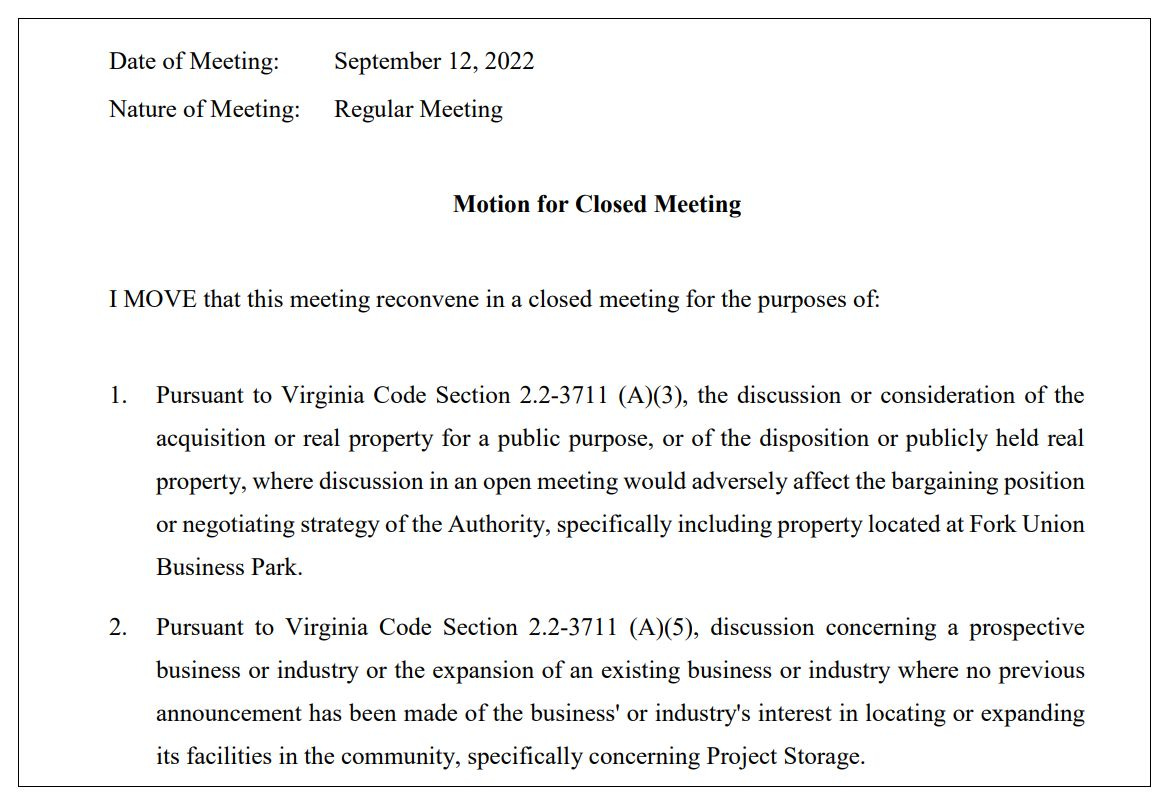 Tuesday, September 13, 2022
Charlottesville PC to review rezoning for up to 72-units at Mount View Baptist Church
Two new members will join the Charlottesville Planning Commission at their meeting which begins at 5 p.m. in CitySpace for a pre-meeting, followed by a regular meeting at 5:30 p.m. Both are open to the public, and community members can participate in public hearings and comment periods online via Zoom. (meeting info)
A post-publication update: You have to register to attend the meeting in CitySpace. I'll update this post again later. Also, I'm told the CDBG discussion you'll read about later will happen before the rezoning public hearing.
First, the two new members. Carl Schwarz served eight years on the Board of Architectural Review. Phil d'Oronzio served as chair as the now-reformatted Housing Advisory Committee for many years. Both join the Planning Commission at a time when the city is rewriting the zoning code to better fulfill the goals of the Affordable Housing Plan and the Comprehensive Plan. A public comment period for the draft Zoning Diagnostic and Approach report closed last week.
The major item on this agenda is a rezoning from R-2 to Planned Unit Development for 3.4 acres of land adjacent to the Mountain View Baptist Church in the Locust Grove neighborhood. For now, the existing zoning is still in place but there's a new Future Land Use Map in place which designates this land as General Residential.
"General Residential allows additional housing choice within existing residential neighborhoods. Form should be compatible with current context, including house‐sized structures with similar ground floor footprint area and setbacks as surrounding residential structures," reads the staff report from city planner Carrie Rainey.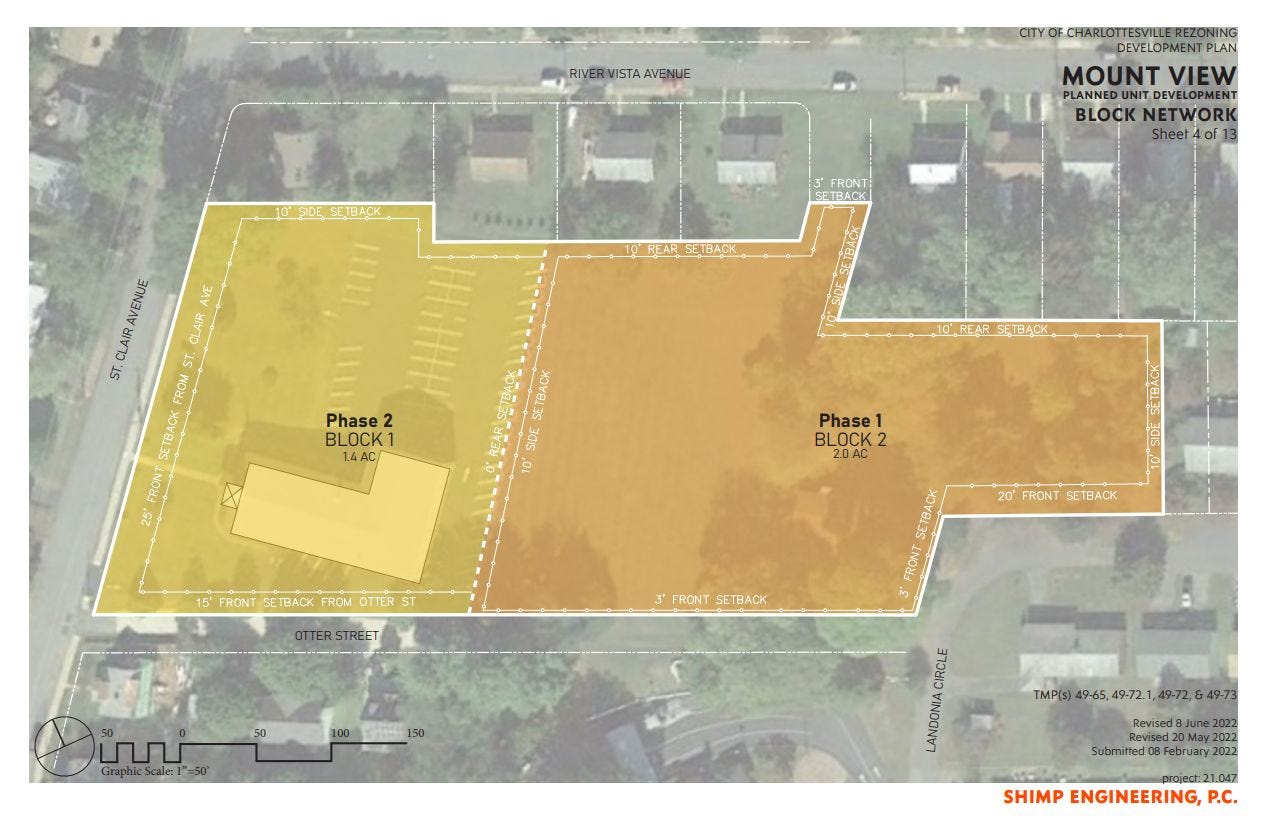 For a variety of reasons, staff is recommending denial.
"Staff finds that the proposed number of residential units do not meet the limits of the General Residential category and the proposed ground floor footprint areas are larger than those of surrounding residential structures," the report continues.
The code of development for the Planned Unit Development shows two blocks, with Block 2 being where housing would be built first.
"The church has expressed a desire to be able to build a few units at some point in the future that could serve parishioners in need of housing, provide potential church employee housing, or provide the church with an opportunity to have an additional revenue stream by operating a rental property," reads the narrative from Shimp Engineering. "Although the church has no immediate plans to construct housing in Block 1, approval of this PUD would maintain the opportunity to realize housing in Block 1 at some point."
Block 2 would consist of five three-story structures that the engineering firm would fit into the sloping landscape. There would be a total of 60 units here with a mix of studio apartments, one-bedroom, two-bedroom, and three bedroom units.
"The buildings in the northern portion of the site will appear as two-story structures from the existing residences just north of the property that front on River Vista Avenue and will appear as three story units from the central greenspace, interior to the site," the narrative continues.
The developer is proposing three units to be rented to households making less than 80 percent of the area median income, and rent on four units to be capped at 125 percent of the Fair Market Rent as determined by the U.S. Department of Housing and Urban Development. Rainey writes that staff is concerned that is not going to realistically provide housing for those with low incomes.
The packet has several letters of support for the project, but several of these state that the affordability terms should be longer and deeper. Someone also asks about a fall-out shelter alleged to be on the property.
"Any research and acknowledgment of this interesting historical site would be welcome," reads a general list of comments from a group in the Locust Grove neighborhood.

After that item, the Planning Commission will be asked to provide recommendations on how federal funding from the Community Development Block Grant (CDBG) program should be used. This work is now coordinated by the city's Office of Community Solutions rather than the Neighborhood Development Services Department.
An amendment to a previous action plan yields $178,394.34 in funds for the 2022-2023 program year. The city's CDBG Task Force has reviewed several proposals for how to use the funding with most of that going to one project in the Ridge Street neighborhood.
"The [Task Force] recommended the Department of Parks and Recreation Pollocks Branch Trail Bridge at [Jordan Park]," reads the staff report. "Estimated benefits include the construction of a bicycle and pedestrian ADA accessible bridge to connect Jordon Park to the developing Moores Creek trail between Avon Street and 5th Street."
The group also recommends $6,739 in funding for the Arc of the Piedmont for a replacement of the HVAC system at their group home on Shamrock Road where seven developmentally disabled individuals reside.
Greene Supervisors to meet new PVCC president, hold public hearing for property on U.S. 29
The five-member Greene County Board of Supervisors meets at 5:30 p.m. in the administration building in Stanardsville for a closed session before coming back for an open meeting at 6:30 p.m. (agenda)
There will be a public hearing on a rezoning application for a 0.56 parcel of land on U.S. 29 from agricultural to business. The Comprehensive Plan designates the land as "Mixed Use Village Center" and the proposed use is an urgent care facility. The Planning Commission recommended approval at its meeting in August.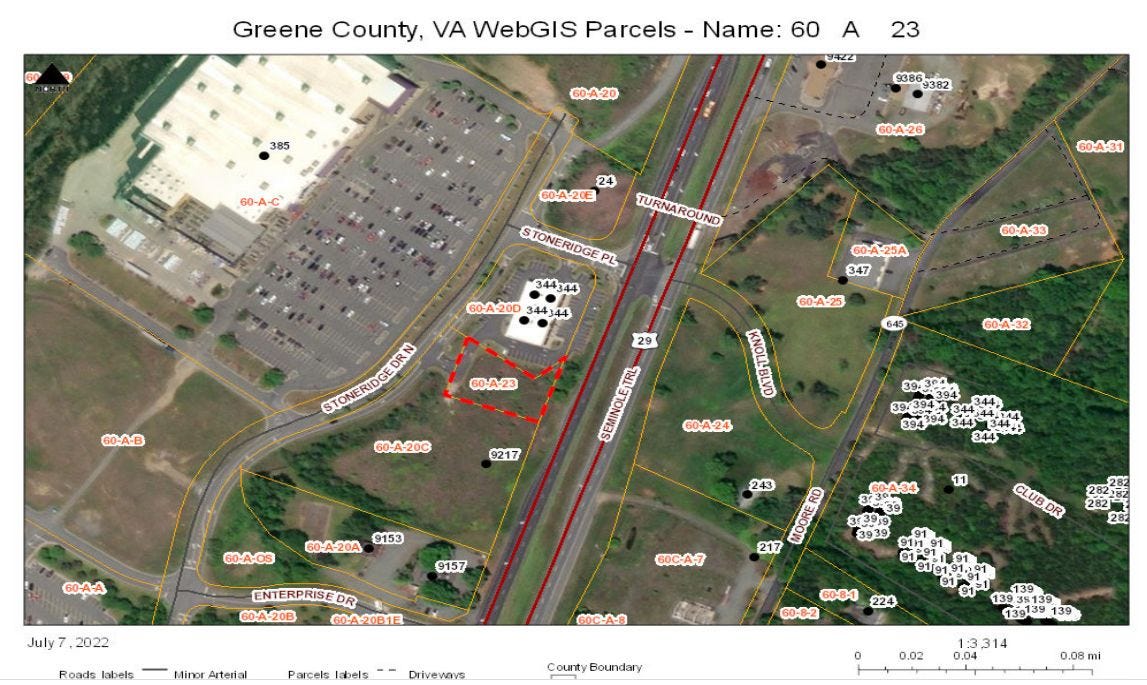 Supervisor will also get several presentations:
Supervisors will also be briefed on three items coming up at future meetings.
There's a public hearing on September 27, 2022 related to the Greene County Water and Sewer Department, which has just launched with new director Greg Lunsford. View the presentation for more background.
Greene County is leasing land at an outdoor amphitheater at the administration building in Standardsville to Greene Commons LLC. (view the lease)
Greene County is also seeking to lease 1.29 acres to the Twin Lakes Homeowners Association for open space. (view the lease)
Charlottesville economic development group to get updates
Localities in Virginia are authorized by the General Assembly to have authorities that can raise funds to support businesses through "industrial development authorities" Charlottesville joined many other cities and counties by renaming their entity an Economic Development Authority. Tuesday's meeting will cover a lot of ground and they meet virtually at 4 p.m. (meeting info)
First, there will be an update on an economic development strategic plan. Applications for a firm to develop such a plan were taken through August 29.
"The successful offeror will demonstrate sufficient experience in developing economic development strategic plans for similarly situated cities and propose a process and methodology that recognizes the uniqueness of Charlottesville and ultimately results in a plan that drives progress over the next five years," reads the request for proposals.
The EDA will also get updates on the programs offered by the Office of Community Development. That includes the Go Hire program intended to recruit more bus drivers, the BRACE grant program, and Cville Match. Let's go to the acronyms for that last one.
"The Cville Match program seeks to advance commercialization efforts of local companies by providing matching funds to recipients of Small Business Innovation Research (SBIR), Small Business Technology Transfer (STTR) and the Commonwealth Research and Commercialization Fund (CRCF) grants," reads the website for the program.
The EDA will also learn about the Thomas Jefferson Planning District Commission's grant to to develop a Regional Comprehensive Economic Development Strategy. They'll get an update from the Black Entrepreneurial Advancement and Community Opportunity Network (BEACON project to build a commercial kitchen for food entrepreneurs. They'll also get a follow up on the ENVISION project as well hear a report about the economic impact of the city-owned and Red Light Management-leased Ting Pavilion.
Fluvanna Planning Commission to check in on Comprehensive Plan review
The Fluvanna County Planning Commission will meet at 7 p.m. in the Carysbrook Performing Arts Center in Fork Union. There will not be a work session at 6 p.m. (agenda packet)
The only item on the agenda is an update on the Comprehensive Plan review that is currently underway. The most recent milestone was a Board of Supervisors meeting facilitated by the Virginia Institute of Government. Planning Commissioners will be asked to check in on the timeline which sees a new plan ready for public hearing next spring.
In other meetings: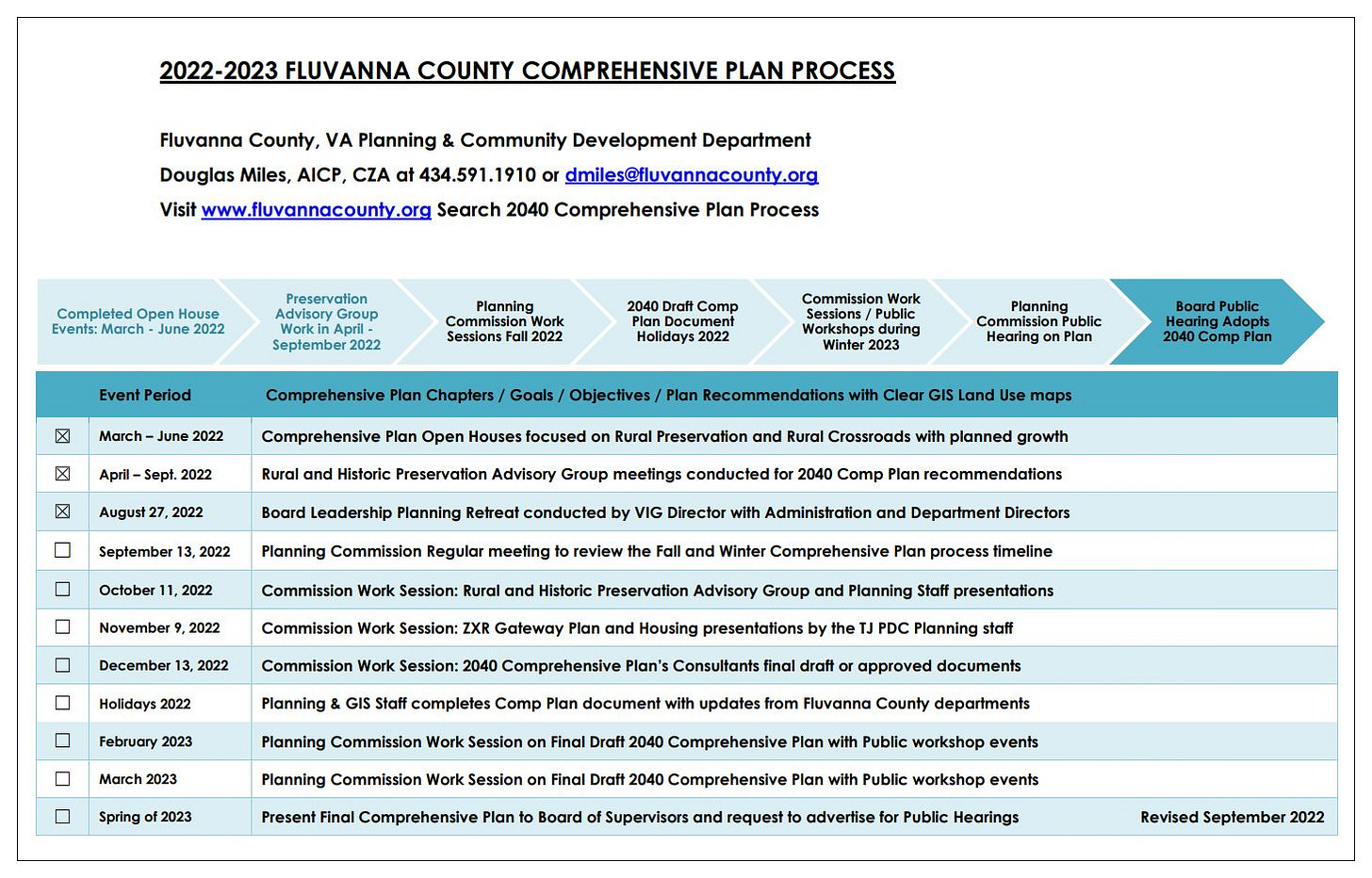 Wednesday, September 14, 2022
Crozet CAC resumes in-person meetings with parks discussion
For two and a half years, community meetings in Albemarle County were all held virtually. This made it very easy for people to participate, but everyone was at home. That means a lot of conversations didn't take place as people slowly mill into a room while waiting for the chair to begin business. (meeting info)
The Crozet Community Advisory Committee will once again gather at the Crozet Library for an in-person meeting that will need to wrap up by 8:50 p.m. so all of the chairs can be put away.
For their first in-person meeting since early 2020, the Crozet CAC will get a briefing on the latest happenings in the Parks and Recreation Department. The Places29-Hydraulic group got this update in mid-August at a virtual meeting, and the Places29-North CAC had it last week at an in-person one.
Each presentation is customized for the jurisdiction of the CAC. One item of interest to Crozet is the soft launch of Western Park.
Site plan meeting for major development in Fry's Spring
In April, City Council unanimously approved a rezoning to Planned Unit Development that will allow Southern Development to build up to 170 units on undeveloped land off of Stribling Avenue. A site plan meeting will be held virtually on Wednesday morning for a project with one fewer apartment.
"The development includes seventy-three (73) townhouses and ninety-six units within two (2) multifamily buildings for a total of one-hundred and sixty-nine (169) units," reads the agenda for the site plan conference. "The development will also include new public and private roads, a connection to Morgan Court, green spaces, and a public trail to and along Moores Creek."
The Future Land Use Map adopted in November 2021 designates the property as Medium Intensity Residential. Information on how to tune in and participate is on the city's meeting info page.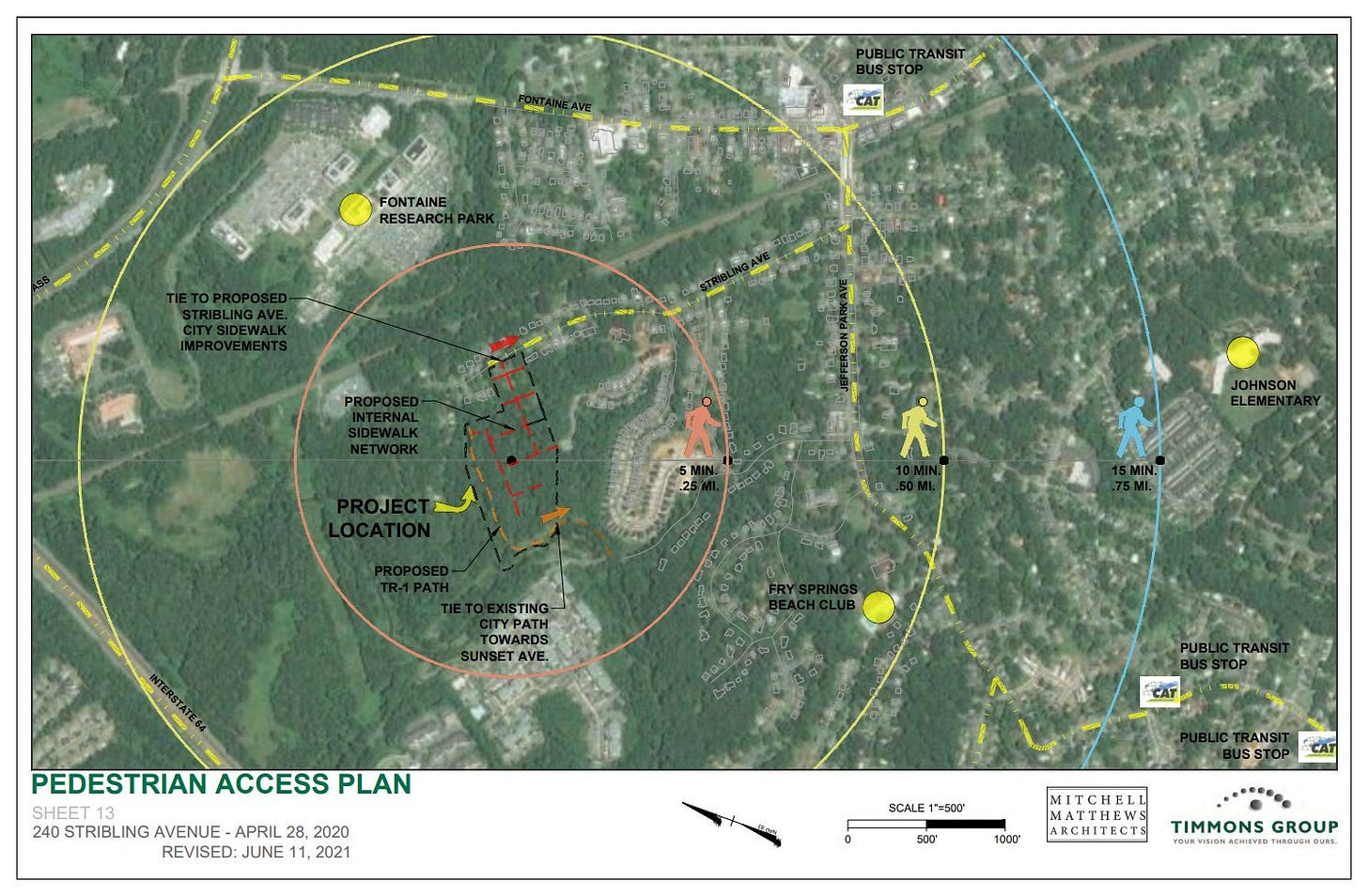 In other meetings:
The James River Water Authority's Board of Directors will meet at 9 a.m. in the Fluvanna County Public Library. They'll discuss the program toward securing approvals from the U.S. Army Corps of Engineers for an alternative pump station for a waterline to supply Zion Crossroads with public water. (agenda packet)
The Greene County School Board meets. I don't have a link to the agenda, but I do want to start adding School Boards on here, so please remind me I forget.
Thursday, September 15, 2022
AC44 process continues with another community meeting, 5th & Avon group to meet
Interested in the future of land use in Albemarle County? There is an ongoing review of the Comprehensive Plan known as AC44, as well as a review of the zoning code which has recently been "reset."
Tonight at 6 p.m. there will be another in-person gathering in Lane Auditorium to get "big ideas" from community members. You're asked to register in advance.
"We will use your input to create a set of guiding principles to inform future content and phases of the Albemarle County Comprehensive Plan Update (AC44) process," reads the meeting info page.
For more on where the county is with AC44, take a look on Information Charlottesville at a preview of the August 30 in-person roundtable
The 5th & Avon Community Advisory Committee meets in-person at Mountain View Elementary School in the Media Center Library. There's no agenda posted yet. Will it be another parks update? If so, we'll hear more about Biscuit Run. (meeting info)
In other meetings:
The University of Virginia Board of Visitors will meet in Charlottesville and the events will be livestreamed. (meeting info)
Charlottesville's Parks and Recreation Advisory Committee will meet online at 5:30 p.m. There's no agenda but I hope to cover this one to get an update. (meeting info)
Charlottesville's Human Rights Commission will meet at 6:30 p.m. The link on the city's meeting information takes you right to the Zoom registration, so there's no agenda.
---
This post was contributed by Sean Tubbs. Sean is a journalist working to build a new information and news outlet centered around Charlottesville and Virginia. In 2020, he launched a daily newscast and newsletter and also created a semi-regular podcast on the pandemic.
Support for Sean's "Week Ahead" update comes from The Piedmont Environmental Council.