It takes a traditional holiday to keep the Week Ahead newsletter below 1,200 words! That makes today as close to a day off as I will ever take.
As Thursday approaches, I am grateful that so many readers and listeners are able to share a bit of their wealth with me by making financial contributions. I'm also thankful that the rest of you are able to access this information. I am hopeful becoming more civically aware will help you.
I'm also grateful to the Piedmont Environmental Council for their sponsorship and for helping me get to this place in my journey. The next year will be a pivotal one of our community as we continue to contend with COVID and as we begin writing a new chapter in our history.
Monday, November 23, 2020
There has been so much going on the past two weeks that I have been unable to pay attention to any of the many webinars put together as part of the C'Ville Plans Together initiative. As a refresher, the City Council in place in February 2019 opted to hire a consultant to complete the Comprehensive Plan review while also writing an affordable housing plan. One of the major planks of the draft affordable housing plan is an annual commitment of $10 million for ten years in order to help build more affordable housing units.
At 4 p.m., the steering committee charged with overseeing the process will meet. There is no agenda for this event, but the meeting info page gives these instructions.
"The steering committee and public are encouraged to review the draft Affordable Housing Plan and the draft Comprehensive Plan materials posted [here]. Comments on these materials from the community (via the survey, email, mail, phone, or other methods should be submitted by December 2."
Between now and then, I will be bringing you information about this process from previous meetings conducted in the last week. Have you participated in this process? Are you closely watching Council's discussions on capital funding? Please let me know.
Other meetings:
Charlottesville's Social Services Advisory Board meets virtually at noon. I will confess I have no experience covering these events, but I will tune in tomorrow. They will talk about their annual report to City Council. I will learn new things I did not know before. If you watch, you may as well! (meeting info)
The Board of Trustees for the Jefferson-Madison Regional Library meets in the afternoon. Details will be posted. In the meantime, here is a link to the registration.
The Albemarle Historic Preservation Committee meets at 4:30 p.m. On the agenda is a presentation on conservation easements, a discussion of the Purvis Store in Esmont, and an update on new historical markers in the county. (meeting info)

Credit: Edward Lay, UVA Library. For more information, visit the Scottsville Museum website.
Tuesday, November 24, 2020
The Albemarle Planning Commission meets at 6 p.m. and has two items. The first is a public hearing on a request for outdoor advertising displays for a car dealership that would replace the Hardee's in the southwest corner of the Rio Road / U.S. 29 intersection. The property is within the bounds of the Rio Road Small Area Plan, which seeks to gradually convert the area to a more urban character. (meeting info)
"The applicant is looking to move his dealership over to this site and utilize a lot of the existing facilities on the site but make some improvements," said engineer Scott Collins at the August 27 meeting of the Places29-Rio Community Advisory Committee. "The building itself would be reused with some minor modifications such as removing the drive-through canopy and removing the refrigeration on the back."

The second item is a resubmission of a rezoning for a new neighborhood in the Village of Rivanna. Southern Development had sought to build 160 units for a project of single-family homes known as Breezy Hill. Opposition from nearby residents helped lead the Planning Commission to vote 6-0 to recommend denial in July. The Board of Supervisors heard the project on September 2 and accepted a request from the developer to defer a vote.
Since then, the project has been reduced in scope to 130 units and the Board agreed on October 21 to send it back to the Planning Commission.
"The main concerns discussed at the Board of Supervisors public hearing included density above the Master Plan recommendation, impact to transportation, impact to the residents of Running Deer and Village of Rivanna area, and impact to schools," reads a memo from county planner Megan Nedostup.
Other changes include asphalt trails, sidewalks, street trees, and a reduction in the funds the developer will pay into the county's affordable housing fund from $507,000 to $422,500. (full plan)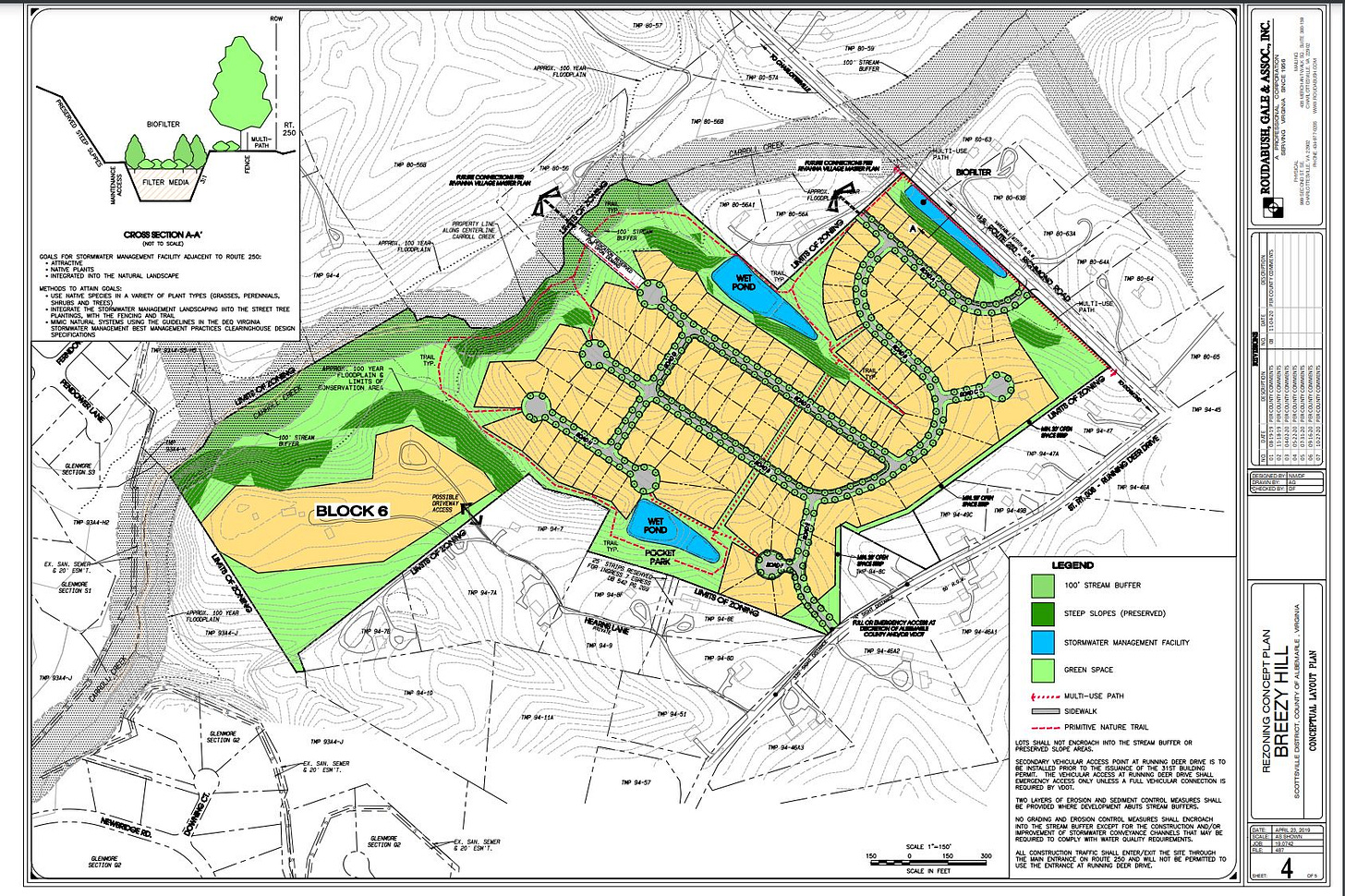 Other meetings:
An advisory group that is overseeing the capital planning process in Albemarle County meets at 2 p.m. By this point I hope to have completed a story I am working on related to this process and how Albemarle is faring as calendar year 2021 approaches and preparations for fiscal year 2022 loom. (meeting info)
Charlottesville's Police Civilian Review Board meets at 5 p.m. (meeting info)
Do you have questions about the C'Ville Plans Together initiative? The consultant is holding office hours to answer questions and take feedback beginning at 5:30 p.m. (meeting info)
Wednesday, November 25, 2020
The Albemarle Broadband Authority will meet virtually at 5 p.m. One of the items will be a report on the Board of Supervisors' recent discussion on the strategic plan and capital budget work session. One of the county's strategic goals is to expand broadband throughout the county. I'm pleased because this means I'll have at least one fresh soundbite in Thursday's newscast! (meeting info)
---
This post was contributed by Sean Tubbs. Sean is a journalist working to build a new information and news outlet centered around Charlottesville and Virginia. In 2020, he launched a daily newscast and newsletter and also created a semi-regular podcast on the pandemic.
Support for Sean's "Week Ahead" update comes from The Piedmont Environmental Council.