We're in the last stretch of 2022, a year that has been filled with lots of action at local government meetings. We are definitely moving closer to holiday mode with meetings shifting to avoid Thanksgiving. For instance, the Rivanna authorities meet this week instead of the fourth of the month.
It's not too early to begin to think what the biggest stories of the year have been, and what to look forward to in 2023. If you have a moment, drop me a line about what you think has had the most impact this year. In 2023, I am hoping to make all of my newsletters more interactive and to add more voices.
Want to know what's happening in local and regional government? This is perhaps your best source. Want to be convinced? Sign up and read!
Some highlights:
Albemarle will be presented with more information on the area's risk of change due to a shifting climate, and will also consider changing zoning to provide more standards for utility-scale solar.
Fluvanna Supervisors will learn of a metric known as the Cost of Community Services and decide whether to further study the price of growth.
The cost to invest in paper recyling in the area won't be cheap, as the Rivanna Solid Waste Authority considers a $7.8 million paper-sort and baling facility.
The cost of building transportation improvements may be higher for the near-term with Smart Scale estimates for Round 5 candidates dramatically higher than when approved.
Charlottesville's Board of Architectural Review will hold a preliminary discussion on exterior renovations at 300 Court Square, the former Eagle Tavern. The property owner wants to reopen it in the future.
There are economic development meetings in both Albemarle and Fluvanna this week, and there's always something to learn at those.
There are Planning Commission meetings in both Greene and Nelson this week. Nelson will consider a proposal to convert a part of the former Wild Wolf Brewery into a distillery. Greene will take up future transportation needs and whether to make change to the rules for short-term rentals.
Thanks as always to the Piedmont Environmental Council their sponsorship of this newsletter.
Monday, November 14, 2022
Bonds 101 presentation before Fluvanna County EDA
How does public infrastructure get paid for? A primary financing mechanism is the issuance of bonds. In Virginia, economic development authorities have the power to float bonds. The Fluvanna County EDA will get a presentation on the topic at their meeting which begins at 5:00 p.m. in the Morris Room of the county administration building in Palmyra. The meeting is also accessible via Zoom.
The group will also go into closed session to discuss the acquisition of property at the Fork Union Business Park as well as something called Project Storage. (agenda and packet)
After that meeting, the Economic Development and Tourism Advisory Council is set to meet. (agenda)
In one other meeting:
The Charlottesville Electoral Board will meet at 8 a.m. (meeting info)
Tuesday, November 15, 2022
Rivanna authorities to meet; Staff proposing new paper sorting facility at Ivy-MUC
The Rivanna Water and Sewer Authority's Board of Directors will meet as will the Board of Directors of the Rivanna Solid Waste Authority. They are very similar in make-up and they will meet in the Rivanna Authorities Administration Building, 695 Moores Creek Lane, Charlottesville, VA 22902 (2nd Floor Conference Room). These meetings are available on Zoom. (RSWA agenda)
The Solid Waste group will get an update on an effort to improve efficiency of paper recycling through purchase of new baling equipment. Directors authorized an engineering study in September 2021. There is also a proposal to move that operation to the Ivy Materials Utilization Center. The cost estimate for construction is $7.8 million with Albemarle responsible for 70 percent of the cost.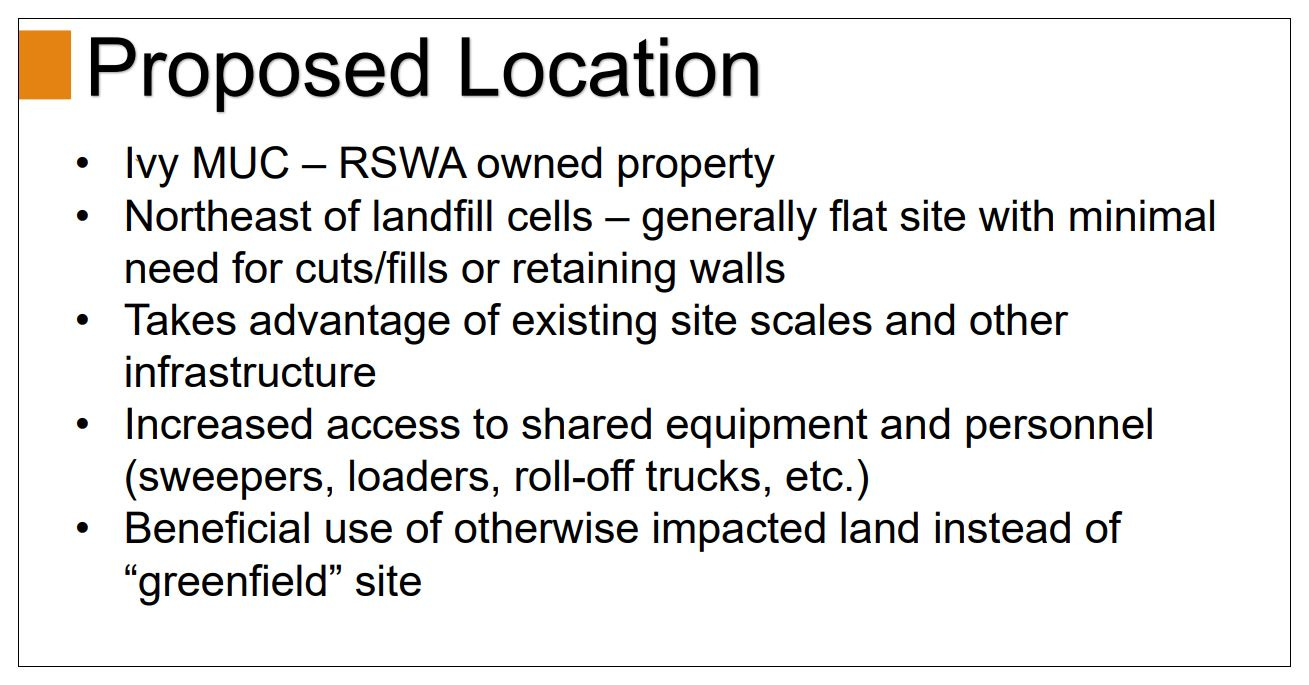 The RWSA meets after the RSWA has concluded their business and Albemarle Supervisor Jim Andrews switches out for Supervisor Ann Mallek. One item on the agenda is a public hearing for the sale of 1880 Buck Mountain Road. The RWSA had purchased that property and many, many others for the creation of a reservoir that was never built due to the presence of an endangered species. (RWSA agenda)
ECC Management Board to meet
Last week, a citizen-run website that listed details of rescue and fire calls finally went out of operation due to becoming obsolete with new technology. This resource has been used by many in the community for years to figure out what is happening when sirens can be heard.
With that in mind, more people may want to know about how the Emergency Communications Center works. The Management Board meets at 2 p.m. in the ECC Conference Room at 2306 Ivy Road. This item is not listed on the agenda, neither do I expect it to be. But, I want to know more about how the system works and how we can find out more information about specific calls. (meeting info) (agenda)
The latest meeting has a productivity report from the ECC for the third quarter.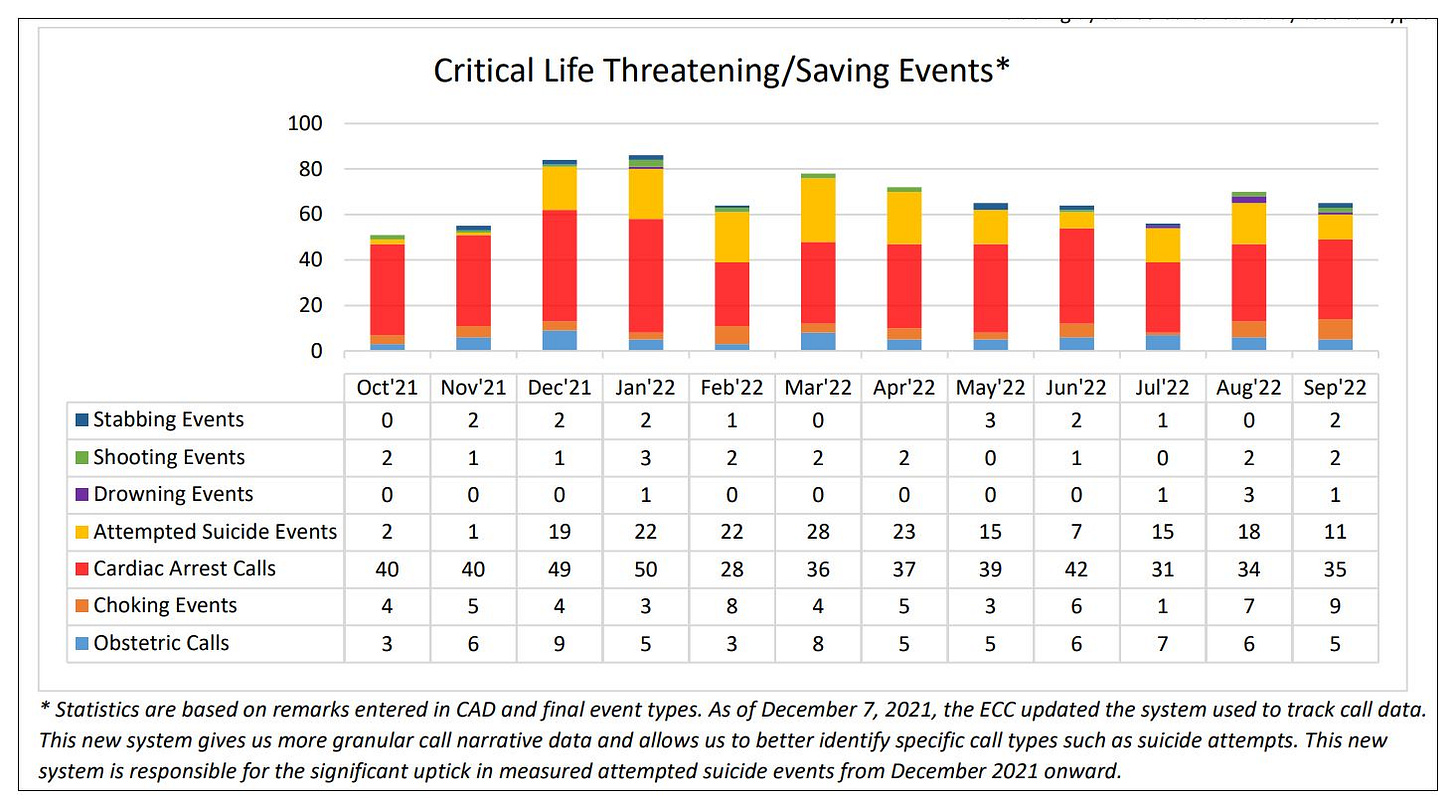 Cost estimates for next Smart Scale project dramatically increase
The technical committee of the Metropolitan Planning Organization will meet at 10 a.m. at 407 East Water Street. There's a Zoom way to watch and participate, too.
This group will get final project cost estimates for Smart Scale round 5. For background, two articles for you to read:
The Charlottesville-Albemarle MPO submitted four projects, all of which have seen cost estimates dramatically increase:
Fifth Street Multi-modal improvements from Harris Road to the Holiday Inn increased from $12.9 million to nearly $22.8 million when contingencies and inflation are added.
Avon Street Multi-modal improvements increased from $8.85 million to $15.8 million.
The Rivanna River Bike and Pedestrian Crossing increased from $18.8 million to $41.115 million.
The District Avenue roundabout increased from $11.3 million to $20.05 million.
The project scores will be released in late January.
This group will also be briefed on the Regional Transit Vision plan. For more on that, here's a November 2, 2022 story I wrote on its progress. I recorded last week's governance meeting but have not been able to get to it yet.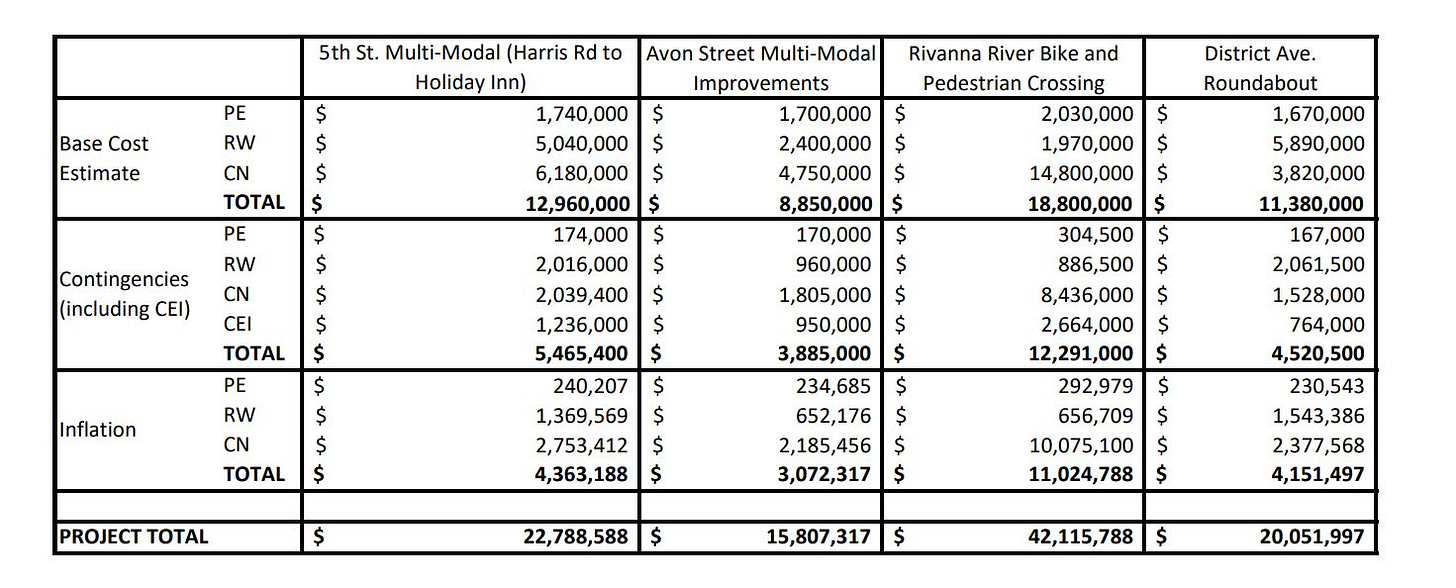 In other meetings: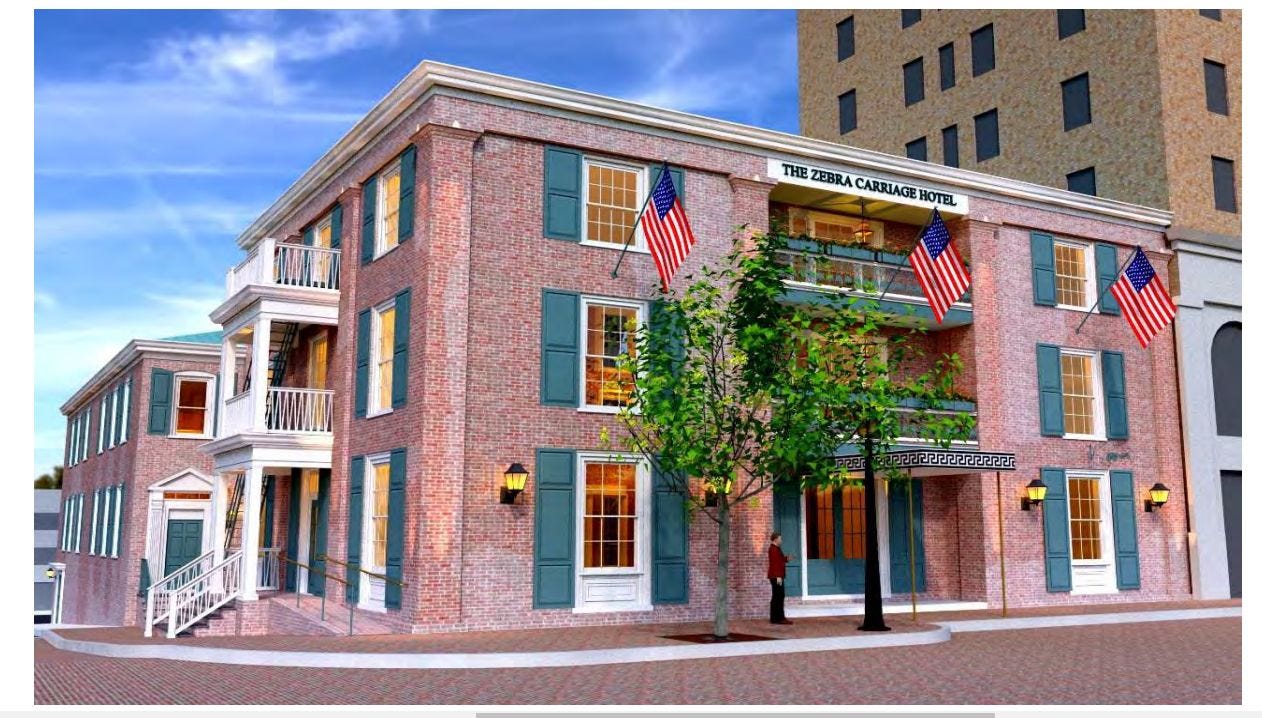 Wednesday, November 16, 2022
Albemarle County Supervisors to learn of climate risks
The Albemarle Board of Supervisors will meet at 2 p.m. in Lane Auditorium at the county office building at 401 McIntire Road. That's an hour later than usual. (meeting info)
In the afternoon session, Supervisors will see a presentation on the Climate Vulnerability and Risk Assessment. They adopted a Climate Action Plan in October 2020 that called for this work to be done in order to prepare for the increased extreme weather events predicted as part of a shifting global climate.
"To build local resilience to climate change, it is first necessary to assess how climate change will affect us here in Albemarle County," reads the staff report.
The firm Sobis was hired to conduct the work with contributions from both the Piedmont Environmental Council and Reslience Virginia. The work was released this past June and there is now a 20 page summary. (read the report) (read the summary)
(In full disclosure, PEC is an advertising sponsor of this newsletter)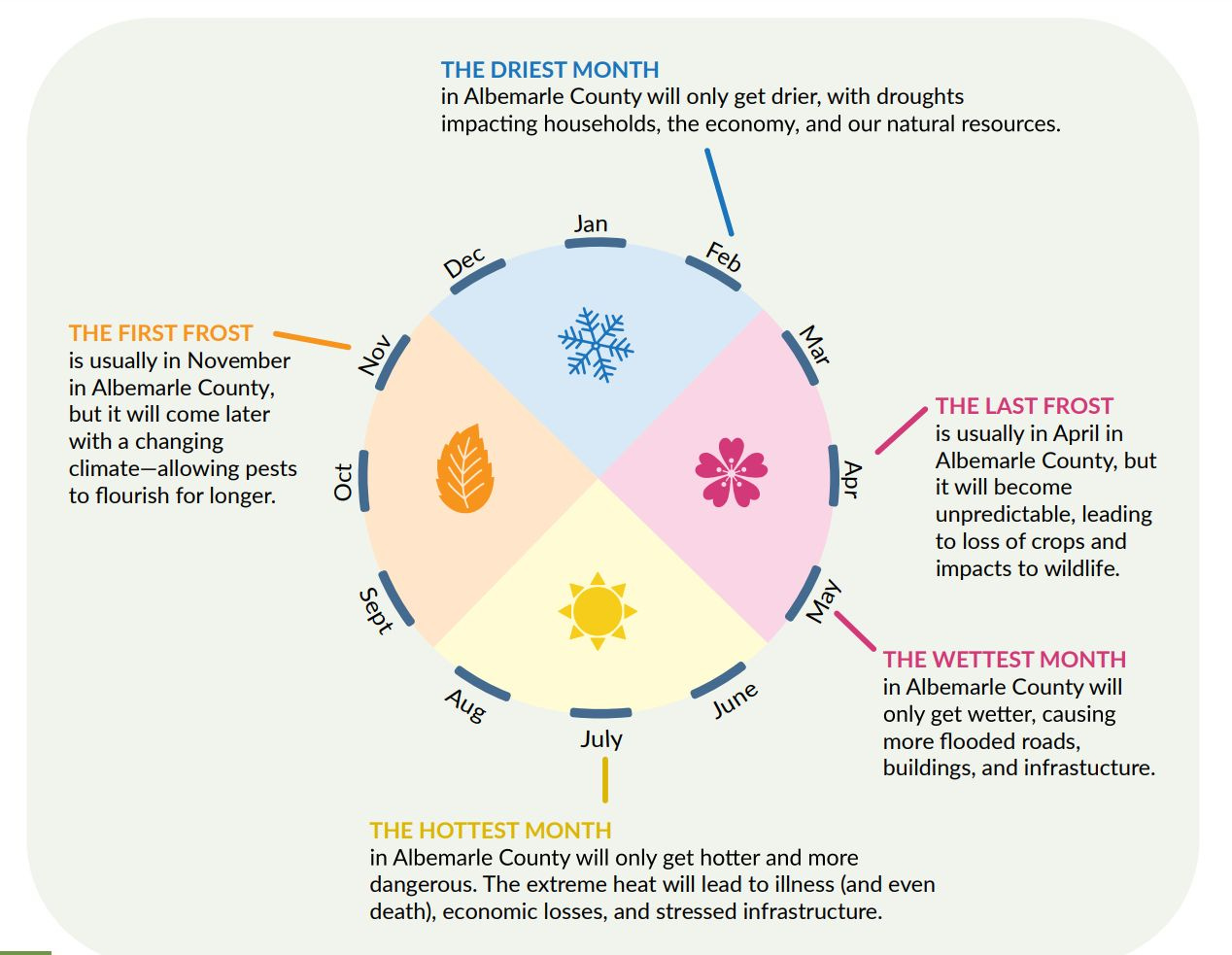 The second item in the afternoon pertains to what the Electoral Board would need to implement ranked-choice voting. I'll have more information on that in the next edition of Charlottesville Community Engagement
In the evening, there is a public hearing for the expansion of the Clifton Inn from 14 guest rooms to 50 rooms and Collina Farm from 5 rooms to 21 rooms. This requires a rezoning from Planned Residential Development to Rural Area. The Albemarle Planning Commission unanimously recommended approval on August 23. (staff report)
Some items of note on the consent agenda:
What's the cost of growth in Fluvanna County? Supervisors to discuss
The five member Fluvanna Board of Supervisors meets at 7 p.m. in the Carysbrook Performing Arts Center in Fork Union. (agenda packet)
There will be a special presentation commemorating the late Gequetta Murray-Key, a Planning Commission and School Board member who died in October.
There is a public hearing for a property owner that wants to withdraw about 20 acres from an agricultural-forestal district. The landowner wants to be able to "generate the funds needed to buy out my partner."
There's also a name change for a street from Starling Drive to Grass Court. There's also action to allow a deer hunt for disabled hunters at Pleasant Grove Park.
"The sheriff's office continues to believe that it is necessary to reduce the numbers of deer on Pleasant Grove and that the best means of such control is through a managed hunt under the auspices of Wheelin Sportsmen, a group affiliated with the National Wild Turkey Federation," reads the staff report from county attorney Frederick W. Payne. "The proposal is to permit a small (7-10) group of hunters to take deer during the current hunting season. The hunt will be confined to carefully selected areas of Pleasant Grove on Thursday, December 29, 2022."
There will be presentations from the Virginia Department of Transportation, the Blue Ridge Cigarette Tax Board, and the cost of community services.
"The original estimate of revenue for January through June 2022 was $103,217, which was based upon an estimated number of anticipated packs sold," reads the staff report on the cigarette tax from County Administrator Eric Dahl ."The actual FY22 revenue for that period came in at $81,885."
Elected officials in growing communities often want to know what the cost of providing new services has been and will be. The American Farmland Trust developed a model known as the Cost of Community Service in the mid-1980's to calculate various metrics related to growth.
"The primary goal is to measure fiscal impact, which attempts to estimate the net fiscal effects (revenues generated minus service expenditures created) of different types of new development on a community," Dahl wrote in a staff report. "The end result of the model is a ratio of total expenditure required by land use to total revenues generated by land use.
In general, business and agricultural uses produce more revenue than it takes to provide services. Dahl will point out the limitations of such a study, such as being able to distinguish between different housing types. He'll ask Supervisors if they want a more detailed review.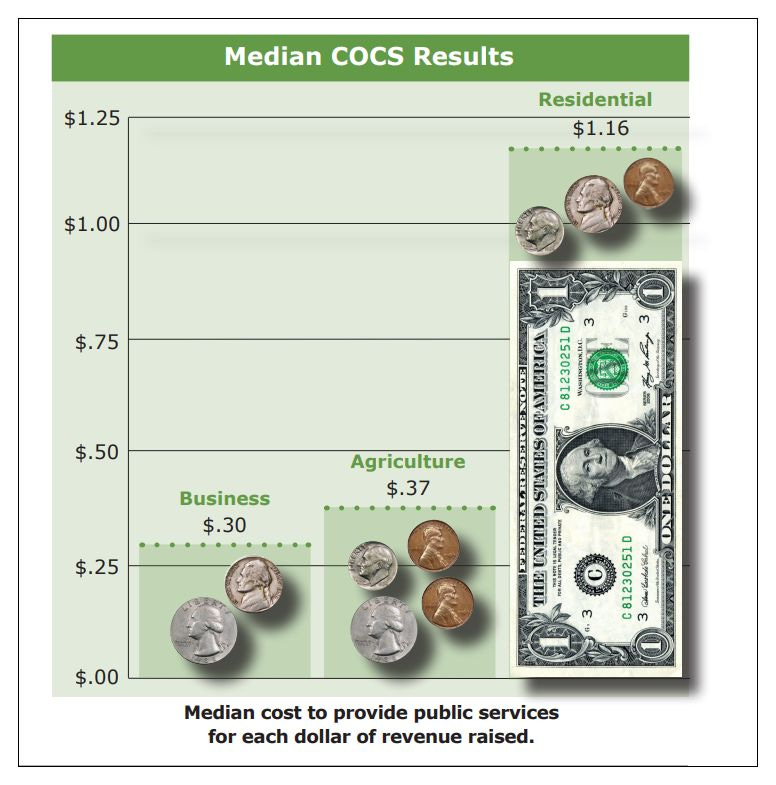 Nelson County Planning Commission to consider Three Notch'd Brewery's distillery request
The Nelson County Planning Commission will meet at 7 p.m. in the General District Courtroom in Lovingston. There are three public hearings (public hearings page) (meeting packet)
The first is for a special use permit application from Three Notch'd Brewery Company to operate a distillery at the former Wild Wolf Brewery space.
"They are proposing to produce 'ready to drinK' or 'RTD' cocktails that will be sold onsite, to-go, and for distribution throughout Virginia, and anticipate that 80% of what is produced
in the distillery will be removed for off-site purchase," reads the staff report by Dylan Bishop, Nelson's director of planning and zoning.
Three Notch'd will seek an extension of an Aqua Virginia force main sewer line from the project.
"The applicant also intends to have production wastewater pumped and hauled, and abandon the current septic fields," Bishop continues.
The second public hearing is for a special use permit for a campground on agricultural land on Sleepy Hollow Road in the West District. This would allow for two renovated school buses for short-term rentals to be compliant with zoning.
"One bus is a 2001 Blue Bird and the other is a 2002 Thomas," reads the narrative from the applicant. "They have been fully renovated and furnished on the interior with a Queen size bed, a set of bunk beds, a dining table, refrigerator, kitchen with oven/stove/microwave, and a full bath (Blue Bird) or half bath (Green Giant).
The third public is also for a special use permit for a campground near the Tye River. This one is for two tiny houses that would be on wheels and removable from the site.
"In the last few years, demand for such places has increased as is evident with the camping areas across the road from our site as well as the other campsites up the road," write the property owners. "Our goal is to improve the property potential and provide an outlet for the increased desire to explore our county."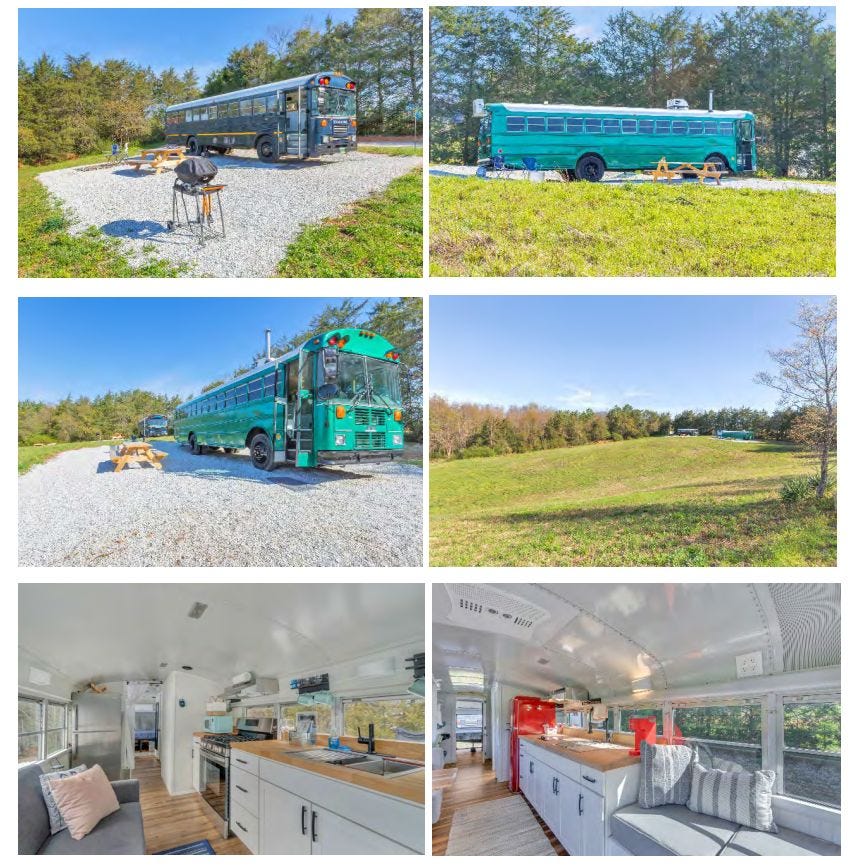 Greene County Planning Commission to review transportation chapter including U.S. 29 pathway recommendation
The Greene County Planning Commission will meet at 6 p.m. in the Administration Building in Stanardsville. There's a link on the agenda for Zoom registration if you'd like to join that way. (agenda)
The meeting begins with a review of the Transportation Chapter of the Greene Comprehensive Plan. This chapter has been updated to reflect the 2022 U.S. Corridor Study between Airport Road in Albemarle and Deerfield Drive in Greene.
"One of the alternative recommendations included multimodal or shared use paths from Deerfield Drive in Ruckersville to Airport Road, connecting the two economic centers," reads some of the updated text.
The document now also describes recent construction of new infrastructure in Stanardsville.
"Greene County's most complete sidewalk network exists in Stanardsville thanks mainly to a Streetscape Enhancement grant award that made the downtown area safer and more pedestrian-friendly with new sidewalks, bulb-outs, and crosswalks," reads the chapter.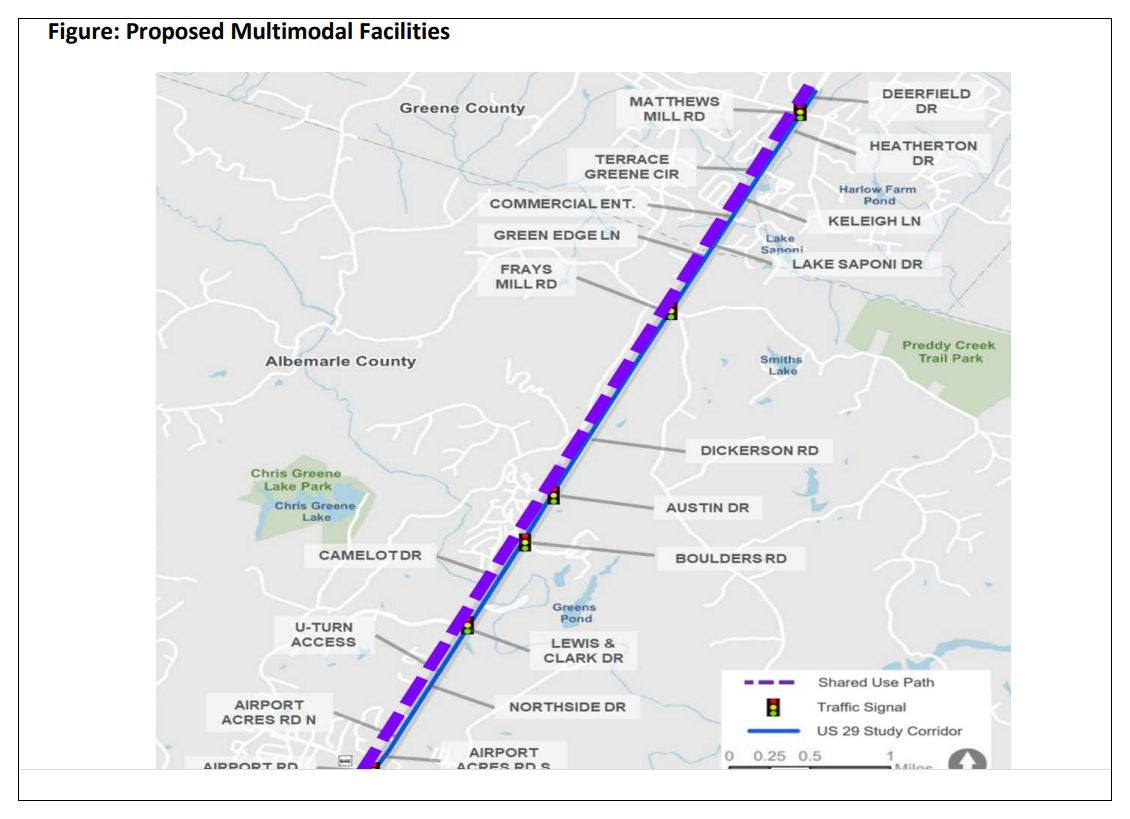 The Greene Planning Commission will also have two public hearings.
The first is for a request from a property owner to rezone 8.84 acres on U.S. 29 in Ruckersville from agricultural to Business Highway and High Intensity. This land is designated as Mixed-Use Village in the Future Land Use Map.
"We have a HVAC contractor with 18 employees looking to locate his business on this parcel," reads a September 1 email to the county from the property owners.
The second is for a revision to the zoning ordinance related to short-term lodging. Supervisors asked the Planning Commission to consider whether there should be a registry of providers of property owners who rent out space to tourists.
In another meeting:
The Citizens Transportation Advisory Committee (CTAC) will meet in-person at 7 p.m. in at the offices of the Thomas Jefferson Planning District Commission on Water Street in Charlottesville. For those wanting to know what the next long-range transportation plan will be called, there will be an update on that. One previous name was UNJAM. (agenda)
Thursday, November 17, 2022
Charlottesville Area Alliance hosting Middle Missing webinar
The Charlottesville Area Alliance is a consortium of nonprofits that seek to make the area more hospitable to those among us who are getting older. One of their concerns is on the affordability and availability of housing. Can building more small units help?
"Charlottesville Area Alliance's upcoming webinar, hosted by ECONorthwest and presented by AARP… will be discussing missing middle housing and ADU's in the context of age-friendly communities," reads the flyer for the event which takes place at 1 p.m. (register on Zoom)
In other meetings:
The Charlottesville Human Rights Commission meets at 6:30 p.m. in a virtual meeting. No agenda is published at publication time. (Zoom registration)
The Fifth and Avon Community Advisory Committee meeting is still on the schedule at publication time, but there is a chance it may be canceled. (meeting info)
Friday, November 18, 2022
Nothing comes up. Did I miss something? What would you want covered this week? Let me know in an email, a comment, or a haiku. 
---
This post was contributed by Sean Tubbs. Sean is a journalist working to build a new information and news outlet centered around Charlottesville and Virginia. In 2020, he launched a daily newscast and newsletter and also created a semi-regular podcast on the pandemic.
Support for Sean's "Week Ahead" update comes from The Piedmont Environmental Council.