The following text was sent out via email on November 14, 2022. Sign up for PEC email alerts →
---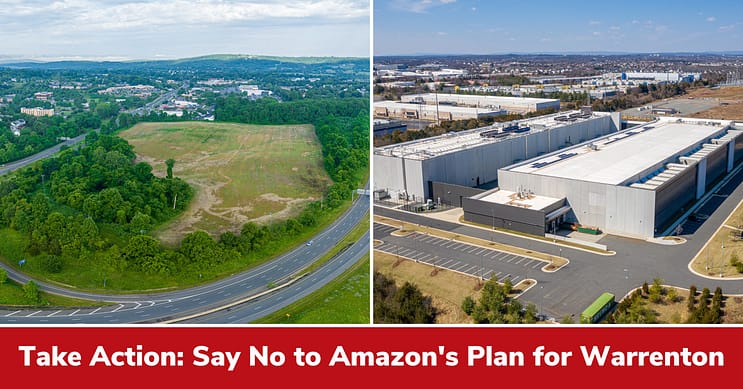 Dear Supporter,
Last week, we reached out about the Warrenton Planning Commission public hearing for the Amazon Special Use Permit, scheduled for November 15 at 7 p.m. at 21 Main Street Warrenton, VA 20186, but there is recent news and a number of significant changes that we want to bring to your attention today. We are still asking that the Planning Commission recommend denial of this proposal, and believe these latest developments further support that recommendation.
First, the format for this public hearing will be a little different than previous Town public hearings. Speakers are encouraged to sign up early using this link, and Town residents will be invited to speak first, followed by non-residents. Organizations will be allowed to have only one speaker on their behalf, so unless you are that speaker, be sure to sign up to speak as a resident. Learn more about how to sign up to speak or submit public comment.
Second, Dominion has appeared to change its position on whether the Amazon facility would need to be served with transmission lines, now saying distribution lines are sufficient. Just last week, at the Nov. 10 worksession with County supervisors, Dominion proposed two alternative options for new offsite substations that would connect to the Blackwell Rd. site via underground distribution lines. Dominion's preferred option is at 615 Falmouth St. (a.k.a. the Old Wire Factory) where the landowner has advertised the site for data center development. This option will still require a short transmission line across Rt. 29 from the Warrenton substation on Meetze Rd. to the 615 Falmouth St. site. The second option is along the Warrenton Branch Greenway, south of Meetze Rd.; at this location, the distribution line route could also be accessible to the 615 Falmouth St. site. We are concerned that both of these proposals would wire the Town up for more data center development and virtually guarantee that 615 Falmouth St. is developed as a data center.
And finally, Amazon has revised its application once again, submitting new draft conditions with multiple changes, including to language about undergrounding lines. Now, rather than Amazon agreeing to undergrounding "all electrical lines," which would include transmission lines, the scope is limited to undergrounding only "distribution lines" (which Amazon is required to pay for under Dominion's policy regardless). Thus, Amazon would not pay for undergrounding the transmission line required for part of the route from the Warrenton substation on Meetze Rd. to a potential substation at 615 Falmouth St. It's really difficult to evaluate a continuously changing proposal, so we're not altogether sure what all these last-minute changes could mean for the Town yet.
The sand is shifting beneath our feet when it comes to this application, especially on the highly contentious issue of what will be required with regard to energy infrastructure. We are confident that approval of this data center will lead to more data center development in Warrenton. And regardless of what the future holds, the application still has significant flaws, including the absence of a completed noise study and the visual impacts at the gateway of the Town.
Given all this, we are urging the Planning Commission to issue a recommendation of denial. We need YOU and many other residents to write letters, and come out and speak at the November 15 public hearing. The Planning Commission needs to hear from the Warrenton community that it does not want to have multiple data centers scattered throughout the Town!
After the Planning Commission makes its recommendation, the Town Council then has the power to approve/deny the Amazon proposal at its own public hearing, which could be as early as Dec. 13 this year.
Sincerely,
Julie Bolthouse, AICP
Director of Land Use
jbolthouse@pecva.org
(540) 347-2334 x7042