It's another strange start to the week with another winter storm having moved through yesterday. The uncertainty of weather as well as today's holiday for the local government caused me to delay publication until today.
This is a big week for transit planning with three opportunities to learn about what's happening. Council will have a work session on the topic on Monday. They would do well to review a proposal that will go before the Albemarle Board of Supervisors for the regional planning body to hire a consultant to create another proposal for a regional transit authority. All of the details in the newsletter below. And a lot more!
Thanks to the Piedmont Environmental Council for their sponsorship of this newsletter for almost a year and a half now. I'm grateful for their support as I spend each week combing through agendas of government meetings to help as many people as possible know what's coming up and how they can get involved.
Monday, January 17, 2022
There are no government meetings today, although one Albemarle calendar suggests the Albemarle Board of Supervisors has a work session beginning at 3 p.m. That may be an error but here is the link all the same.
Otherwise, Albemarle and Charlottesville governments are closed for the day in honor of Martin Luther King Jr. Day. There are events worth noting.
First, the Albemarle Charlottesville Historical Society is holding their annual meeting at 7 p.m. and the keynote speaker is their newest board member. Gayle Jessup White is the first Public Relations and Community Engagement Officer for Monticello and the first descendant of Thomas Jefferson and the enslaved community to work for the Thomas Jefferson Foundation.
Gayle Jessup White will talk about her book Reclamation: Sally Hemmings, Thomas Jefferson, and a Descendant's Search for her Family's Lasting Legacy. This begins at 7 p.m. and you can register for the Zoom call or watch on Facebook Live.
For other events, visit the University of Virginia's page for discussions related to Martin Luther King Jr.'s third book, Why We Can't Wait.
Tuesday, January 18, 2022
Charlottesville Council to talk transit at work session
Charlottesville City Council meets at 4 p.m. and it will be the first time the new elected officials will weigh in on issues related to transit. Charlottesville is the sole owner of the Charlottesville Area Transit, an agency that spent a lot of time in 2021 reviewing service changes that have not yet been implemented.
There's no agenda for this item at the moment, but here are some other things going on with transit. Albemarle County and the Thomas Jefferson Planning District Commission are overseeing two studies. One is for a Regional Transit Vision for which a survey is still active and you can still take it through the end of January. (take the survey)
Albemarle County is also studying how to expand transit to Pantops, the Hollymead area and points north, as well as Monticello. Jaunt has a new CEO in Ted Rieck. BRITE is in the first year of running a service between Staunton and Charlottesville. For information on all of these topics, visit the transit section on the Information Charlottesville archive.
Also, see below to Albemarle County's agenda. They'll take up a request from the Thomas Jefferson Planning District Commission to fund a "transit governance study." (draft scope of work)
Interim manager and Piedmont Housing rezonings on Park Street
The first item on the regular agenda is appointment of an interim city manager provided by the Robert Bobb Group as "its key personnel to be assigned by the firm to perform the duties of city manager." The name is not in the agenda. Council met in closed session last week to conduct interviews. (staff report)
Council will hold second reading on an application for the Piedmont Housing Alliance's request for a rezoning at the Monticello Area Community Action Agency property on Park Street. That would allow 96 units on the site. Council held first reading on January 5 and opted to not place the second on the consent agenda. Some Councilors continued to have concerns about the traffic impacts. Read my story from that first meeting to learn more. (staff report)
Next is a resolution on the use of $1.094 million from the American Rescue Plan Act that will be used for these projects:
$12,918 as a match for a state-funded bonuses in the Sheriff's department
$227,735 to make up for rent not paid by Downtown Mall merchants for outdoor cafes in 2020 and 2021. See the consent agenda for more information
$776,000 for the Pathways Fund and Community Hotline assistance
$58,500 for enhanced cleaning costs at the Juvenile and Domestic Court
$20,000 for 1,000 take-home COVID-tests for city employees
Then the Council will take up an agenda to name recently acquired or built park lands: (staff report)
Azalea Park West for the 32 acres along Moores Creek near Azalea Park
Mill Park for the 20 acres along Moores Creek near Jordan Park and Avon Street
Heyward Community Forest for 147 acres in Albemarle County adjacent to the Ragged Mountain Natural Area
Unity Field at Northeast Park for the rectangular field there
Butterfly Greenway for 42 acres of parkland
Jenkins Park for the recently opened pocket park at Albemarle and 8th Street near Westhaven
Council will also be asked to adopt a resolution of support for the Charlottesville Redevelopment and Housing Authority's application for low-income housing tax credits for the first phase of the Sixth Street redevelopment. According to the staff report, there will be 45 units in a four-story apartment building to be constructed along Monticello Avenue and 6th Street SE.
"LIHTCs are critical to the financing of the development of deeply affordable housing projects, and it is a competitive application process," reads the staff report.
The project will include nine one bedroom units, 20 two bedroom units, and 16 3 bedroom units. They will be for people with incomes between zero and 60 percent of the area median income. Six existing units will be demolished.
The site plan must be approved in order for the application to the entity formerly known as the Virginia Housing Development Authority. There's another resolution indicating Council's declaration of this location as a revitalization area.
In another item, the city has unspent funds from the Community Development Block Grant program. The U.S. Department of Housing and Urban Development requires these funds to be spent in a timely manner. The staff report does notmention that Council has agreed to cancel a project that would have used CDBG funding to build a sidewalk on Franklin Street. My story from December 31, 2021 does. (staff report)
Council will also get an update on the Rivanna Solid Waste Authority and the Rivanna Water and Sewer Authority. (staff report)
Interested in getting involved with the upcoming rewrite of the zoning code? Take a look at the Community Engagement chapter of the Comprehensive Plan beginning on page 89. You can also read my story from January 12 at which the Charlottesville Planning Commission was briefed on the process to come.
On the consent agenda:
Albemarle PC to take up Boys and Girls Club, higher height for electric line
The Albemarle Planning Commission meets virtually at 6 p.m. One item related to the electric grid has been deferred, but the other one will be proceeding. (meeting info)
The deferred item is a request for a special use permit to allow for an upgrade requested by the Central Virginia Electric Cooperative of an existing substation on Gordonsville Road at Cash's Corner. The public hearing was advertised incorrectly, hence the deferral.
The Commission will have a public hearing on a special use permit to allow the Boys and Girls Club to operate a Community Center on land that is zoned Rural Area. The Lambs Lane campus is just outside of the county's designated growth area. A new building would replace a track used as part of the county's driver education efforts. (staff report)
"This larger facility will help the Boys and Girls Club serve more children in the community as well as other additional services that cannot be accommodate within the current Jack Jouett building," reads the narrative.
The center will also have squash courts.
In the second public hearing, the Central Virginia Electric Cooperative is seeking permission for the height and structure-type of an existing 3.85 mile transmission line south of Batesville. (staff report)
Growth on the agenda at Scottsville Town Council
Scottsville's Town Council will meet at 7 p.m. in a hybrid meeting. There are two public hearings for special use permits seeking to make use of a recent rezoning to allow more density in downtown. This would allow for new clusters of houses on Bird Street (48 houses) and Blenheim Road (24 units). For more information, visit this survey on the projects. The civil engineer is Shimp Engineering. (Zoom info)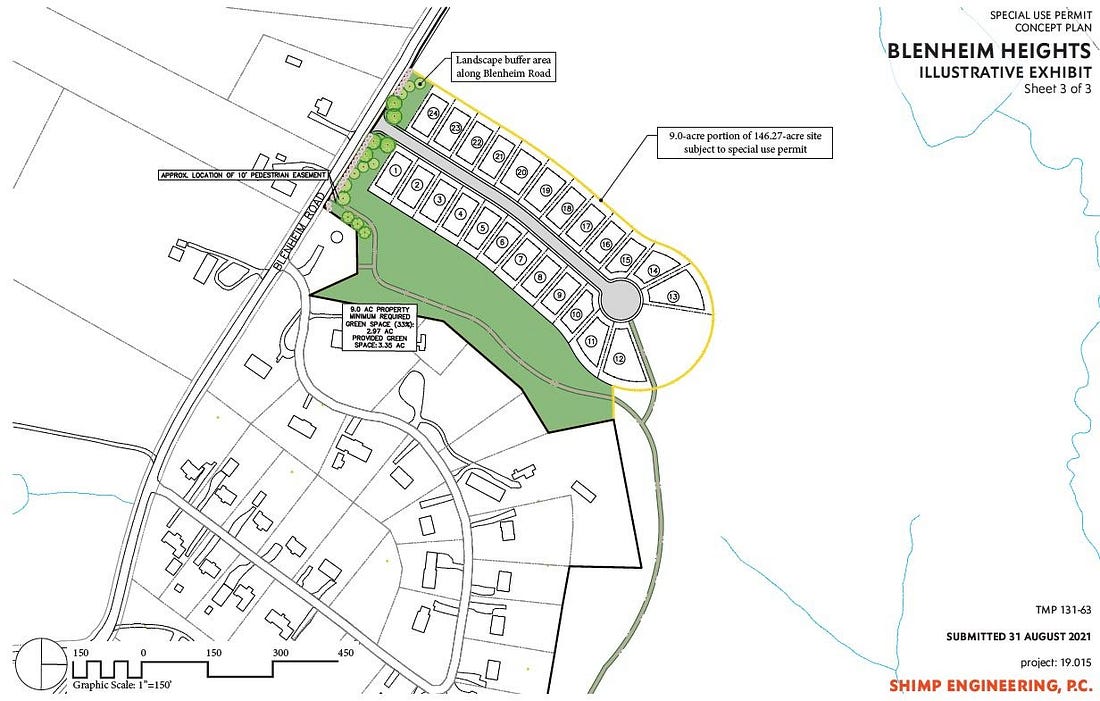 In other meetings:
Wednesday, January 19, 2022
Albemarle Supervisors to take up Southwood manager, Comprehensive Plan group members
The Albemarle Board of Supervisor meets at 1 p.m. (meeting info) (agenda)
Their first item is to approve $170,000 from Albemarle's housing fund to cover the costs of hiring a project manager to coordinate further activity required to get approvals for Habitat for Humanity's redevelopment of Southwood Mobile Home Park. There has been staff turnover in the years of planning, and this position is intended to prevent any delays in further staff turnover. Albemarle County has entered into a performance agreement to govern $3.4 million of its investment in the project.
"Strong communication about the nuances of the Performance Agreement, as well as State and Federal grant requirements, and coordination of effort between multiple county representatives and Habitat is critical to our collective success," reads the staff report. "The ability to navigate all of the compliance and reporting requirements of the funding streams will allow Habitat to succeed in reaching its milestones."
Albemarle County has begun review of its Comprehensive Plan and the Board of Supervisors will be asked to approve a plan with community engagement. Specifically, they'll be asked whether members of the "working group" should be paid for the ten hours a month they will be asked to work as a group.
"Without compensation, Working Group membership is likely to consist of individuals who already have the access and means to participate in the Comprehensive Plan update engagement activities," reads the staff report.
Supervisors will be asked if they would instead want to spend funding to hold events in underrepresented areas.
Albemarle's transit future
Now, on to transit. The Thomas Jefferson Planning District Commission wants to hire a firm to study the existing governance structure. The draft scope of work suggests the Regional Transit Partnership may not have done enough to promote cooperation.
"The 2022 Regional Transit Vision Plan recommends forming a regional authority to collect additional revenues in support of regional transit planning and services," reads the draft scope of work. "The division of services and dynamics of the providers create redundancies and make coordination of services difficult."
Will this be part of the City Council's work session on Monday? Council alone is the entity that governs Charlottesville Area Transit. Supervisors will be asked to spend $45,000 on a technical assistance grant to conduct this governance study.
But that's not the end of the Albemarle Board of Supervisors' discussion of transit. They'll also be presented with recommendations from that Albemarle transit expansion study and a resolution to apply for a grant for a demonstration project to provide microtransit in the Route 29 north and Pantops areas. (staff report)
The study by Foursquare ITP and Michael Baker International describes microtransit as "technology-driven demand response" that is a "familiar interface for those who have used Uber/Lyft app" with a "dedicated fleet" with "predictable / affordable fares" and "effective approach for auto-oriented environments."
The cost to Albemarle County for a one-year study in FY2023 would be $450,000.
In the afternoon, the Board will get a quarterly report from the Rivanna Water and Sewer Authority and the Albemarle County Service Authority.
In the evening session, there are three public hearings.
The S. L. Williamson company seeks a special use permit to continue a nonconforming use of an asphalt plant as they replace the existing facilities. (staff report)
Albemarle County seeks to amend its regulations related to fireworks. (staff report)
Related to the above, the fee schedule for Fire Rescue Department would be amended. (staff report)
Project returns back to Fluvanna Board of Supervisors
The packet for the Fluvanna County Board of Supervisors' meeting is 1,306 pages long. A budget work session begins at 5 p.m. followed by a regular meeting at 7 p.m. What's the fuss? Let's go through it.
In the regular meeting, there will be a public hearing for Southern Development's request for a rezoning for the Village Gardens development. The Planning Commission voted to recommend denial on November 30. Southern Development has provided additional information on page 76 and states that the project "addresses the strong demand for housing in the region."
The additional information explains how the company believes their application fits Fluvanna's Comprehensive Plan. There's also a statement from Aqua stating that the private company has capacity to serve the new development.
"Southern Development and Stanley Martin Homes put a tremendous amount of thought and consideration into the design of Village Gardens," reads the conclusion of their revised application.
Vice President Charlie Armstrong wrote a letter explaining some of the conditions for the development, including details of improvements that will be made to Route 53 prior to the issuance of the first certificate for occupancy. There's a lot of information in this packet.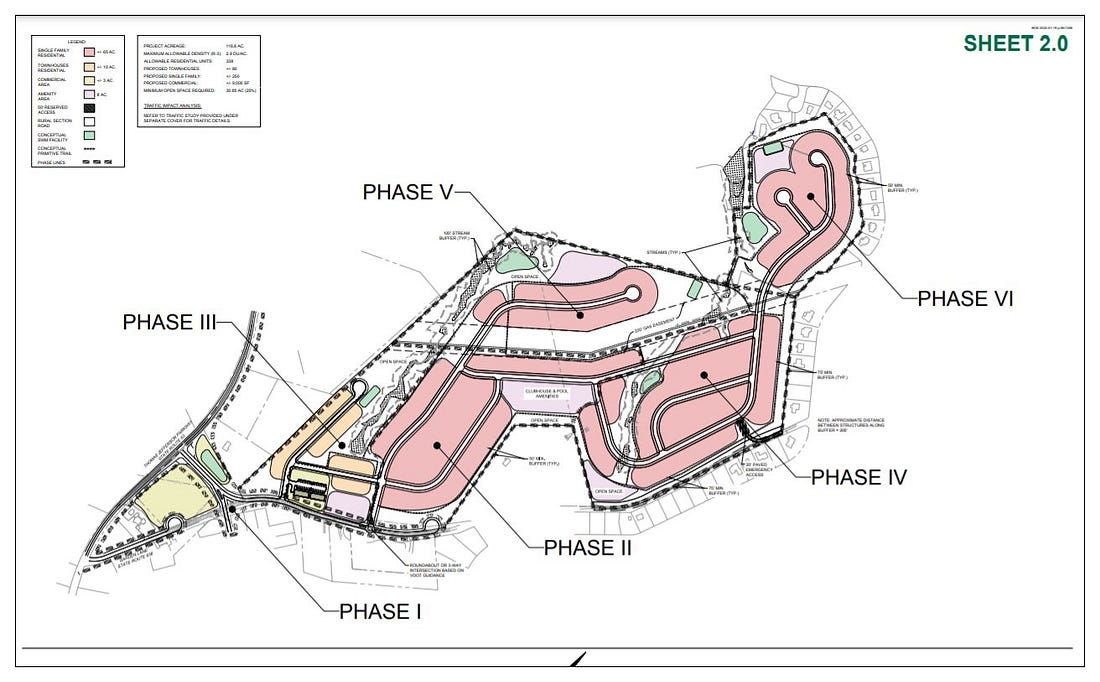 In other meetings:
Thursday, January 20, 2022
A new administration in Richmond signals a different approach at the state level on climate action, with Governor Youngkin signing an executive order signaling a desire to pull Virginia out of the Regional Greenhouse Gas Initiative. That action will also take legislative changes.
At the local level, Albemarle is implementing the first phase of a Climate Action Plan adopted in October 2020. Charlottesville is seeking to develop such a plan. Both communities are holding a community dialogue on the topic with the title Climate Action Together: A Roundtable Discussion About Local Implications of Climate Change on Our Community's Health, Safety, and Ecology (meeting info)
"Attendees will learn about specific challenges associated with extreme rainfall, heat waves, and seasonal changes from the perspectives of several public servants, and about upcoming opportunities to participate in preparation for changes we expect to see," reads a blurb for the event.
In other meetings:
The 5th and Avon Community Advisory Committee meets at 7 p.m. After election, they will get a presentation on the group's role in overseeing implementation of the Southern and Western Master Plan. (meeting info)
Charlottesville's Human Rights Commission will meet virtually at 6:30 p.m. There's no agenda at publication time. (meeting info)
---
This post was contributed by Sean Tubbs. Sean is a journalist working to build a new information and news outlet centered around Charlottesville and Virginia. In 2020, he launched a daily newscast and newsletter and also created a semi-regular podcast on the pandemic.
Support for Sean's "Week Ahead" update comes from The Piedmont Environmental Council.