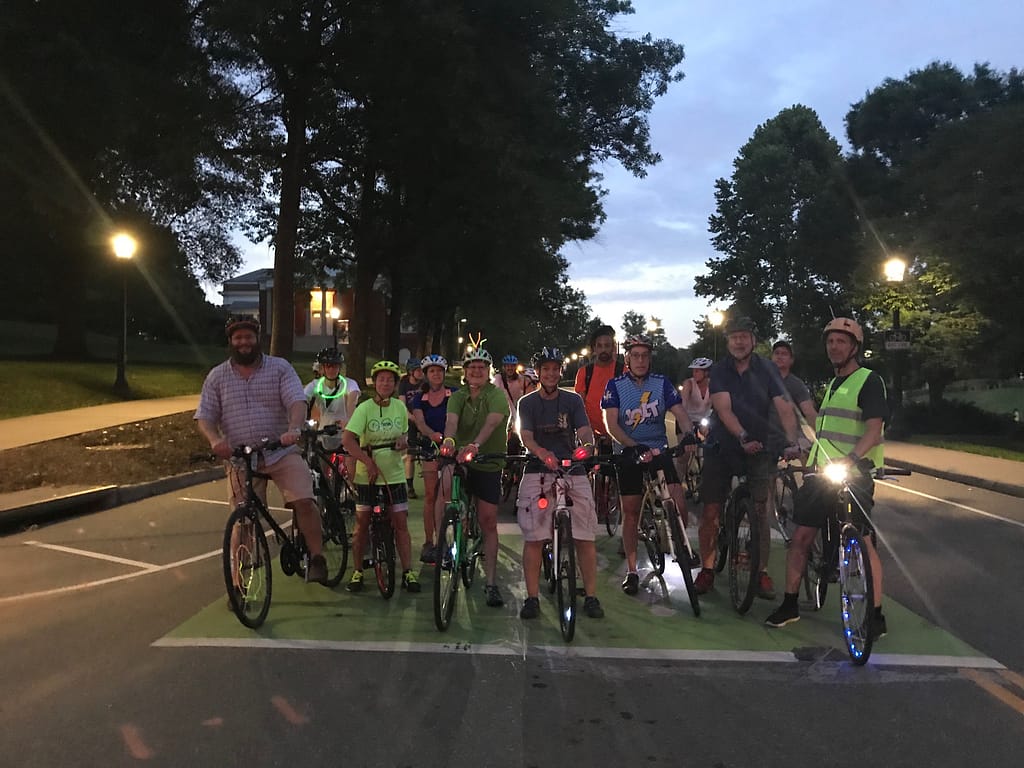 BikeCville is a series of relaxed all-ability group bike rides in Charlottesville hosted by The Piedmont Environmental Council and other local organizations. The purpose is to have fun while raising the visibility of cycling, encouraging hesitant cyclists, educating and fostering the region's advocacy network. All rides are free, open to all and appropriate for anyone who can ride for half an hour.
BikeCville rides take place from March to November, at various times and places, highlighting different neighborhoods and partnering with a variety of community-based organizations. The rides are generally 4-6 miles on roads with bike lanes and low-stress streets and greenways. We take plenty of breaks and no one is left behind.
Afterward, there is usually a social gathering during which the riders share their impressions and experiences and discuss new ideas and opportunities. BikeCville is a great way to meet new people, learn more about the community, develop the confidence to become a more frequent cyclist and advocate for safe streets.
All rides are tentative and subject to rescheduling or cancellation. Rides are rain or shine, but will be delayed if there is thunder and postponed/canceled if there is extreme heat, cold, or precipitation. Check back here and PEC's Facebook Group for updates.
If you would like to volunteer to help plan, lead, or coordinate some of the rides – sign up here to become a volunteer. We need your help!
BikeCville is made possible by a grant from the Bama Works Fund of Dave Matthews Band at the Charlottesville Area Community Foundation to encourage safe bicycling and create a stronger network of bicycle advocates. It is a partnership between the Piedmont Environmental Council, the Charlottesville Bicycle Pedestrian Committee, Charlottesville Community Bikes and a host of local groups.
#BikeCville