The following text was sent out via email on October 18, 2022. Sign up for PEC email alerts →
---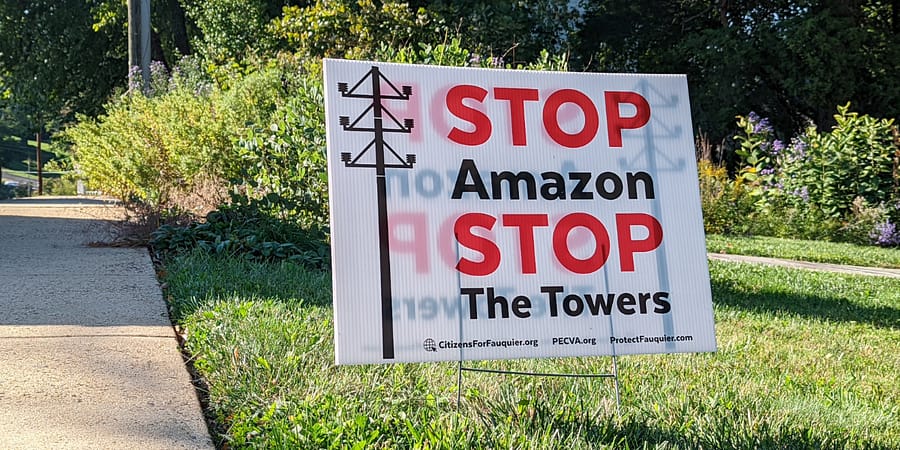 Dear Supporter,
Given the positive feedback on our last town hall, Protect Fauquier, Citizens for Fauquier County, and PEC have decided to hold another meeting on the proposed Amazon data center and the impact it could have on Warrenton and the County. I hope you'll consider joining us for:
Michael A. Hughes Center for the Arts
597 Broadview Avenue, Warrenton, VA 20186
October 26, 2022 @ 7 – 9 p.m. Doors open @ 6:30 p.m.
There have been quite a few updates since August. Amazon has made another submission to the Town responding to staff comments on the special use permit; a balloon test was conducted that shed light on some of the potential visual impacts of the proposal; the noise study submitted by Amazon's representatives has come under increasing scrutiny; Dominion's claims regarding utility infrastructure and the energy requirements of the site have become increasingly murky; data center companies' secretive practices have received more press attention; and Amazon's local attorney, John Foote, postponed a work session on the special use permit. 
We will touch on all of these developments at the upcoming town hall. And importantly, highlight actions you can take to oppose this ill-advised proposal as we get closer to a Planning Commission public hearing (currently not scheduled, but could be as early as December). Presentations will feature new information on:
Why there's more reason than ever to question the process and lack of transparency surrounding Amazon's proposal;
Noise and vibration issues and health consequences;
The wishful thinking that the transmission lines to serve this site will be buried;
Visual impacts of the proposed facility; and
How the Blackwell data center would likely be the first of many data centers in Warrenton and Fauquier County.
We hope you'll attend this can't-miss event! After receiving such great enthusiasm and having to turn people away at the last town hall, we are excited to host another meeting and share new information in a larger space. We look forward to seeing you at Highland School next Wednesday!
Please don't hesitate to reach out to me with any questions leading up to the town hall.
Sincerely,
Kevin Kask
Fauquier Field Representative
kkask@pecva.org
(540) 347-2334 ext. 7046