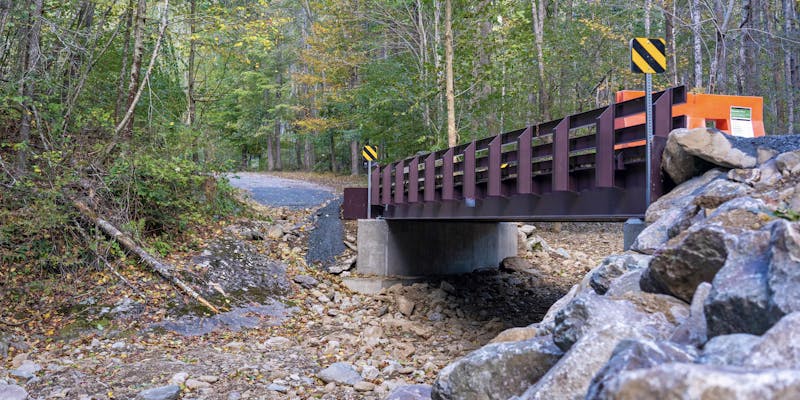 *Press Release*
Contact: Peter Hujik
Field Representative
The Piedmont Environmental Council
phujik@pecva.org
(540) 395-2911
Syria, VA (Oct. 22, 2019) — A new 35-foot span bridge across Cedar Run opened this week, offering hikers and nature-loving community members improved access to the popular Whiteoak Canyon trailhead and opening up three miles of stream habitat to native fish for the first time in decades. The effort is a public-private partnership between Shenandoah National Park, The Piedmont Environmental Council, Trout Unlimited, and the local landowners, the Graves family.
"Whiteoak Canyon Trail is one of the most popular hikes in Shenandoah National Park, with spectacular waterfalls within a two-hour drive of Washington, D.C., Fredericksburg, and Richmond. We are excited to be part of such an important project that, quite literally, enhances community connections to nature and wildlife," said Piedmont Environmental Council President Chris Miller.
The newly installed bridge from this $110,000 project replaces an undersized concrete crossing that impeded fish movement and frequently became clogged with woody material and river cobble during high flows requiring frequent maintenance. Acting much like a dam when clogged, the old structure rerouted water, causing erosion of stream banks and the structure itself and flooding surrounding areas. As a result of two extreme rainfalls in 2018, it had deteriorated to the point of being unsafe for vehicle and pedestrian traffic.
By allowing water to flow freely beneath it, the new bridge opens three miles of stream habitat to native brook trout, American eel and other native species, increases flood resilience and reduces erosion of the surrounding areas. It also provides a stable and accessible road to the upper parking area for the Whiteoak Canyon trail system, better emergency vehicle access and will allow for the installation of interpretive signage.
"The benefits of this project are twofold. More habitat available for brook trout and other native aquatic species and more reliable access to the Shenandoah National Park for visitors. Brook trout require healthy watersheds and stream habitat to survive and thrive. Equally important is access to that habitat, and the more habitat that is available the more resilient brook trout populations will be into the future," said Seth Coffman of Trout Unlimited.
"The old crossing that was there had served its purpose for decades but needed to be replaced. The new bridge will be better and safer for park visitors. We appreciate the effort of all the partners to make the project happen," said landowner Jimmy Graves. "This project supports the park's ongoing commitment to stream health and fish habitat, and improves visitor access. We are grateful to our partners who made this possible," said Shenandoah National Park Superintendent Jennifer Flynn.
This project is part of a regional initiative led by The Piedmont Environmental Council, Trout Unlimited, Friends of the Rappahannock and other partners to reconnect stream habitat for brook trout and improve water quality for other at-risk aquatic species. To date, five restoration projects on private lands adjacent to Shenandoah National Park have been completed as part of this initiative. The Piedmont Environmental Council is also working with VDOT to address fish passage issues created by public crossings in brook trout waters.
The Whiteoak Canyon project is funded by grants from the U.S. Fish and Wildlife Service, Virginia Department of Game and Inland Fisheries, Orvis, The Piedmont Environmental Council, Nimick Forbesway Foundation and Ohrstrom Foundation.