Communications Adviser
(540) 347-2334 ext. 7021
csabato@pecva.org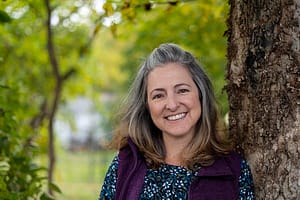 Cindy Sabato joined the PEC staff in fall 2019, eager to tell the stories of the people and the work that help preserve and honor the environmental beauty and character of the Virginia Piedmont. Prior to joining PEC, she led the communications team at Save The Bay – Narragansett Bay™ and served as a board member and outreach volunteer for the South Kingstown Land Trust in Rhode Island.
She holds a communications degree from James Madison University and some 20+ years in public relations and communications leadership for public education and nonprofit organizations. Upon rediscovering her passion and love for all things outdoors, she decided to refocus her career on the environment. Piedmont Environmental Council's mission and vision are perfectly aligned with her interests in caring for our water, land, and natural resources.
Cindy was born and raised in mid-Maryland, hails from a dairy-farming family, and grew up camping and fishing. She lives in Fauquier County with her husband and cat (just one, until she starts volunteering at the local animal shelter), and loves hiking, SCUBA diving, dancing and homebrewing.