Senior Conservation Fellow
kimhoff@pecva.org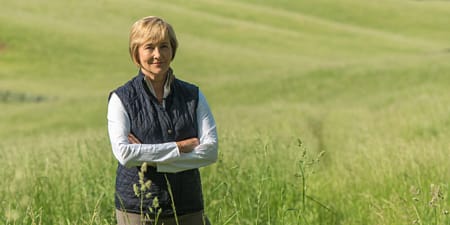 Kat Imhoff rejoined PEC as Senior Conservation Fellow in December 2019. She previously worked for the organization in the 1980s and 1990s.
In the seven years prior, she has served as the President and CEO of James Madison's Montpelier, where she oversaw all aspects of a national historic site, including the management of the historic house and grounds, its diverse education and museum programs, and the Robert H. Smith Center for the Constitution.
Before joining Montpelier in January 2013, Kat enjoyed a five-year tenure as State Director for The Nature Conservancy in Montana, where she led a successful $490 million effort to conserve an ecologically intact unit of 310,000 acres of land in the Northern Rockies that serves as an environmentally-protected migratory corridor extending from Wyoming across Montana to Canada.
Before her leadership role at The Nature Conservancy, Kat served as Executive Vice President and Chief Operating Officer for the Thomas Jefferson Foundation (TJF) which owns and operates Monticello, a UNESCO World Heritage site.
She has served as the Executive Director of the Preservation Alliance of Virginia and the Executive Director of the Commission on Population Growth and Development, a 33-member legislative study commission established by the Virginia General Assembly to promote growth management legislation. ​Earlier in her career, Kat served as Vice President for Conservation and Development for PEC.
This continuing dedication to preservation has been recognized by the American Society of Landscape Architects, the Virginia Wildlife Federation, and the Piedmont Environmental Council. It also led to her gubernatorial appointment as chair of the Virginia Outdoors Foundation, the largest holder of easements in the United States. She also served on the national Land Trust Accreditation Commission.