As the pandemic drove many Piedmont residents to seek respite and renewal in natural areas, parks, and trails like never before, it made one thing abundantly clear; we need more, well-distributed public access to parks and green spaces all throughout the region. Research shows that access to nature, whether in urban communities or rural areas, not only improves individual health, but also the well-being of communities. Often, land conservation is the key to opening up new trails and parks for all to enjoy, and The Piedmont Environmental Council (PEC) celebrated several such places in 2021.
The Fifeville-Tonsler Park Trail
At the center of Charlottesville, in the historically Black neighborhood of Fifeville, Tonsler Park is one of the city's busiest. Its tremendous recreational assets include an extensive playground, splash park, ballfields, life-sized chess board, rec center, and courts for everything from basketball to tennis to bocce ball. Its close proximity to the neighborhood's business district along Cherry Avenue makes it a popular place for families and people of all ages to gather. On any given day, Tonsler is alive with activity.
Just 600 feet away, residents of Greenstone of Fifth, an income-qualified community of 202 townhomes and apartments, can see the park from their windows. And yet, to get there, they have to walk more than a half-mile along a dangerous Fifth Street with fast-moving traffic and no sidewalks. Once upon a time, many still remember, they had quick, direct access to the park via Fifth Street S.W., which the city rerouted in the name of urban renewal, separating many of the area's most vulnerable residents from the jobs, food, shopping and cultural life of the central city. The land where Fifth Street once lay is now privately owned.
For the past year or so, PEC has been part of a community coalition led by the Fifeville Neighborhood Association to reconnect Greenstone to Tonsler Park and surrounding neighborhoods. In partnership with Woodard Properties, which owns the land in between, the coalition is building a new 1,500-foot, natural-surface trail that roughly follows the faint remaining traces of the former Fifth Street.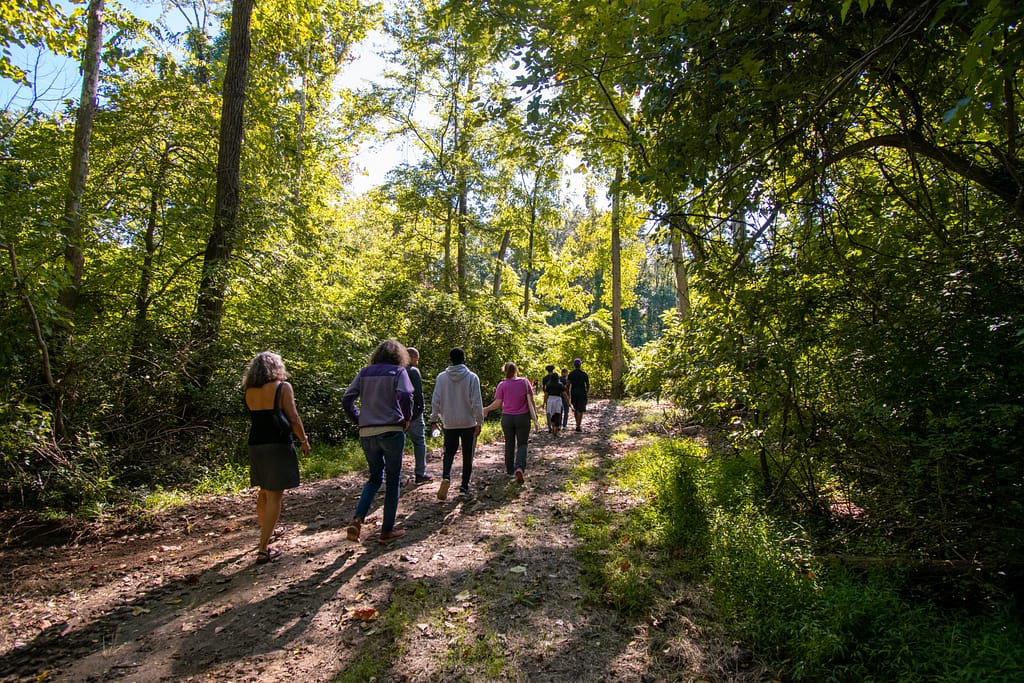 "The quick history," said PEC Community Organizer Peter Krebs, who's been involved since the beginning, "is that
the Fifeville Neighborhood Association worked with the local planning district to get a small area plan created for the whole neighborhood. That plan envisioned small businesses and parks that residents could easily reach by foot, and it identified some 'quick wins.' This trail was one of them. Then, with a Heal Charlottesville grant from Charlottesville Area Community Foundation, the neighborhood association engaged with a whole fleet of other community organizations to find out from community members what an effective trail would be."
PEC and the Rivanna Trails Foundation secured a $25,000 Get Outdoors Grant from the Virginia Outdoors Foundation to build the actual trail and worked with Woodward Properties for a trail easement that would make the Fifeville Trail a reality. Construction began last fall and is expected to be completed in spring 2022.
"The Fifeville trail is so important because it provides families with a direct connection to a park that is important both culturally and recreationally," Krebs said. "The trail itself is quite park-like, providing even more access to nature. With woods, a stream and restored historic bridge crossing, the mulched trail is an oasis of calm within a pretty bustling area of Charlottesville. And though not technically ADA-accessible, it's built with accessibility in mind."
In addition, trail extensions to Fifth and 71⁄2 streets will reconnect various nearby neighborhoods to Fifeville's economic and cultural core on Cherry Avenue and to Charlottesville's downtown and the University of Virginia. "A lot of people live south of this trail area and work north of it, so it's very much a home-to-work trail opportunity as well," he said.
In a community that's experienced years of exclusion from meaningful input around the future of Charlottesville, the Fifeville neighborhood saw this trail as a way to bring communities together in more ways than one.
The Upper Rappahannock River Blueway Trail
Outside Charlottesville, efforts to connect people to nature are happening in another way — by water.
The Rappahannock River is a Virginia scenic river providing world-class outdoor recreational resources for swimming, paddling, fishing, hiking, birdwatching and more. And yet, its 55 miles along Fauquier County's southern border offered only one place to access the water. That was at Riverside Preserve near Orlean, on land previously donated to the county by Charles K. MacDonald and protected with a Virginia Outdoors Foundation conservation easement. But there was no boat ramp there, and the nearest one was 32 miles downstream at Kelly's Ford in Culpeper County.
2021 changed all of that. "Many studies have shown that river access is important for improving quality of life, and a Fauquier County study identified river access for boating, kayaking and swimming as the community's second-highest priority, just behind trails for walking, biking and hiking," said Maggi Blomstrom, Rappahannock-Rapidan conservation initiative coordinator for The Piedmont Environmental Council.
PEC and many partners have for years envisioned an Upper Rappahannock River Water Trail, a navigable "blueway trail" with several publicly-accessible put-in and take-out points along the way, rest stops with sanitation facilities and adequate parking. In 2017, Friends of the Rappahannock (FOR) secured a $45,000 PATH Foundation grant to formalize the effort, and led a coalition of partners including PEC, the John Marshall Soil and Water Conservation District, Fauquier County Department of Parks and Recreation, and Virginia Department of Wildlife Resources in creating a strategic plan outlining potential access sites, water trail maps, water quality reporting, interpretive signage, community engagement and education opportunities.
With strong advocacy behind it, the Upper Rappahannock River Water Trail became a Regional Featured Project in the Virginia Outdoors Plan, "which was instrumental in helping raise this project to the top of the heap when it came to investment priorities locally," Blomstrom said. Soon after, Fauquier County Parks and Recreation made the Rappahannock one of its highest recreation priorities. And by the end of summer, with support from many community funders and organizations, in-kind contributions, hands-on partnership, and volunteers, the three new boat launches had opened up the Rappahannock River to countless Fauquier County residents and visitors for the first time.
The first ramp opened quietly in June at the existing Riverside Preserve park seven miles west of Warrenton. Two months later, the second boat ramp — a timber-framed, concrete staircase and wooden canoe slide — opened to great fanfare 20 miles downstream at Remington's Rector Tract, a conserved property previously donated by American Battlefield Trust. The third ramp opened in late summer at the end of Roger's Ford Road in Sumerduck, on the southern end of C.F. Phelps Wildlife Management Area, five miles below the existing ramp at Kelly's Ford. A grant from the Virginia Environmental Endowment helped fund construction of both the Remington and Roger's Ford boat launches. "The opening of these new access points represents an exciting step toward the realization of an Upper Rappahannock River Water Trail," Blomstrom said.
"2021 was an incredible year for public access on the Rappahannock River and I think we need to shout it from the mountain top, not just for the coming together of these new access points, but also for the incredible potential this water trail has as an economic engine to enhance tourism and give people a new way to experience our region," an enthusiastic Blomstrom said. "The Rappahannock River is a major artery and a free resource. And these new access points make the outdoors and swimming, fishing, and recreating accessible to people and families of all means. That's exciting!"
---
This story appeared in The Piedmont Environmental Council's member newsletter, The Piedmont View. If you'd like to become a PEC member or renew your membership, please visit pecva.org/join.