Contributed by Kat Imoff, Senior Conservation Fellow, and Rob McGinnis, Land Use Field Representative
In our last issue, we told you about a report we published in partnership with Albemarle County and others, outlining the County's climate-related risks and vulnerabilities. Now, the initial phase of the County's Comprehensive Plan update is underway with a focus on reviewing and updating Albemarle's growth management policy through the lens of climate action, as well as equity and population projections.
This update is the perfect time to talk about ways the County can address climate impacts. In particular, what must be done to protect people and communities from both the structural and public health effects of changing conditions at the local level? And what role can our corner of the world play in national and global efforts to slow climate change by reducing carbon emissions?
PEC is ramping up our activities and role within the broader Comprehensive Plan update process, developing recommendations that we hope, based on our study of climate threats in Albemarle, can serve as a model for other PEC counties.
Protect the drinking water supply
Water in Albemarle, as everywhere in the U.S., is a critical resource requiring protection. The Rivanna River watershed is the main source of water for the urban areas of Albemarle, the City of Charlottesville and the University of Virginia. It's imperative that the County assess population projections and ensure our communities have adequate water supply, present and future.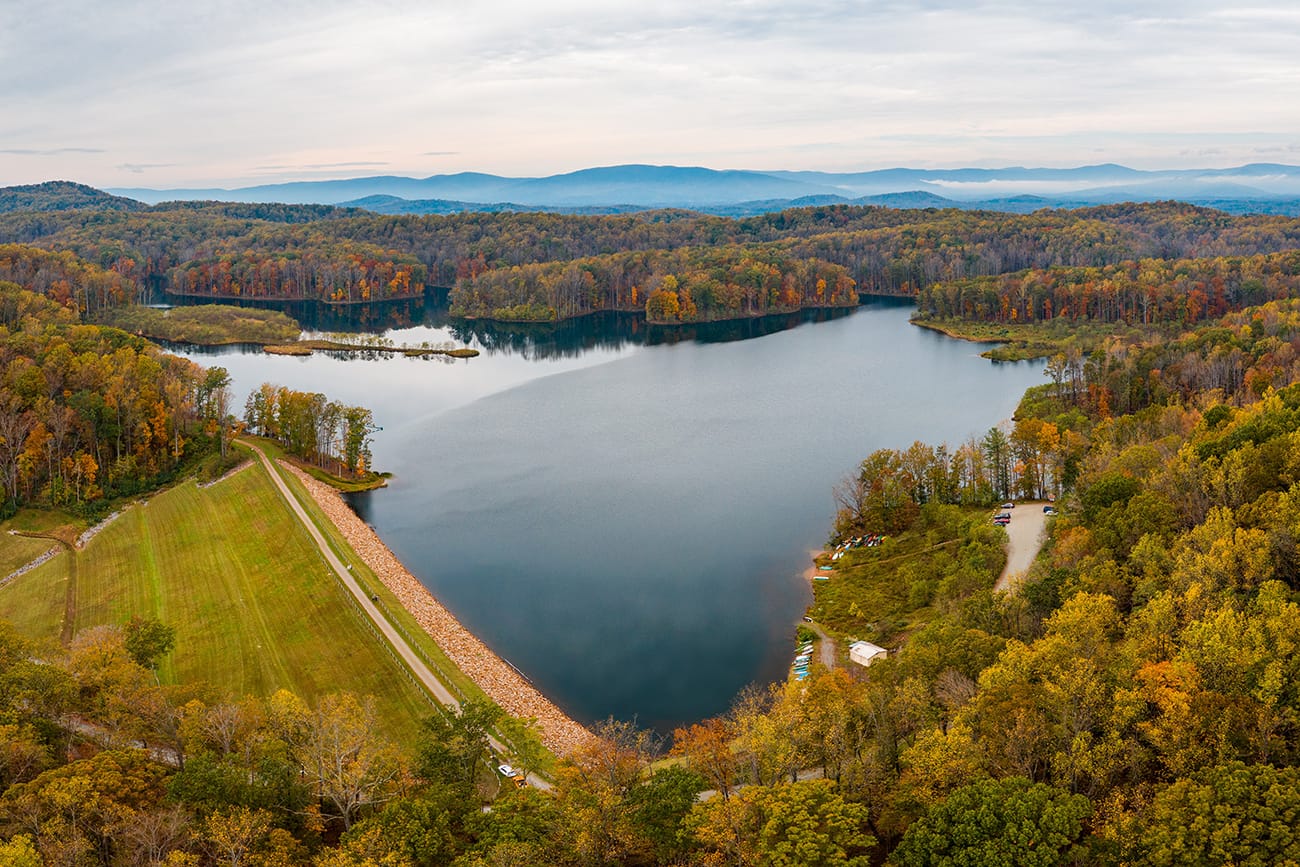 PEC is stressing to the County that it must, sooner rather than later, complete the connection of the Rivanna Reservoir to the Ragged Mountain Reservoir. This ongoing project, plus the raising of water levels at the Ragged Mountain Reservoir, is the result of a community-wide water planning process sparked by a severe drought in 2001-2002. The poor condition of the 100+-year-old pipeline from the Sugar Hollow Reservoir to the Ragged Mountain Reservoir only adds to the urgency.
Given that our drinking water originates in many rural areas of Albemarle, the County must also prioritize protecting these rural lands against development and industrial uses that will compromise water quality.
Preserve rural areas
In fact, protection of rural lands is an extremely important tool in climate mitigation and adaptation strategies more broadly. Not only do rural woodlands filter pollution from groundwater, they also sequester carbon from the atmosphere. Rural lands used to produce local food also support carbon emission reductions by lowering the energy and transportation impacts of importing food from the western U.S. and Central America.
We're also asking what more the County can do to ensure that rural lands stay rural for the benefit of drinking water, the environment, and food security in the face of climate change. Is it expanding incentives for conservation easements? Eliminating barriers for local food production and distribution? Something else? We believe that Albemarle County must explicitly plan for forest and agricultural land protection in order to preserve and promote the very aspects of the County that have attracted past — and future — growth and development.
Smart growth in urban centers
PEC has long advocated for sustainable, equitable, and green communities — what we refer to as smart growth. This is the principle that we can and must use when planning towns, cities and places for people to live and work. These communities are well supported by public transit, walkable and bike-friendly ways for people to get to services, recreation, and work, and safe outdoor public spaces.
In other words — communities where people can be less reliant on cars. Transportation is the top contributor to carbon emissions in the U.S., and smart growth is a crucial strategy for reducing carbon emissions and concurrently improving public health in areas most affected by air pollution.
Fortunately, since the 1980s, Albemarle County has been directing growth into its designated Development Areas already supported by existing services like water and sewer. PEC is advocating for more density in these areas and nature-based, green infrastructure that helps mitigate climate impacts. For example, deliberate planting of a robust urban tree canopy can help combat the heat island effect, and green spaces with trails can connect neighborhoods to commercial areas. We'd also like the County to focus on improving transit access.
What's next?
This is just the beginning. PEC will be attending and participating in all phases of Albemarle's Comprehensive Plan update. As this process unfolds, we will also continue to keep you informed and invite your participation.
---
To learn more, visit pecva.org/climate, and check out the following resources:
To learn more and get involved in Albemarle's planning efforts, visit albemarle.org/climate.
---
This story appeared in The Piedmont Environmental Council's member newsletter, The Piedmont View. If you'd like to become a PEC member or renew your membership, please visit pecva.org/join.