Contact:
Katie VanLangen, LEAP Solarize Program Manager
katiev@leap-va.org; 201-506-7377
Bri West, PEC Director of Outreach and Communications
bwest@pecva.org; 540-347-2334 x7020
Virtual Information Sessions for April, May and June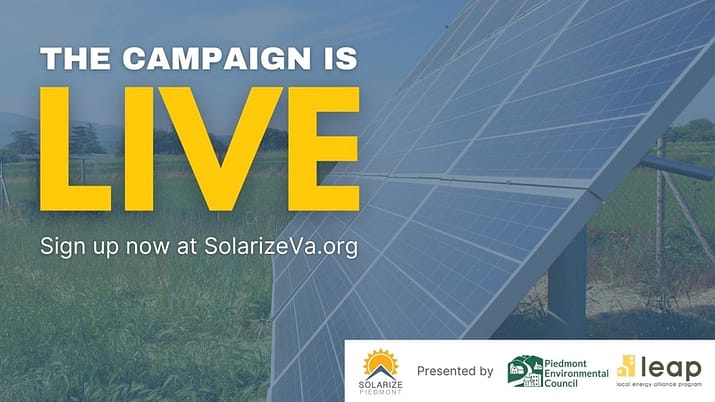 WARRENTON, VA – (April 13, 2022) – Just ahead of Earth Day on April 22, the Piedmont Environmental Council is pleased to announce its Solarize Piedmont 2022 campaign, in partnership with the Local Energy Alliance Program (LEAP) and participating municipalities. Now through June 30, Solarize Piedmont is a great resource for homeowners and business owners in Albemarle, Clarke, Culpeper, Fauquier, Greene, Loudoun, Madison, Orange, and Rappahannock counties, and the City of Charlottesville who've been thinking about whether solar is right for them.
In support of Virginia's goal to achieve carbon neutrality by 2050, Solarize Piedmont is part of the broader SolarizeVA campaign, simplifying the transition to solar energy by providing a one-stop shopping for solar education, vetted installers, and pre-negotiated pricing and installation. The program also offers participants the opportunity to pair battery storage systems and EV charging stations, in addition to new solar arrays.
The benefits of solar power are multifold: peak power close to the demand, energy security, cost savings, and emissions reductions. Additionally, a federal solar tax credit allows both homeowners and business owners to deduct a percentage of the total cost of installing a solar energy system from their federal taxes. The 2022 tax credit rate is 26%, and is expected to drop to 22% at the end of the year and be phased out completely by 2024. LEAP will connect participants with information on the federal tax credit and local incentives.
Now through June 30, those interested in exploring their solar options can learn more and sign up at pecva.org/solarize. Once a participant signs up, the process is initiated by LEAP with a complimentary solar satellite assessment. Once the initial solar assessment is completed by
LEAP, one of two campaign installers, selected through a competitive bidding process, will make a site visit to gather all necessary information and provide a proposal. If a contract is signed, the installer will obtain all necessary permits, order materials and equipment, and schedule and complete the installation. LEAP provides ongoing customer support and education throughout the solar installation process to make the experience as streamlined as possible. There is absolutely no commitment until, and if, a contract is signed with an installer. This year's installers within PEC's service area are Prospect Solar and Virtue Solar.
For more details, SolarizeVA is offering several virtual info sessions, on April 27 at 6 p.m., May 19 at 3 p.m. and June 7 at 1 p.m. Participants can register at www.solarizeva.org/events.
Over the past seven years, Solarize campaigns throughout the commonwealth have achieved over 714 solar power system installations, totaling 6.3 MW of capacity, and valued at over $17 million. As residential energy rates continue to rise in the region and emissions take a toll on the environment, the energy cost savings and emission-free power from photovoltaic systems make solar a great investment.
Electric Vehicle (EV) Chargers
LEAP has partnered with installers who also offer Level 2 EV chargers, which, at 240 volts, charge to a 10-20 mile range per hour, on average. With electric vehicle sales skyrocketing and high solar interest among EV owners, Solarize participants can now bundle both for additional savings. As a bonus, installing solar panels and an EV charger at the same time reduces electrician fees.
Battery Storage
Again this year, Solarize Virginia is offering participants the opportunity to install battery storage systems, in addition to solar arrays and EV charging stations. While battery storage can be expensive, Solarize Virginia installers are providing competitive rates to make them more financially accessible. Used in conjunction with solar, battery storage gives individuals the possibility of receiving a credit on their utility bill for every kilowatt-hour (kWh) of solar energy that is sent back to the grid, to be applied to the bill when the customer needs more electricity than the panels are producing. LEAP will help participants determine if battery storage is right for them.
"Solarize Virginia has been very popular in central Virginia and we're excited to bring the program back to the Piedmont region once again. Now, more than ever, homeowners and business owners are looking to solar as a sustainable energy source, and we are proud to partner with the Piedmont Environmental Council to make solar accessible and affordable to all throughout the region."

Chris Meyer, Executive Director, Local Energy Alliance Program (LEAP)
"Investing in rooftop solar is a big decision; the Solarize Piedmont campaign provides access to qualified contractors that have been vetted for their experience and expertise by LEAP."

Chris Miller, President, Piedmont Environmental Council (PEC)
---

Since 1972, The Piedmont Environmental Council has proudly promoted and protected the natural resources, rural economy, history and beauty of the Virginia Piedmont. PEC empowers residents to protect what makes the Piedmont a wonderful place, and works with citizens to conserve land, improve air and water quality and build thriving communities. PEC is a 501(c)(3) non-profit and accredited land trust. Learn more at www.pecva.org

The Local Energy Alliance Program (LEAP) is a 501(c)(3) nonprofit headquartered in Charlottesville, VA. As a trusted nonprofit, LEAP delivers direct education and services for improved energy performance that address climate change; create cost savings for families and businesses; healthier, safer, and more durable buildings; and local jobs and economic growth. Learn more about www.leap-va.org. Facebook: Local Energy Alliance Program (LEAP). Twitter: @LEAP_VA. Instagram: @leap_va | @solarizevirginia