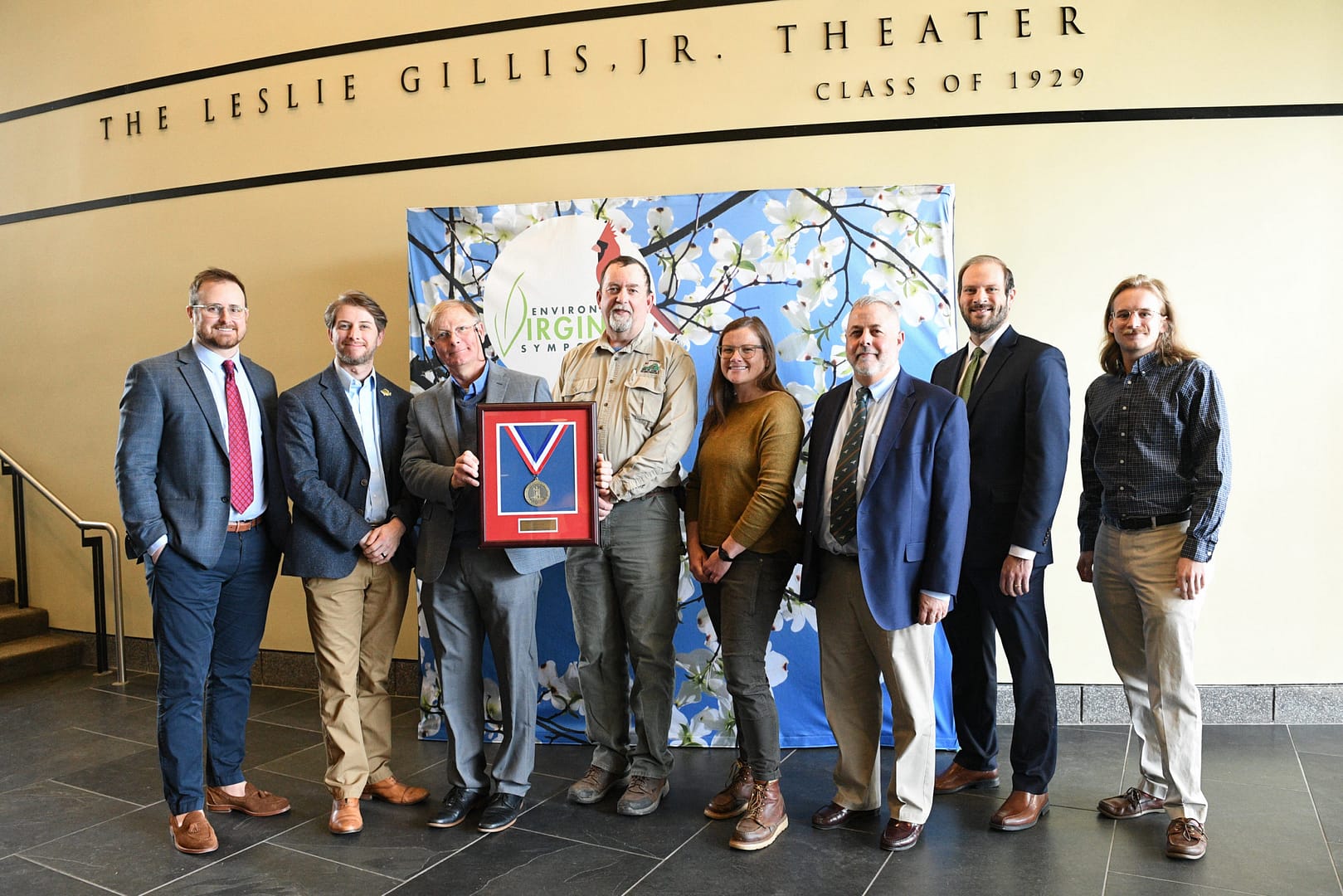 Contact:
Maggi Blomstrom, Rappahannock-Rapidan Conservation Coordinator
mblomstrom@pecva.org
540-347-2334, x7067
WARRENTON, VA. (April 13, 2022) –  At the Environmental Virginia Symposium on March 29, Fauquier County's Upper Rappahannock River Water Trail received the Governor's Environmental Excellence Gold Medal Award for its contribution toward implementation of the Virginia Outdoors Plan. This multi-partner project resulted in the opening of two new public access points and three new non-motorized boat launches along the Rappahannock—a Virginia State Scenic River—at Riverside Preserve near Waterloo, the Rector Tract in Remington, and Rogers Ford at the C.F. Phelps Wildlife Management area. 
"The Rappahannock River is a state scenic river offering world class outdoor recreational opportunities like swimming, paddling, fishing and more. And yet, until now, the only river access point for its entire 55 miles along Fauquier County's southern border was at Riverside Preserve, which did not have a boat ramp of any kind. Many studies have shown that river access is important for improving quality of life, and a Fauquier County study previously identified river access for boating, kayaking and swimming as the community's second highest priority," said Piedmont Environmental Council Rappahannock-Rapidan Conservation Coordinator Maggi Blomstrom.
The Piedmont Environmental Council (PEC), Friends of the Rappahannock (FOR), John Marshall Soil and Water Conservation District, and Fauquier County led the planning and fundraising that made the work possible. But these public access areas wouldn't have been possible without the generosity of several landowners. In 2019, Charles McDonald donated 196 acres to Fauquier County, creating Riverside Preserve. The American Battlefield Trust purchased and donated Rector Tract to the County for public use. Both are held in permanent conservation easements with the Virginia Outdoors Foundation and Virginia Department of Historic Resources, respectively, which will protect the historic and sensitive environmental resources of the areas while explicitly allowing for public access to the river. The Rogers Ford access point is located on the public land of C.F. Phelps Wildlife Management Area, owned and managed by the Virginia Department of Wildlife Resources. 
Through this project, two riparian buffers have been restored and will be maintained and managed for invasive plants and protected for wildlife habitat. The new water access areas also provide opportunities for the public to hike along the Rappahannock, FOR to conduct more outdoor educational programs and economic benefits to the surrounding communities, such as downtown Remington. Moreover, while working on this project, Fauquier County and the Department of Wildlife Resources developed an innovative Memorandum of Understanding to determine responsibilities for the long-term management of the sites. This strategy is a resource that can be applied at future access sites planned along the Rappahannock and throughout the Commonwealth.
"One of the factors that made this project a great success was that previous efforts came up short. We had to analyze past efforts and try new methods to develop a strategic plan that would put all the required approvals and agreements in place. Instead of one person or one group trying to do it all, we worked together to decide what each partner organization could best bring to the equation and would be responsible for. This approach was more manageable and more fun, and lasting friendships and relationships were created," said Fauquier County Parks and Recreation Director Gary Rzepecki.
"Being part of this project is tremendously exciting and gratifying. A truly collaborative effort involving both nonprofit, government, and the local community, the Upper Rappahannock River Water Trail speaks to the power of partnerships and conservation in increasing public access to nature," said Blomstrom. Organized and hosted by the Virginia Department of Environmental Quality (DEQ) and the Virginia Department of Conservation and Recreation, the Governor's Environmental Excellence Awards are given in the categories of sustainability program, environmental project, land conservation and implementation of the Virginia Outdoors Plan. Based on criteria including environmental benefit, stakeholder involvement, public outreach, transferability and innovativeness, 12 winners – six gold, two silver and four bronze – and one honorable mention were announced on March 29, 2022 at the Environment Virginia Symposium in Richmond. Acting Secretary of Natural and Historic Resources Travis Voyles and Department of Environmental Quality Director Mike Rolband and Department of Conservation and Recreation Director Matthew Wells presented the award on behalf of Gov. Glenn Youngkin. Fauquier County Parks and Recreation Director Gary Rzepecki accepted the award.
"The Governor's Environmental Excellence Awards recognize those that are leading by example in the Commonwealth," said Gov. Youngkin in a press release issued by the office of the governor on April 8. "These thirteen winners and two honorable mentions have created proactive solutions in their communities. I'm proud that Virginia has problem solvers in our private sector and I look forward to seeing what the future holds." "PEC is proud to be part of another important project recognized at the state level, and we extend our congratulations to Fauquier County and the other organizations that were instrumental in this work expanding public access to nature and open space. PEC received an award in 2020 for our conservation, stewardship, restoration and public engagement efforts at Gilbert's Corner and Roundabout Meadows Community Farm and previously for our work on land conservation more broadly. We applaud the commonwealth for acknowledging the value of conservation and public access to the outdoors through programs such as the Governor's Environmental Excellence Award," said PEC President Chris Miller.
---
Since 1972, The Piedmont Environmental Council has proudly promoted and protected the natural resources, rural economy, history and beauty of the Virginia Piedmont. PEC empowers residents to protect what makes the Piedmont a wonderful place, and works with citizens to conserve land, improve air and water quality and build thriving communities. PEC is a 501(c)(3) non-profit and accredited land trust. Learn more at www.pecva.org