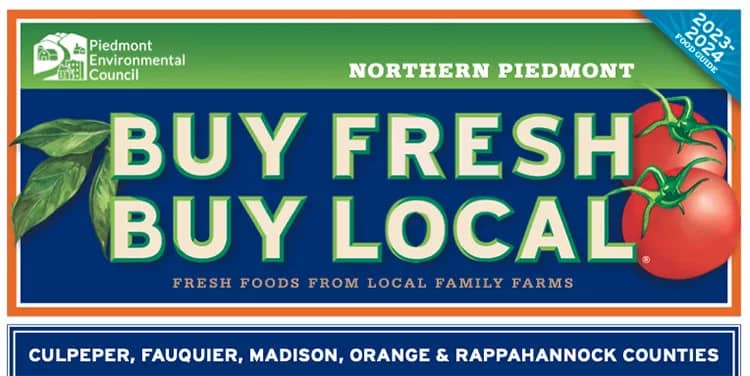 WARRENTON, Va. (May 2, 2023) – With the spring growing season upon the Virginia Piedmont, The Piedmont Environmental Council is pleased to announce the release of its 2023-2024 Buy Fresh Buy Local Northern Piedmont guide, offering a one-stop source connecting consumers to fresh fruit, vegetables, dairy, meat and more, by way of local farmers and farmers markets.
The Northern Piedmont guide, covering Culpeper, Fauquier, Madison, Orange, and Rappahannock counties, has been mailed to 80,924 households and began arriving in mailboxes this week. PEC also produces a Charlottesville area guide, covering Albemarle, Fluvanna, Greene, Louisa, and Nelson Counties, and Loudoun County guide, which will be mailed in the next 5-10 days. In total, more than 310,000 residences and businesses will receive a Buy Fresh Buy Local guide.
Each Buy Fresh Buy Local guide features about 200 area-specific farms, orchards, farmers markets, as well as wineries, breweries, restaurants, and retailers. The guides also provide a travel map of some of the locations patrons can visit, a fruit and vegetable availability calendar, a fact sheet explaining various common food labels, and a handful of local farm features.
"The Virginia Piedmont is known for its beauty and abundant agricultural resources. Our goal with these guides is to connect Virginians to locally grown and produced food, thereby helping farmland stay farmland and preserving the region's rural economy while supporting the local food economy as well," said PEC Buy Fresh Buy Local Assistant Faith Schweikert. "We hope Buy Fresh Buy Local encourages people to look to the local producers and businesses around them for their healthy and delicious foodstuffs before depending on a vast global food supply chain that is ultimately less friendly to the environment and our local economy. Whether it's meats, vegetables, specialty items or more, it's already here in the Piedmont."
The free Buy Fresh Buy Local guide is made possible with the support of community sponsors, including the PATH Foundation, Kinloch Farm, Wegmans, Finest Butcher, Oak Spring Garden Foundation, and Farm Credit. "Our family farm is excited to partner with PEC's Buy Fresh, Buy Local campaign to promote healthier, more sustainable access to food in the Piedmont," Kinloch Farm's Farm and Conservation Director Mike Peterson said. "We hope you'll join us in this effort by supporting and preserving the farms that make our region truly exceptional."
Northern Piedmont guides were additionally supported by Choose Culpeper Farms, Culpeper Harvest Days, Purely Piedmont, Rappahannock County Farm Tour, CFC Farm & Home Center, Susan Hayes Garden Design and local food industry sponsors including Buchanan Hall Farmers Market, Hidden Creek Farm, Riders Backfield Farm Beef, Virginia Bison Company at Cibola Farms, and Belle Meade.
Community members can download all three Buy Fresh Buy Local guides at pecva.org/buylocal. PEC also has a searchable Buy Fresh Buy Local website, at buylocalpiedmont.org, with an interactive map that makes it easy for consumers to find exactly what they need right where they want it. Learn more about PEC's local farms and food program at pecva.org/farmsandfood.
Photo Options:
Media Contact: Faith Schweikert, Buy Fresh Buy Local Assistant
fschweikert@pecva.org; 540-347-2334, x7026
---
The Piedmont Environmental Council (PEC) works to protect and restore the lands and waters of the Virginia Piedmont, while building stronger, more sustainable communities. Founded in 1972, PEC is a locally based, community-supported 501(c)3 nonprofit and accredited land trust. At the core of PEC's approach is a focus on educating, engaging and empowering people to effect positive change in their communities. Learn more at pecva.org.