The following text was sent out via email on May 2, 2023. Sign up for PEC email alerts →
---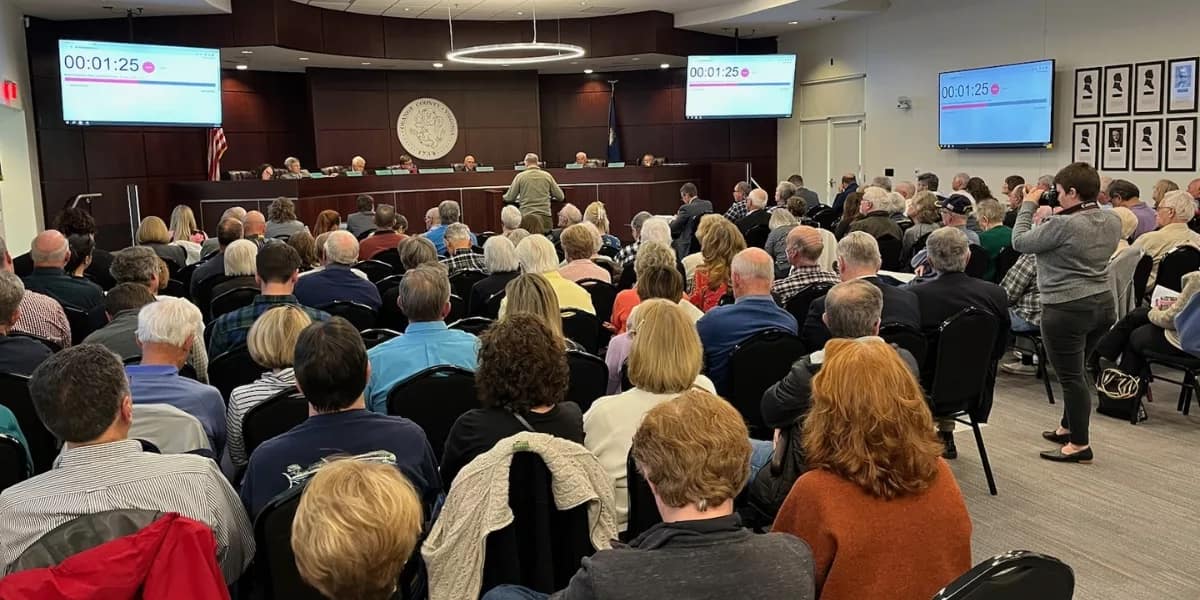 Dear Supporter,
Thank you to all who came to speak out against Wilderness Crossing at last Tuesday's public hearing. It was a great showing of community engagement and democracy in action despite the discouraging outcome.
The hearing room was packed and overflowing into the lobby. Of the 37 speakers, most were county residents — many from nearby Lake of the Woods — as well as representatives from Central Virginia Battlefields Trust, American Battlefield Trust, National Park Service, and National Park Conservation Association. Every single speaker expressed opposition to this highly speculative and ill-conceived boondoggle. Even neighboring Spotsylvania County weighed in by letter, expressing concerns over impacts on traffic and water for their residents and frustration with Orange County's lack of "good neighbor" courtesy and inter-jurisdictional communication.
In her comments to the Board of Supervisors Tuesday night, Julie Bolthouse, PEC's Director of Land Use, highlighted how Wilderness Crossing is ill-defined and deeply flawed: "what it appears to be is a single developer getting their own private zoning ordinance, which is more permissive than any other zoning district in the County. And it is unclear where in the Virginia Code the authority to create such a thing is permitted." And not mincing her words, Julie summed it up with, "This is unquestionably the worst land use proposal I have seen in my 12 years of planning."
Unmoved by anyone's comments, the Board voted 4-1 to approve the rezoning request. We are deeply disappointed by the decision. And while we appreciate Supervisor Marshall's vote against the rezoning, it was little consolation. Even in voting no, he expressed his continued support of the project and indicated that his no vote simply reflected his opposition to the proffer that would revert 732 acres of industrial land bays back to residential, if industrial tenants don't materialize in 5-10 years.
Despite considerable effort — a coalition of 11 regional and national historic preservation organizations plus the National Park Service, community meetings, a full-page ad in the Orange County Review, expert opinion pieces, and hours of reasonable, thoughtful testimony from residents — the Supervisors, from their remarks, seemed more concerned with "getting something done in the GWAP" than with getting a good deal for Orange County residents.
We've seen this before.
As has become common in major rezoning cases, the developer came in with last-minute changes to its proffers, without anyone having the ability to meaningfully respond. The most alarming change to the proffer is the removal of the five million square foot cap on data center or distribution center square footage. This adds even more uncertainty to an already ill-defined development. Not only do we not know which of the 20+ industrial and commercial uses allowed by right will be built or how the buildings will be laid out, but now we don't even know how much square footage of development could be data centers/distribution centers.
As you may have read in Julie's recent blog post, huge data center facilities are quickly and dramatically re-shaping the energy demand equation in Virginia, with wide ranging impacts on communities. If Wilderness Crossing is built out as a massive data center campus, that could mean new transmission lines, new substations, increased noise, a lot of highly polluting commercial diesel generators, and a major change in the character and feel of this part of Orange County.
Along with our partners in the Wilderness Battlefield Coalition, we will continue to monitor this project closely — water, traffic, mercury contamination, tax implications — to keep local residents informed and to push the County for rigorous review of any related, future permits or requests as the developer moves forward.
For those who attended Tuesday's hearing, we cannot overstate the importance of your presence. You showed the Board of Supervisors that Orange County residents are paying attention, and will not stand idly by when faced with harmful proposals like Wilderness Crossing.
Thank you!
Sincerely,
Don McCown
Orange County Field Representative
dmccown@pecva.org
(434) 977-2033 ext. 7047