We are now one third of the way through the year as measured by months. So far it's been quite the eventful year. May is Older Americans Month and this next one is Public Service Recognition Week. Elected bodies will have proclamations. So, it's a fairly normal week.
Some highlights:
Charlottesville City Council will take a vote to retroactively amend the "continuity of governance" ordinance to attempt to make it comply with a Virginia Supreme Court ruling in March that calls into question actions taken by local bodies during electronic meetings
Council will also get an update on the regional system of care to assist the unhoused with shelter and other services
Albemarle County will adopt its budget for FY2024 and will also appoint a new interim director of finance
Louisa County will discuss an ordinance to give officials the power to declare water emergencies and impose conservation measures
Fluvanna Supervisors will learn what the county can do to penalize the illegal practice of placing signs in the public right of way
There are no meetings in Greene County or Nelson County this week.
Thanks to the Piedmont Environmental Council for their ongoing sponsorship.
Monday, May 1, 2023
Groups to present State of the Unhoused and Unhoused Services to Charlottesville City Council
The five-member Charlottesville City Council will meet at 4 p.m. for a work session followed by a closed session followed by the regular session at 6:30 p.m. This will be the first Council meeting held without COVID-19 restriction in 38 months. (calendar item) (meeting info)
Last week, someone asked me about an update of the emergency shelter on U.S. 29 at Premier Circle. I did not have time to get to that story, but I'm hopeful that will come up at the work session.
"This report is to provide City Council and the public with an update on the state of the unhoused and housing insecure in our community by the Department of Human Services and our community partners who focus on homelessness," reads the staff report.
They are the Blue Ridge Area Coalition for the Homeless, PACEM, and The Haven.
Council got a similar report a year ago, as I wrote about at the time. In November, I reported the $200,000 that Albemarle Supervisors paid to keep the existing shelter at Premier Circle open through April. Charlottesville City Council had done the same thing in October. My request Wednesday for information has not yet been returned.
Then there are the items on the evening agenda.
There are many different sources of funding for various services related to housing. One of them is the Community Development Block Grant program offered by the U.S. Department of Housing and Urban Development. Another is the HOME program. Localities and regional partnership that receive this funding must have a Consolidated Plan to demonstrate how the funding will be spent over the next five years.
"The City of Charlottesville receives its CDBG allocation directly and develops a funding plan based on established city goals, input from the community and the work of a task force composed of representatives from across the city," read the staff report. " HOME funds are coordinated by the Thomas Jefferson Planning District Commission (TJPDC) Area HOME Consortium, and shared among the six member jurisdictions."
The city will get $410,468 in the next fiscal year from CDBG funds and $98,160 in HOME funds, just like the other five localities.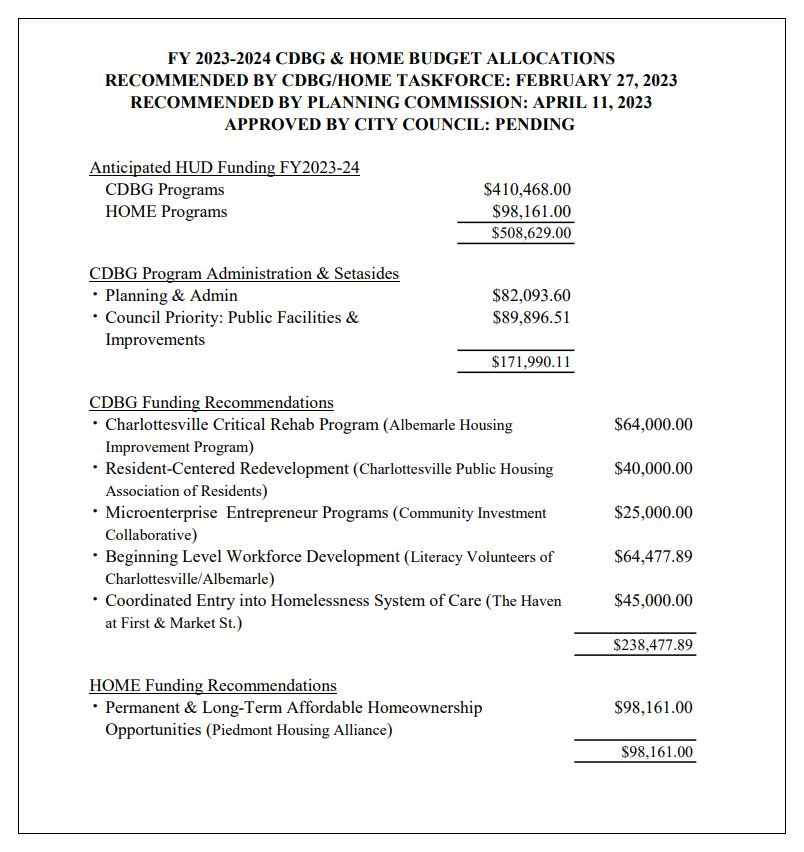 Council will also hold a reading of how to use $1,710,854 in unspent funds from the American Rescue Plan Act. What do you think of these uses?
$1,375,854 for Human Resources to purchase the "Success Factor HRIS system" which will be used to manage collective bargaining in the city.
$240,000 to update the city's Americans with Disabilities Act transition plan.
$95,000 for the Charlottesville Fire Department, which includes $30,000 for public safety messaging materials, $5,000 for "Stop the Bleed" kits, and $60,000 for ballistic vests.
Council will next hold the first of two readings on supplemental appropriations for two projects. These were discussed at the April 6, 2023 budget work session, the same week that additional funding was added to the FY24 budget. I can't wait to see the minutes to learn all of the details!
One of the projects is a sidewalk for Stribling Avenue. That was a condition the Planning Commission required as part of their conditions for approving the rezoning of 240 Stribling, a 170-unit development on about 12 acres of forested land. For background, read a story I wrote last November that explained how it was not yet known how much the sidewalk would cost.
"The total project cost is now projected to be $5,467,000," reads the staff report.
To cover some of the cost, staff has transferred $500,000 from the current fiscal year and $750,000 in FY24.
The other project is the renovation and expansion of Buford Middle School.
"Construction bids for the Buford School Renovation project were received in early March and an update was provided by staff to Council as part of the March 30, 2023 budget work session on the 5- year CIP plan," reads the staff report.
Council approved a total project of $91,813,410 and now they are being asked to move $1.5 million in funds into the current fiscal year to pay invoices related to design work.
"There is no change to the total project budget, which will remain at $91,813,410," the report continues.
Construction is expected to begin in July.
Continuity of Government amendment
Next, Council will take a vote to retroactively change the city's Continuity of Government ordinance. At issue is whether actions by Council taken during the period of virtual meetings are valid.
In March, the Virginia Supreme Court ruled that Fairfax County did not have the authority to adopt a new zoning code at a virtual meeting in March 2021. Here's the story I wrote at the time.
Now the law firm hired by the city to represent itself
"This decision and the reasoning were unexpected and suggested a sudden shift in what was otherwise well-understood and well-settled law," writes Andrew McRoberts of the firm Sands Anderson in the staff report. "The Berry Opinion is not yet final. It is currently under reconsideration by the Virginia Supreme Court."
McRoberts said the city is seeking to clarify whether any of its actions during that time are in jeopardy of being similarly declared void ab initio. I'm seeking clarification of what method of reconsideration is under way. Read the staff report for the details.
Finally, Council will amend the budget for FY24 to reflect a lower amount of funding for Jaunt.
"Jaunt's FY 24 budget request totaled $1,973,232, which represents a $530,151 or 36.7% increase over the FY 23 budget request," reads the staff report. "When City staff met with Jaunt to review the budget request, Jaunt advised the City that it would be returning excess funds back to the City and other shareholders as a result of an operating surplus at the end of FY 22."
On the consent agenda:
Louisa County Supervisors to consider policy for water supply emergencies, virtual building inspections
The seven-member Board of Supervisors will meet at 5 p.m. for a closed session followed by the open meeting at 6 p.m. (meeting info) (agenda packet)
There are three informational items on the agenda.
The first is an update on tourism. There's nothing in the packet about that item.
The second is a discussion on an emergency water supply ordinance. This is to set up the mechanism for Louisa County to be able to declare different levels of water supply alerts to mandate conservation measures.
The third is a virtual building inspection policy which may help the county with an uptick in the workload for the Department of Community Development.
"Virtual building inspections have become increasingly popular in the recent years, especially with the advent of new technology that makes it possible to conduct inspections remotely," reads the staff report from building official John Grubbs.
In 2018 there were 5,967 inspections. That rose to 14,289 in 2021.
There are three items under new business.
There is a resolution authorizing an application for Community Development Block Grant funding for a specific project to be conducted by the Fluvanna-Louisa Housing Foundation.
There is a resolution waiving all development fees for the Fluvanna-Louisa Housing Foundation for a specific project at 140 Resource Lane in Louisa.
There is also a resolution for a budget supplement for Louisa County Public Schools for multiple capital projects totalling $296,000.
There is also a resolution for the approval of the Six Year Plan for secondary road construction in Louisa.
In other meetings:
The Albemarle Architectural Review Board usually meets on the first and third Monday of the month but the one scheduled for today was canceled.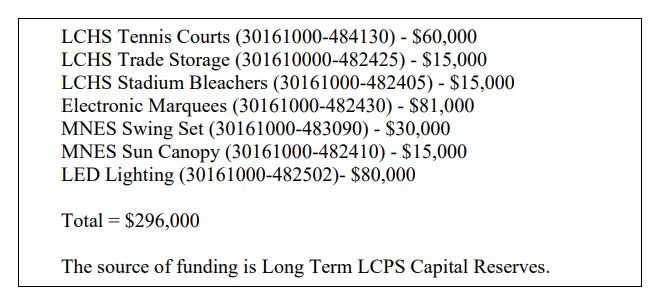 Tuesday, May 2, 2023
A rare slow Tuesday means just a series of bulleted points:
In other meetings:
Wednesday, May 3, 2023
Albemarle County Supervisors to adopt FY24 budget
The six member Board of Supervisors in Albemarle County will meet at 1 p.m. in Lane Auditorium at the county's office building at 401 McIntire Road. (meeting info) (agenda)
The first item on the agenda after proclamations will be on the economic impact of the defense sector in the region. The Charlottesville Regional Chamber of Commerce commissioned the Weldon Cooper Center for Public Service at the University of Virginia to conduct a study.
"Charlottesville's defense industry has grown over the last decade and includes more than 100 local entities involved in defense intelligence and research, military education, and defense contracting," reads the executive summary. "Statistics from public data sources indicate that Department of Defense (DoD) military and civilian employment grew by 15 percent from 2011 to 2021."
The report goes on to say that the true impact is much larger because two of the military employers in Albemarle do not report their employment figures to public sources.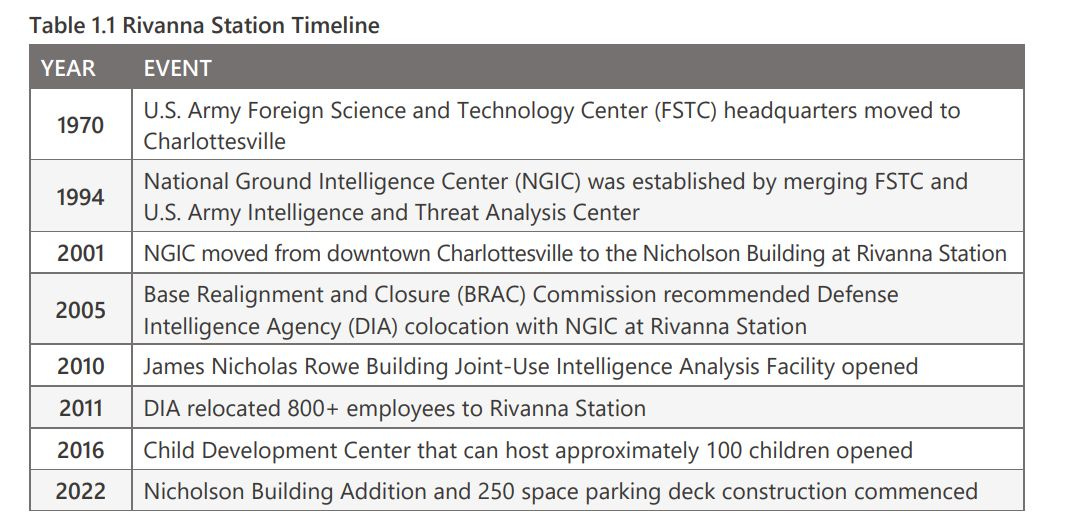 Next, Albemarle will take a vote on the adoption of the budget for FY2024. The public hearing was last week and I hope to have a summary written up before then. (staff report)
There are three public hearings:
The county seeks feedback on Community Development Block Grants. There are no specifics in the agenda item.
City Church on Rio Road seeks a special use permit for a new 10,600 square foot building and a parking lot expansion of 43 spaces. (staff report)
The developer of 999 Rio Road seeks an amendment to the previous rezoning to eliminate requirements for commercial space in the code of development. (staff report)
On the consent agenda:
Fluvanna Supervisors learn about what localities can do about illegal signs in roadway medians
The five-member Board of Supervisors in Fluvanna will meet at 5 p.m. (agenda packet)
After proclamations and a resolution of support for a request from the Opioid Abatement Authority, there will be a presentation on the removal of illegal signs from right of way controlled by the Virginia Department of Transportation. Some supervisors had asked County Administrator Eric Dahl to investigate options.
"The board wanted to see what options were available to eliminate and/or impose penalties for temporary signs in the VDOT Right of Way or along Fluvanna roadways," Dahl wrote. "After speaking with VDOT, they will allow levying a $100 Civil Penalty for signs on the right of way, if an agreement 'For Enforcement Of Laws Regarding Illegal Signs And Advertising Within The Limits Of The Highway' is entered between VDOT and the local government."
In one other meeting:
There is a site plan conference at 10 a.m. for a project at 1301 Wertland Street. Seven Development plans to build a 12-unit building on a property that will continue to house a historic structure. This will be held in the conference room of the Neighborhood Development Services in City Hall. (meeting info) (meeting info #2)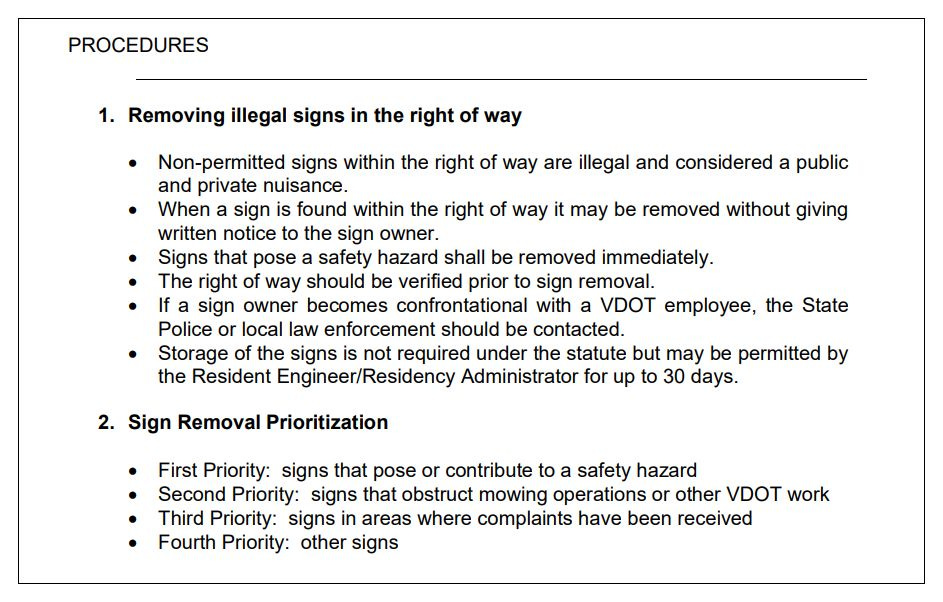 Thursday, May 4, 2023
Two items again today.
The Charlottesville School Board meets at 5 p.m. in the Booker T. Reaves Media Center at Charlottesville High School at 1400 Melbourne Road. I don't know about education policy to really know what I'm writing about, but what jumps out at you? (meeting page)
The Charlottesville Human Rights Commission will meet in CitySpace with an option to attend remotely. There's no agenda posted yet. (meeting info)
---
This post was contributed by Sean Tubbs. Sean is a journalist working to build a new information and news outlet centered around Charlottesville and Virginia. In 2020, he launched a daily newscast and newsletter and also created a semi-regular podcast on the pandemic.
Support for Sean's "Week Ahead" update comes from The Piedmont Environmental Council.