We are now two weeks into the new fiscal year and any sense of a summer slowdown will be abated by reading through this installment of the Week Ahead newsletter.
The new fiscal year comes with new government websites. Both Louisa County and Nelson County have launched new sites. What do you think?
While on this subject, The City of Charlottesville currently has two meeting portals and there are inconsistencies. One of those portals is older and does not list the meetings this week for the Tree Commission or the Police Civilian Review Board. The newer one does not include the most recent meeting of the Charlottesville Housing Advisory Committee. These little things matter.
Highlights this week:
The expansion of the Salvation Army on Ridge Street in Charlottesville goes before the Charlottesville Planning Commission on Tuesday.
The Fluvanna County Planning Commission will have a work session on utility-scale solar regulations.
Greene County on Tuesday will hold a public hearing on updates to their water and sewer authority to reflect the end of service by the Rapidan Service Authority.
Nelson County Supervisors on Tuesday will vote to increase the transit occupancy tax from five percent to seven percent, and will also review the a special use permit that allows for large events like the late Lock'N Festival.
The Berkley Group will speak to the Albemarle County Planning Commission on Tuesday about their latest report. This time it's on fees.
The Albemarle Board of Zoning appeals will hear a justification Tuesday of a landowner about why he cut down trees on land where that is not authorized.
Charlottesville City Council will announce the new City Manager at a press conference Wednesday
Thanks as always to The Piedmont Environmental Council for their support of this work.
Monday, July 10, 2023
Just two meetings today.
The Fluvanna County Economic Development Authority will meet at 5 p.m. in the county administration building in the Morris Room. That's at 123 Main Street in Palmyra. (meeting agenda)
At the conclusion of that meeting, the Economic Development and Tourism Advisory Council will meet. Among other things they'll discuss the tourism strategic plan. (meeting agenda)
Tuesday, July 11, 2023
Three public hearings before Greene Supervisors including water and sewer rates
The five member Board of Supervisors in Greene County meet at 5:30 p.m. for a closed session that opens up into a regular meeting at 6:30 p.m. (meeting agenda)
There are three public hearings.
The Dyke Fire Department wants an electronic message board. That requires a special use permit. (staff report)
There is a proposed amendment to the water and sewer ordinance to establish rates and fees that Greene County will charge beginning this month now that they've taken over operations from the Rapidan Service Authority. (staff report)
There is a hearing to amend a previous special use permit for the already approved Sojourners Glamping facility. The proposal is to add 70 acres to the site but not to add any additional units. (staff report)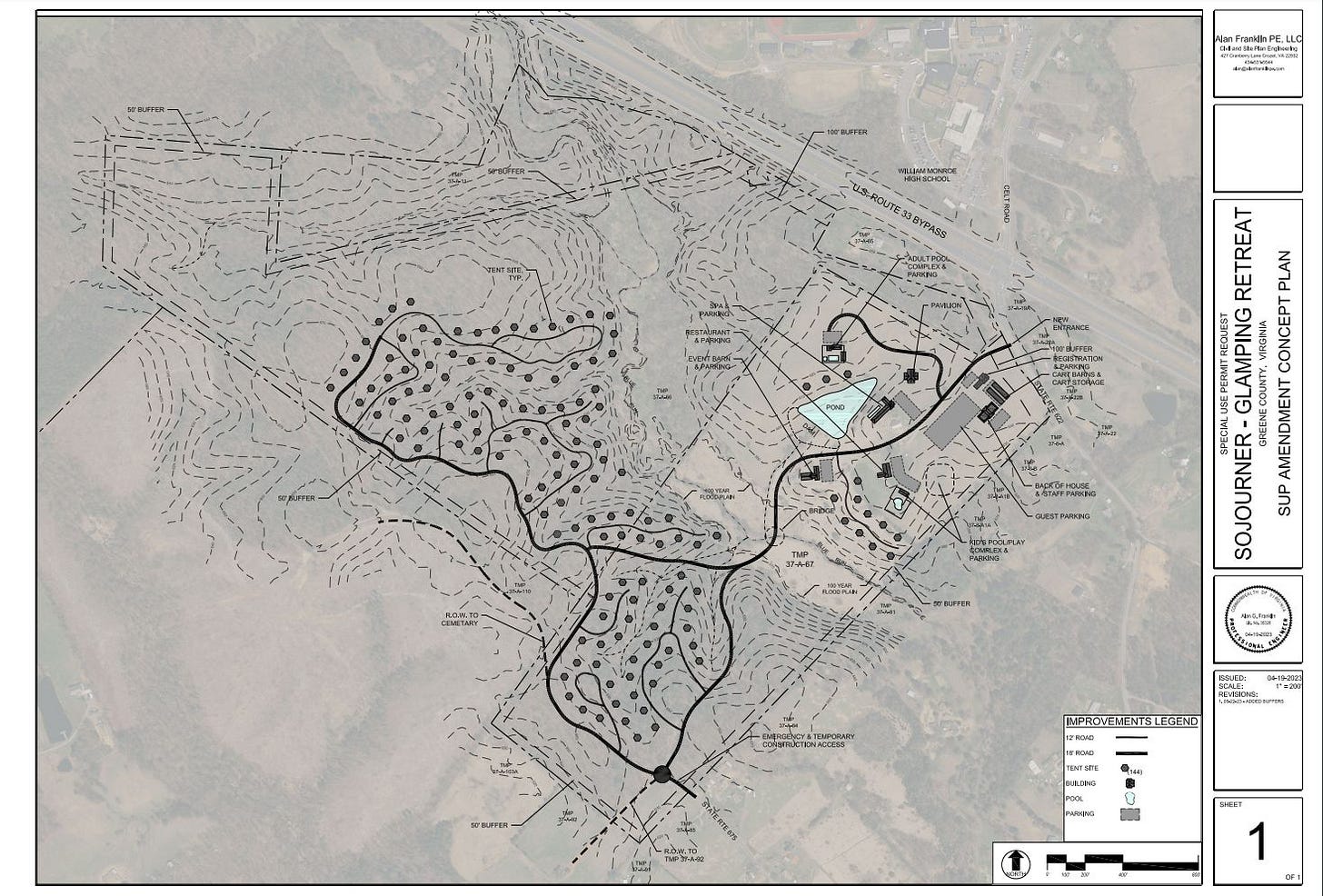 Nelson County Supervisors to review use of Oak Ridge farm for major festivals
The five-member Board of Supervisors in Nelson County meet at 2 p.m. in the General District Courtroom at the Courthouse in Lovingston followed by a regular meeting at 7 p.m. (meeting packet)
The meeting begins with a resolution honoring Mark Christopher Wagner II, the Wintergreen Police officer killed in the line of duty on June 16.
There are two presentations in the afternoon. One is from the Virginia Department of Transportation. The other is from Blue Line Solutions on automated speed enforcement in school zones.
"'The TrueBlue™ Single Beam per-lane LIDAR system contains multiple features using proprietary technologies, processes, and analytics not available from any other company," reads a letter sent to the county by the company.

Under new business there are four items:
There is a proposed amendment to the transient occupancy tax rate to increase it from five percent to seven percent. The public hearing was held on May 9.
There is a resolution to discuss implementation of the pay study conducted by MAG.
There is a resolution on the salary and classification system for FY23 and FY24.
There are proposed amendments to the county's safety program.
The rest of the afternoon will be taken up by various reports.
The evening session features two public hearings.
The first is for an amendment to the real property tax that would provide for relief for spouses of members of the armed forces who are killed in action.
The second is a five-year review for the special use permit that authorized the use of the Oak Ridge property in Arrington as a "Festival Ground." This is site that was used for the Lock'n festival.
"Overland Expo is scheduled to return this October with a participant estimate of 10,000 to 15,000," reads the narrative for the review.
Albemarle Planning Commission to take up proposed changes to land use fees
The Albemarle Planning Commission will meet at 6 p.m. in Lane Auditorium at the county office building at 401 McIntire Road. (meeting info)
There are a lot of moving parts in Albemarle County government. A Comprehensive Plan review is underway that is getting very little attention from information providers. There's also a rewrite of the zoning underway that's being overseen by the Berkley Group. The Berkley Group is also helping to review the county's policies on siting utility-scale solar installations, as I wrote about earlier this month.
As part of their work on the zoning code, the Berkley Group is reviewing the fee structure for developers and property owners who seek approvals for land use changes and various permits. The idea is to make changes before a new "Community Development System" is launched.
"The primary conclusion from the comparative analysis with benchmark communities is that Albemarle has far more fee categories than most localities – almost twice as many as most," reads the executive summary.
The recommendations are to reduce the number of different categories from 312 to 148.
"In the Water Protection Ordinance, for example, the number would go from 68 (existing) to 35 (proposed) fee categories," the summary continues.
This work is about the structure of fees and not their cost. Supervisors already approved increases on April 21, 2021. A goal is to recover at least half of the cost of staff-time to review applications.
Both the Blue Ridge Home Builders Association and the Charlottesville Albemarle Developers Roundtable have already participated in stakeholder events and a survey had been posted to the Engage Albemarle website.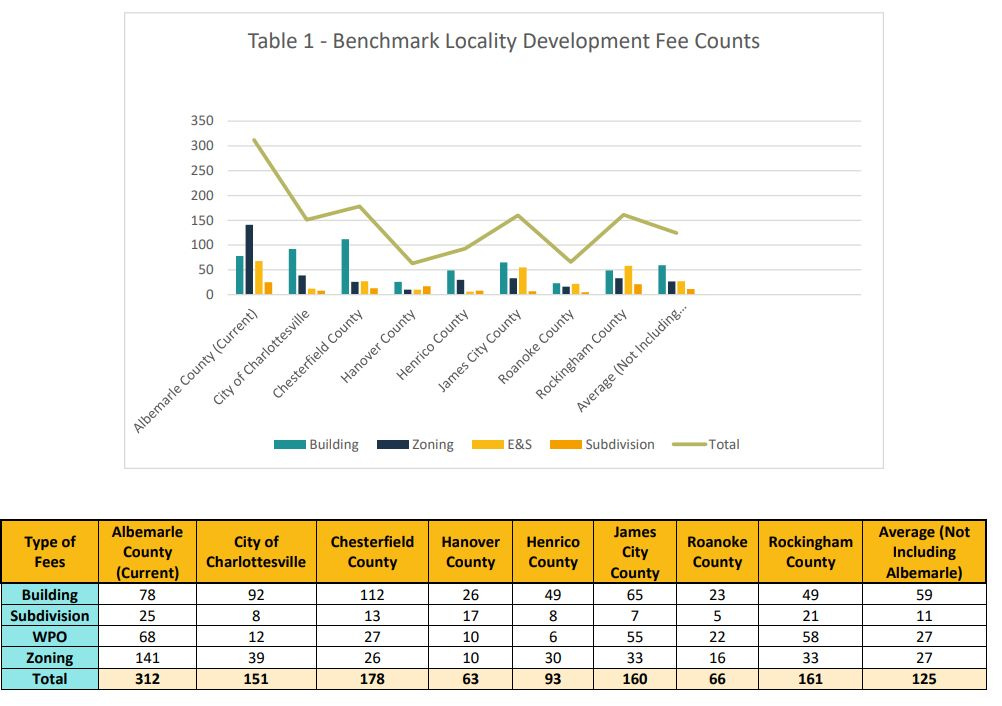 The Planning Commission will also hold a public hearing on a request from the Maple Grove Church to rezone a third of an acre of land on Proffit Road from R-1 to R-4. This would allow for subdivision of the lot to separate an existing single-family residence from the property.
"If the rezoning is allowed, the property will be sold in the future," reads the narrative included in the application.
At the end of the meeting there will be an update on the Comprehensive Plan process known as AC44. Here are two recent stories I wrote on the topic:
Salvation Army expansion to go before Charlottesville Planning Commission
The Charlottesville Planning Commission will meet at their pre-meeting at 5 p.m. followed by the regular meeting at 5:30 p.m. They gather in CitySpace at 5:30 p.m. (meeting info) (meeting files)
One item on the consent agenda is the final subdivision plan for the Hillsdale Apartments that will be built as part of a redeveloped Seminole Square Shopping Center. The Great Eastern Management Company presented a preliminary site plan at a conference in March 2022 as I reported at the time. The final site plan is still under review and will include 352 residential units, 18 of them will be designated as affordable.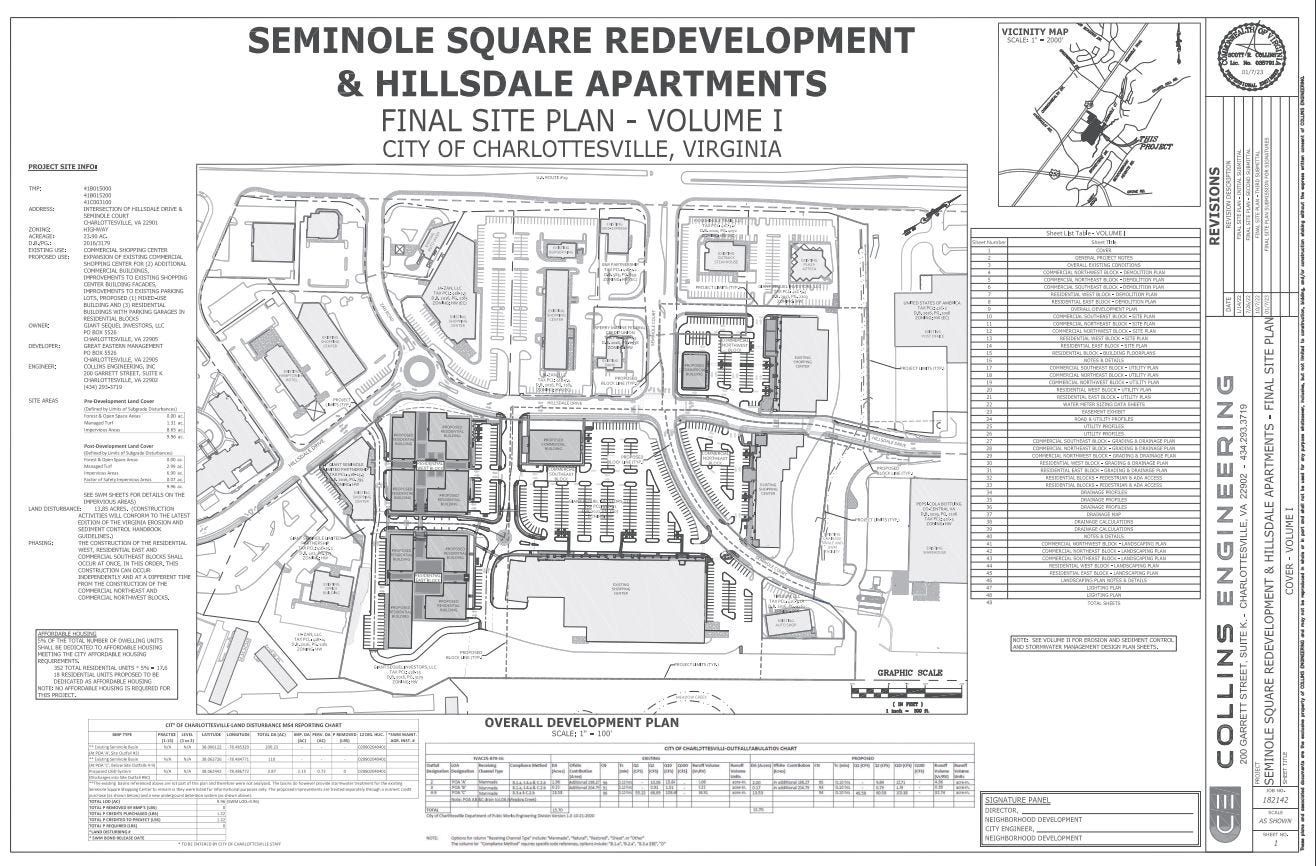 This subdivision plan divides the project into two lots with two new public streets to be built in the future.
The other item on the consent agenda is the site plan for Hillsdale Place. That's the name Riverbend Development has given to the redevelopment for the former K-Mart building. That went before through a site plan review conference last October, as I wrote about at the time.
There's one public meeting and that's for the redevelopment of the Salvation Army on Ridge Street.
"The Applicant is proposing to expand from 58 emergency shelter beds to 114 emergency shelter beds; expand meal capacity from 80 seats to 120 seats; increase the size of the multi-purpose room from 1,928 square feet to 2,415 square feet; and expand the meeting rooms capacity from 40 seats to 84 seats," reads the staff report.
That requires a special use permit. The existing use is nonconforming.
There will also be a discussion of the zoning ordinance update. As of this writing I still have to get through the work session from July 5. It does not appear that other media outlets in this community want to write about this process. Why is that? Could it be because there's no further detail about what the subjects might be?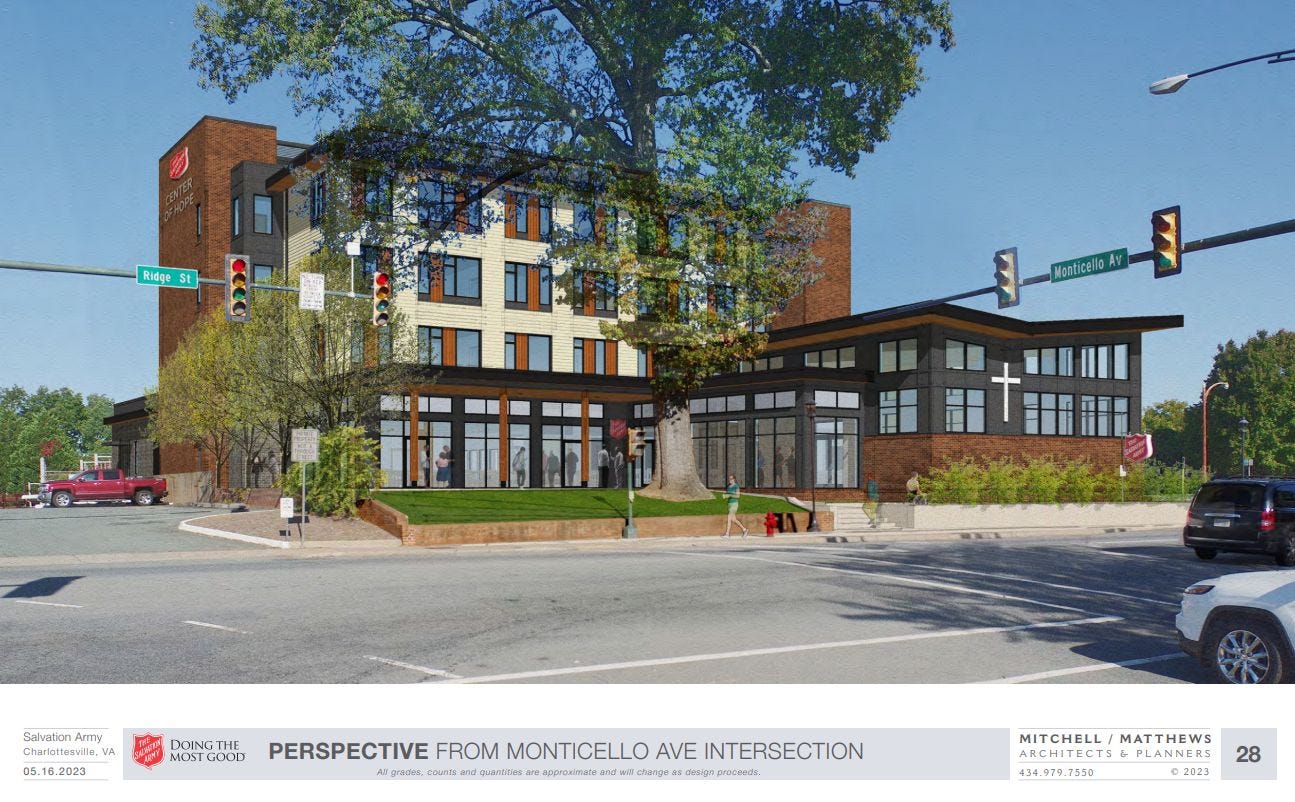 Fluvanna County Planning Commission to hold work session on utility-scale solar
The Fluvanna County Planning Commission will meet at 6 p.m. for a work session followed by a regular meeting at 7 p.m. (agenda packet)
The work session will be on regulations for utility-scale solar projects. These conversations are being held across the Fifth District. On Monday, Mecklenburg County's Board of Supervisors will consider a cap on the acreage allowed in that locality, as I reported on Fifth District Community Engagement. There does not appear to be any material available in advance.
There will be a public hearing for the amendment of a previous rezoning for 2428 Richmond Road to amend the conditions that previously prohibited retail on the site. The current owners of the Artful Lodger in Charlottesville want to open a furniture store there with warehouse space.
"The applicants are requesting to amend the approved case proffers so that they can relocate their existing business from the City of Charlottesville as their current retail store location is slated for redevelopment," reads the staff report. "This profitable, established retail business approached Fluvanna County staff to relocate up onto Route 250 and to continue their retail store use in the existing marketplace."
The existing location at 218 West Market will be demolished to make way for a nine-story apartment building. In June, the Charlottesville Planning Commission recommended approval of an amendment to a special use permit to alter the stepbacks. I wrote about that, too.
After that, County Attorney Dan Whitten will give a presentation on the 2023 General Assembly.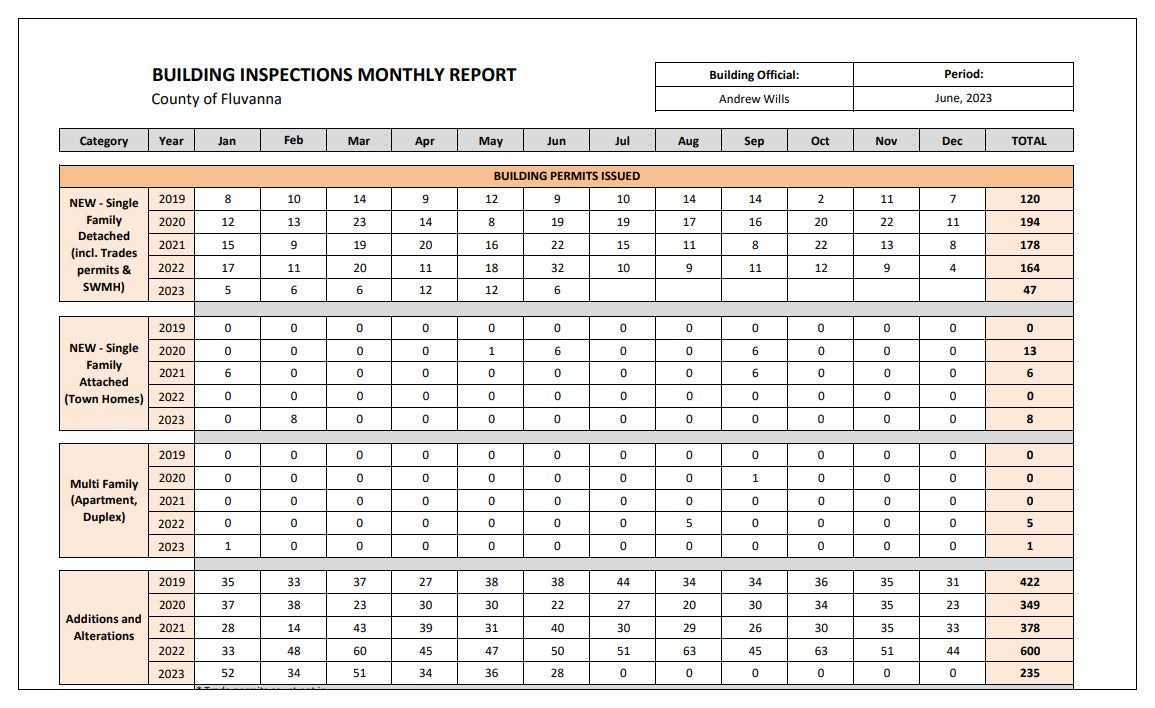 Landowner appeals timber harvest violation to Albemarle BZA
The Albemarle Board of Zoning Appeals will meet at 2 p.m. in Lane Auditorium at the county's office building at 401 McIntire Road. (meeting info) (meeting packet)
There's one item on the agenda. A property owner on Shadwell Road in eastern Albemarle County is appealing a ruling that timber harvesting on land was not being done according to the rules. Albemarle zoning staff conducted an investigation on February 20 of this year after there were complaints of trees being felled.
"Trees that were not dead and greater than six (6) inches in diameter were being cut," reads the staff report. "Additionally, there was an accumulation of tires and parts, and structures were placed on the Property without the applicable approvals or permits."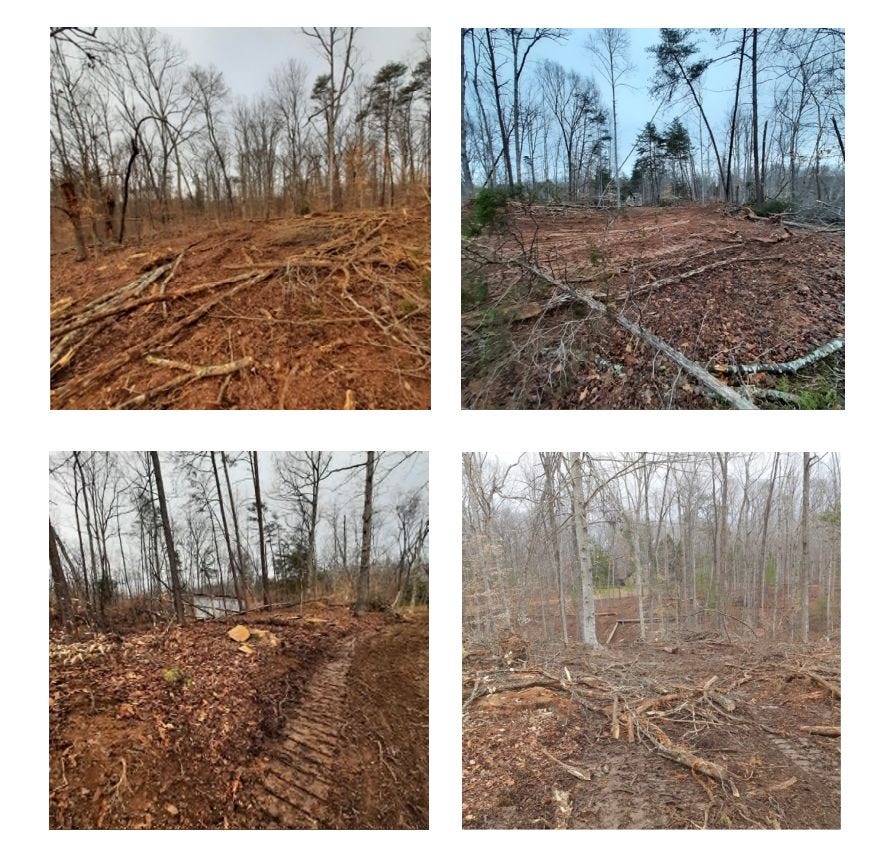 The land is zoned Planned Residential Development which does not permit agricultural uses. However, the Albemarle Conservation Easement Authority holds an open space easement on the land and approved a pre-harvest plan on July 13, 2022.
In all there are four findings that landowner Dominique Kostelac is challenging. His argument is based on a claim that he has the right to agricultural use because the property had been zoned for Planned Residential Neighborhood / A-1 prior to a county-wide rezoning.

In other meetings:
Wednesday, July 12, 2023
City Council to announce next City Manager
Charlottesville City Council will hold a press conference at 2 p.m. in CitySpace to announce the next City Manager. The selection will not be Michael C. Rogers. He withdrew from consideration last week citing personal reasons.
How will this change city government? Will staff come together to support their new leader? Will the two existing deputy city managers continue? What new personnel will the selection bring to Charlottesville? Will the person last more than a year? Will Charlottesville government continue to be as boring as Michael C. Rogers had wanted?
"I think that no-drama government that's focused on bottom-line problem solving is one that can deliver effective services to the citizens of this community," Rogers said in one of his first public appearances in February 2022 as I wrote at the time.
Albemarle holding joint CAC meetings to discuss Comprehensive Plan
For anyone nostalgic for the brief time when government meetings were entirely online, the joint virtual meeting of Albemarle County's community advisory committees may be just what you need. It begins at 6 p.m. and the topic is the Comprehensive Plan process known as AC44. (meeting info)
"The purpose of the Open Houses is to share background information and specific topics for this phase of the Comprehensive Plan Update," reads the agenda. "These topics are important for coordinating land use and transportation planning — and how we manage growth in Albemarle County."
This meeting will be an interesting check-in on a process that I hope to report more as it unfolds. One CAC that won't be in attendance is the Village of Rivanna CAC whose members quit en masse in April 2022. To catch up on articles I've written already, check out the AC44 topic on Information Charlottesville.
In other meetings:
The Albemarle Board of Equalization continues to meet and there continues to be no posted agenda. Their meeting begins at 8 a.m. in Room 241 of the county office building at 401 McIntire Road and the equalization will be televised. (meeting info)
The James River Water Authority meets at 9 a.m. in the Fluvanna County Administration Building in Palmyra at 132 Main Street. There are no advanced materials. (meeting info)
The Charlottesville Sister Cities Commission meets at 4:30 p.m. in CitySpace. One item on the agenda is a request for funding for a delegation to Winneba, Ghana. Another item is the retroactive approval of Huehuetenango as a Friendship City. There's an interesting story in here somewhere, as legal counsel has to approve such a vote. A planned trip for October 2023 has been delayed. (meeting files)
Thursday, July 13, 2023
Council and Planning Commission to continue zoning code discussions in Charlottesville
As I said above, I have yet to get through the July 5 work session of the Charlottesville City Council and the Planning Commission that featured a continued discussion of changes to the draft zoning map. I hope to get to that sometime this week. I will have summarized both in advance of the release of the final draft of the zoning ordinance.
To get caught up on what I know to this point, take a look or a listen at the July 3, 2023 newsletter and podcast which summarized the May 23, 2023 newsletter.
Louisa County PC to hold public hearing for affordable housing project
The Louisa County Planning Commission will meet in the Louisa County Public Meeting Room at 5 p.m for a work session followed by a regular meeting.
During the work session, the Planning Commission will discuss changes to the short-term rental ordinance and an amendment to the zoning code related to livestock and poultry. On the former, they will discuss adding restrictions to short-term rentals as well as establish which zoning districts will allow them by-right and which ones will require conditional use permits. On the latter, rules are being established to penalize who let their livestock roam at large.
They'll also discuss the Comprehensive Plan as well as their annual report. (work session agenda)
During the regular meeting there will be a further discussion of the livestock amendment. (regular agenda)
Then there are two public hearings.
One is for a rezoning request for a couple for a family subdivision.
The other is for the Fluvanna – Louisa Housing Foundation and the Louisa County Resource Council. They're seeking the rezoning of land from the Industrial Growth Area Overlay District to R-2 for a 25-unit multifamily development.
In other meetings:
The Albemarle Solid Waste Advisory Alternatives Committee (SWAAC) meets at 4 p.m. in Room 235 of the county's office building at 401 McIntire Road. There's no agenda at publication time. (meeting info)
The SWAAC Outreach Group meets at 5:30 p.m. in the same room. Guess what? No agenda yet. (meeting info)
The Charlottesville Police Civilian Review Board will meet at CitySpace at 6:30 p.m. On the agenda is a presentation from the executive director of the Haven, a discussion of the recruitment of hearing examiners, and a board recommendation on the use of dash cameras and their effectiveness. (meeting files)
Friday, July 14, 2023
There's just one meeting that I'm aware of at this time.
Albemarle's Board of Equalization continues to meet beginning at 8 a.m. in Room 241 of the county's office building at 401 McIntire Road. There's no agenda for this one, either.
---
This post was contributed by Sean Tubbs. Sean is a journalist working to build a new information and news outlet centered around Charlottesville and Virginia. In 2020, he launched a daily newscast and newsletter and also created a semi-regular podcast on the pandemic.
Support for Sean's "Week Ahead" update comes from The Piedmont Environmental Council.