Somehow we find ourselves with nearly two months of 2023 behind us, and there's so much ahead in what seems to be a pivotal year in our community. I've made it my business to try my best to at least let as many people as I can know what's happening at local meetings as the Charlottesville region continues to unfold in this third decade of the 21st century. I'm hoping many of you find this useful.
Here are some items this week:
Albemarle County Supervisors will hold two public hearings on Wednesday. One is for the proposed $551.5 million budget for FY24 and the other is for a rezoning for 525 units on Old Ivy Road. Which do you think will attract more people to Lane Auditorium?
Charlottesville's Planning Commission will meet Tuesday with the Charlottesville City Council to spend three hours on the zoning rewrite. Expect a lot of detailed conversation that may seem wonky but will affect the future of the city's built environment.
Albemarle's Planning Commission will get an overview Tuesday on how other localities regulate utility-scale solar projects. This is from the Berkley Group which is also working with Albemarle on their new zoning code.
The Albemarle PC will also consider two requests to eliminate or reduce commercial requirements in previously approved rezonings.
Interested in the Albemarle Comprehensive Plan? Two opportunities this week to learn more. One is Monday at the Pantops Community Advisory Committee and the other is Thursday at the Natural Heritage Committee.
The Rivanna Water and Sewer Authority's Board of Directors will be introduced to the five-year capital improvement plan on Tuesday. There are a lot of expensive projects and it will be prudent to see what this will mean for rates.
The Albemarle Architectural Review Board on Monday will review an initial site plan for a new commercial development that would use land between Berkmar Drive and U.S. 29 south of Hilton Heights Road.
Want to know how much an ambulance costs? Jump down to the Greene Board of Supervisors agenda.
Thanks as always to the Piedmont Environmental Council for their sponsorship of this newsletter.
Monday, February 27, 2023
CRHA staff to provide update on redevelopment projects
The seven member Board of Commissioners for the Charlottesville Redevelopment and Housing Authority will meet virtually at 6 p.m. I am hoping to report from this meeting. (agenda)
On the agenda:
A resolution to authorize Board Chair to execute and amended employment contract with Executive Director John Sales
A discussion of conflict of interest rules
A discussion of the proposed five year plan
An update from the finance director
An update from the Housing Department
An update on the Housing Choice Voucher program
In other meetings:
A subcommittee of the Charlottesville-Albemarle-UVA Emergency Communication Center will meet at 1 p.m. in the ECC Conference Room at 2306 Ivy Road. They will review new visualization tools for Computer Assisted Dispatch as well as hold a discussion on the funding model and overall planning for the ECC. This is a core function of government, particularly in a time of concern for gun violence as well as a time when local governments across Virginia are planning for increased levels fire and rescue service. (meeting info)
The Pantops Community Advisory Committee will get its shot at an overview of the Comprehensive Plan review process underway in Albemarle. They meet at 6:15 p.m. in the Kessler Conference Room at Martha Jefferson Hospital Outpatient Center. (meeting info)
Tuesday, February 28, 2023
Greene Supervisors seeking grant for ambulances
The five member Board of Supervisors in Greene County will meet at 4:30 p.m. for a budget work session which will consist of a discussion with the Treasurer and the Commissioner of Revenue. (agenda)
As usual, they will go into closed session at 5:30 p.m. and enter into open session at 6:30 p.m. There are three action items, two of which are authorizations to allow staff to apply for grants.
One of those is for a grant from the Virginia Department of Health for assistance paying for two ambulances with power load / cot systems. Greene County is still in the early days of running its own fire and EMS service following termination of a contract with UVA to fulfill that duty. The total cost for the two vehicles? $689,000.

The second grant is for School Resource Officers through the Virginia Department of Criminal Justice. This is a renewal but now Greene County is on the hook to cover 35 percent of the salary for the three officers hired.
The third action item pertains to the keeping of hens for laying eggs. Supervisor Davis Lamb requested a discussion of the existing ordinance.
Charlottesville Planning Commission and City Council to review zoning code
The City of Charlottesville is contemplating a major shift in the rules for building and development in order to allow more residential density. In early February, the city's Department of Neighborhood Development services released the first draft of new zoning rules and last week held three open houses for people to ask questions. I wrote a long explanation that you may find helpful as a recap.
At 5 p.m. on Tuesday, the Planning Commission and the City Council will gather in CitySpace to spend three hours coming through the details of what's known as Module 1. (meeting info)
"Module 1 of the draft Zoning Ordinance covers the proposed zoning district rules, the use table, and the zoning map," writes NDS Director James Freas in the staff report for the meeting.
On February 14, Freas asked the Planning Commission for specifics on what they wanted to review at this work session. I wrote up some of that conversation, too. These matters are technical but the details will shape the next several decades in Charlottesville.
The first 30 minutes are set aside for further explanations about three topics. What will building setbacks be for odd-shaped lots? How is height measured in both feet and in stories? Where would stacked townhouses be allowed?
Then an hour and a half will be dedicated to policy discussions to inform the next drafts to be released. This will cover a prohibition on using front yards for parking, potential reductions in height for new buildings in Residential-A zones, expanding density bonuses for keeping structures in Residential-B and Residential-C zones, and ground floor elevation in residential districts.
The final hour will be reserved for the zoning map. Staff and consultants will answer why specific zoning districts were applied to the draft map and talk about any potential changes.
Before this meeting, I am hoping to have a segment about a conversation the Council had last week with Freas and other staff about environmental standards in the zoning. The details matter.
Not all of the topics the Commission might want to talk about will be covered at this meeting.
"There were several other questions and topics raised by the Commission that will be taken up as part of the work sessions on Modules 2 and 3 including questions around affordable housing, sensitive communities, and process questions related to plans currently under review," Freas wrote.
As I ponder what to write about, I put a premium on conversations like this. I believe it is worth it for the community for these topics to have a populace that understands them. You do not have to be at this meeting to observe it and can watch it online. Public comment will not be taken at this meeting but the city does want input. You can email comments to creasym@charlottesville.gov during the meeting. 
Albemarle Planning Commission to review rules for commercial solar
In the past year, the Albemarle Planning Commission has begun scheduling work sessions at 4 p.m. for various issues. One such event was held in December for a discussion on the Comprehensive Plan. Another in November was to give preliminary feedback to a firm seeking to develop a site on U.S. 29.
(meeting info for 4 p.m. session)
This time around, they'll review a report from the Berkley Group on how other localities across Virginia regulate the placement of utility-scale solar facilities. This is in contrast to small scale projects such as roof-top panels. 
"It is understood that this initiative is in large part based on recent and growing interest in the development of solar facilities in the County, and given the scale and potential impacts – both positive and those less so – the County is seeking a better understanding of the land use issues particular to solar energy generation facilities and how those issues may be better addressed through regulations, permit review, and procedures," reads a very long paragraph from Berkley to introduce the topic. (read their memo)
The memo explains the driving forces behind firms seeking places all across Virginia for solar fields including the 2018 Virginia Energy Plan which called for 5,500 new megawatts of generation by 2028. We learn that it takes between six and seven acres of land to generate one megawatt but ten acres is usually used because of geographic conditions such as streams and creeks. This is definitely worth writing about and I hope to do so.

In the evening, there are two land use public hearings for projects that have previously been approved.
The first is a project named 999 Rio Road, a project on just under two acres of land at 999 Rio Road. On March 4, 2020, Supervisors approved a mixed-use development that would include between 11 and 28 units as well as a maximum of 6,000 square feet of non-residential space. The request is to drop all of the commercial space in favor allowing up to 38 units in the form of "two-family attached" units.
"A two-family attached unit consists of two 'stacked' units, where the first floor is one unit, and the second floor is a second unit," reads the narrative. "Each unit is a single story."
The new housing units would be in the form of 10 smaller townhouses that could be rented or sold at a lower price.
The second public hearing is for a similar amendment. Among other things, the developers of Riverside Village on Stony Point Road want to eliminate commercial space in favor of 12 dwelling units.
"Since the completion of the project, there has consistently been 30% vacancy in the commercial tenant spaces," reads the narrative written by Shimp Engineering. "The recent closure of a business within the commercial tenant space has increased the current vacancy rate to more than 80%, which is unsustainable for the project. Grit Coffee is expected to remain in the Shops at Riverside… [H]owever, securing additional tenants has largely been unsuccessful throughout the duration of the project."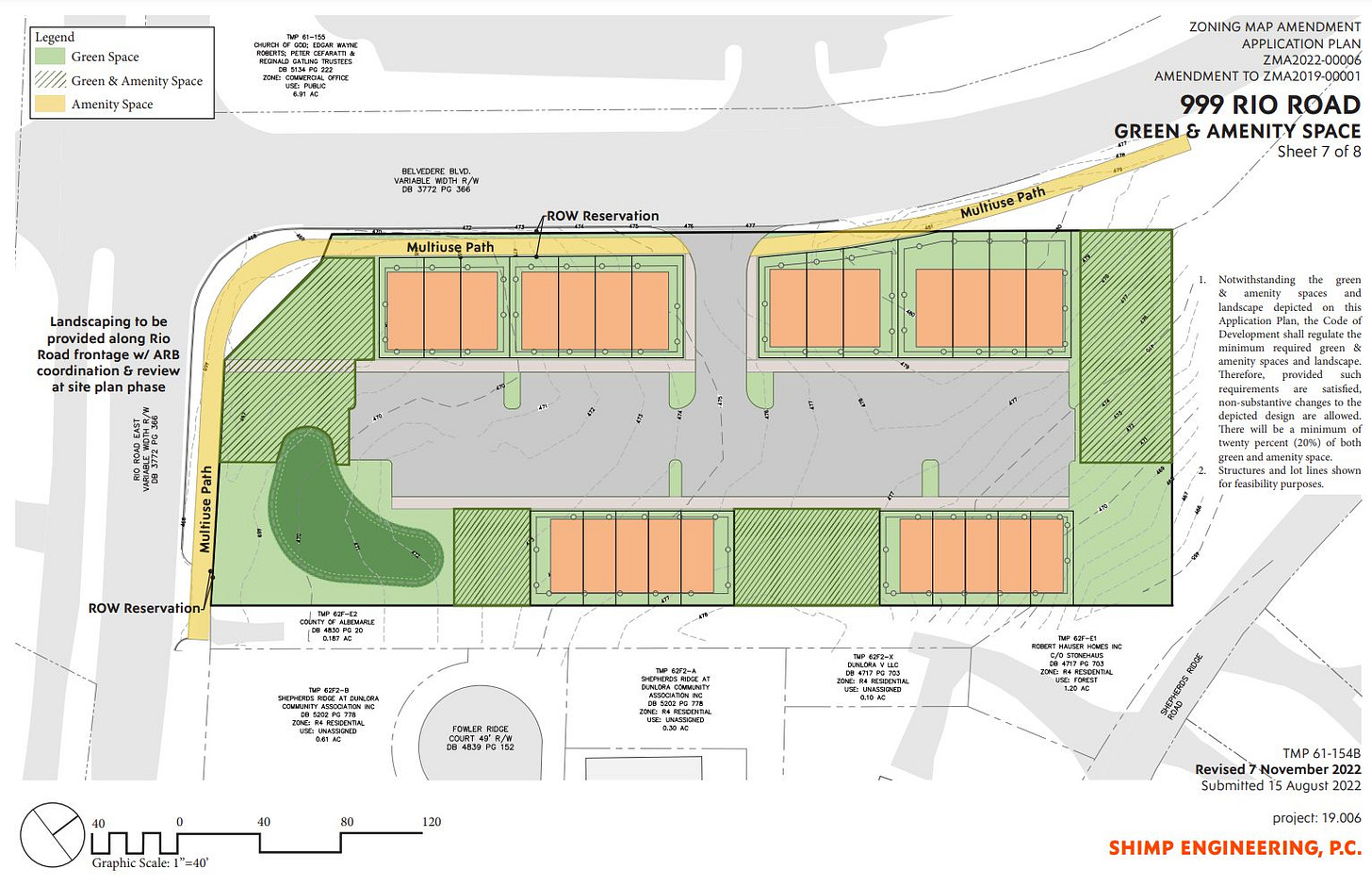 ARB to review new shopping center between Berkmar and U.S. 29
The Albemarle Architectural Review Board doesn't usually meet on the fourth Tuesday of the month, but sometimes meetings are postponed and have to be made up somewhere. On this particular Tuesday, the five-member body will gather in Lane Auditorium at 1 p.m. (meeting info)
The only regular item for their review is the initial site development plan for a new shopping center to be built between Berkmar Drive and U.S. 29 between Hilton Heights Road and Woodbrook Drive.
Shimp Engineering has produced a plan that would feature six buildings on about 5.72 acres, three of which would have drive-through lanes. Anticipated uses include a day-care, self-storage, general retail, a carwash, oil change service, and a specialty food store.
The ARB will also review the design guidelines for the Route 250 entrance corridor from Free Bridge to the Fluvanna County line.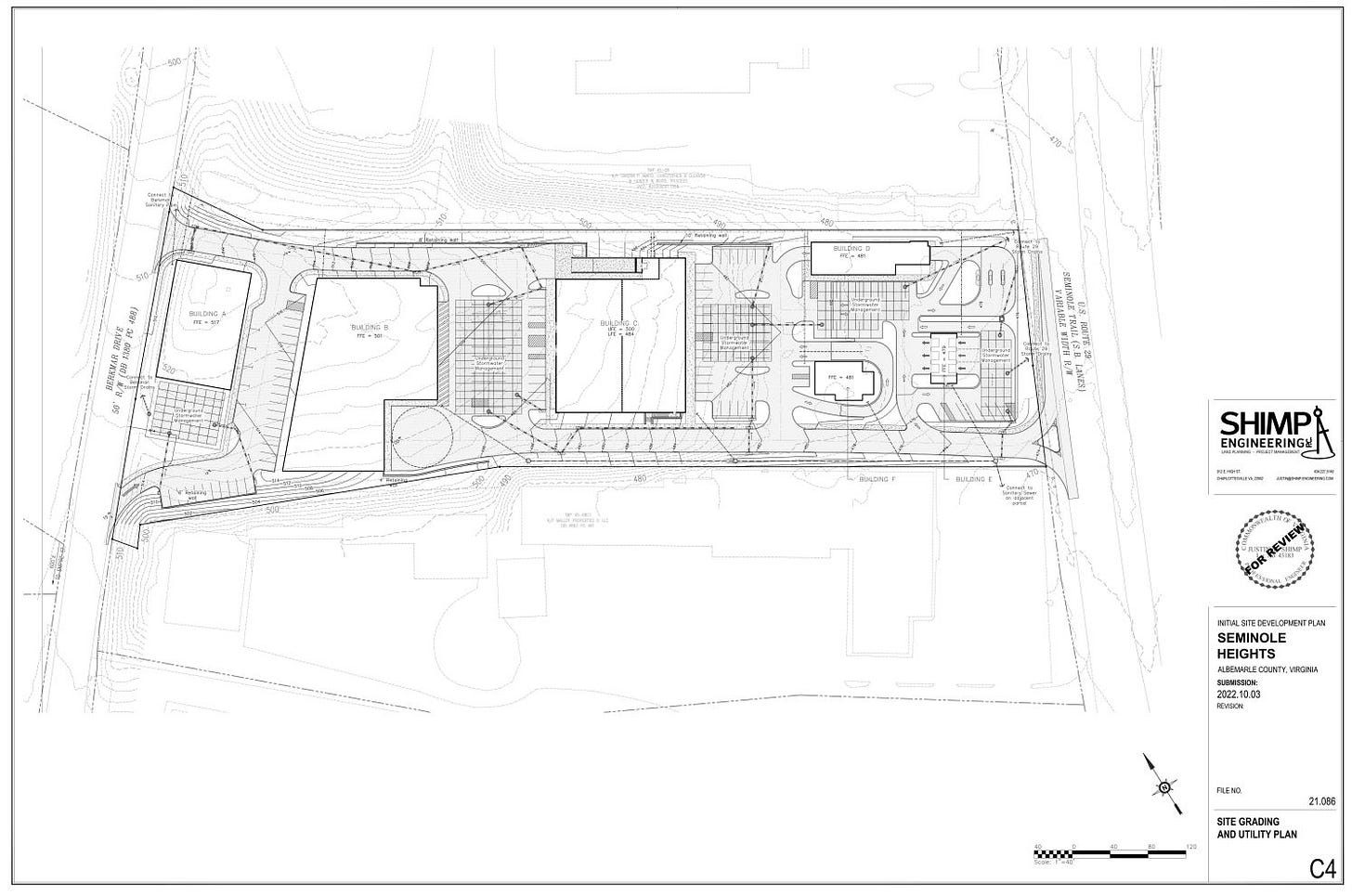 In other meetings:
The Rivanna Water and Sewer Authority meets at 2:15 p.m. at the Rivanna Authorities Administration Building, 695 Moores Creek Lane. The main item on the agenda is the presentation of the $326.1 million capital improvement program for FY24-28. That includes $192.2 million for water projects, including accelerating completion of the South Fork Rivanna Reservoir to Ragged Mountain Reservoir from 2033 to 2030. There's a lot in this and I hope to be able to write a story about it. (meeting info)
Wednesday, March 1, 2023
Albemarle Supervisors to hold first public hearing on FY24 budget, public hearing for Old Ivy Residences
The beginning of the Albemarle Board of Supervisors' meeting is one hour later than usual at 2 p.m. The six Supervisors meet in Lane Auditorium at the county's office building at 401 McIntire Road. (meeting info)
There are three items under action items in the afternoon session. These are another special exception for a short term rental, action on the 2019 class of the Acquisition of Conservation Easements program, and direction on conceptual alternatives for Free Bridge Lane.
In the case of the short term rental, the application for a property on Starcrest Road in the Lake Reynovia neighborhood to increase the number of guest rooms from two to four. The homeowner would be on the property during guest stays. (staff report)
In the case of the ACE program, staff is recommending withdrawing a proposal to purchase one particular property that had been recommended for easement purchase. There had been two properties under consideration, but the owners of one withdrew their request. The other request has also come up against issues, such as a lack of a second entity to co-hold the easement. (staff report)
In the third action item, Supervisors will be asked to support a recommendation to move forward with a design for a conversion of Free Bridge Lane along the Rivanna River that would close off the road to motorized vehicular traffic in favor of a promenade. The next step would be to hold a pilot program.
"The pilot program would make the minimum necessary improvements to Free Bridge Lane to allow the roadway to function as a bicycle and pedestrian promenade that is closed to motor vehicles," reads the staff report. "At the conclusion of the pilot program, Free Bridge Lane could be returned to its current condition, transitioned to a one-way street, or further improved as a promenade."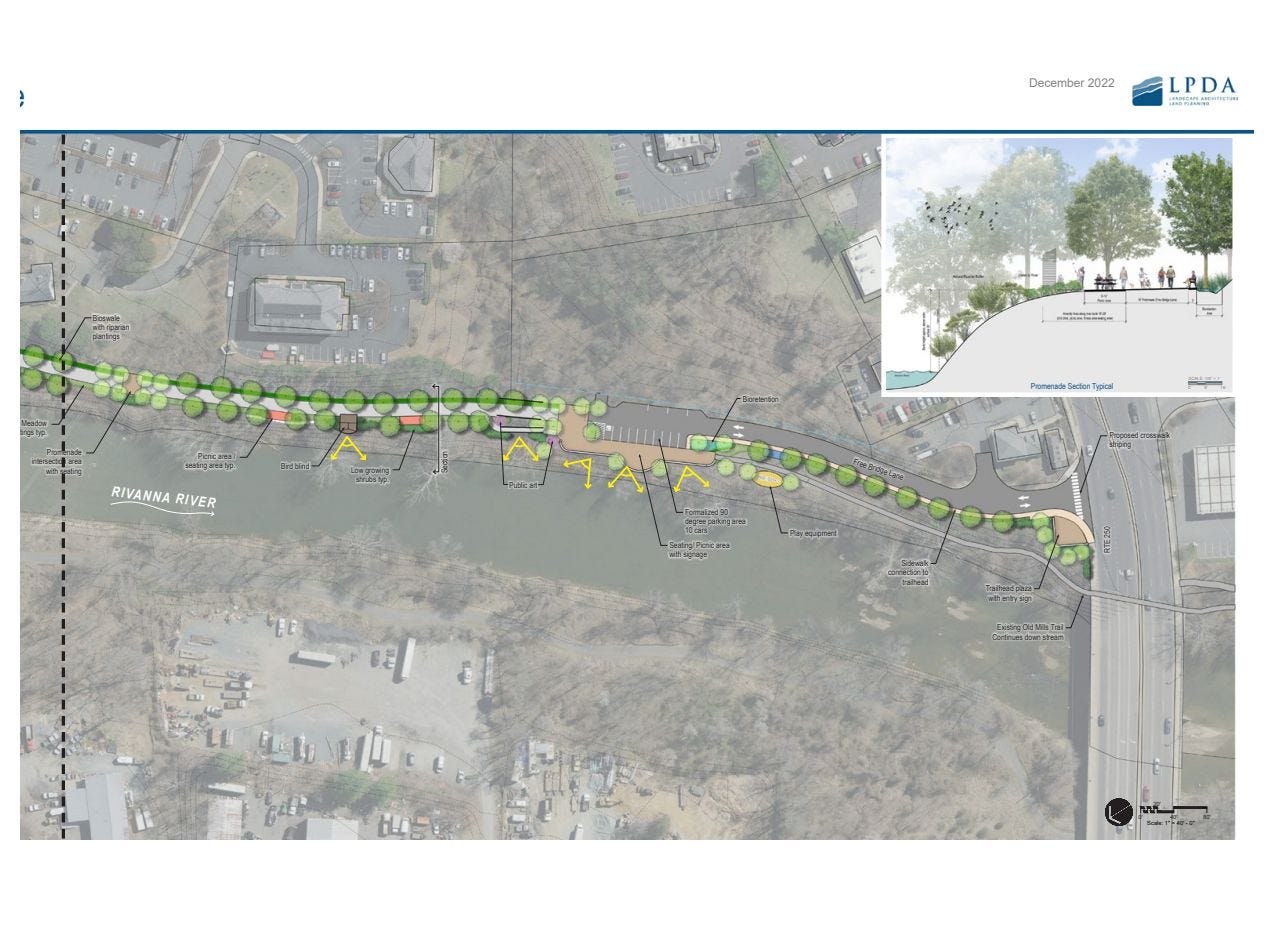 After that, there will be an update from the Albemarle County School Board. Some highlights:
The school division projects an increase in 136 students next year, topping an enrollment of 14,000
The School Board will hold a public hearing on their budget on March 2 and are expected to adopt a budget on April 27
TikTok is now banned in Albemarle County Public School
ACPS is increasing incentives for substitute teachers to attract new personnel
There are two public hearings in the evening session which begins at 6 p.m.
The first is on the $551.5 million budget proposed for Albemarle by County Executive Jeffrey Richardson. For those details, check out the most recent edition of the newsletter.
The second is for a rezoning for Old Ivy Residences. If the strategy with this timing is to find a way to get more people in to pay attention to the budget, it will likely pay off. Greystar Development is seeking a rezoning to allow up to 525 homes. For background, here are some recent stories:
The Planning Commission's denial was in part because of a concern about whether sufficient transportation projects would be in place to address the development's impacts on road congestion. At play is a condition from a rezoning in 1985.
"The Commission recommended denial of the ZMA202100008 because it found that the Old Ivy Road traffic conditions, while different from 1985 when the Proffer in ZMA1985-21 was established, do not appear at a level of improvement to satisfy the condition precedent established by ZMA 1985-21 and address transportation concerns," reads the staff report.
There is a new proffer associated with this rezoning that would commit an additional $500,000 in cash for a new receiving lane on the northbound on-ramp to the U.S. 250 bypass.
I am going to have a longer story about this in Tuesday or Wednesday's edition of the newsletter. There's one more meeting I need to write about to do a preview correctly.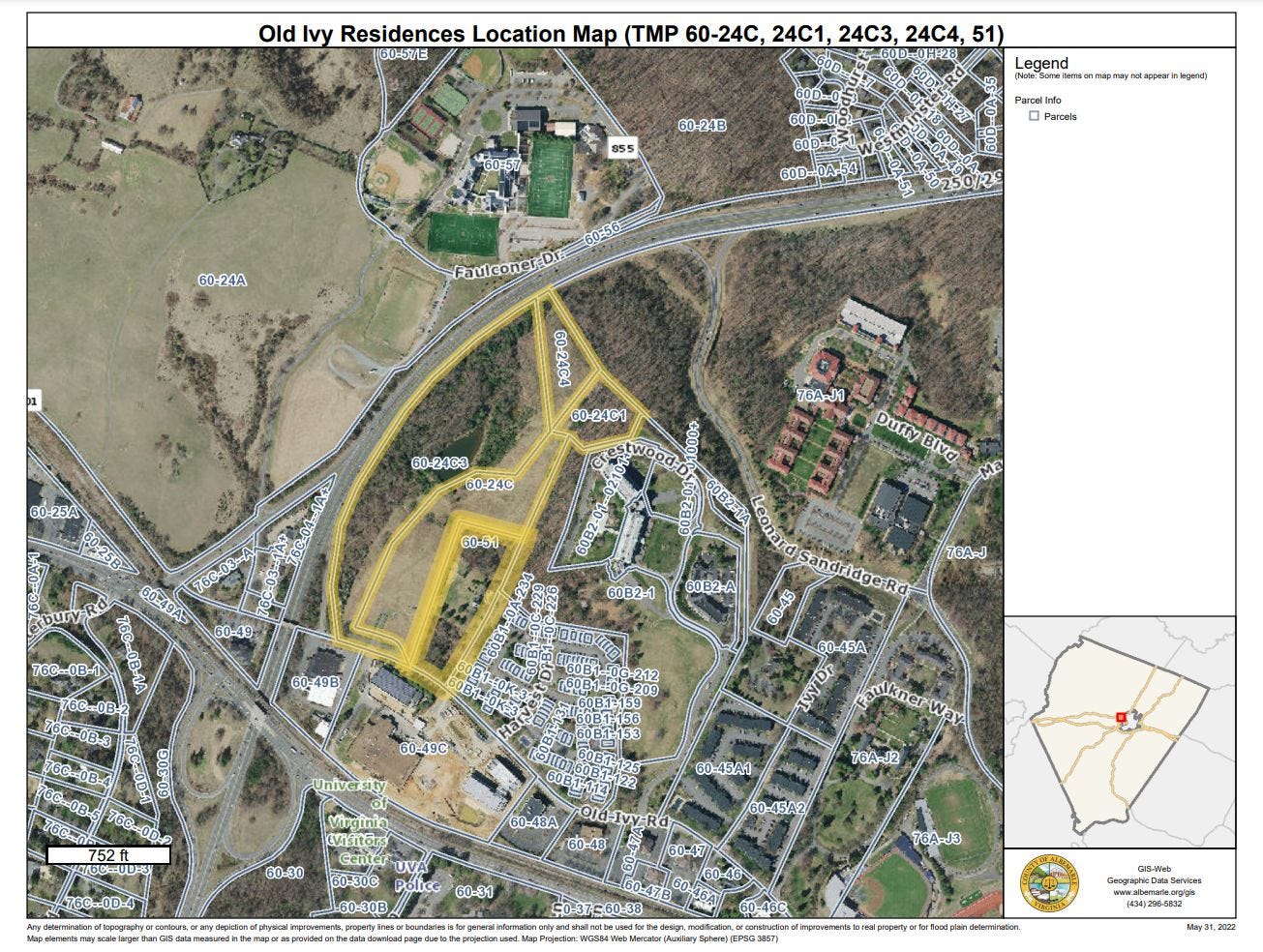 Fluvanna Supervisors to consider joining second opioid settlement, hold budget work session
The five-member Board of Supervisors in Fluvanna County will meet at 5 p.m for a regular meeting followed by a work session at 7 p.m. (agenda packet)
There will be a special presentation to honor Ed Zimmer. The agenda does not indicate who Mr. Zimmer is.
Under action items, Supervisors will adopt a resolution to participate in a second Virginia Opioid settlement.
"The amount of the settlement is approximately $26 billion nationally, of which approximately $530 million will be paid over time to the Commonwealth, including the Opioid Abatement Fund, and the participating Virginia localities," reads the staff report on page 4.
The exact payment to Fluvanna and other localities won't be known until all interested local governments sign on to the settlement. The staff report indicates the fiscal impact will be "probably substantial."
There will be presentations from the Virginia Department of Transportation and the Fluvanna County Historical Society. The latter is on Free Hill Cemetery.
Under unfinished business, Supervisors will complete a review of boards and commissions.
If you're interested in the budget, take a look at the draft FY2024 budget.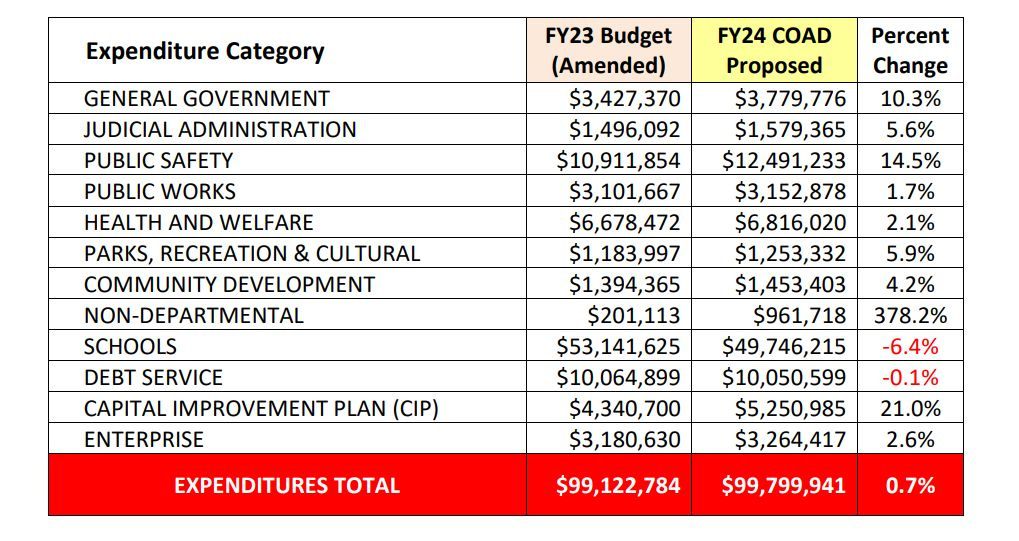 Thursday, March 2, 2023
The University of Virginia Board of Visitors meets this week and this is the first day of policy meetings. The agendas for the various committees are not posted yet, but you will be able to find them here. You can also live stream the meetings here. I'll post advance details in a future newsletter this week. 
In other meetings:
The monthly meeting of the Community Policy and Management Team will be held in Room 231 in the county's office building at 1600 5th Street. Unexplained acronyms to note include FAPT, SPED, CSA, and OCS. The latter is also my favorite band and this is the most important song by them. (meeting info)
The Albemarle Natural Heritage Committee will meet in Room 235 of the county's office building at 401 McIntire Road. Among the items on the agenda is a review of the goals and objectives of the AC44 Comprehensive Plan update. (meeting info)
---
This post was contributed by Sean Tubbs. Sean is a journalist working to build a new information and news outlet centered around Charlottesville and Virginia. In 2020, he launched a daily newscast and newsletter and also created a semi-regular podcast on the pandemic.
Support for Sean's "Week Ahead" update comes from The Piedmont Environmental Council.