Somehow this week has a lot going on, as listed below. This week I'm going to keep the narrative short because I want to get this posted quickly as I'm a bit behind my schedule.
I do want to point out that we're now a month into the end of virtual meetings for many advisory bodies in Albemarle County, and now that extends to the two Rivanna authorities.
If you want to hear what happens, you'll just have to go to the meetings. While many would like virtual meetings to continue, it will take legislative changes in the General Assembly to make that happen as Albemarle Supervisors know. My hope is that many of you will consider going if you're interested in getting involved.
Thanks to the Piedmont Environmental Council for their support of this newsletter and the research that goes into it each week. They're holding an online auction this week as part of their 50th Anniversary. Check it out!
Monday, September 26, 2022
Two more Albemarle committees return to in-person meetings
Virtual meetings for Albemarle County advisory committees are now restricted to two a year, unless legislation can pass the Virginia General Assembly to change the rules. Today, two more groups return to in-person meetings for the first time in two and a half years.
First, the Historic Preservation Committee will meet at 4:30 p.m. in Room 241 of the County Office Building on McIntire Road. They'll review the recent dedication of a historic marker for Union Run Baptist Church (watch a small video). They'll get a status update on a marker for River View Farm and recently demolished properties. The group will continue discussing the Comprehensive Plan update and how historic preservation might be part of that document. (meeting info)
Next, the Pantops Community Advisory Committee will meet at 6:15 p.m. at the Kessler Conference Room in the Martha Jefferson Hospital Outpatient Center. They'll elect new officers and will get an update on the county's parks and green systems. (meeting info)
There are no virtual ways of participating in either meeting nor will there be an official recording. An era is over.
Charlottesville public housing body to meet, authorize property acquisition in Belmont
Two new members join the Board of Commissioners for the Charlottesville Redevelopment and Housing Authority when they meet virtually at 6 p.m. (Zoom registration)
On the agenda is a resolution to acquire real estate at 818 Montrose Avenue in the Belmont neighborhood. The purchase price is $355,000 and the space will eventually be turned into three units where there are currently two.
There's also a discussion of the U.S. Department of Housing and Urban Development's Fair Market Rent levels for 2023.
There will also be several updates on various initiatives. The move back in to Crescent Halls is not expected to begin until November and the redevelopment director said in a report that he is hopeful some residents can be back in their homes before the holiday season. There are also delays at South First Street Phase 1, though a certificate of occupancy is in place. The delay is due to air flow testing. There are two other buildings at this location.
In other meetings:
Charlottesville's Social Services Advisory Board will meet virtually at noon. In addition to a report from the director, there will be an overview of the VIEW program. (meeting info)
The Jefferson Madison Regional Library's Board of Trustees will meet at Northside Library at 3 p.m. Trustees will get an overview of the budget process, an update on the naming committee, and learn of JMRL's recent award as Library of the Year from the Virginia Library Association.
The Fluvanna County Social Services Board meeting meets at 3 p.m. in the Department of Social Services. (meeting info)
Tuesday, September 27, 2022
Greene County Board of Supervisors to hold budget public hearing to add funds for new water and sewer department
The five-member Greene County Board of Supervisors will meet in closed session at 4:30 p.m. followed by an open session at 6:30 p.m. They meet in the county meeting room in the administration building in Stanardsville.
There will be four public hearings on four action items:
Greene is considering entering into a Memorandum of Agreement with the Twin Lakes Homeowners Association for that group to lease property owned by the county.
Greene is considering entering into a Memorandum of Agreement with the Greene Commons LLC for that group to lease property owned by the county in Stanardsville. The private group will operate and manage the Farmer's Market and amphitheater..
A landowner is seeking the abandonment of right of way on Jennings Loop.
There will be a public hearing on amending the FY22-23 budget by $1.924 million to help launch the county's new Department of Water and Sewer. This is the amount estimated to come into the county through the sale of water and sewer service.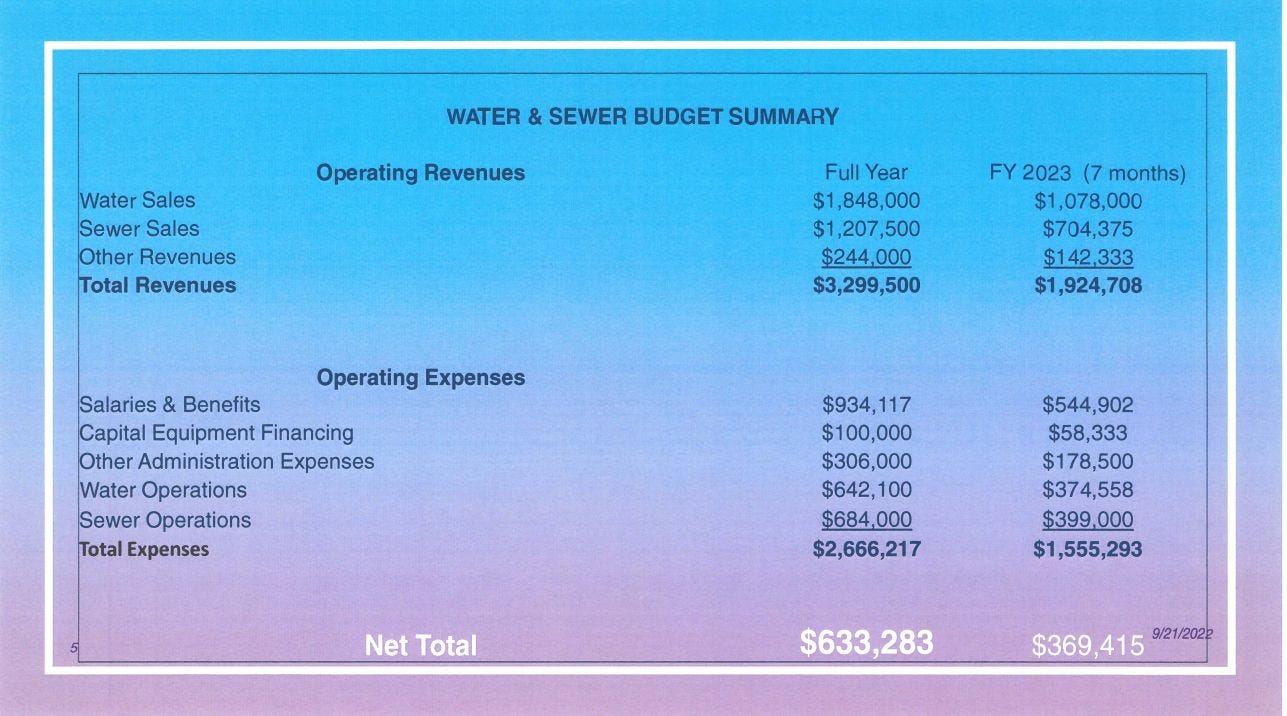 After that, there will be a presentation on Greene's legislative priorities from the Thomas Jefferson Planning District Commission's David Blount, as well as a study on staffing in the sheriff's office.
After that, Supervisors will get a first look at items that will come up later in the year.
Greene is considering a central registry or properties that collect transient occupancy tax through short-term rentals. The current list has 80 addresses. This will come back to the Board on October 25.
There will be a review of potential revisions to the county's sign ordinance. (October 25)
There will be a review of changes to the bylaws for the Tourism Council (view the draft
Albemarle Planning Commission to hold work session on draft equity framework
This is a big day for discussions of land use policy in both Albemarle and Charlottesville. The seven-member Planning Commission gets things started with a work session on the Growth Management Policy, part of the review of the Comprehensive Plan known as AC44. Specifically, there will be a draft Framework for an Equitable Resilient Community.
"The Framework incorporates Board priorities of equity and climate, Planning Commission, AC44 Working Group, and community input, and builds upon the goals of the 2015 Comprehensive Plan," reads the agenda for the work session. (work session meeting info)
The nine-page draft is available for review here. It has something do to with crosswalking, which is not directly related to a specific method of making roadways safer for pedestrians.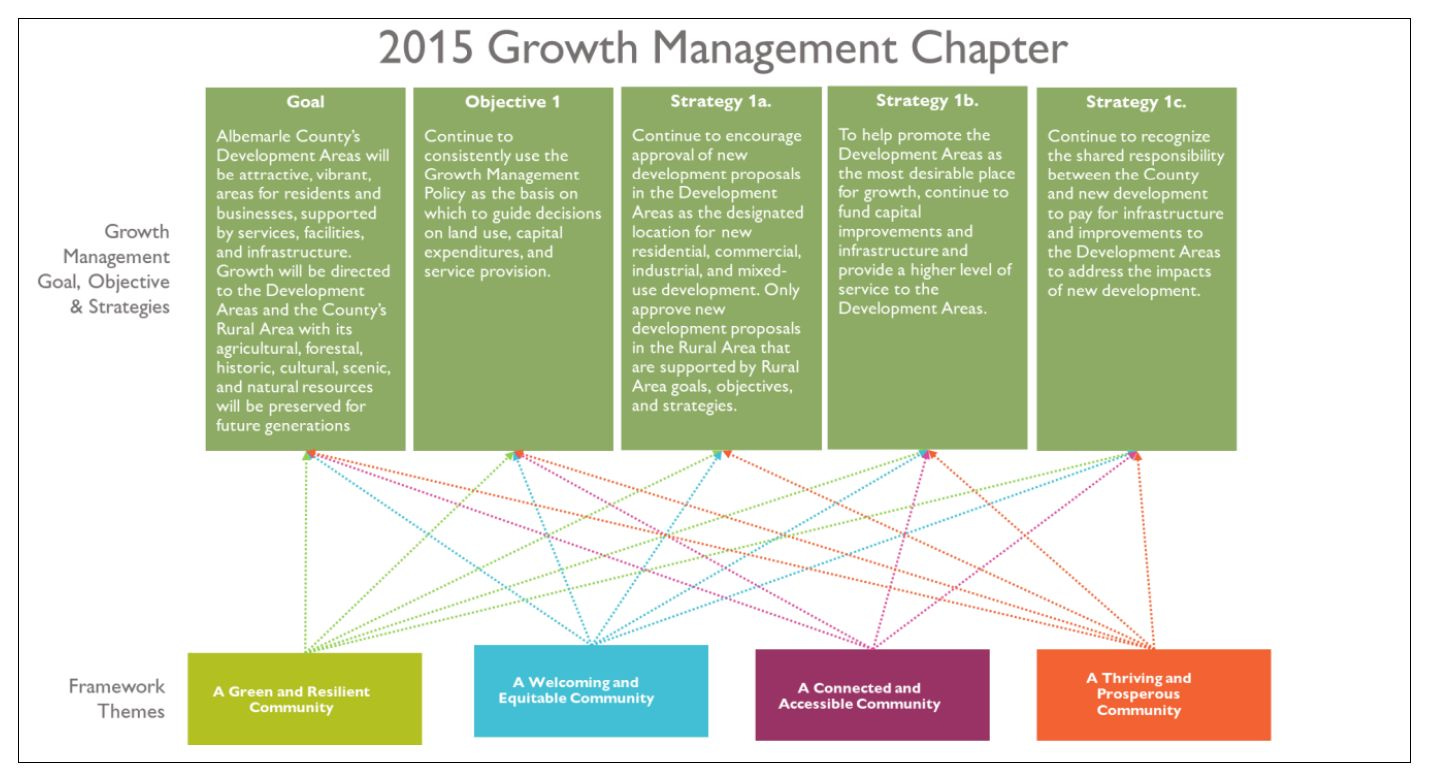 In the regular meeting that begins at 6 p.m., there are three public hearings and two of them are related to the Virginia Institute of Autism's request to expand their operations on Hillsdale Drive onto an adjacent parcel. The first public hearing is for a move an existing daycare that operates out of the Mountain Plain Baptist Church into an adjacent building. There will also be a review of new rules of procedure for the Planning Commission (meeting info).
The Albemarle Planning Commission won't meet again until October 25.
Charlottesville City Council to meet with Planning Commission for zoning discussion
The summer in Charlottesville began with the release of a document intended to tell the public how the rewrite of the city's zoning document will proceed in order to satisfy the goals called for in the Affordable Housing Plan and the Comprehensive Plan adopted on November 15, 2021.
There was a public kickoff on June 28 for the Zoning Diagnostic and Approach report, which gave further details for how landowners will be able to build more housing depending on the size and shape of their lot, as well as the property's designation in the Future Land Use Map.
Over the course of the past three months, there have been various ways to give input and to hear from consultants with the Cville Plans Together initiative about their reasoning.
Now, the City Council and the Planning Commission will meet in-person at 5:30 p.m. for a joint work session to give direction to turn the diagnostic report into a final one. (meeting info)
While the public comment period is over, there's one last chance to have you say.
"Community members are invited to share written comments to be included in the meeting minutes," reads a section of the agenda. "Submit comments on paper at the meeting, or via email (engage@cvilleplanstogether.com). Written comments received between 5:30pm and midnight on September 27 will be included in the meeting minutes and shared with the City Council and Planning Commission."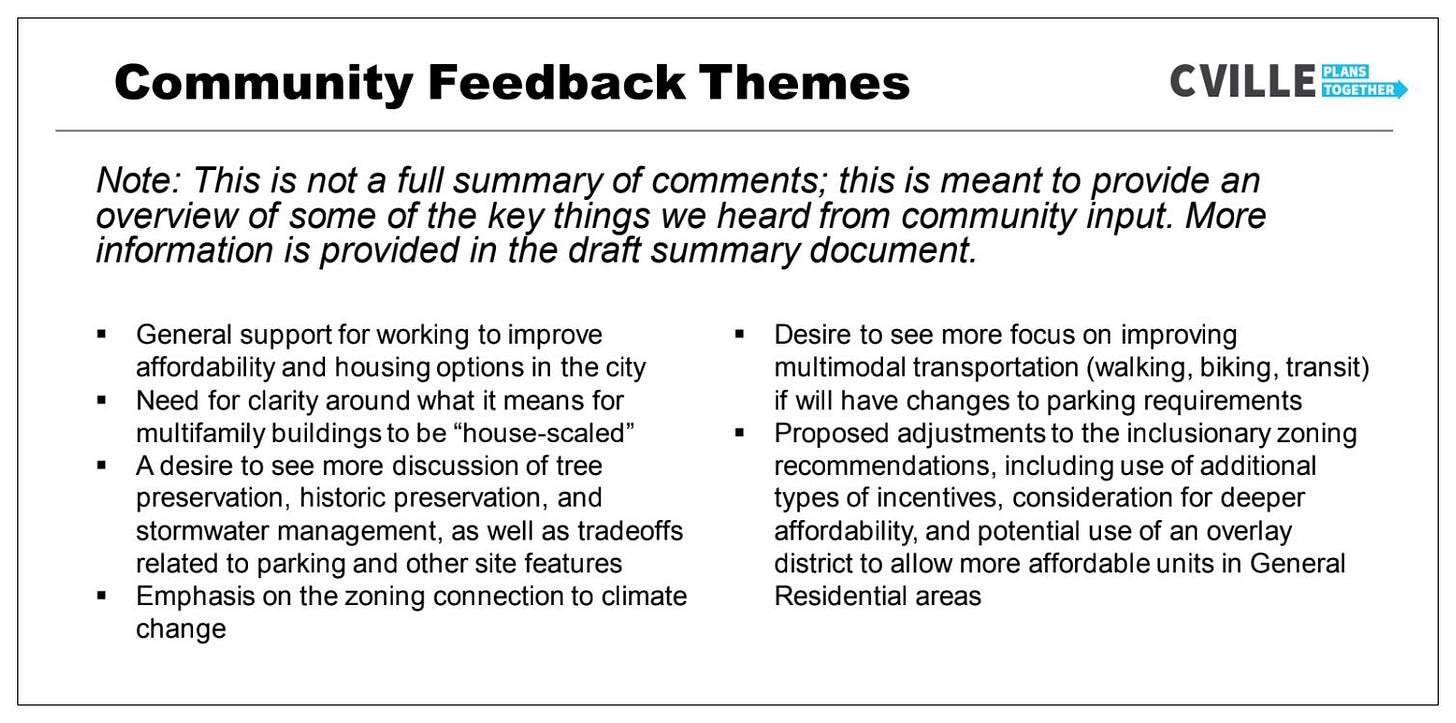 Site plan conference for redevelopment of former K-Mart
Riverbend Development has filed a new plan for a project to redevelop the former K-Mart Plaza in the southeast quadrant of the U.S. 29 / Hydraulic Road intersection. A previous version had a site plan conference on October 4, 2017.
There is a virtual site plan conference for the Hillsdale Place project beginning at 10 a.m. No information is available in the link for the meeting, but cvillepedia has a bit more info. (meeting info)
In other meetings:
The Rivanna Solid Waste Authority's Board of Directors meets at 2:00 p.m. in-person for the first time in two and a half years. They meet in the Conference Room, Administration Building at 695 Moores Creek Lane in Charlottesville, Virginia. There is no virtual option. (agenda packet)
The Rivanna Water and Sewer Authority's Board of Directors meets at 2:15 p.m in-person. There will be a presentation and public hearing on an amendment to the water rates related to a cost-share allocation for projects in the Northern Area. (agenda packet)
Wednesday, September 28, 2022
Nelson County PC to review 12 senior apartments on Route 151
The Nelson County Planning Commission will meet at 7 p.m. in the General District Courtroom on the 3rd Floor of the Nelson County Courthouse in Lovingston.
The main item on the agenda is a public hearing for a special use permit for a multifamily dwelling use on land zoned for agricultural use. The land is at 9485 Rockfish Valley Road and the project is known as The DeLander at Nelson.
"This property currently contains several structures, some of which are nonconforming to current setback requirements," reads the staff report. "The applicants and contract purchasers are proposing to remove these structures and construct two multifamily buildings approximately 5,000 square feet in size each, each with six one-bedroom apartments for use as an 'active senior living community' for those 55+ years of age."
Apartments start at $3,000 a month.
All of the structures would be removed, including one that had been planned as a future retail space.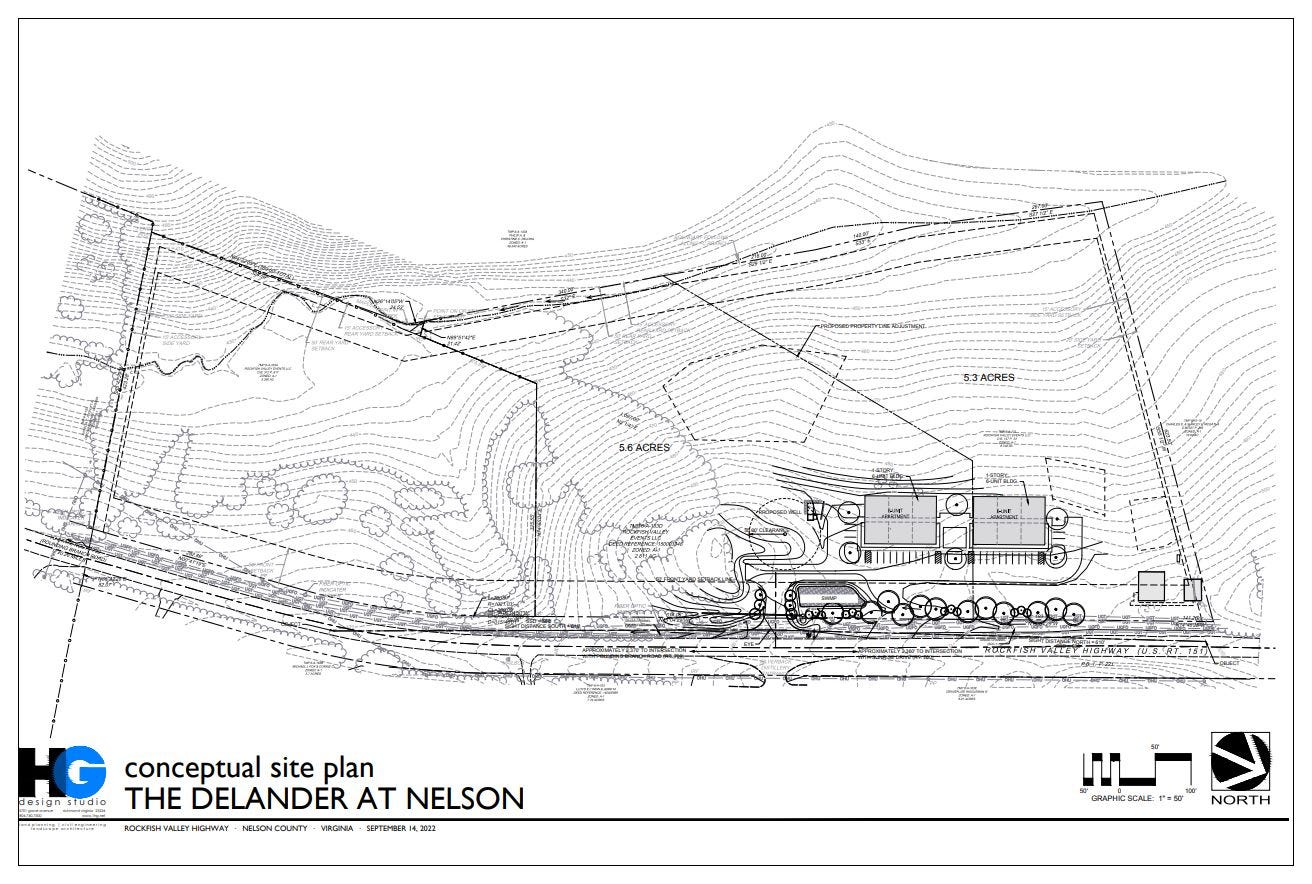 In other meetings:
The Charlottesville Retirement Commission will meet virtually at 8:30 a.m. (meeting info)
The Charlottesville-Albemarle Metropolitan Planning Organization will meet at 4 p.m. at the Water Street Center at 407 East Water Street in Charlottesville. There is a virtual option. A major item on the agenda is a discussion of the Long Range Transportation Plan. What's that? I hope to write about it. The agenda should be posted at the MPO site but is not at press time.
The Albemarle Broadband Authority will meet in-person and virtual via Zoom beginning at 5 p.m. There will be a series of updates on various projects funded through the Virginia Telecommunications Initiative and other sources. (meeting info)
Thursday, September 29, 2022
Albemarle holding discussion on Climate Resilience Planning
On October 3, Charlottesville City Council will be presented with a climate action plan. Albemarle adopted one in October 2020 and has moved into the implementation stage. That means the creation of another plan for climate adaptation and resilience. As part of that, they produced a Climate Risk Vulnerability and Assessment this past June.
At 6 p.m. Albemarle will hold a presentation and panel discussion on some of the issues in the report. This will be in Lane Auditorium in the county's office building on McIntire Road. (register to attend)
Rivanna River health group to hold conference at Darden Towe Park
Are you a river enthusiast? Are you interested in protecting and improving water quality through public policy? Then consider attending the Rivanna River Basin Commission's Seventh Annual Conference from 1 p.m. to 3 p.m. at the Lewis and Clark Exploratory Center in Darden Towe Park.
"This year's conference includes speakers from the Weldon Cooper Center, Encore Renewable Energy, and the Virginia Department of Environmental Quality," reads the press release. "Sessions will focus on the topics of solar policy and best practices for implementation, including agrivoltaics, and environmental justice considerations. Following the sessions, there will be an optional guided walk along the riverside trail."
Attendance in-person is limited due to the space, but the event can also be reviewed remotely. This is the link to register in person. This is the virtual attendance link.
The Rivanna River Basin Commission was formed in 2007 after legislation passed the General Assembly in 2004 to allow it to do so. The Thomas Jefferson Planning District Commission took over the entity in 2014.
"The members of the RRBC are local elected officials from the City of Charlottesville and Counties of Albemarle, Fluvanna, and Greene, members of the local soil and water conservation districts, and citizens recommended by the member local governments," reads a description in the press release.
---
This post was contributed by Sean Tubbs. Sean is a journalist working to build a new information and news outlet centered around Charlottesville and Virginia. In 2020, he launched a daily newscast and newsletter and also created a semi-regular podcast on the pandemic.
Support for Sean's "Week Ahead" update comes from The Piedmont Environmental Council.