Time is running out on 2022 as regular schedules continue to be more difficult as the calendar comes closer and closer to the last minute of December 31. What kind of a week will this one be? This is always a good question and let's explore it together.
This week is an odd one with Monday being a fourth day of the month, but Tuesday and Wednesday are fifth days. That's usually when special meetings are held, such as this week's capital improvement work session by the Nelson County Board of Supervisors on Tuesday. Heck, even Greene Supervisors are taking the extra day to have a retreat!
But the Albemarle Planning Commission meets when it needs to do so! They will hold a public hearing on the rezoning of land on Old Ivy Road for 525 apartment units. Will the changes they've made and the additional proffers be enough to convince the seven Planning Commissioners to recommend approval?
And then the month begins and a sense of normalcy returns with the last 2022 meeting of the Thomas Jefferson Planning District Commission.
There's a lot going on to review. Please read through this and ask me questions via email, via Twitter, via Reddit, via the comments below, or Substack chat. My hope is to inspire more people to get involved and these weekly summaries are intended to give people context and links to primary sources. Hundreds of you read each week, and please share this so we can get that to thousands.
There is also one more month left to celebrate the 50th anniversary of the Piedmont Environmental Council. I am grateful for their continued sponsorship of this newsletter and the research that goes into each edition.
Monday, November 28, 2022
Police chief finalists to appear at Charlottesville forum
For over a year, the Charlottesville Police Department has been led by an interim chief following the firing of RaShall Brackney in early September 2021. That prompted the subsequent resignation of former City Manager Chip Boyles. The city is currently run by interim City Manager Michael C. Rogers who launched a search for a permanent replacement chief in August.
"I am pleased that we have three outstanding candidates to be our next chief," Rogers is quoted in a press release. "Public safety is an important service that we offer, and these candidates have a diverse set of leadership experiences that can serve our community well."
The Police Civilian Oversight Board will hold a forum from 6 p.m. to 8 p.m. at the Carver Recreation Center. This will also be live-streamed. (link to live-stream)
"Questions will be accepted by the PCOB from the community, with a priority on community members who indicate that they live or work in the community, to ensure their questions are asked before those who may only visit the area," the release continues.
The last time such a public forum was held for a major personnel choice was 2019 when City Council interviewed three candidates for city manager. The ultimate selection, Dr. Tarron Richardson, left after 16 months on the job.
Pantops CAC to review request to reduce commercial space at Riverside Village
The Pantops Community Advisory Committee will meet at 6:15 p.m. in the Kessler Conference Room at the Martha Jefferson Hospital Outpatient Center. (meeting info)
There is a community meeting for an amendment to the previous rezoning that allowed for the Riverside Village community on Route 20. The original rezoning around ten years ago converted 18.65 acres of land zoned for R-1 to the Neighborhood Model District. The code of development specified there would be 69 dwelling units and up to 46,000 square feet of commercial uses.
A first amendment increased the maximum number of homes from 69 to 106 and reduced the minimum commercial square footage in one of the blocks to 8,000 square feet. Commercial space was built in three sections on the groundfloor and two of these were rented to restaurants. A third has remained vacant.
"Since the completion of the project, there has consistently been 30% vacancy in the commercial tenant spaces," reads the narrative from Shimp Engineering. "The residential component of the mixed-use structures has been successful and there are currently no vacant apartments."
The already-built commercial space would be converted to residential.
In another discussion, there will be an update on the creation of a volunteer Pantops Trail Crew similar to the one in Crozet.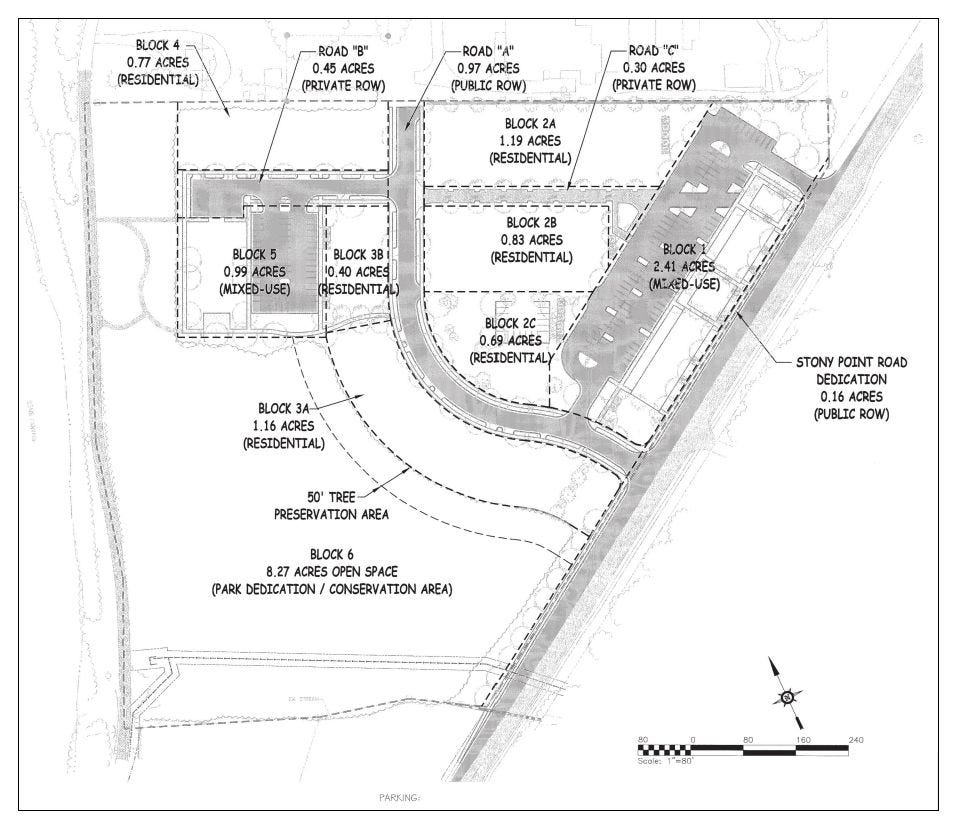 In another meeting:
The Charlottesville Board of Directors of the Charlottesville Redevelopment and Housing Authority will meet virtually at 6 p.m. (meeting agenda)
Tuesday, November 29, 2022
Greene County Supervisors to hold retreat
There's a lot for the five members of the Greene County Board of Supervisors to discuss at their day-long retreat to be held at the Holiday Inn Express at 5920 Seminole Trail in Ruckersville.
"This agenda is comprised of general topics, but is not meant to be restrictive," reads the agenda. "Topics which are not included on this agenda may arise as part of the general discussion of those topics listed."
There are 22 listed including the search for a new county administrator, transition away from the Rapidan Service Authority, growth dynamics in the county, economic development, the Comprehensive Plan, and public safety needs.
Nelson County Board of Supervisors to hold work session on capital improvements
The five member Nelson County Board of Supervisors will meet at 4 p.m. in the Courthouse at Lovingston. This is a capital improvement work session. There is the possibility that the county will purchase land behind the high school and middle school and before that, there may be a timber harvest. (meeting packet)
There will be a report on a recent trip someone took to Danville, but the agenda doesn't specify who or for what purpose. Likewise with a report on a meeting with the YMCA. They will also review a draft public engagement survey for the county's recreational needs as well as a discussion of dates for the sports committee to meet.
Old Ivy Residences project returns to Albemarle Planning Commission
The Albemarle Planning Commission meets at 6 p.m. in Lane Auditorium at the county office building at 401 McIntire Road. There are five public hearings on three different topics. (meeting info) (agenda)
In the first public hearing, Maple Grove Christian Church at 3210 Proffit Road seeks a special use permit for a child day center for up to 50 children under the age of 5. (staff report)
The next two are related to three applications for a new 6,500 square foot mutli-tenant building at 4290 Ivy Road that will include a veterinary clinic and a catering kitchen. There is also a request to draw up to 875 gallons of water per day for the uses, as this is not on public water and sewer.
The next two public hearings are for the long-awaited return of a proposal from Greystar Development to rezoning several parcels of land off of Old Ivy Road for up to 525 dwelling units. The applicant sought a deferral in June when it appeared the project may be headed for a recommendation for denial. For background, see the story I wrote about that at the time. One of the major concerns was the impact on the road network.
Since the summer, Greystar has returned with a revised application with new proffers to address transportation issues in a "congestion area" identified by the Virginia Department of Transportation. Rather than pay a locked-in fee, Greystar will pay a portion of any infrastructure improvements.
"The cash contribution would be equal to six percent of the total cost of future transportation improvement projects in this area, which equates to the estimated percentage increase in traffic volumes that would result from this development," reads the staff report.
However, the maximum is capped at $750,000. There would also be a ten-foot-wide linear path for the 1,275 linear feet of the development's frontage on Old Ivy Road.
Another issue for the development is the potential lack of sewer capacity.
"[Albemarle County Service Authority] staff indicate that sewer lines that would serve this project are currently in need of upgrades and may not have adequate capacity," the staff report continues. "Furthermore, ACSA staff have indicated that the developer/applicant "will need to sign an agreement stating that the applicant will be responsible for upgrading the necessary sewer segments if capacity is exceeded by this development."
There is also a request to alter the classification of some of the steep slopes from preserved to managed.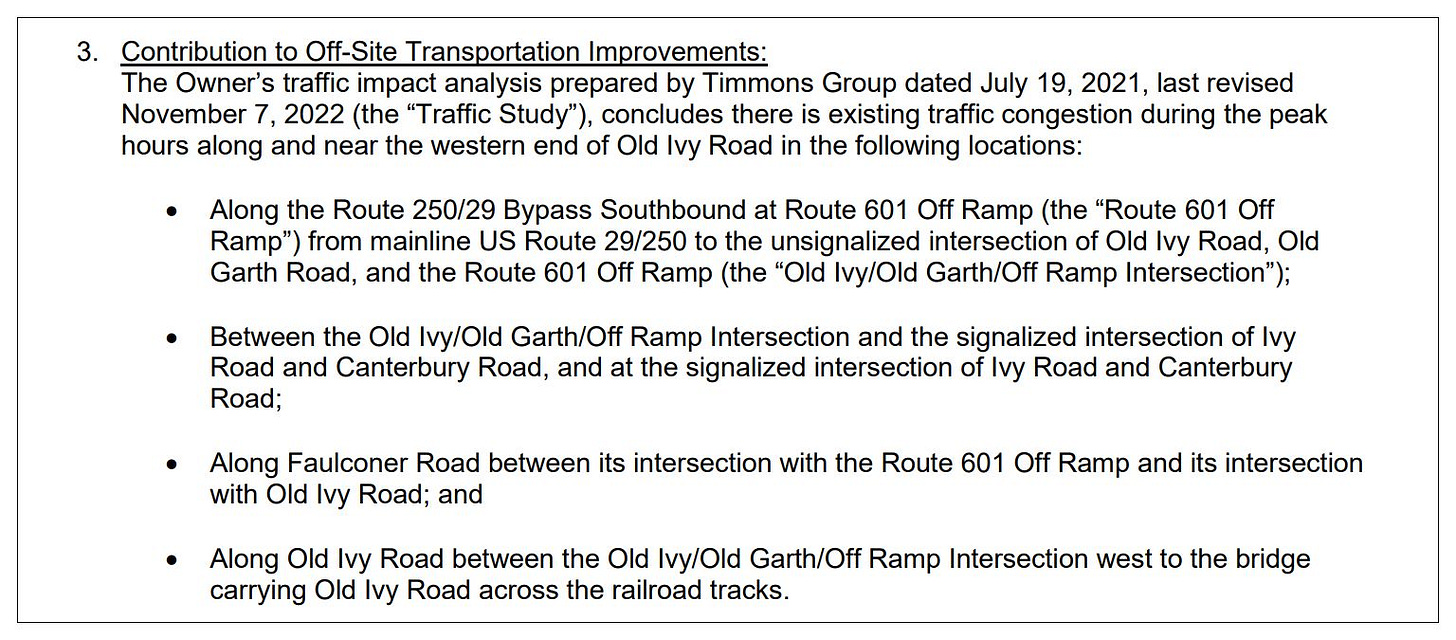 Wednesday, November 30, 2022
Albemarle Audit Committee to begin work reviewing FY22 balance
Localities in Virginia are required to conduct an audit of the books for each fiscal year. This is conducted by a third party. Many select Robinson Farmer Cox Associates. In Albemarle, a committee consisting of two Supervisors, two School Board members, and two top staff gathers to make a recommendation on what any surplus might be used toward.
This committee meets Wednesday at 2:30 p.m. in Room 241 in the county's office building at 401 McIntire Road. For budget completists, this is the meeting series you don't want to miss as work continues on development of the next Albemarle budget. There's a virtual way to watch, too! (meeting info)
In other meetings:
The Charlottesville Social Services Advisory Board meets virtually at noon. (meeting info)
Thursday, December 1, 2022
TJPDC to meet for final time in 2022; transit governance study underway
The first day of the last month brings the final time for this year that the Board of Commissioners for the Thomas Jefferson Planning District Commission will meet. (meeting agenda)
The main item on the agenda is a briefing on the status of a committee formed to oversee production of a new study on how to govern a future transit system. This is one of the outcomes of the Regional Transit Vision Plan that's been underway for some time now. The new committee met earlier this month.
The two goals of this new study are to explore options for a regional authority to bring down new sources of tax revenue and to "increase transportation investments and outcomes."
Questions to be answered include:
How will the structure support regional cooperation and planning around transit operations?
How will the structure increase transit investments for the region?
How can rural localities participate in the governance structure?
There are five phases to the study and the report is to ready by the end of 2023.
In other meetings:
There may or may not be meetings in Albemarle. The calendar wasn't working at production time.
The Charlottesville City School Board will meet in closed session at 4 p.m. followed by a regular meeting at 5 p.m. (meeting info)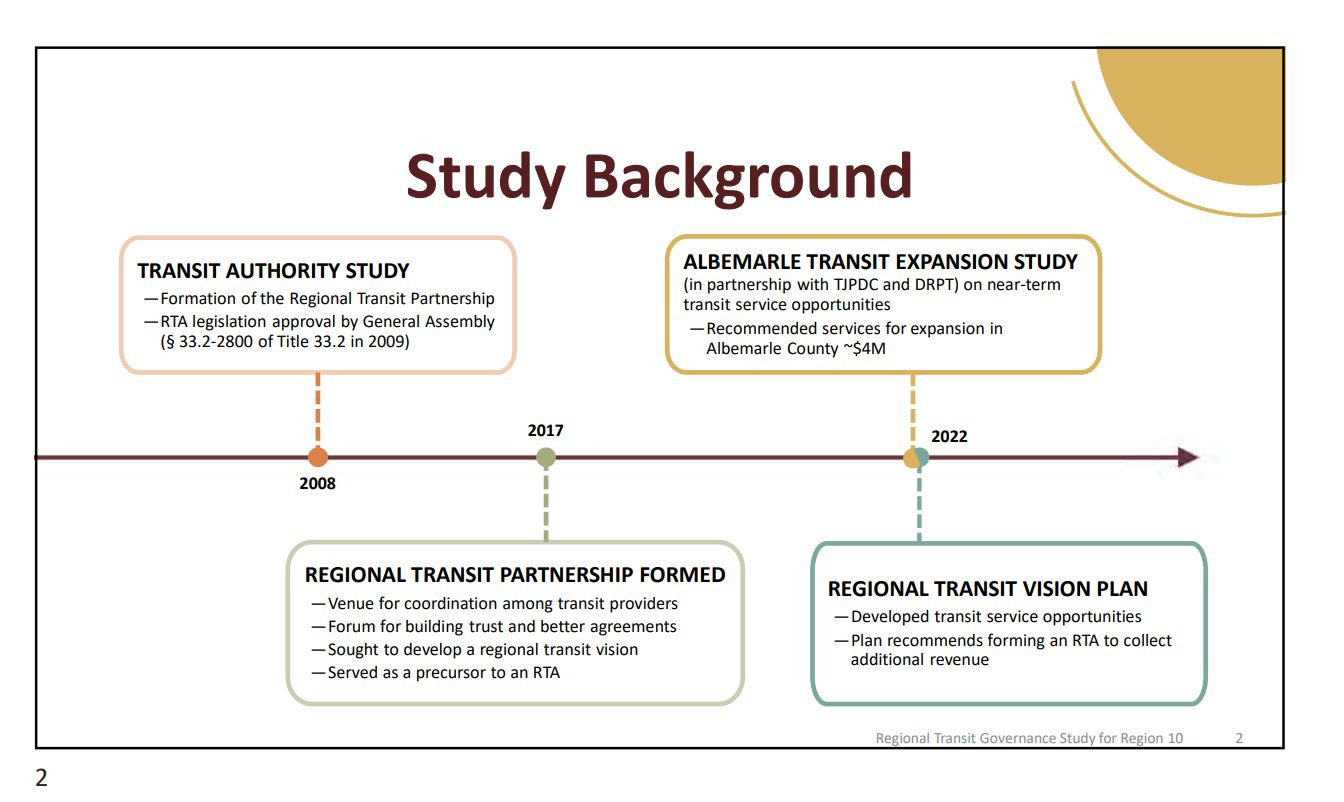 Friday, December 2, 2022
In the only meeting:
The Fluvanna County Electoral Board will meet at 12:30 p.m. at the registrar's office at 265 Turkeysag Trail. (meeting info)
---
This post was contributed by Sean Tubbs. Sean is a journalist working to build a new information and news outlet centered around Charlottesville and Virginia. In 2020, he launched a daily newscast and newsletter and also created a semi-regular podcast on the pandemic.
Support for Sean's "Week Ahead" update comes from The Piedmont Environmental Council.