The keyword for this week is "budget" with four out of the six jurisdictions holding meetings about their key financial documents. Charlottesville residents will see what city staff have come up with under the first budget to be produced under the supervision of interim City Manager Michael C. Rogers. Greene County Supervisors will advertise their tax rate. The elected officials in Albemarle and Nelson hold work session.
This newsletter is produced each week after reading through hundreds of pages of material. I've made it my career to pursue this kindof work because I think every single detail is important, and I am honored to be able to continue to distill all of this into a handy guide for anyone to review. Please send this on to anyone you think may be interested, and please ask questions or leave comments either at the end of the newsletter or to me directly.
I am grateful to the Piedmont Environmental Council for their support each week that allows me to keep going. Check out their website to see how they are celebrating their 50th anniversary this year.
Monday, March 7, 2022
Council to get update on non-capacity building expansion project at regional jail
Charlottesville City Council meets at 4 p.m. for another work session where they will get various reports. This time around the focus is entirely on the renovation project scheduled for the Albemarle-Charlottesville Regional Jail. The current facility was built in 1975 and has a capacity of 329 following a series of additions. (meeting info)
Superintendent Martin Kumer will present plans for another expansion to add an additional 56,000 square feet of space within the site's current footprint. The project is not intended to increase capacity. A facility condition assessment was recently completed and found the jail needs several improvements such as:
Additional toilets to comply with ADA and building code
A dedicated mental health and segregation unit that is conducive to improving an inmate's mental health
Additional inmate classroom and programming space
A larger public visitation area
To make this work, the Jail Authority Board needs resolutions of support as well as funding from Albemarle, Charlottesville, and Nelson County. The total project cost is $49 million and that would reimburse a quarter of the cost. The plan will also need to be approved by the General Assembly. If all goes according to plan, construction would be complete in November 2025. More details at the work session.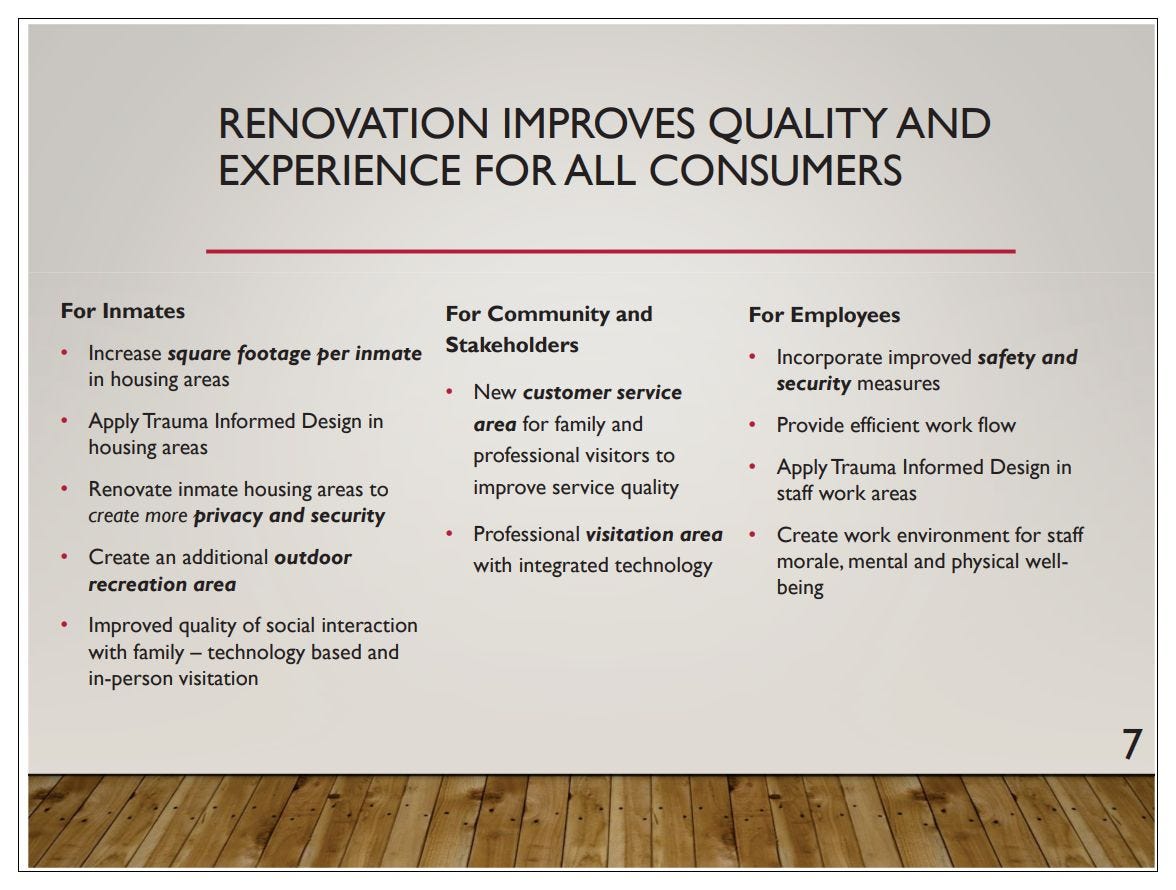 Council and the public get first look at the recommend FY23 budget
The keyword for this meeting is budget. Not only will there be the presentation of interim City Manager Michael C. Roger's budget for FY23, but the School Board will present their budget as well including a major capital request. (meeting info for 6:30 p.m. session)
"The School Board requests that the City holds the current $75 million allocation in the [Capital Improvement Program] for the Middle School portion of this critical project," reads a slide in the presentation made available in Council's agenda. (on page 15 of this attachment)
There are no advance materials for the city's budget. To recap, Council has directed staff to build the budget off of a ten cent increase on the city's property tax rate. That would be in addition to an average property assessment increase of 11.69 percent. Details to come tomorrow night. If you want to read some more of the background, I've followed the story in Charlottesville Community Engagement and have a category on the topic in the Information Charlottesville archive.
Next, there's a land use item. The owner of 2116 Angus Road wants a special use permit to convert an office building to residential to add six units to the property. The Planning Commission voted 5-0 in February to recommend approval. (staff report)
Rhodeside & Harwell to get new funds to continue Cville Plans Together work
Then an item which is both land use and budget. For over two years, Rhodeside & Harwell has been overseeing the Cville Plans Together initiative and have so far provided an affordable housing plan and a Comprehensive Plan for Council's adoption. Now work is well underway on a rewrite of the zoning code.
Now, Rhodeside & Harwell is seeking additional funding to complete the work and want additional resources for community engagement and project management. Staff is proposing using $188,810 from the capital projects fund.
"Zoning represents a significant aspect of implementing the Comprehensive Plan and Affordable Housing Plan and is a detailed and complicated topic on which most members of the community have limited experience," reads the staff report. "Our community engagement program will therefore need to be both highly explanatory/educational while at the same time giving community members the opportunity to express their preferences and priorities."
Funding will also go to create a model to demonstrate the effects the new zoning ordinance will have on the housing market. The Future Land Use Map adopted in November increases the potential number of units for every residential property.
"Zoning by itself does not lead to new housing development," the report continues. "Development happens as a result of people pulling together the financing resources, and available land in response to market demand."
I've also been tracking this topic in Charlottesville Community Engagement in the Land Use – Charlottesville category on Information Charlottesville. This week I will post the February property transactions. You can review 13 months of anecdotal market summaries there as well. I'll be watching the progress of 128 Shamrock with a lot of interest. This two bedroom house next to Scott Stadium is within the High Intensity Residential designation and is on the market for $799,000. So is its neighbor at 126 Shamrock Road. How much will these properties sell for?
Next, Council will hold first of two readings on an appropriation of a $980,599 grant from the Virginia Department of Rail and Public Transportation (DRPT) for which $300,000 will be used to study the feasibility of alternate fuels as well as an integration plan.
"The completion of the two transit studies will chart a path forward for CAT to introduce alternative fuel vehicles (e.g. Battery Electric Buses and/or Compressed Natural Gas Buses) into the fleet," reads the staff report.
The final item on the regular agenda is a resolution to extend the Continuity of Government Ordinance that allows for meetings to be held electronically while the local disaster declaration is still in effect. (staff report)
On the consent agenda:
Second reading of an appropriation of $625,000 for a study of how collective bargaining might be implemented in Charlottesville. (staff report)
First of two readings on a proposal to relocate the Central Absentee Precinct from the City Hall Annex to City Space. (staff report)
The Historic Resources Committee has a status report on the Memorialization of pre-Civil War Auctions, Sales, and Transfers of Enslaved People in Albemarle County. (status report)
Louisa County Supervisors to get update on North Anna
The Louisa County Board of Supervisors meets in person at 5 p.m. for a closed session with the open session beginning at 6 p.m. (agenda packet)
There will be discussions on an update of the emergency operations plan (page 33), updating the dogs running at large ordinance (page 72), and appointing a stakeholder group to evaluate property for a potential sports complex.
There are four public hearings. One is Dominion's annual State of the Station address (page 104).
"There were no declared emergencies at North Anna Power Station in 2021," reads the report. "Security at North Anna, and all Dominion Energy nuclear stations, remains strong and effective in protecting the facility and ensuring the safety of our employees and the surrounding communities."
The second public hearing is on whether to allow agricultural operations on land Residential General (R-2) zoning districts (page 119). The third is for a conditional use permit for a cell tower (page 140). The fourth is related to small scale solar generation facilities (page 160).
In other meetings:
The Joint Airport Commission meets at 4 p.m. Visit the Charlottesville Regional Airport's website to learn more about how to access the Zoom call.
The Albemarle Architectural Review Board will meet virtually at 1 p.m. to review a plan for additional parking at Halifax House on Ivy Road. (meeting info)
The Albemarle Fire EMS Executive Committee meets virtually at 4:30 p.m. There will be more talk about Lexipol. (meeting info)
Tuesday, March 8, 2022
Advertising error requires Charlottesville Planning Commission to reconsider Grove Street rezoning
It's a little known fact that regular meetings of the Charlottesville Planning Commission begin at 5 p.m. when members of the appointed body gather to discuss the agenda. This practice has continued through the virtual days. (meeting info)
The regular session begins at 5:30 p.m. The main item on the agenda this time around is a public hearing on a new submission for land accessible from the cul-de-sac Valley Road Extended but with an address of Grove Street. The applicant seeks a rezoning and special use permit to build four apartment buildings on 0.652 acres of land. Since the last go-round in October, the land is now designated as General Residential under the Future Land Use Map.
This is back before the Planning Commission due to a technicality. The Commission voted 4-2 on October 21 to recommend approval, but one of the parcel identification numbers was not correct in the public advertisement for the rezoning, the special use permit, and the critical slopes waiver.
"To ensure accuracy, all three applications have been readvertised and returned to [the] Planning Commission for action," reads the staff report (page 7 of the .PDF). "No substantive information has changed or been updated to the application."
The exception is information related to the new land use designation. Staff has provided analysis of how the application should be treated under the new Comprehensive Plan, including a provision for additional density if there is a component that would guarantee rent would be below market.
Only two members of the public spoke at the October 21, 2021 Planning Commission public hearing.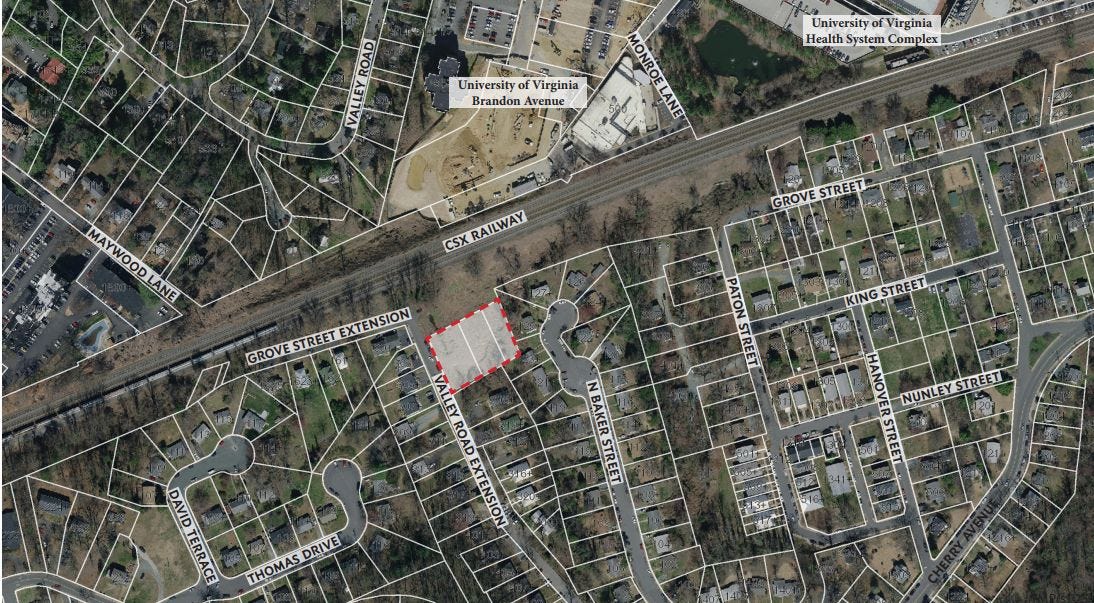 Nelson Supervisors to continue discussion of "tiny home" camping park
The Nelson County Board of Supervisors meets for an afternoon session at 2 p.m. but will not hold the usual evening session. (meeting info)
One item on the agenda is a continued discussion of an application to open a campground with six tiny houses on Truslows Lane. This use needs a special use permit and one item at issue is whether the septic field is sufficient. Another is whether the project has sufficient water. The Board deferred a vote to obtain more information
In other meetings:
The Joint Airport Board will meet at 8:30 a.m. Visit CHO's website for how to access the meeting.
The Charlottesville Economic Development Authority meets virtually at 4 p.m. On the agenda is a presentation on something called BEACON as well as economic development items in the recommended FY23 budget. (meeting info)
The Fluvanna Planning Commission will meet in-person at 7 p.m. for a regular meeting. On the agenda is a rural cluster major subdivision known as Village Gardens, as well as appointments to various resident advisory groups. (agenda packet)
Wednesday, March 9, 2022
Greene County Supervisors to vote on tax rate, animal meat processing
The Greene Board of Supervisors will meet in person at 4:30 p.m. for a budget work session in which they will vote to advertise the maintaining of the current tax rate of 82 cents per $100 of assessed value. (meeting agenda)
The regular agenda includes a COVID update, a presentation on the parks and recreation department's programs for spring and summer, a public hearing to move the polling place for the Ruckersville Magisterial District to the Holiday Inn Express, and a resolution to amend the zoning ordinance to allow meat processing as a by-right use in the county's rural areas.
"Appropriately scaled agricultural processing operations were a historic part of agricultural communities and culture," reads the memo from the community development staff. "Creating local opportunities for farmers and supporting the local food supply make our community more successful and healthier."
There's also an update on various development projects, including a location for a Moo-Thru drive-thru ice cream shop. The Sheetz is being redeveloped to add a drive-through and to reduce the number of gas pumps. There are a number of tourist lodging and camping proposals in the planning stage, as well as several residential developments.
In other meetings:
Thursday, March 10, 2022
Albemarle Solid Waste Alternatives Advisory Committee to meet
As I write this edition of the newsletter, there's no agenda for the 4 p.m. of the meeting of the Albemarle Solid Waste Alternatives Advisory Committee. I keep forgetting to write these meetings up, or I've not been able to prioritize them. But, I find this to be one of the most interesting groups to watch as the various aspects of climate action policy move to implementation. (meeting info)
The minutes from the February 2022 meeting show a lot of activity. There are efforts to increase glass recycling and we learn from the minutes that King Family Vineyards has "closed the loop on their glass bottles" that are consumed on-site. There are also efforts to recycling of lithium-ion batteries and there are several public-private partnerships underway.
In a lot of other meetings:
The Nelson County Board of Supervisors will have a budget work session at some point according to the agenda for the March 8 meeting, but there are no details available on the website.
The Albemarle-Charlottesville Regional Jail Authority Board meets virtually at noon. (register)
A subcommittee of the Charlottesville Sister Cities Committee will meet virtually at 1 p.m. to discuss travel scholarships. (meeting info)
The Albemarle Conservation Easement Authority meets virtually at 4:45 p.m. In one of the two items on the agenda, one easement holder wants to increase the size of a dwelling unit above what's allowed in the deed. (meeting info)
The Louisa County Planning Commission meets at 5 p.m. for a training session and then for a regular meeting at 7 p.m. They have four public hearings, with three of them related to specific parcels in agricultural and forestal districts. They will also see an example of how a Small Area Plan might look with a review of one for the Ferncliff area. (agenda packet)
The city's Parks and Recreation Advisory Committee meets at 5:30 p.m. (meeting info)
The Ruckersville Advisory Committee will meet in-person at the Visitor's Center at 7 p.m. (agenda)
Charlottesville City Council will hold the first of its work sessions for the FY23 budget beginning at 6 p.m. (meeting info)
The Charlottesville Police Civilian Oversight Review Board meets at 6:30 p.m. (meeting info)
Albemarle County's Places29-North Community Advisory Board meets at 6:30 p.m. There is no agenda available yet. (agenda)
The Albemarle County School Board meets at 6:30 p.m. On the agenda is a discussion of the design development for the addition at Mountain View Elementary and a plan to return to in-person meetings. (meeting info)
Friday, March 11, 2022
The Charlottesville Historic Resources Committee meets virtually at 11 a.m. Review the minutes from the previous two meetings to get a sense of what they are up to. Also take a look at the memorialization report on Council's consent agenda. (meeting info)
---
What did I miss this week? What would you most want to cover? What meeting might you consider reviewing yourself? The strength of a democracy is measured in its participation levels. How will we do this week?
---
This post was contributed by Sean Tubbs. Sean is a journalist working to build a new information and news outlet centered around Charlottesville and Virginia. In 2020, he launched a daily newscast and newsletter and also created a semi-regular podcast on the pandemic.
Support for Sean's "Week Ahead" update comes from The Piedmont Environmental Council.