Each week I write this report and want to write up every single item. The world is complex and my view of journalism is that there's enough room for many accounts of what the government does at all levels. I believe better outcomes are possible if information can be made available and shared. That's why I do this every week. Here's some of what's happening this week:
Transit takes center stage with the latest information from a study intended to suggest a better way to structure how various routes are structured. That will happen at both the MPO meeting on Tuesday and the Regional Transit Partnership meeting on Thursday. Albemarle County Supervisors will have a budget work session on Wednesday that will focus on the funding Albemarle provides to entities it does not control.
If you are interested in housing, Friday will have a one-day summit on all manner of policy areas. If specific projects are your thing, the Albemarle ARB will review a new apartment complex on Rio Road. Charlottesville's public housing agency will update Council tomorrow on their redevelopment efforts. 
City Council has two other items tomorrow related to greenhouse gas emissions reductions. One is the beginning of a feasibility study of ending new natural gas connections provided by the city, and the other is an appeal of a BAR denial of solar panels for a downtown church.
Yes, Charlottesville, another new hotel is proposed for West Main Street and the BAR will get a preview on Tuesday.
There are a lot of other budget meetings, and I so wish I could listen to every single discussion.
Thanks to the Piedmont Environmental Council for their sponsorship of this newsletter. If you have questions, please let me know and I will try to do what I can to answer them.
What will the future look like? You can get a glimpse through this newsletter.
Monday, March 20, 2023
Charlottesville City Council to hear church appeal of solar panel denial; Public housing to brief elected officials
The Charlottesville City Council will begin their day at 4 p.m. with a work session on two big topics, followed by a regular meeting at 6:30 p.m. (meeting info) (agenda)
The work session begins with a kickoff of the city's decarbonization study which is designed to review the municipal provision of natural gas.
"The Department of Utilities has solicited the expertise of an outside consulting firm in order to responsibly and accurately determine how the gas utility can be a part of the solution in achieving and aligning itself with the community's greenhouse gas reduction goals," reads the staff report
"The Study will determine the legality, under federal, state and local laws, of potentially discontinuing the natural gas system, and/or discontinuing future residential, commercial, industrial connections to the gas system," the report continues.
Next there will be a "Charlottesville Redevelopment and Housing Authority update on sustainability and status with the Department of Housing and Urban Development."
That description is the only advanced material available in the packet so neither Council not the public have a chance to review any of it in advance. This is consistent with the CRHA's not publicly posting meeting agendas or minutes since January 2021. Take a look for yourself. There is a list of key documents which has been updated since.
One of those documents is the annual plan for FY23-24. From this we learn that the U.S. Department of Housing and Urban Development no longer considers CRHA to be a troubled agency. It's now considered "standard" with 331 public housing units and 635 housing choice vouchers. There's a lot in this plan to report and I hope to write this one up.
In the regular meeting, First United Methodist Church is appealing the Board of Architectural Review's denial of a certificate of appropriateness to place solar panels on the roof. (staff report)
In February, Planning Commissioner Carl Schwarz explained why the Board of Architectural Review voted not to approve a plan for United Methodist Church on East Jefferson Street to put a solar panel on their roof.
"To put the panels on the roof would have required removing a 100 year old, very good quality slate roof and replace it with asphalt shingles," Schwarz said. "That was kind of part of the rub. Our guidelines are very vague and our ordinance says to look to the [Virginia] Secretary of the Interior's standards and their advice in such a situation."
Schwarz said the guidance was to deny but he also acknowledged anyone who passed by wouldn't notice either the slate roof or the solar panels.
"It was complicated, it was difficult, and some guidance from Council would be very useful," Schwarz said.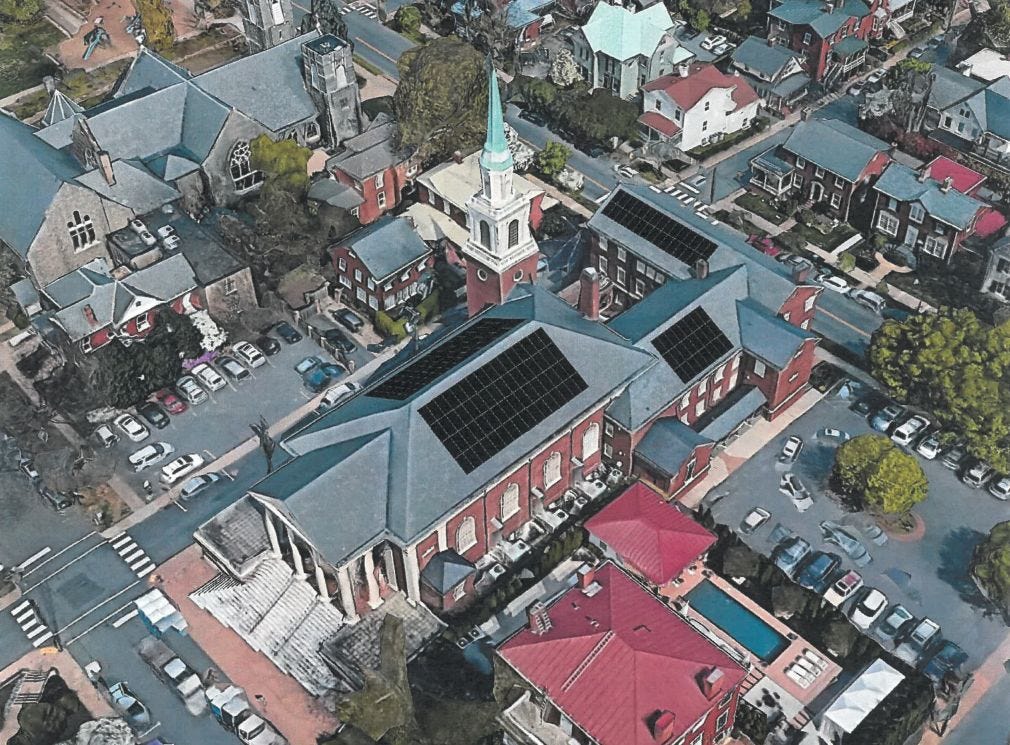 After the appeal, there will be a public hearing on the real estate tax rate for FY24. State law requires the publication of an equalized tax rate which would generate the same amount of revenue.
"For purposes of the budget, the equalized rate of $0.8589/$100 is the calculated rate that will keep the City's revenue from real estate taxes equal with last year," reads the staff report. "For FY 24, real estate tax revenue is budgeted to generate $9,915,424 in new revenue over FY 23 based on the advertised tax rate of $0.96/$100 and the 2022 assessed values."
Next there is a public hearing of the lease for the Albemarle Charlottesville Historical Society in the city-owned building at 200 Second Street NE. The city has been modernizing its leases with nonprofit groups, such a recent approval of a new lease with the McGuffey Arts Center. (staff report)
Finally, there will be a resolution to appropriate $175,000 from the Virginia Land Conservation Fund to acquire a portion of land in Albemarle County across Moores Creek from Azalea Park. I wrote about the award last November.
There is a written report from the Land Use and Environmental Planning Committee. That used to be a public body until the City Council and the Albemarle Board of Supervisors opted to make it private. Has that made things less transparent? Certainly gives me a lot to write about, including a segment in the March 18, 2023 installment of this newsletter. Take a look.
Louisa County Supervisors to enter into water supply agreement related to new wells
The seven-member Board of Supervisors in Louisa County will begin their day with a budget work session at 4 p.m. followed by a closed session at 5 p.m. and a regular session at 6 p.m. (agenda)
There are no advance materials for the budget work session meeting.
Under information items, there will be an update from FireFly Fiber Broadband on their internet expansion efforts, a legislative update from the Thomas Jefferson Planning District Commission, an update from the Virginia Department of Transportation, and the Louisa County Water Authority.
Under new business, there will be a resolution to accept donations received for equipment purchases for the New Bridge Fire and Rescue Station. There will also be an adoption of the Regional Natural Hazard Mitigation Plan, and a resolution to approve an agreement with Louisa County related to water supply.
"Louisa County Board of Supervisors and Fluvanna County are involved through the James River Water Authority (JRWA) in a project to construct a pipeline from the James River to connect with the Authority so the wells in the Green Springs District will eventually not be the only source of water for the Authority to provide in the Zion Crossroads area of Louisa County," reads the resolution for four directives.
The Authority will sell no more than 75 percent of the capacity of the system of wells in the Green Springs District to customers
The Authority will not sell connections to the system of wells in the Green Springs District to customers if it reaches 75 percent capacity
The Authority will report to the Board of Supervisors at least four times every year on the total capacity of the system of wells and the total connections already sold as a percentage of the total capacity
This agreement shall terminate on June 30 of the year in which the JRWA begins providing water to the Authority unless further action is taken by this Board
There are four public hearings:
There is a real property tax increase for fiscal year 2024 due to a 13.9 percent increase in assessments. The lowered tax rate would be $0.632 per $100 of assessed value. The budget proposes maintaining the same rate of $0.72 per $100 of assessed value.
There is an amendment to the rules that make it a penalty to let dogs run off leash.
There is an amendment regarding the responsibilities of the Management Oversight Group.
There is an amendment to the land development regulations regarding minimum lot area sizes.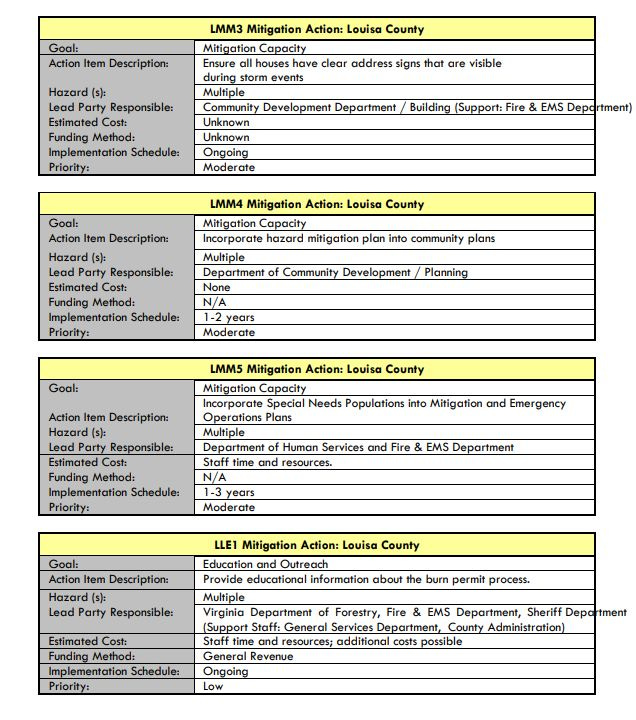 Albemarle design panel to review Rio Road Apartments
The Albemarle Architectural Review Board will meet at 1 p.m. in Lane Auditorium at the county's office building at 401 McIntire Road. (agenda) (meeting info)
The ARB will review the final site plan and the preliminary architecture for a new apartment complex to be built on Rio Road Road near Four Seasons Road. Four single-family homes from the 1950's will be demolished as part of the development. The ARB approved the initial site plan in November and asked for some revisions. This discussion will include the appearance of buildings 1 through 4 as well as the appearance of retaining walls as seen from Rio Road.
The ARB will also go over the goals and objectives of the 2015 Comprehensive Plan. Take a look at them here yourself.
Then they will discuss the entrance corridor that is Avon Street Extended.
"A route approximating that of today's Avon Street Extended appears on 19th century maps of the County," reads the draft guidelines for the roadway also known as Route 742. "As late as 1966, the route looped west around Hartmann's Mill before crossing Moore's Creek to enter the City of Charlottesville where it merged with 6th Street. By the mid-1970s, the path was straightened and joined with the throughstreet located east of 6th (called Monticello Ave. at that time), making Avon Street the primary southern route out of town."
The guidelines list the existing zoning and conditions. These will be used to guide discussions of changes to buildings and new construction along the roadway.
Tuesday, March 21, 2023
Board of Architectural Review to review new hotel on West Main Street
The Charlottesville Board of Architectural Review begins at 5 p.m. with a pre-meeting and the regular meeting at 5:30 p.m. They meet in CitySpace with a virtual option available for public comment.
Items on the agenda this month include a landscaping project at the Presbyterian Church at 506 Park Street, new windows for Christ Episcopal Church at 361 1st Street North, and rehabilitation of 130 Madison Lane.
There will also be a prelimnary discussion of a new hotel planned for 843 West Main Street next to the Standard. This is a property that is mostly a parking lot with one industrial building that formerly housed Sweethaus. One of the final stories I wrote for Charlottesville Tomorrow was on a submission for an office building at this location that the BAR panned.
The current proposal is for 97 hotel rooms with 54 parking spaces at a height of 68 feet. That's under the existing zoning.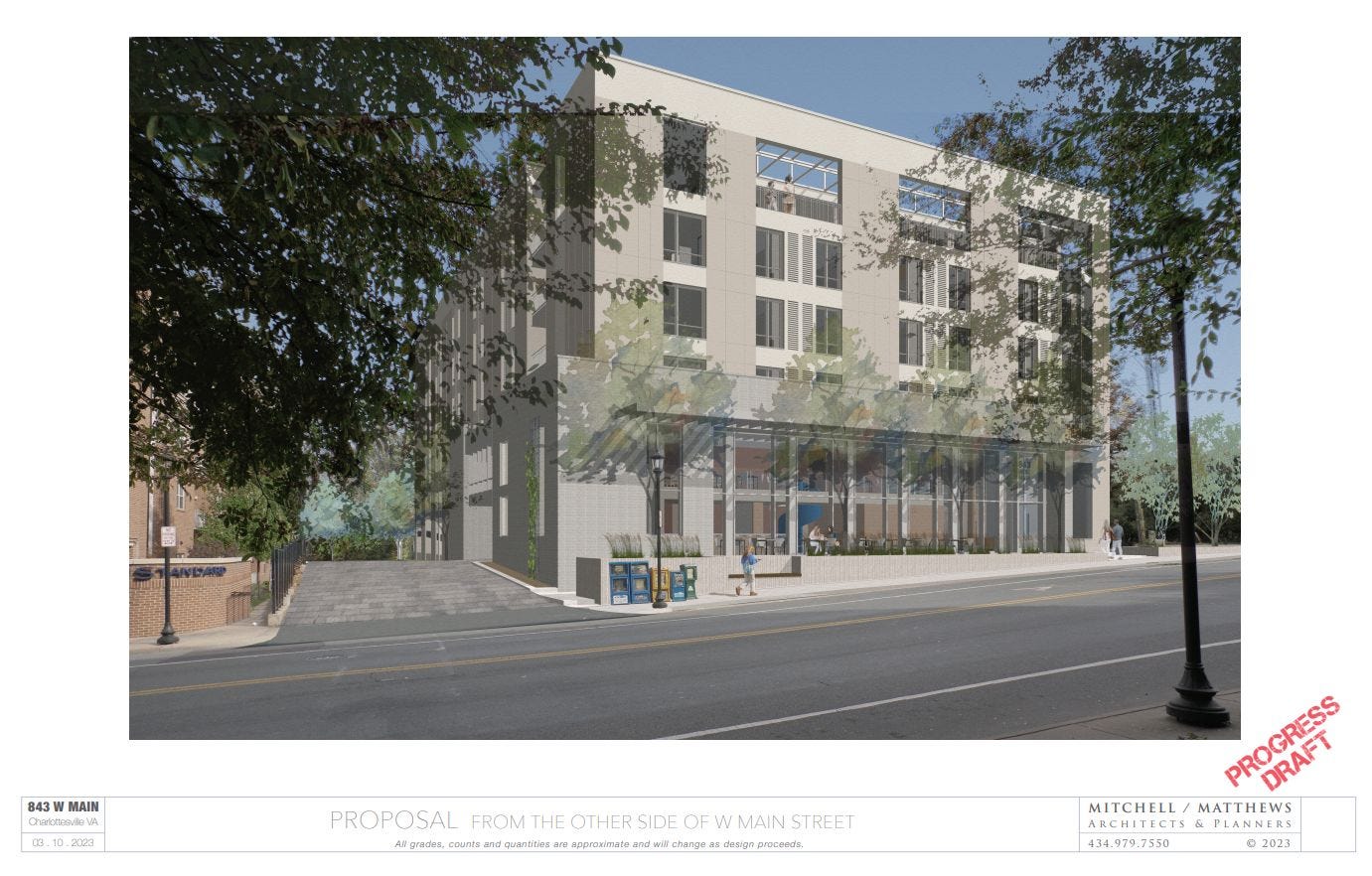 MPO to review transit governance study
In my early days of being a reporter covering local government, I was always most interested in covering transportation planning. Before I worked for Charlottesville Tomorrow, I had no idea that the federal government requires every urbanized area to have something called a Metropolitan Planning Organization with a governing body that must approve projects that will have federal funds. I loved covering those meetings.
Toward the end of that time and in this current phase of my reporting, I've reported less on the Charlottesville-Albemarle Metropolitan Planning Organization and its policy board in favor of other topics. But communicating what's happening with infrastructure planning is a passion of mine and I believe crucial in a community that has experienced a lot of population growth.
The MPO Policy Board meets at 4 p.m. on Tuesday in a virtual meeting. The item that catches my eye is an update on the governance study that is underway. There's a lot of planning talk about creating a transportation authority to run the various bus services. The presentation is not available, but this will be a critical conversation that may gauge whether elected officials have the appetite to create such an authority.
They last got an update in December and I wrote about it in an article with the headline "Governance Study: A Primer on Regional Transit Systems." I hope to write this one up, too. All of my transit articles are here. I remain grateful for my time at Charlottesville Tomorrow for setting me up to keep paying attention.
Also on the agenda at this meeting is a letter of support for the Virginia Department of Rail and Public Transportation's efforts to create something called the Commonwealth Corridor.
"The Commonwealth Corridor will encompass existing state-sponsored passenger rail service connecting Hampton Roads to the Richmond/Petersburg area, with future plans to fill the gap in passenger rail service between Richmond and Charlottesville along the freight route operated by Buckingham Branch Railroad," reads the draft letter. "The intent is to eventually provide east-west service across Virginia in a single seat."
In other meetings:
Wednesday, March 22, 2023
Transit is topic of Albemarle Supervisors' budget work session
The Albemarle Board of Supervisors have a fourth budget work session scheduled for 3 p.m. in Room 241 of the county's office building at 401 McIntire Road. The agenda states that this will be the time in which Supervisors will address transit issues. There's a small preview in a story on the first budget work session that I wrote on March 15 which I'll reprint here:
Another big change happening is an increased investment in transit due in part to rising costs as well as the microtransit project slated to take place later this year. The contribution to Charlottesville Area Transit increases 30 percent to $1.3 million and the contribution to Jaunt increases by about a million to over $3.3 million.
"We've had a considerable increase in our contribution to Jaunt and the complexity of transit is only getting more complex and we do not have a subject matter expert on staff who can navigate successful between CAT and Jaunt and how we can ensure we are properly leveraging the right dollars to help protect the county's coffers," said Nelsie Birch, Albemarle's chief financial officer.
Birch said staff wants to hire a consultant to help advise on a way going forward. Albemarle County has no vote in the way Charlottesville Area Transit is funded. There's also an ongoing study of governance structures worth noting.
"One of the possibilities being investigated by the [Thomas Jefferson Planning District Commission] and the Regional Transit Partnership is the possible thought of going to an authority," said Supervisor Diantha McKeel.
McKeel has been a member of the Regional Transit Partnership since it was formed in the fall of 2017. She wanted to know if that consultant would be advising on that option.
Birch said the consultant will seek ways to maximize funding under the current structure, where Albemarle does not have a significant ownership stake in any of the transit systems.
"And then also using a consultant to help us navigate from today to tomorrow and where could we go and how would that look and helping us through that transition," Birch said.
For all of my stories on transit, visit the appropriate section of Information Charlottesville. I'm repeating myself now but I wrote this blurb before I wrote up the MPO one.
Charlottesville City Council to hold budget public hearing at community forum
The public hearing for Charlottesville's draft budget for FY24 will be held not in City Council Chambers but in CitySpace at 6 p.m. This will begin with a brief presentation from the interim City Manager and the city's financial advisor. Council will ask clarifying questions and then it's time for the public hearing. The public can also offer comments virtually. (meeting info)
In other meetings:
Thursday, March 23, 2023
Albemarle begins budget town halls
Albemarle County has around 115,000 people and there is not a lot of media coverage about the process. I try to write what I can, but I'm just one person. All of my stories are here, but I have an audience that's maybe two percent of the population. Maybe.
To get the word out about the budget and to provide time and space to ask questions, Albemarle County will have a series of in-person budget town halls beginning with one today at 6:30 p.m. at the Yancey School Community Center. That's at 7625 Porters Road in Esmont.
"At each Town Hall, a short presentation will be followed by an opportunity to ask questions and provide comments," reads the meeting info page
Want to know more in advance? Here's a link to the budget and here's a link to the video of County Executive Jeffrey Richardson introducing the document to the Board of Supervisors.
In other meetings:
The operations subcommittee of the Solid Waste Alternatives Advisory Committee (SWAAC) will meet at noon in Room 246 of the county office building at 401 McIntire Road. They will discuss their goals for 2023. (meeting info)
The Places29-Rio Community Advisory Committee will meet at 6 p.m. in Room 235 of COB-McIntire. They'll discuss the new AC44 Chat Kits which the county is hoping people will use to start conversations about the Comprehensive Plan. You can download those here. The CAC will also review their 'watch list" which is not included in the meeting info page. (agenda)
The Regional Transit Partnership will meet at the Water Street Center at 407 East Water Street in Charlottesville. The agenda is not posted at publication time, but they will also get an update on the transit governance study. I hope to record that, too. (RTP website)
Friday, March 24, 2023
TJPDC to hold 2nd annual regional housing summit
The Central Virginia Regional Housing Partnership is a segment of the Thomas Jefferson Planning District Commission. In 2019 when Chip Boyles was still the executive director, there was a one-day housing conference at the Omni Hotel. The 2nd annual event is today from 8 a.m. to 4 p.m. (meeting info)
"This year's theme – Coming Back Home – recognizes the important role local and regional housing policies play in the recovery from the COVID-19 pandemic and the health and futures of our neighbors, communities, and the region," reads the website.
Learn more about the nine break-out sessions and keynote speaker Jay Grant on the RHP's website. To whet your appetite, here are the titles of the sessions:
Faith-Based Organizations and Affordable Housing
College Towns & Affordable Housing
Economic Development and Housing
University of Virginia Affordable Housing Initiative (latest article)
Preventing Rural Displacement
Senior-Friendly Affordable Housing
Missing Middle Housing
Short-Term Rentals, Long-Term Rentals, and Affordable Housing
Virginia Housing: Creative Construction, Financing, and Development
The event concludes with a meeting of the RHP Board. 
---
This post was contributed by Sean Tubbs. Sean is a journalist working to build a new information and news outlet centered around Charlottesville and Virginia. In 2020, he launched a daily newscast and newsletter and also created a semi-regular podcast on the pandemic.
Support for Sean's "Week Ahead" update comes from The Piedmont Environmental Council.