This is the 30th week of the year, and another one in the middle of summer. Judging by the number of out-of-office emails I've gotten this month, it seems that many are taking time off from work. This is a highly recommended move!
As you can recall from previous installments of the program, local and regional governments do not slow down. The business of preparing for the future takes a lot of time, attention to detail, and a never-ending stream of meetings. There are issues that have to be sorted out, and this week is no different. For instance, if you're interested in the status of recycling in the area, watch the Rivanna Solid Waste Authority meeting on Tuesday.
Special thanks to the Piedmont Environmental Council for nearly a full year of sponsoring this newsletter. Their investment helps the entire community understand what decisions are coming up and how anyone can get involved.
Monday, July 26
Only two meetings today.
The Albemarle Historic Preservation Committee meets virtually at 4:30 p.m. They will talk about items they would like to see on the county's web page for the committee, as well as "Story Maps" for communities within Albemarle. At the conclusion of the full committee's business, a subcommittee that discusses historic markers will meet. (meeting info)
Last week, Charlottesville Area Transit held two meetings to get feedback on upcoming changes to routes operated by the agency. At the session, CAT director Garland Williams said these changes are short-term, and that both CAT and Albemarle County are conducting efforts to expand.
The Thomas Jefferson Planning District Commission and Albemarle kick off the public component of their joint study with a virtual public input session that begins at 6 p.m. More information about the study is available on the project website. (meeting info)
Tuesday, July 27
We begin today with the Rivanna Solid Waste Authority whose Board of Directors meets at 2:00 p.m. That seven-member board consists of top elected officials including City Councilor Lloyd Snook, Albemarle Supervisor Liz Palmer, City Manager Chip Boyles, and County Executive Jeffrey Richardson. For years, this body as well as the Rivanna Water and Sewer Authority have met on the fourth Tuesday of the month. For over a year, they've done so virtually. (agenda packet)
While there is continued concern about COVID variants, planning is underway for in-person meetings. Bodies such as the RSWA, RWSA, and those run by the Thomas Jefferson Planning District Commission can continue virtually for the near future.
"Our authorization to conduct virtual meetings is pursuant to the second resolution of the City's Continuity of Government Ordinance and Section 6 of the County's revised Continuity of Government Ordinance," reads a staff report on the strategic plan both the RSWA and RWSA will consider on this day. "We understand City Council will consider having public meetings in September, and the Albemarle County Board of Supervisors will review community health information (virus variants, success of County schools and UVA reopening) during its meeting on September 16."
At this virtual meeting, the RSWA will get an update on recycling from solid waste director Phil McKalips. Recycling tonnages are up, though the cost to process certain materials can be volatile. If you're interested in the details of how discarded items get diverted from landfills, this is the meeting to watch.
When the RSWA meeting has concluded, they'll reconvene as the Rivanna Water and Sewer Authority's Board of Directors. One item on the agenda is an update on the region's drought status. So far, the region is not on any kind of alert, according to a report dated July 19 from water resources manager Andrea Bowles. (agenda packet)
One item on the agenda is an addition to the five-year capital budget to spend $1 million to increase the size of two sections of water pipe as part of two improvement projects at the University of Virginia. Long-term plans to upgrade the system of water pipelines call for the existing 16 inch diameter pipeline along Emmet Street to a 30 inch pipeline.
"Two current University of Virginia construction projects have been identified within this Emmet Street corridor as opportunities for water line betterment coordination to cost effectively upsize portions," reads the staff report from RWSA Chief Engineer Jennifer Whitaker.
One of these is at what the staff report describes as the Ivy Corridor Public Realm plan, which requires relocation of a pipeline anyway. The second is at the new Contemplative Sciences Center next to the Dell pond on Emmet Street.
After, the RWSA Board of Directors will get a briefing on how the American Rescue Plan Act is affecting the financing picture for water and wastewater projects. So far, no direct appropriation in COVID relief funding has been made to entities such as RWSA, but staff will suggest ways that capital projects might be advanced.
At least two members of the RWSA Board of Directors will need to leave the meeting at 3:00 p.m. because City Council has also begun scheduling work sessions on the fourth Tuesday of each month. This is the third month in a row that Councilor Lloyd Snook and City Manager Chip Boyles have has to leave a RWSA meeting before it concluded. (Council work session meeting info)
The first item on the agenda is second reading of an appropriation of $165,000 to expand the scope of the Cville Plans Together initiative to add a performance review of the Charlottesville Affordable Housing Plan and to help design the inclusionary zoning program to be part of the rewrite of the zoning code. I covered this in the July 22, 2021 edition of Charlottesville Community Engagement.
Council will also begin discussions of the budget for FY2023, which isn't too far away. One thing they will need to know is how much ARPA funding will be needed to close the multimillion dollar shortfall in fiscal year 2021. The last number reported to Council in June was $7.42 million. After that, they will also resume discussion of creation of a strategic plan.
In other meetings:
The Albemarle County Board of Equalization meets virtually at 9 a.m. They will review four appeals of 2021 property tax assessments all four of which are associated with properties that make up Fashion Square Mall (meeting info)
The Fluvanna County Board of Equalization meets in-person at 1 p.m. in the Morris Room of the Fluvanna County Administration Building (agenda)
The Greene County Board of Supervisors meets in open session in-person beginning at 6:30 p.m. They'll get updates on Greene's participation in the Firefly Broadband public-private partnership, a project to install cameras at the courthouse, and a proposed Emergency Medical Services building. After that there will be a public hearing on a rezoning from B-3 to Planned Unit Development for a 65.17 acre mixed-use project called the Village at Terrace Greene. (agenda)
Wednesday, July 28
The Charlottesville-Albemarle Metropolitan Planning Organization Policy Board meets virtually beginning at 4 p.m. There are a lot of little items on the agenda beginning with a discussion of a return to in-person meetings scheduled for September. There's also a public hearing on an update of the public participation plan. (agenda)
"MPOs are required to comply with federal regulations to ensure that the MPO has an adequate process to involve interested or affected individuals, organizations, and government entities when developing and adopting MPO planning document," reads the staff report for the plan.
There will also be a review of potential applications for the next round of the Virginia Department of Transportation's Smart Scale process. That is the method through which ideas for transportation projects are considered for funding. Though not due until next summer, projects are being suggested earlier to ensure sufficient public input. These are the projects recommended for the MPO to apply for next year.
District Avenue Roundabout
Rivanna River Bike & Pedestrian Crossing (with additional engagement)
Avon Street Corridor Multi-Modal Improvements: Extend bike and pedestrian infrastructure from Druid Avenue in Charlottesville to Avon Court Park and Ride in Albemarle
5th Street Corridor Intersection and Multi-Modal Improvements: Intersection improvements at 5th Street and 5th Street Station Parkway and extension of bike/pedestrian infrastructure to tie into recently approved Fifth Street Hubs and Trail project
There will also be a presentation of an equity analysis conducted by the TJPDC in fiscal year 2021. There will be a presentation on the RideShare program, which seeks to reduce the number of people who commute to work driving alone.
"The benefits of congestion mitigation are moving more people though the heavily traveled corridors without increasing the number of vehicles in those corridors, reducing pollution, conserving fuel, and saving money on commuting," reads the work plan for RideShare.
But wait, there's more! There will be updates on the launch of the Afton Express bus service from Staunton to Charlottesville, the North 29 Corridor Study, a study of infrastructure required for electric vehicles, and projects in the VDOT pipeline. They'll also discuss the possibility of another meeting with the Staunton-August-Waynesboro MPO. The Afton Express was once just an idea for a study agreed to by both entities.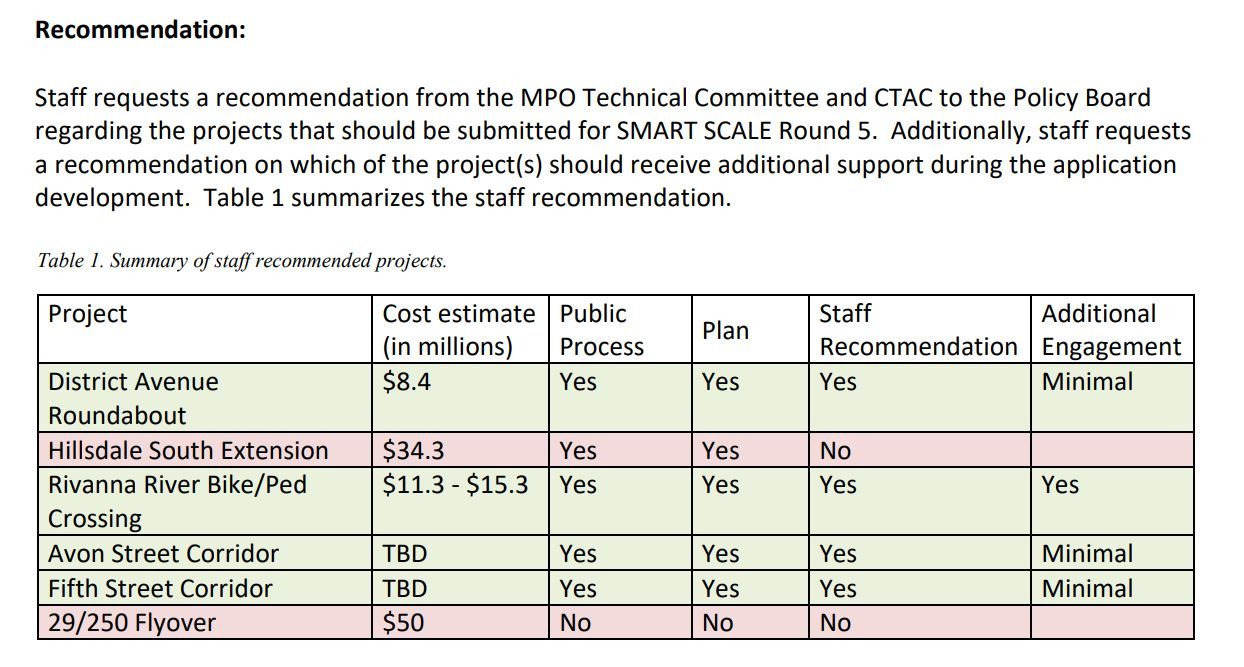 In other meetings:
Thursday, July 29
The only meeting I see at the moment is that of the Albemarle County Board of Equalization who will review appeals of five 2021 property assessments. Four are on Richmond Road and the fifth is White Gables II LLC. (meeting info)
Friday, July 30
There are no meetings that I can see at the moment. Perhaps it's a day to take off?
---
This post was contributed by Sean Tubbs. Sean is a journalist working to build a new information and news outlet centered around Charlottesville and Virginia. In 2020, he launched a daily newscast and newsletter and also created a semi-regular podcast on the pandemic.
Support for Sean's "Week Ahead" update comes from The Piedmont Environmental Council.