A new month brings a fresh start, one day after the first significant snowfall in Charlottesville in some years. As it is somewhat of a snow day, let's just get right into it without any pontificating!
Thank as always to the Piedmont Environmental Council for their support of this newsletter's creation each week.
Monday, February 1, 2021
There are four items on the agenda of the Architectural Review Board. The vitual meeting begins at 1 p.m. (meeting info)
In the first, a proposed 94-foot tall cell tower in Greenwood will go before the ARB on account of it being in an entrance corridor. For background, read more about this topic in Allison Wrabel's January 25, 2021 story in the Daily Progress. The Albemarle Planning Commission is expected to have a public hearing on a special use permit on March 2 followed by the Board of Supervisors on April 3.
Next, the ARB will see a preliminary plan for the renovation of Rio Hill Shopping Center. The owners plan to remove existing canopies and replace store entrances. The plans appear to indicate that the retailer Sierra will be moving into the center as a new tenant.
"Perhaps the most important feature of the site is centered around a large parking lot," reads the plan. "Most would likely agree that the complex gives the impression – with its disorganized facade and tired materials – of being out of date."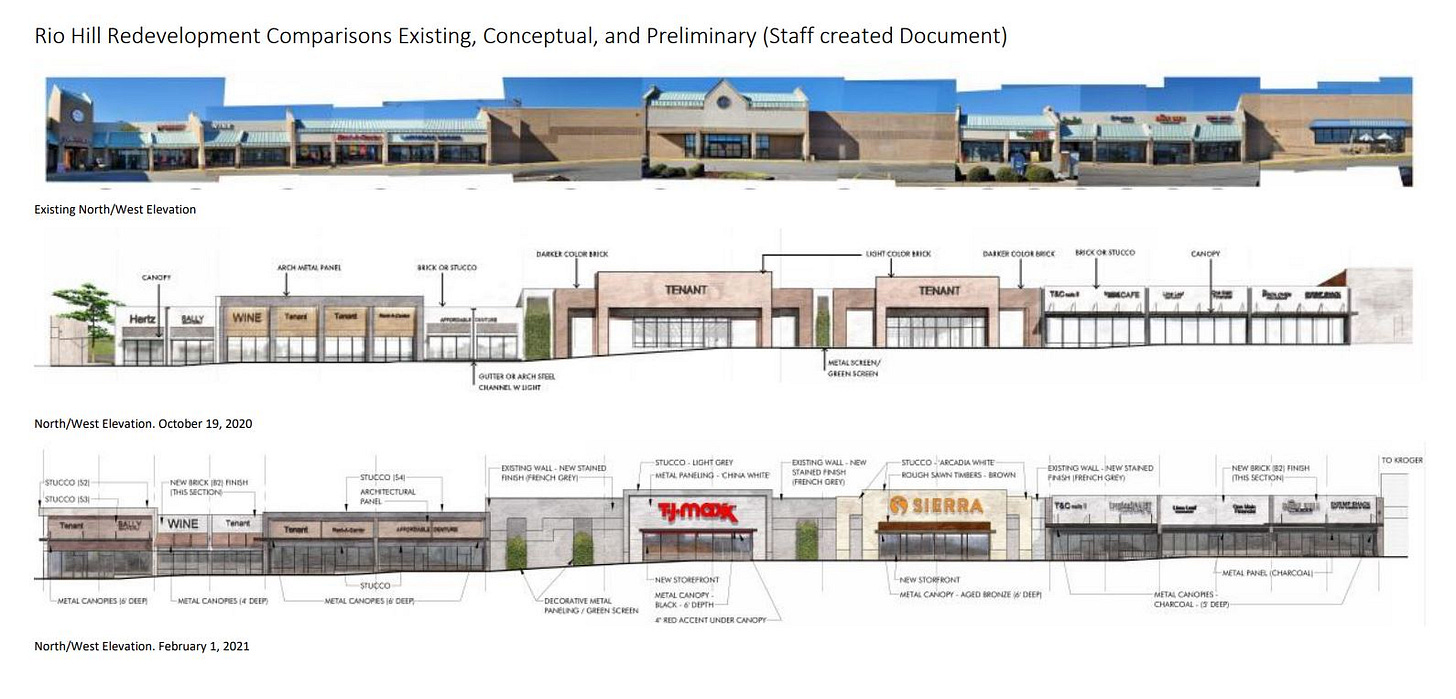 After that, the ARB will review another block of the Albemarle Business Campus. Developer Kyle Redinger is planning a self-storage facility. (concept plan)
Following there, there will be a work session for a freestanding building to house a Sleep Number franchise outside of the existing Fashion Square Mall. (plans)
*
At 6:30 p.m, Charlottesville City Council will meet for the second to last time before Chip Boyles becomes city manager. They will also meet on Wednesday for a budget work session. (Monday's meeting info)
There are several action items and the first is for a special use permit for additional density at 1000 Monticello Road to allow construction of a new structure on the property. The Planning Commission considered the item at their regular meetings in December and January. They voted 4-3 to recommend approval. As part of the conditions, five of the units will be designated as affordable rentals. (staff report)
In the next item, Council will vote on a resolution to convey land back to Union Station Partnership according to a 1999 agreement that had been intended to build a multi-modal transportation facility at the site of the Amtrak Station. As part of the deal, city agreed to take ownership of some of the land in order to qualify for a federal grant. The project never fully materialized, but the city held on to the property because the parties continued to study ways to move forward with a new Amtrak station. (staff report)
Finally, Council will discuss potential cost savings for the West Main Streetscape, a multimillion, multiphase project. RK&K, a firm on call to supplement city government, conducted the study which has 15 recommendations that could save between $2.5 million and $3.78 million. The city has received partial funding from the Virginia Department of Transportation for two of the four phases, and a third phase has been recommended for around $10 million. (staff report)
On the consent agenda:
In other meetings:
Tuesday, February 2, 2021
The Albemarle Planning Commission meets at 6 p.m. and has two items. (meeting info)
The first is a public hearing for a special use permit for the Rappahannock Electric Cooperative to install "pole-toppers" on a series of existing structures to extend their height from 46 feet to 82 feet. This will allow for installation of a new 115 kiloVolt powerline running north from Dickerson Lane to the Greene County border. (staff report)
The second is a presentation on a series of fee increases for the Community Development Department. The Planning Commission will have a public hearing on March 23 and the Board of Supervisors will have one on April 21. (staff report)
In other meetings:
Wednesday, February 3, 2021
The Albemarle Board of Supervisors has a long meeting with many items of note. (meeting info)
The virtual meeting begins with a call to order, public comment, and a proclamation for Black History Month. After that, the six supervisors will be asked to give direction on what to do about several roadways that have been designated by Albemarle County as entrance corridors but do not qualify. The proposed remedy is to request that VDOT reclassify some of the roads as "arterial" roads and to establish other scenic or historic designation for the rest. (staff report)
Next, Supervisors will be briefed on a plan for next update of Albemarle County's Comprehensive Plan. This would have been a bigger story in 2020 but the pandemic hit.
"The need for a Comp Plan update is prompted by the need to better align the Comp Plan with current County Values and Board Strategic Initiatives, including intentional incorporation of the topics of equity and inclusion, climate action planning, economic development, and infrastructure planning and investment," reads the staff report. "With significant community input, the Comp Plan update will identify the community's priorities for the upcoming Zoning Ordinance update."
Staff is recommending a five-phase approach which would result in a new plan being updated by the first quarter of 2024. This would involve hiring a staff member to "support ongoing coordination of events and meetings, graphic design, and communication of technical information, and monthly project advisory group meetings." (presentation)
After a recess, the Board will be briefed on the Rio Road Corridor Study, an initiative called for by Supervisors in order to address the impacts of new housing construction in the area east of U.S. 29. The firm Line+Grade has been hired to do the work.
"As identified in the project scope, the purpose of the corridor plan is to conduct an evaluation of the corridor, and to develop comprehensive design alternatives to serve as a guide for future development and infrastructure rehabilitation projects," reads the staff report. "The corridor plan will provide solutions which will enhance the mobility and access for all users-developing traffic safety and operations improvements which will best serve the future needs of the corridor."
One change since the study was commissioned is the recent news that the VDOT staff are recommending funding of a roundabout at the intersection of the John Warner Parkway and East Rio Road.
Still with me? Next up is the annual report of the Social Services Department for FY20. The 25-page document carries the title Service, No Matter What.The report documents the difficulties of providing services to people in need during a pandemic. Here's a sample.
"Due to school closures, the numbers of Child Protective Services referrals decreased although staff continued to respond to the referrals despite the risk of exposure," the report reads. "We quickly switched to conducting Family Partnership Meetings on Zoom. The numbers of children entering foster care increased primarily because those children did not have alternative family supports. Finding foster homes willing to accept these children was challenging given the families' reluctance to expose themselves to COVID. It is remarkable that despite working virtually we were still able to finalize so many adoptions in FY20."
In the evening meeting beginning at 6 p.m, there are two public hearings. The first is for a special use permit for an expansion of a vet clinic. The second would amend Albemarle's Health and Safety Ordinance to address changes over the years related to smoking.
On the consent agenda:
*
The Charlottesville City Council will hold a budget work session at 3:30 p.m. Staff has to have a balanced budget ready by February 11 in order to advertise a tax rate for Fiscal Year 2022. That must be published 30 days before the public hearing on the rate on March 16. (presentation) (meeting info)
In other meetings:
Thursday, February 4, 2021
Chip Boyles will preside over his last meeting as executive director of the Thomas Jefferson Planning District Commission before becoming Charlottesville's City Manager. To get a sense of the kind of administrator he is, you might take a look at the full agenda packet. (meeting info)
Boyles' tenure at TJPDC has included a lot of visioning for a possible future where transit can play a large role in moving people around. He helped create the Regional Transit Partnership, where the area's three main providers sit around a table to share information. Recently, Boyles helped secure funding for a Regional Transit Visioning Plan and a feasibility study for transit expansion in Albemarle.
Other regional projects underway include a study of Route 29 in Albemarle County and Greene County and a discussion of a regional cigarette tax. It is my belief that all of us who live in this area are part of a human ecosystem and there are a lot of people who are working to try to make things work better for all of us. There are a tremendous amount of details.
I recommend reading through the summary of activities the TJPDC was up to between October and December 2020. That begins on page 28 of the agenda packet.
In other meetings:
---
This post was contributed by Sean Tubbs. Sean is a journalist working to build a new information and news outlet centered around Charlottesville and Virginia. In 2020, he launched a daily newscast and newsletter and also created a semi-regular podcast on the pandemic.
Support for Sean's "Week Ahead" update comes from The Piedmont Environmental Council.