This is the penultimate week of the year and perhaps the last edition of this newsletter for 2022. The holidays are with us and many will be taking some time off. That's certainly the case for government meetings with many December ones having already happened.
But will I take off time? There is so much from the year to still get through, and we have a busy week of meetings. There are five in Charlottesville and they're not fluff, either. There are two a piece in Fluvanna and Greene and one in Nelson.
There are no meetings in Albemarle County this week or for the rest of the year. Nelson County has no meetings this week, but they do have a YouTube channel if you want to get ready for 2023.
Thanks to the Piedmont Environmental Council for their sponsorship of this newsletters. Their fiftieth anniversary is about to turn into their fifty-first, so take a look at highlights from their first six hundred months.
Monday, December 19, 2022
Changes coming to city voting precincts; Public hearing on use of FY22 surplus
The five-member Council will meet at 4 p.m. for a work session followed by the regular meeting at 6:30 p.m. (meeting info) (agenda with materials)
Charlottesville does not elect its five Councilors by wards. Two of the current Councilors even live on the same street because there is no geographic representation.
But the city does have voting precincts and they are on the agenda at the work session for a discussion of "reprecincting." The Charlottesville Electoral Board is planning to change some of the precinct boundaries and change two polling places.
"This will be discussion only," reads the staff report from Registrar Taylor Yowell. "A public hearing and ordinance will be considered at a later date."
There is no advance information available on the registrar's website. I also must confess I've not had a chance to write about this despite a December 5 email from James Nix, one of the three members of the Charlottesville Electoral Board.
"We are proposing to continue with nine polling places adding Jackson Via Elementary School and Charlottesville High School as replacements for Alumni Hall and Tonsler," Nix wrote in an email to me. "The Tonsler voters will mostly be split between Buford and Jackson Via and the Alumni Hall voters will be split between Venable and Walker."
Nix said Tonsler is too small with inadequate parking and Alumni Hall is not owned by the city. The Buford precinct has the fewest registered voters in the city with 2,375. The changes would see over a thousand voters moved to the middle school if they vote on Election Day.
"About forty percent of the city voters will be voting at a different location with these changes," Nix wrote.
I will hope to write up this work session. There's often so much to write about from these work sessions that I never make it around to writing about.
The regular meeting begins at 6:30 p.m. and there's quite a lot on the consent agenda. But in the interest of consolidating time, let's go to bulleted points:
There are minutes of the November 7 and November 21 meetings. Do you find these useful? Is there enough information within them?
Council will hold the second reading of an amendment to the memorandum of agreement between Albemarle and Charlottesville related to the General District Court. (read my story about the first reading)
Council will transfer $350,000 to Washington Park Pool from the capital improvement program, This funding had been intended to be spent at Darden-Towe Park for athletic fields and lighting. A request for proposals is out for a company to use this money to repair the pool in advance of the summer.
Second reading on changes to the Police Civilian Oversight Board (staff report)
But the last item on the consent agenda is worth breaking out for further explanation for those who want the details of how infrastructure gets built and what happens when it does not.
Council will hold the first of two readings on an appropriation of $192,453.98 from bonds from the developer of the Woodland Drive subdivision.
"Whenever a developer proposes a new subdivision, the City requires the developer to post certain bonds, to guarantee that the developer will build public streets and other public facilities," reads the staff report.
This includes stormwater management during and after construction to limit erosion.
In 2016, the city approved a site plan for work on Woodland Drive in the Fry's Spring neighborhood. In 2021, the city wrote to bondholder Atlantic Union Bank to inform them the developer did not complete work the city had expected and the city was stepping in.
"Plans were prepared to provide public improvement corrections and minimal remedial storm water design to provide a pathway to restore the project to regulatory compliance in as close accordance with the approved plans as possible," reads the staff report.
Does this mean the work has been done? Is there any additional expense to the city? How many projects like this happen each year? How frequently does the city have to call in such bonds? Are there any projects where they could do so, but have not?
Those are all questions I have on a Sunday morning. I'll ask them and later this week we'll see what we get.
The regular meeting really begins with the report from interim City Manager Michael C. Rogers as well as other top city officials. I'll have details from that in the next Charlottesville Community Engagement.
The first item under regular business is a public hearing on amending the current fiscal year with the $14.3 million surplus from fiscal year 2022. Real estates were $5 million more than budgeted, with meals taxes $3.1 million over, sales and use taxes $2.6 million over, and personal property taxes $2.2 million over budget.
Other savings have come from a city with many unfilled positions with $5.5 million not spent on salaries. In all, $22.9 million will be reappropriated as a result of this public hearing. Here's a list:
$11,513,225 in funding for items in the current fiscal year, some of which will result in ongoing needs to fund in following years:

$1 million of this would go to add two additional buses for Route 6, which currently travels between the UVA Hospital and downtown via the Willoughby Shopping Center.
An additional $2 million to Charlottesville Area Transit for 30 minute service
$2.1 million to continue paying for firefighters hired through a federal grant
$600,000 in cash to go to pay for debt service for school reconfiguration, as well as two payments of nearly $1.95 million each for additional school-related debt service in FY25 and FY26.
$700,000 toward Meadowcreek Trail
$1 million for a fund for the City Manager's office to use where it sees fit

$4,742,142.71 in one-time funds

$325,000 for Council Strategic Initiatives
$1 million to upgrade city's financial software
$150,000 to address rising fuel costs
$100,000 to pay for a pilot program for translation of city services
$142,142.71 is a very specific figure for completion of the Standards and Design Manual which was last adopted by Council in December 2019.
$575,000 in direct aid to individuals and families through the Pathways Fund
$150,000 for new emergency Automated External Defribilators
$300,000 to address capital improvements at the Meadowcreek Golf Course
$2 million for raises for city employees that would be informed by the soon-to-be-completed compensation study

$6,662,547.30 to the Capital Improvement fund for contingencies
Next, there is a public hearing on granting of private drainage easements on city-owned property in Albemarle County. The agenda does not specify whether this is a public hearing or not, but the staff report states "City Council should open a public hearing for this matter." Is this the one? The agenda and the staff report should be more clear.
The agenda also does not specifically list a public hearing for a public hearing to be held on a temporary aerial easement for construction of apartments at 1223-1225 Harris Street. Most other localities are very careful to specify which matters are public hearings. This tells community members who may be interested that they have the right to speak about a matter. There is a decided lack of transparency in Charlottesville that has become more apparent in recent years.
Finally, there's a second reading of a rezoning for between 60 and 72 new units at Mount View Baptist Church. Council opted to not send this back to the Planning Commission on a 4-1 vote on December 7. Read my December 8 story for background or the staff report.
Louisa seeking federal funds for affordable housing project
The seven-member Louisa County Board of Supervisors meets at 5 p.m. for a closed session followed by an open session at 6 p.m. They meet in the Louisa County Public Meeting room at 1 Woolfolk Avenue. (agenda)
One interesting item on the consent agenda is worth mentioning. Supervisors will finalize authorization to purchase a new fire truck and equipment for Squad 6 with a transfer of $50,673 for remaining materials including vehicle extrication and radio equipment. (page 35)
Under new business, Supervisors will extend the time they have to invest $90,000 in a portion of a sewage treatment plant near New Bridge at Lake Anna with Lake Anna Environmental Services.. (page 42)
There are several items under information and discussion items but these aren't available in advance in the packet. These are:
An update on the harmful algal bloom study on Lane Anna.
An update on the Fluvanna-Louisa Housing Foundation.
An update from the Virginia Department of Transportation
A quarterly update from the Louisa County Water Authority
A presentation on the Comprehensive Annual Financial Report for fiscal year 2022.
Under new business, there will be a resolution to "Extend the Option Agreement for Purchase of Property Owned by Lake Anna Environmental Services."
And another resolution will be on the approval for a grant application for federal dollars for affordable housing. This would be for a project called Ferncliff Place which is described as "a mixed-income affordable housing development." According to the application the total budget is $3.2 million with a request for over $1.4 million in federal funds.
The funding would come from a provision in the 2022 Consolidated Appropriations Act
"If successful, this application will allow the building of a two-phase residential development project that will provide 25 units to assist seniors with older, unsafe homes and missing middle-income housing for essential workers," reads the project narrative (page 62).
A lot of the money will go to connect the housing units to public water and sewer.
Then there are seven public hearings though at least one all will be held.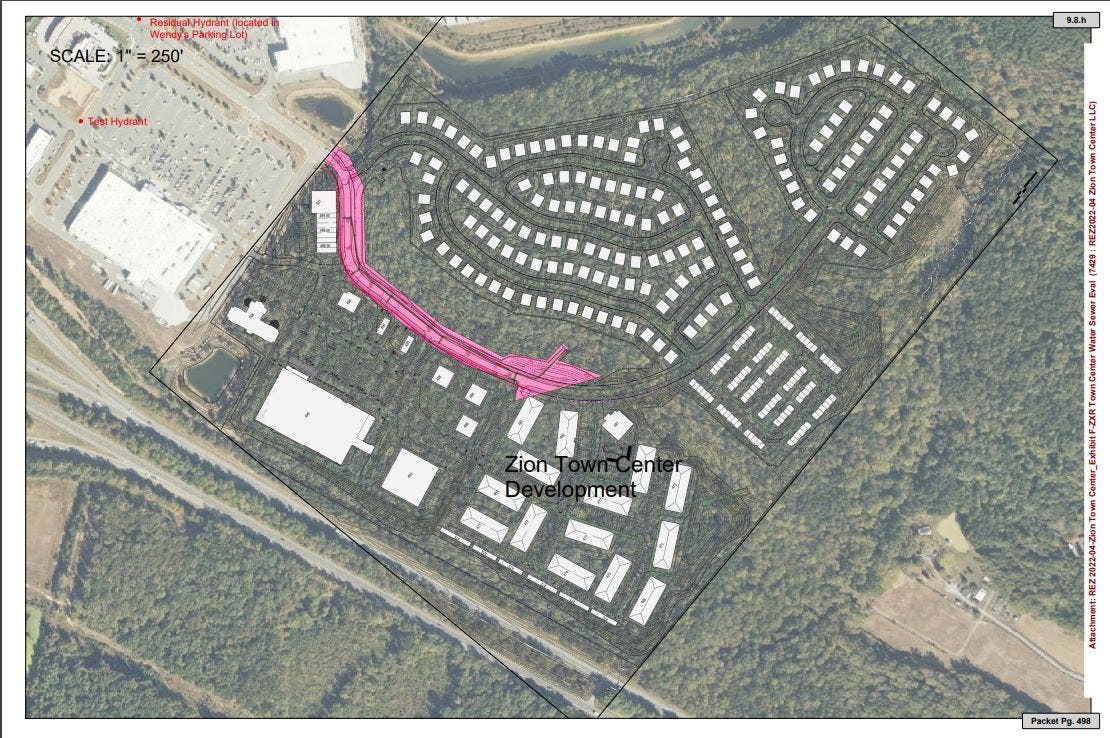 In other meetings:
The Board of Directors for the Charlottesville Albemarle Convention and Visitors Bureau will meet at 2 p.m. in the Fiddlehead Ballroom in the Quirk Hotel. There is a presentation from the Front Porch. (agenda) (presentation)
The Board of Trustees of the Jefferson-Madison Regional meets at 3 p.m. (agenda)
The Board of Directors for the Charlottesville Redevelopment and Housing Authority will meet at 6 p.m. Other than public comments, there will be a closed session for personnel matters. The agenda is not available on the CRHA website, but it is posted to cvillepedia. (agenda)
Tuesday, December 20, 2022
Charlottesville BAR to review shed demolition, 300 Court Square alterations
The Charlottesville Board of Architectural Review meets at 5:30 p.m. (packet) (meeting info)
These meetings are worth reviewing to see what may be changing with existing neighborhoods in Charlottesville. At this final meeting of 2022, the BAR will take up a demolition permit for a structure built around the turn of the 20th century at 507 Ridge Street. (page 89 )
"Owners plans to construct an accessory dwelling unit near/at the location of the cottage; however, they also expressed that regardless of the ADU project, they do not wish to incur further expenses necessary to stabilize and maintain the cottage," reads the staff report. "With that, the owners have expressed willingness to allow relocation of the structure to another site, should someone express interest in acquiring it and provided the BAR approves the move."
The BAR will also take up design of a new house being built in North Downtown (page 137) as well as consideration of exterior alterations to 300 Court Square (page 183).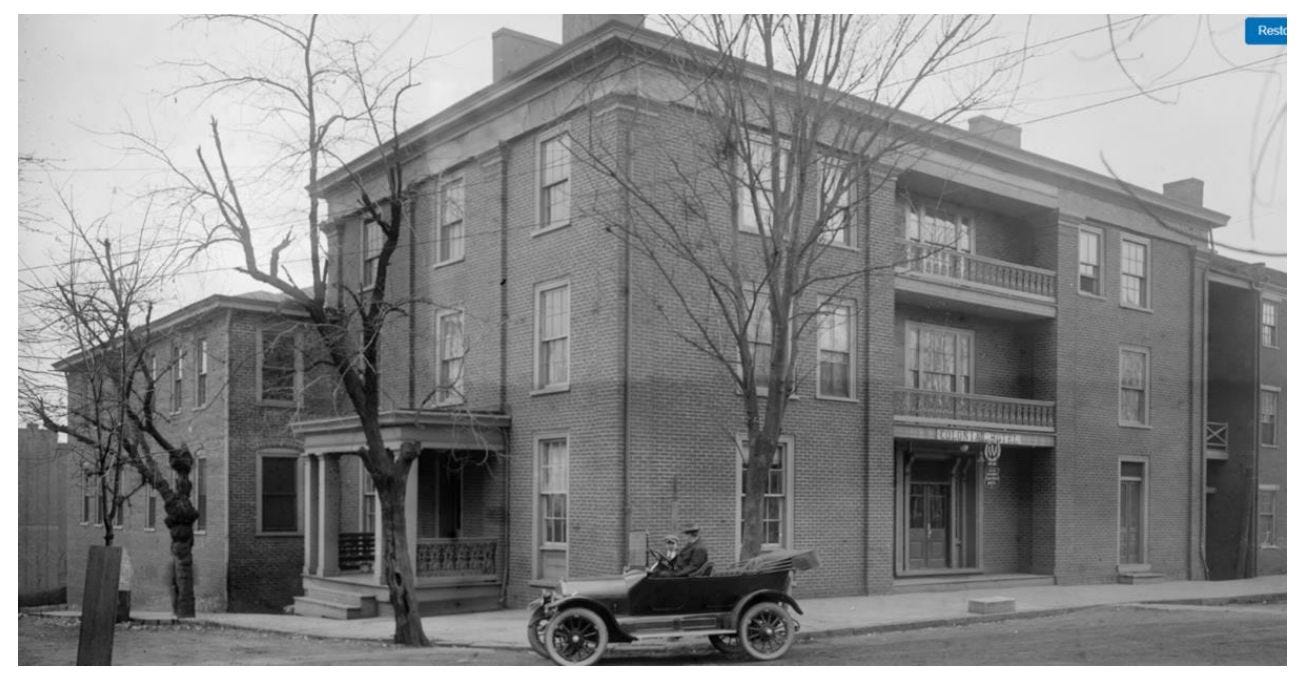 In other meetings:
The Greene County Emergency Services Board will meet at 6 p.m. in the county meeting room in the administration building in Stanardsville. (meeting info)
The Charlottesville Police Civilian Oversight Board will meet at 6:30 p.m. They will discuss the selection of Michael Kochis as police chief as well as the search for a new executive director. (meeting info) (agenda packet) (story from press conference)
Wednesday, December 21, 2022
Fluvanna Supervisors to take up 80-acre industrial rezoning on U.S. 15
The five-member Fluvanna County Board of Supervisors meets at 5 p.m. for presentations from non-profit organizations seeking funding. Then the regular meeting will begin at 7 p.m. They meet in the Carysbrook Performing Arts Center at 8880 James Madison Highway in Fork Union. (packet)
Several non-profits are seeking funds in Fiscal Year 2024 and will have five minutes each to make their presentation:
There are two public hearings associated with two different proposals which yet are almost identical to each other. The Vaughn Property Group has two separate parcels on either side of U.S. 15 and they want to rezone each from agricultural to industrial for a business campus within the Zion Crossroads Community Planning Area.
"The applicant proposes to develop a flex industrial distribution center / data center project which includes three buildings with approximately 200,000 square feet each for a total of 600,000 square feet," reads the letter for Parcel 11-9-2.
Parcel 11-9-1 is essentially across the street.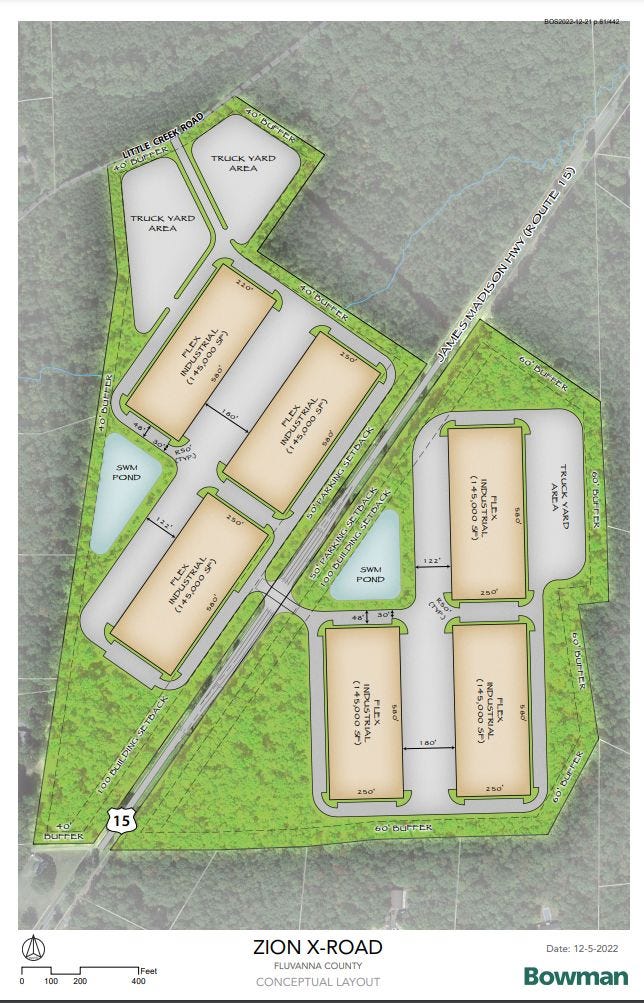 There will also be two action items.
One is for a request from the Fluvanna School Board to re-appropriate funds from fiscal year 2017. This relates to the cost of audio and visual upgrades for the School Board auditorium. (page 133)
There will also be a review of the structure of the Department of Emergency Services including personnel. There are three options for expansion of service. (page 135)
Two county-staffed ambulances for 24 hours a day, seven days a week at an annual cost of nearly $1.7 million.
Three county-staffed ambulances for 24 hours a day, seven days a week at an annual cost of just over $2.485 million.
Two county-staffed ambulances for 24 / 7 with an additional weekday staff ambulance at an annual cost of nearly $1.92 million.
Then there are several presentations: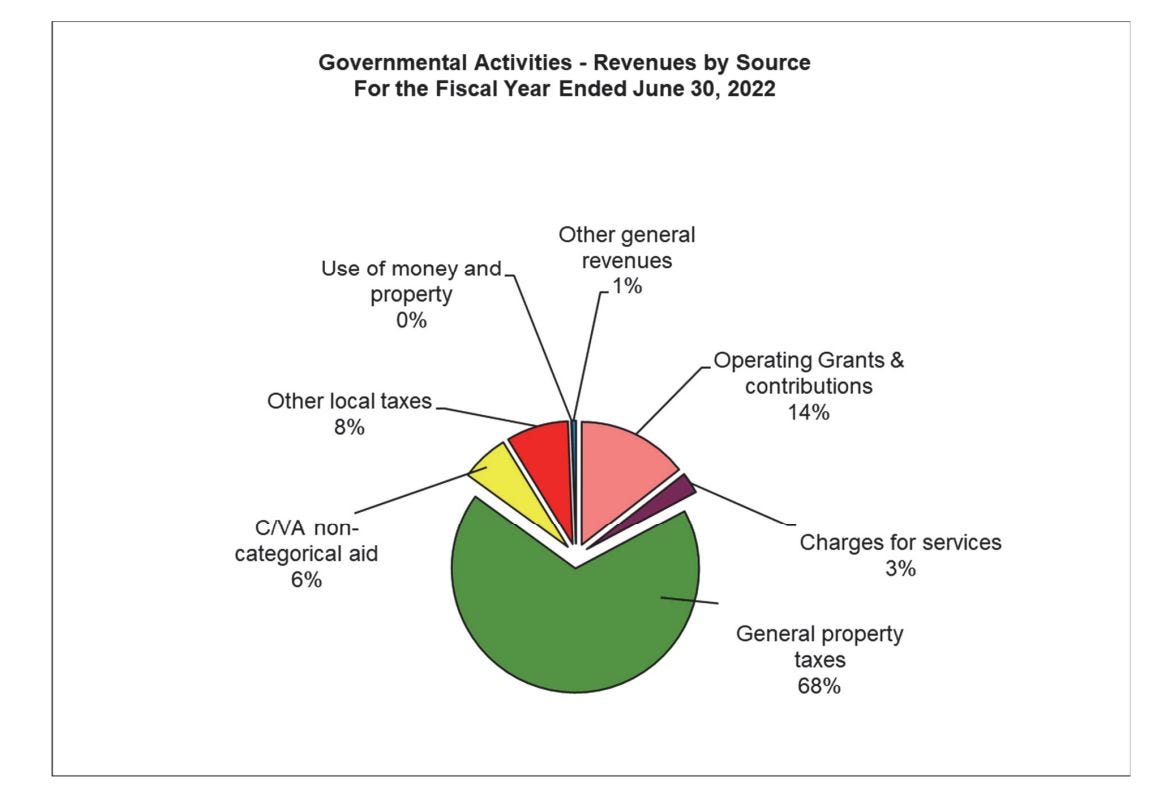 Charlottesville to hold a pair of site plan review meetings
There are two site plan meetings to be held in-person Wednesday morning. These are held in the Neighborhood Development Services conference room in City Hall with the first at 10 a.m. These will not be made available online. There is no information available in the meeting portal but the purpose of Charlottesville Community Engagement is to make things known anyway.
Site plan review meetings are technical in nature but allow the chance for community members to ask questions of developers and staff. As Charlottesville considers eliminating Council and the public's role in deciding what gets built where, these plans will be the only venue for the public to have their voice heard even though most major decisions have already been made.
At 10 a.m. is the Belmont Heights site plan review. Belmont Heights is located at 1000 Monticello Road relates to a new 11-unit apartment building that will be constructed on what is now a driveway to an existing apartment complex. Council granted a special use permit 3-2 in August after a previous version was denied on a 3-2 vote. Learn more on cvillepedia. (meeting info)
At 11 a.m. is the site plan review for 1613 Grove Street Extended and you can learn about that one on cvillepedia as well. Council approved a rezoning that will place 28 units on about two-thirds of an acre at the end of Valley Road Extended. (meeting info)
Greene Planning Commission to review Ruckersville plan, consider rezoning away from Senior Residential
The Greene County Planning Commission will meet at 6 p.m. in the county meeting room in the administration building. You can watch on Zoom if you like. (meeting agenda)
There will be a work session on the Ruckersville Area Plan which was first adopted on June 12, 2018. That means the county is four and a half years into what is described as "a ten-year to-do list for Greene County officials and the Ruckersville community, including residents and businesses." (read the plan)
The plan was created with assistance from the Thomas Jefferson Planning District Commission. Since then that agency has also worked on a transportation study for the U.S. 29 corridor between northern Albemarle and Ruckersville. There have also been two administrators and the same interim administrator twice. Lots of developments have been approved. I hope I can find time to write about this update.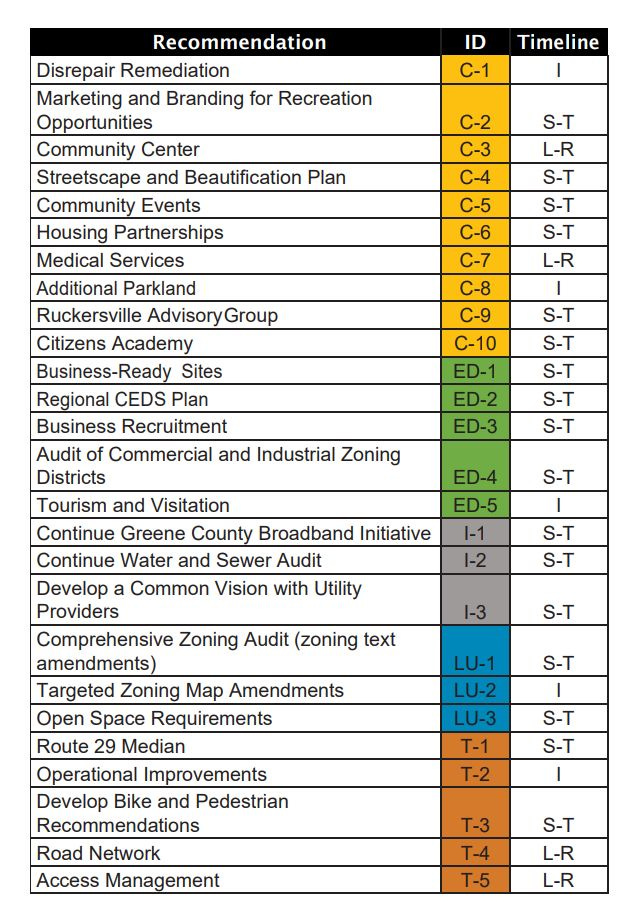 There are also two public hearings:
A couple seeks a special use permit to operate a commercial bakery in their house on Celt Road in an area designated as "Rural Area" (staff report)
33E Greene LLC seeks a rezoning from Senior Residential to Planned Unit Development for 172 acres on Carpenters Mill Road. This is for a project called Woodpark (staff report)
Thursday, December 22, 2022
There are no meetings, I believe. The sunrise starts turning back to the north today. How will you spend your extra light? 
Thank you for reading this year. It is likely the next Week Ahead won't happen until January 2, 2023 because it is not likely there will be a meeting but it's not without precedent. In late December 2011, the Rivanna Water and Sewer Authority held a 4-3 vote on a sewer pump station in Woolen Mills. I wrote about that back then.
When I say I am here to do this work, I am here to do this work. I am blessed to have a life where I get to see the sunrise every day and to feel useful to a broader community. I take my work very seriously and am grateful you are here to read it.
---
This post was contributed by Sean Tubbs. Sean is a journalist working to build a new information and news outlet centered around Charlottesville and Virginia. In 2020, he launched a daily newscast and newsletter and also created a semi-regular podcast on the pandemic.
Support for Sean's "Week Ahead" update comes from The Piedmont Environmental Council.