More than a year into the pandemic, most of this community's public realm continues to operate virtually. While our community begins to open up more and more, this is still a time when local government meetings are accessible from anywhere. This is a good time to begin paying closer attention.
As always, this newsletter is intended to inform you of what's coming up so you could get involved should you want to do so.
This week, one of the most significant meeting is the Greene County Planning Commission on Wednesday. They will be reviewing two chapters of the Comprehensive Plan, as well as a rezoning to move forward a mixed-use development off of U.S. 29. There are many centers of growth in the region. How do they all fit together? Again, that's the point of this weekly newsletter.
As always, thanks to the Piedmont Environmental Council for their support of this research. Thanks for reading, and please send this on to people you think would be interested.
Monday, April 19, 2021
Council to be briefed on age-friendly action plan, United Way strategic plan
Charlottesville continues a recent practice of holding work sessions on the afternoon of its second regular meeting of the month. This time there are four reports to review, including a monthly update on the city's finances. (meeting info)
Next, they'll get a report from the Charlottesville Area Alliance (CAA), a consortium of agencies seeking to develop a community that is open and accessible to people of advancing ages.
"Partnering member organizations create an age-friendly community by developing a common understanding of the needs and issues, developing policy recommendations, and joining together to encourage the implementation by government, nonprofit organizations, the general public and businesses," reads the staff report from Human Services Director Kaki Dimock.
The CAA will present its annual report as well as an action plan for 2021-2016.
"The Alliance reports that community members over the age of 50 generally have sufficient food, are socially engaged, and enjoy their quality of life," the report continues. "Survey results also point to a lack of affordable housing for seniors in this region and that people over 50 years old do not feel socially included in the community."
After that, the Council will be presented with the United Way's strategic plan, which includes a strategic goal of helping 1,800 families out of poverty by 2026 by lifting their household incomes to $45,000 or higher. (United Way's Envision plan)
The final report in the afternoon work session will be a presentation on the city's COVID response.
Council will then go into closed session before reconvening at 6:30 p.m. for the regular meeting. The evening meeting is relatively light, but there are always surprises at City Council.
The sole public hearing is for the lease of the First Amendment Monument on the Downtown Mall to the Bridge Progressive Arts Institute. The monument was built by the now-defunct Thomas Jefferson Center for the Protection of Free Expression on ground they leased from the city. One of their final acts before going out of business was to recruit another group to take over maintenance of the amendment, including a weekly cleaning. (staff report)
After that, there will be another adoption of a "Continuity of Government Ordinance" to keep local government running while Governor Northam's state of emergency continues. (staff report)
The final item is approval of a $500 bonus for police officers approved by the General Assembly in their special session last summer and fall. (staff report)
There's one item on the consent agenda worth highlighting. This is another reprogramming of Community Development Block Grant (CDBG) funds.
Nearly $79,000 in funds that went to the Albemarle Housing Improvement Program (AHIP) in May 2020 for homeowner rehabilitation were not spent by a deadline of April 1 of this year, so staff is recommending the balance of $64,97.82 go to a rent relief program for the Charlottesville Redevelopment and Housing Authority (CRHA). That program was recently the recipient of another transfer of a CDBG-funded project. $244,950.82 that had been designated for a sidewalk project in Belmont. (staff report)

Also on the consent agenda:
Albemarle design panel to review Biscuit Run parking area
It has been over 11 years since the Commonwealth of Virginia purchased nearly 1,200 of acres of land south of Charlottesville in order to create a new state park. Around two-thirds of the land were rezoned in September 2007 to accommodate up to 3,100 homes, but then-Governor Tim Kaine purchased the land from a consortium of developers including Hunter Craig in December 2009.
A master plan was created for what would have been Biscuit Run State Park, but efforts to raise the $42 million in state funds to implement the plan failed in the General Assembly. In January 2018, Albemarle County signed a lease to operate the park as a local park. At the time, the county was expecting to receive $5 million in funding from Dominion to mitigate the impact of the Atlantic Coast Pipeline, but that project was canceled last July.
Now efforts to at least open the park are coming closer to breaking ground. Albemarle's Architectural Review Board will take a look at the initial site development plan for a project to build a parking area off of Route 20, as well as restrooms and a kiosk. What is known as Phase1A has a budget of $2.1 million. (staff report) (meeting info)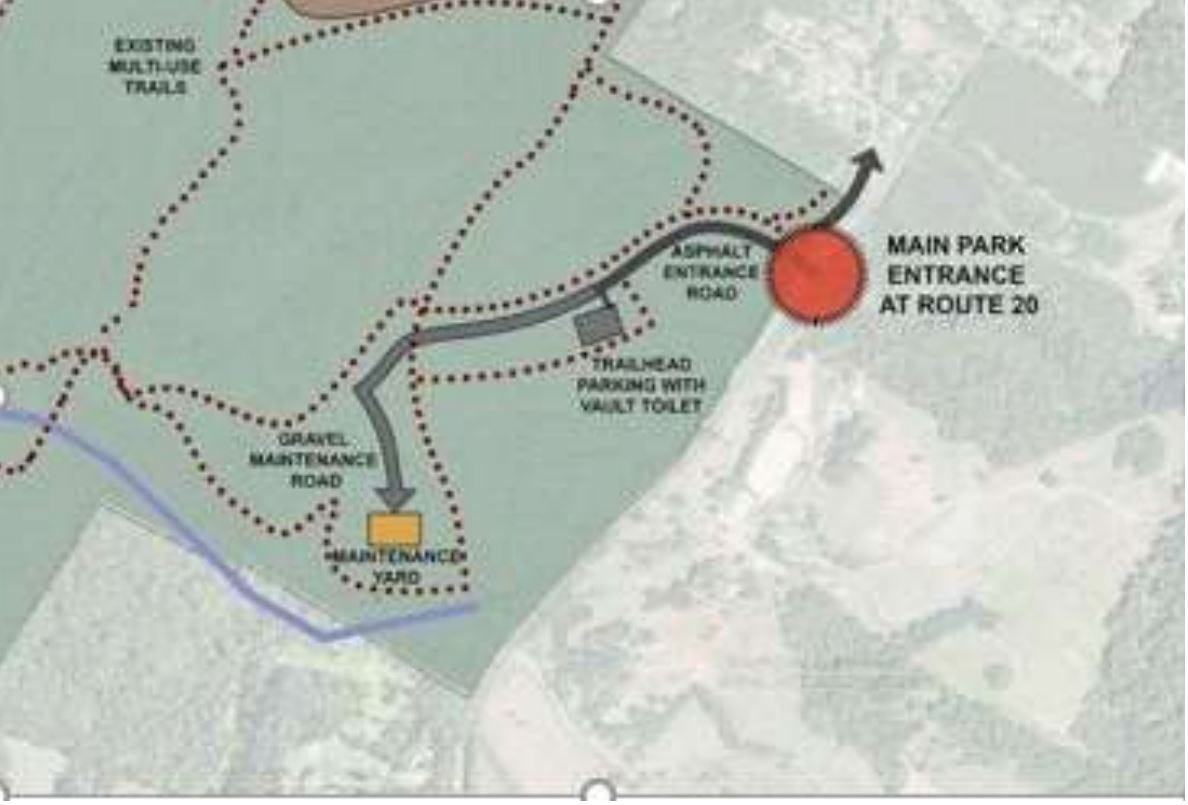 In other meetings:
Tuesday, April 20
The Albemarle Planning Commission has two public hearings at their meeting, which begins at 6 p.m. (meeting info)
In the first, the Monticello United Soccer Club is seeking an amendment to a previous special use permit for an athletic complex on Polo Grounds Road. The Board of Supervisors approved this permit in September 2012.
The club now wants to increase the number of fields from four to seven, extend hours of operation, and remove a condition that prevents the fields being used in July and August. Road and intersection improvements associated with the nearby Brookhill development have addressed previous concerns about traffic, according to the staff report.
The second public hearing is a request from Sun Tribe Development for a special use permit to operate an 8-megawatt utility scale solar system near Batesville. The county's Agricultural Forestry Advisory Committee reviewed the project on March 16 and voted 6-1 on a resolution stating the proposal does not conflict with the purpose of the county's ag-forest districts.
Staff recommends approval.
"While this utility use is not identified as a policy priority for the Rural Areas, it helps the County to meet other Comprehensive Plan goals related to renewable-energy production," reads the staff report. "The decommissioning plan ensures that the site can return to appropriate agricultural or forestry uses when the solar-generation use ends."
In other meetings:
Wednesday, April 21
Albemarle's Board of Supervisors second regular meeting of April begins at 1 p.m. (agenda)
The first action item on the agenda is an update on renovations and expansions planned for the Albemarle County Courthouse in downtown Charlottesville. The firm Fentress Architects was hired last summer to proceed with design and engineering. This work included the hiring of another company called Fentress Inc. to take a look at the assumptions that went into initial plans. (staff report)
Next, economic development director Roger Johnson will present an amendment to the agreement between the Economic Development Authority, Albemarle County, and WillowTree related to a $200,000 Virginia Jobs Investment Program (VJIP) grant which is an initiative of the Virginia Economic Development Partnership. The terms of the grant require WillowTree to hire a certain amount of employees at their new location in the renovated Woolen Mills factory. They have asked for some extensions.
"Through the combined force of these developments, however, which were entirely out of our control, we needed to pause hiring for a majority of 2020 to survive as a profitable business," wrote controller Abby Cook in a January 7, 2021 letter to the VEDP. The VEDP agreed to an extension to April 2022 to meet the requirement and the Board of Supervisors has been asked to ratify.
Supervisors will also be asked to extend the deadline for WillowTree to meet the terms of a grant from the Commonwealth's Development Opportunity Fund, which provided $500,000 from the state as well as a $500,000 match from the county. The terms require employees to be working in the renovated Woolen Mills factory, but that's not yet been possible due to the pandemic.
"Although it has not been able to meet the Workforce Location Commitment for the stated reasons, WillowTree reports 80% of its full-time Virginia workforce ("the workforce") lives in the Charlottesville Metropolitan Statistical Area (MSA)," reads that staff report. "The company's CEO publicly acknowledged his commitment to locating the workforce at the Albemarle County facility at the appropriate time and according to public health guidelines."
Next will be in-person virtual updates from the Rivanna Water and Sewer Authority and the Albemarle County Service Authority.
In the evening there are three public hearings:
On the consent agenda:
Greene planners to review comprehensive Plan, 282 townhomes
The Greene County Planning Commission meets virtually at 6 p.m. On the agenda is a work session on the review of the 2016 Greene County Comprehensive Plan. Specifically the commission will review the Natural Resources and Environment Chapter and the Agriculture and Forestry Chapter. (agenda)
After that is a public hearing on a major development off of U.S. 29. Lamm Properties is seeking a rezoning from business highway and high intensity to Planned Unit Development (PUD) of 65 acres to include 282 townhomes, commercial space, a public park, and transportation improvements. The land had been rezoned to business from residential in 2000. (staff report)
"The County's Comprehensive Plan indicates that Greene County is poised for continued population and job growth and that 'concentrating growth in compact, mixed-use places and focusing residential growth into designated areas corresponds well with Greene County's goal of increasing the number of jobs and commercial development,'" reads the narrative for the project known as The Villages at Terrace Greene. "We agree and have built the concept of The Villages on the foundation that retail, commercial and residential uses are codependent, each supporting the others like a three-legged stool."
In other meetings:
Thursday, April 22, 2021
Today there are three meetings, and let's go to the bulleted points:
Friday, April 23, 2021
There are no scheduled meetings. This will be a day to review the week to write up what's happened, and to get ready for the Week Ahead for April 26. Time is not an illusion, and neither are any of these meetings.
---
This post was contributed by Sean Tubbs. Sean is a journalist working to build a new information and news outlet centered around Charlottesville and Virginia. In 2020, he launched a daily newscast and newsletter and also created a semi-regular podcast on the pandemic.
Support for Sean's "Week Ahead" update comes from The Piedmont Environmental Council.