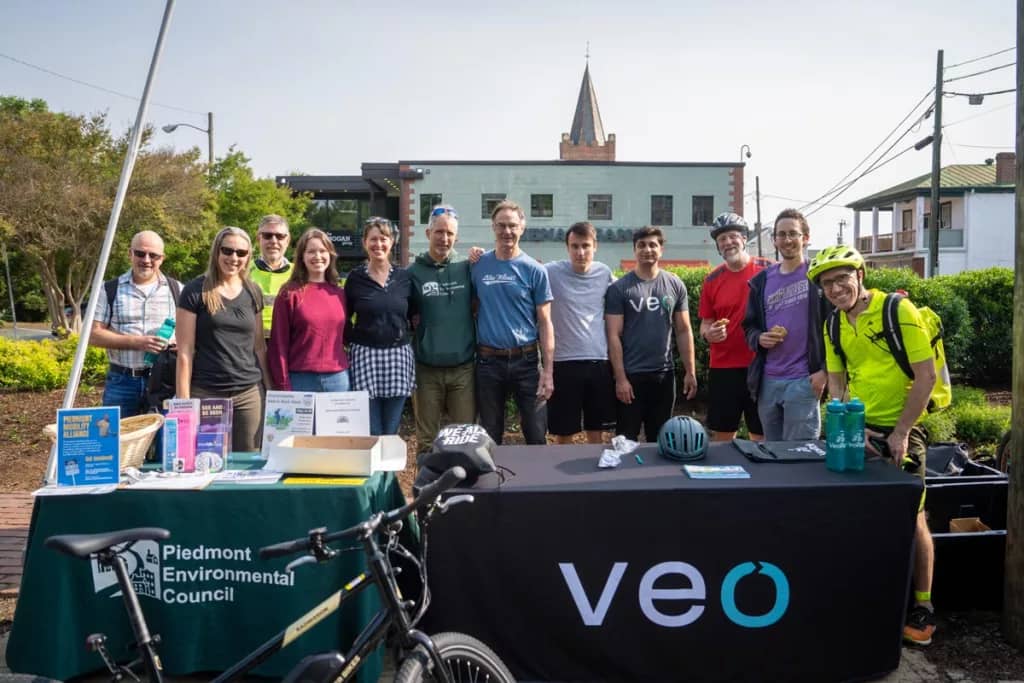 Dear Cville + Albemarle Cyclists + Mobility Advocates:
A huge thanks to everyone who worked, rode and promoted Bike to Work Week to ensure it was an astounding success. We had ten events in one week (including Riverfest), all of which were fun and invigorating.
50+ attendees rocked the kickoff party at Three-Notch'd. More than 100 cyclists got jazzed at our West Main Street appreciation station (pictured above) – thanks to Shenanigans for the space and Albemarle Baking Company for the snacks! UVA Sustainability crushed it with three bike-to-work appreciation stations throughout the week and around Grounds. The Albemarle County Office Building became a cycling hub on Thursday with two events, including a fun e-bike demonstration.
We're still a long way from having the type of infrastructure that most people would consider safe and comfortable for all, but there has been an undeniable cultural shift, with increasingly many people opting for a clean, active commute. That's reflected in, and attributable to, the cooperative approach between groups, businesses, agencies and enthusiastic people to make the community better.
Hover over the embedded Flickr album below to see more photos from the week:
Building on This Success
If you had fun biking to work or wherever you go, keep it up! Every trip reduces carbon emissions and brings health benefits. Remember that Rideshare provides permanent support with bike commuter info, guaranteed rides home and PEC has some bike-friendly business tips.
You can also help the next generation of kids get on bikes. The Tonsler Basketball League of Charlottesville and the Street Dreamz Foundation are teaming up to host their second annual "Every Kid Deserves a Bike" Giveaway to provide 200 Bikes for kids in the community. Donate and/or attend their June 3 event in Tonsler Park.
—-
Remember to participate in co-creating Albemarle County's Comprehensive Plan and Charlottesville's city-wide rezoning – both of which should call for compact, walkable communities. Both are actively seeking input.
—-
Thanks for all you do!
Peter and the Bike-to-Work-Week Team including staff from Livable Cville, Albemarle County, City of Charlottesville, Charlottesville Bicycle and Pedestrian Advisory Committee, Community Climate Collaborative, UVA Sustainability, Rideshare, VEO, and High Tor Gear Exchange