The Thomas Jefferson Planning District Commission recently released the Regional Transit Vision Plan, a product of collaborative and data-driven efforts to establish a unified long-term, clear, efficient and effective transit service for the Charlottesville region. The proposed vision network recommends improvements for Albemarle, Greene, Nelson, Fluvanna, and Louisa counties and the City of Charlottesville.
The Piedmont Environmental Council believes this plan is an important step in creating an integrated regional transit system and a catalyst for unlocking potentials within the development areas of Albemarle County. Learn more below and stay tuned for funding scenarios on how to accomplish this plan later in 2023.
Overview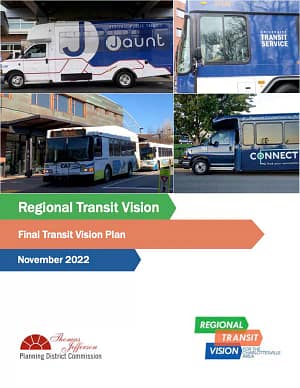 Charlottesville and Albemarle residents would like alternatives to driving–and many already employ those modes. And with the transportation sector remaining the largest contributor of greenhouse gas emissions on a national and local basis, an effective and useful transit network is key to providing access to opportunities and meeting increasingly urgent climate goals. Frequent and reliable transit service is essential for making such a system viable, while also helping address a host of interconnected challenges and achieving community goals.
Previous reports and community surveys affirm that limited and infrequent service limits the current system's usefulness. Right now, the only frequent services in the area are the CAT Trolley and the UVA services. The Regional Transit Vision Plan proposes to expand access and opportunities to a great many of those in the service area and has the potential to unlock the untapped resources within our development areas and connect more people to more places.
The Regional Transit Vision Plan involved significant public engagement and analysis of projected future transit markets informed by land use. And through the process developed a vision statement, a set of guiding principles, and long-term goals. Based on this direction, two concepts were envisioned: an unconstrained network and a constrained network.
Envisioning an unconstrained network
The unconstrained network represents a fundamental rethink of transit in the Charlottesville area, without considering any funding constraints. It would bring a standard of transit substantial enough to meet community goals in almost all areas – referred to as the Policy Network. While the constrained network scales back near-term recommendations based on cost and assumes the formation of a new regional transit funding mechanism, and can be seen as a step toward full implementation.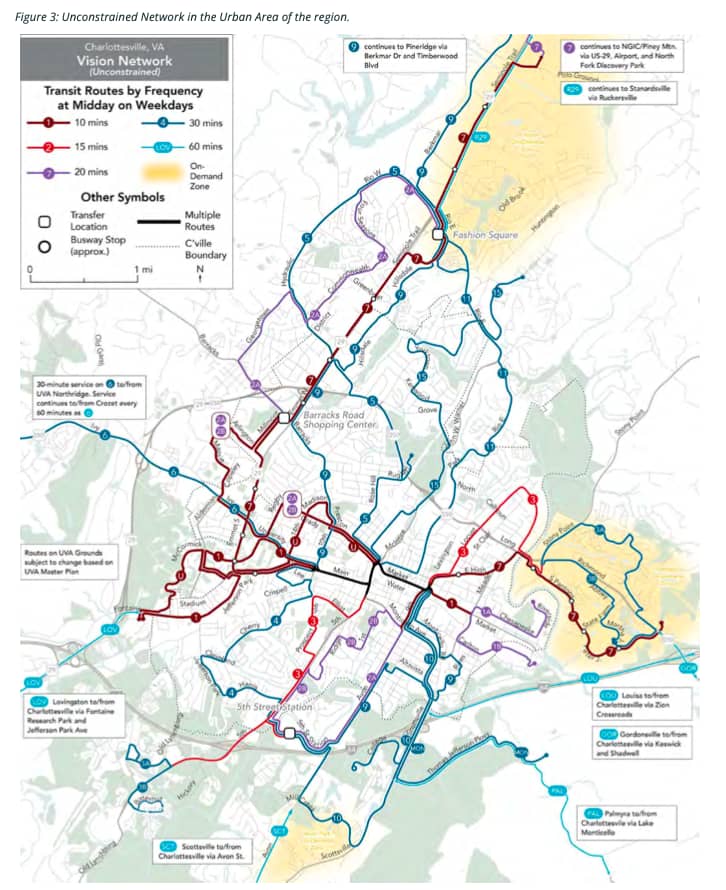 The unconstrained network introduces a bus rapid transit route from US 29 through UVA grounds, downtown, to Pantops. In addition, fixed routes are expanded to nearly all jurisdictions in the region, supported by on-demand zones serving lower density communities. All services in this network would run seven days a week for most hours of the day. Some of the rural areas would be connected to Charlottesville by hourly fixed route service, including Zion Crossroads, Louisa, Gordonsville, Stanardsville, and Scottsville.
The unconstrained vision network would also see both fixed-route and on-demand services expanded through most hours of the day, seven days a week. Including important hours of operation up to midnight for UVA and UVA health workers and visitors.
PEC's 2021 Community Mobility Needs Assessment endorses the Unconstrained Network, noting that for a transit system to be useful, service must be frequent–especially for riders who need to make one or more transfer.
A less ambitious option – the constrained network
The constrained network also makes improvements to the existing network by extending hours of service, but is not as robust as the unconstrained network is in providing for new routes. The fixed-route commuter style CONNECT that currently transports people from park and ride locations into downtown Charlottesville and UVA would be available seven days a week and include two new stops in Louisa and Palmyra. The service that currently runs from Hollymead would be extended to Ruckersville. The constrained network would see CONNECT service doubled in the number of trips per day as compared to now.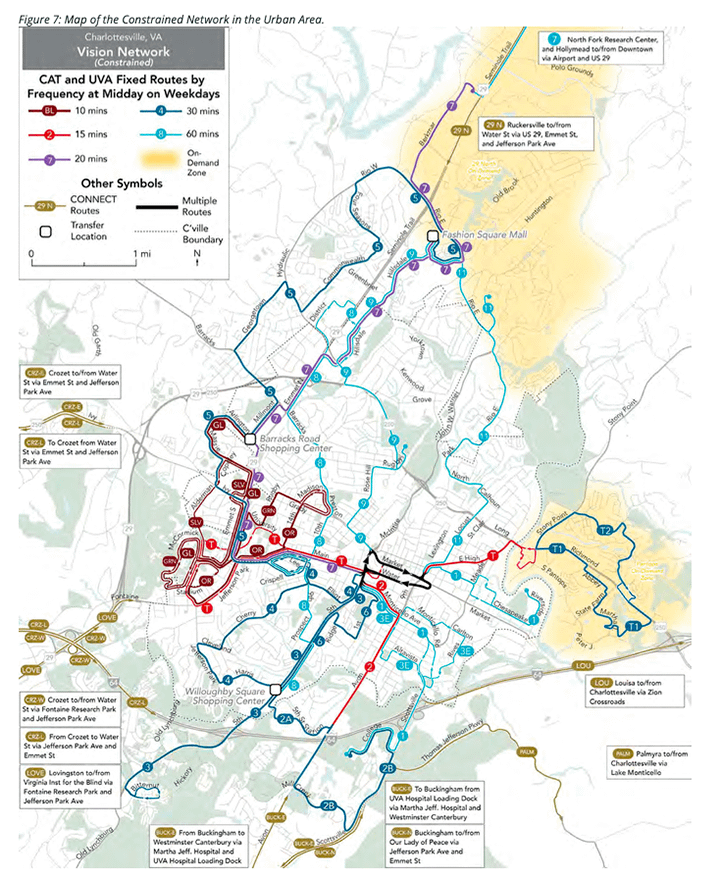 Weekday and weekend service would be greatly expanded in both vision networks. The proposed networks would close the gap between the number of jobs reachable by car and the number of jobs reachable by transit. The current number of jobs reachable by transit in 45 minutes is only about 17 percent of the jobs reachable by car in the same amount of time. For the average resident in the Charlottesville/Albemarle Metropolitan Planning Organization (MPO) service area, the unconstrained vision network would add 7,600 transit-reachable jobs, an increase of 140 percent while the constrained vision would add 1,800, an increase of 33 percent.
Connecting residents in rural and suburban areas
Mobility in rural areas is also important and the planned improvements would help rural residents too. Integrating the rural and urbanized areas, JAUNT provides on-demand services including paratransit services requiring riders to book a trip reservation typically a day in advance. CONNECT provides a fixed-route commuter-style service which links residents in outlying areas to the jobs and services found in Charlottesville and more-urbanized Albemarle. Not surprisingly, surveys have indicated that riders would like the hours of the CONNECT services to be extended. Indeed, recent additions to the Afton Express schedule have proven quite popular (Compilation of Survey Results) (Regional Transit Vision Report on Draft Vision Concepts, page 12 and 13).
What's Next?
A governance study is underway to understand how the range of possibilities described above could occur. The study has so far produced a technical memo covering the existing conditions of our transit service providers and has learnings from peer agencies. The remaining work will focus on potential revenue generation, dedicated funding arrangements, and governance scenarios that define the participating localities and the roles they would each have in contributing transit revenue.
The next phases (addressing potential revenue generation and developing governance scenarios & funding allocations) will be more expansive and technical so please stay tuned for updates. A final evaluation and recommendation of governance structures is anticipated for release in December 2023.
LRTP Moving Forward 2050
For more details and analysis of the Regional Transit Vision and Regional Transportation Planning please visit: