This blog post is adapted from an email I sent on May 2, 2023. Join my advocacy list at www.pecva.org/mobilityadvocate.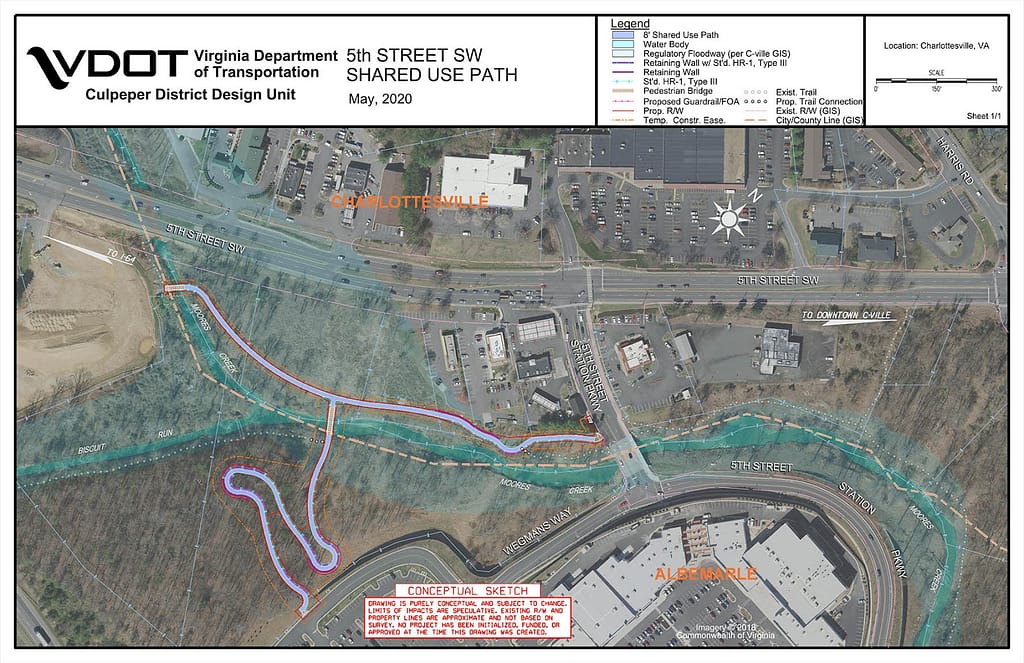 VDOT conceptual sketch from 2020.
Finally, a key project, which we have been working on for a long time, is coming into view.
The 5th Street Trail and Hub project will create a shared-use path connecting the 5th Street Starbucks, Fifth Street Station Parkway, and a trailhead at Fifth Street Station near Wegmans. All of this will be undertaken in a way that is durable and accessible to people of all abilities.
This project is a keystone project that will unlock many possibilities, which is why it is being called a hub. Here are some of the key pieces it will link:
A separate [Albemarle County] trail linking nearby neighborhoods and Biscuit Run Park
The Moore's Creek Greenway, which is about one piece away from connecting to Azalea Park, Sunset Avenue, and Fry's Spring
Moore's Creek Greenway north toward Jordan Park and downtown
Potential for a "gateway" park area along Fifth Street, where people could park-and-ride or walk or bike
Great Project, Right Place
All of this is happening in an area where many people live, work, and shop. I have a special affection for projects that link people to food and this does that. It is also worth noting that the shopping area also includes an outdoors store, a gym, and numerous restaurants and retail offerings, with tons of parking. A hub indeed.
This project has been in the works for quite some time. In fact, here's a blog post that I wrote back in 2018. That earlier project was woefully underfunded and fell far short due to the numerous challenges including multiple stream crossings, wet areas, and utilities. Now it's back with an improved route (see above concept) and funding adequate to meet the strict requirements that go with a state-funded project. We're learning from past mistakes.
Show Your Support
This project will be both a large local improvement and highly strategic for area-wide connectivity. It is important that you show up and support it.
Contact John Rose at VDOT (540) 829-7429 with your comments/questions.