With state and local elections complete, focus begins to shift toward 2024. There will be new members on all of the elected boards whose meetings are listed here, and time is running out for any last-minute initiatives they want to get enacted. That may not necessarily explain why this newsletter is pushing 5,000 words.
With that in mind, some brief highlights:
The Charlottesville Planning Commission's agenda on Tuesday has five separate items related to large multifamily buildings, but two are on the consent agenda. There a public hearings for a rezoning on Lankford Avenue as well as as two very large buildings to be constructed on UVA's periphery.
Charlottesville City Council will have a work session on the rules for how inclusionary zoning (affordable units) will be governed in the city when the new Development Code is adopted.
Albemarle's review of the Comprehensive Plan continues with a work session at the Planning Commission as well as a discussion of activity centers at the Places29-Hydraulic Community Advisory Committee.
Albemarle supervisors will consider preliminary financing for the renovation of the Albemarle Charlottesville Regional Jail, will have a work session on the five-year financial plan, and will discuss the Clean Fill ordinance for the first time since adopting it in September 2020. 
Both Greene County and Nelson County will consider bans on outdoor burning given the ongoing drought and higher fire risks.
Albemarle's 5th and Avon Community Advisory Committee will have a community meeting on a rezoning for Granger property.
There do not appear to be any meetings in Louisa County this week.
Thanks again to the Piedmont Environmental Council for their support of this newsletter over the years. I calculated last week that this is the 236th installment of this weekly look at upcoming meetings. I hope you've learned something and will continue to do so!
Monday, November 13, 2023
Council to review manual for inclusionary zoning at Development Code work session
Does anyone know what's going on with the Development Code outside of the City Council, the Housing Advisory Committee, and the Department of Neighborhood Development Services? I'm ridiculously behind and have yet to listen to Council's work sessions from November 1 and November 8. The latter was on parking, and I will get to that as well as the November 1 session as soon as I can.
Council's public hearing is set for December 5, and the latest work session will be held at 6 p.m. in CitySpace.
This time around, Councilors will review the Affordable Dwelling Manual that will govern the inclusionary zoning embedded in the new zoning rules. Developments of more than ten units require one to be designated as affordable for rent or sale to households at less than 60 percent of the area median income.
"Inclusionary zoning refers to a set of requirements in a zoning ordinance that mandates or incentivizes the inclusion of affordable units as part of a residential development project," reads the staff report for the work session.
In 2021, the General Assembly passed legislation allowing Charlottesville to establish its own rules for this practice.
"As a concept, inclusionary zoning has been around for around 50 years and over that time practitioners and researchers have identified a number of best practices," the report continues. "Among these is a recognition that the required number of affordable units, the level of affordability, and other characteristics of the requirements must be tailored to the local development market based on economic analysis of that market."
One of the sticking points will be the cost to developers to buy out the requirement with a cash-in-lieu payment. Some members of the Planning Commission wanted to prohibit this possibility, but staff have left it in. Go back and read my April 29, 2023 story for more information.
"This choice creates some flexibility where affordable units may not represent public policy objectives or other circumstances unique to a given project," reads the report. "Generally, the calculation of in-lieu fees is either based on the construction costs of a new unit or the increment of lost revenue between a market-rate unit and a required affordable unit."
Another sticking point is the length of affordability for for-sale units.
"The Planning Commission's recommendation includes the distinction that the 99-year standard should only apply to rental projects and that ownership units should only be affordable to the first buyer allowing that buyer to capture full market value at resale of the property," the report continues. "Such a distinction is uncommon in similar ordinances nationally."

These details will be very much worth paying attention as I can show you plenty of examples of affordable units built in the mid-2000's that lost their affordability requirements. Members of the Housing Advisory Committee will be on hand to participate and answer questions.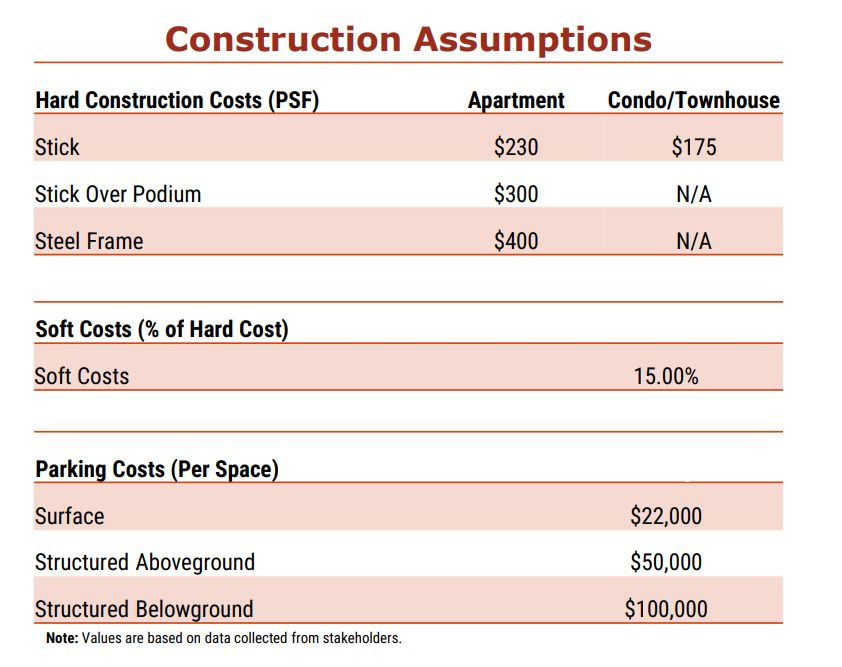 Fluvanna EDA to consider grant for convenience store in Zion Crossroads
The Fluvanna County Economic Development Authority will meet at 5 p.m. in the county administration building at 132 Main Street in Palmyra. (agenda)
Under new business, there will be a review of a development agreement between the EDA and Zion 3 Notch LLC.
"The Development Agreement will offer a grant ("Grant") of up to One Hundred and Twenty-five Thousand Dollars ($125,000) after completing construction of a sewer line improvement project," reads the resolution. "Zion 3 Notch LLC will purchase, improve, equip, and operate a convenience store ("Convenience Store") located on James Madison Highway in Zions Crossroads, Virginia, thereby making a significant capital investment, and creating and maintaining a significant number of new jobs."
Is this related to the Wawa? Have there been similar agreements in other counties?
After this meeting, the Economic Development and Tourism Advisory Council will meet in the same room. There will be an update on a business map for Fork Union, the tourism strategic plan, and the renovation of the Historic Courtroom. (agenda)
In other meetings:
A subcommittee of the Charlottesville Housing Advisory Committee will meet to continue to shape the HAC's influence on the Development Code. They meet at noon at 700 East Jefferson Street in the 2nd Floor Conference Room. (meeting info)
Albemarle's Places29-Hydraulic Community Advisory Committee will meet at 5:30 p.m. in the Media Center at Greer Elementary School. They'll have a discussion on Transportation and Land Use like the Crozet CAC had last week, but with a draft map showing proposed activity centers in this area. (agenda) (meeting info)
Tuesday, November 14, 2023
Greene Supervisors to consider burn ban, light industrial uses at Villages at Terrace Greene
The four members of the Greene County Board of Supervisors meets at 4:30 p.m. for a closed session followed by an open session at 6:30 p.m.
After the call to order, the Pledge of Allegiance, and adoption of the agenda, the Board will recognize Ginny Reese, the outgoing branch manager of the Greene County Library.
There are three public hearings.
The first is a request from Merit Greene LLC for a special use permit for 30 acres of a 65.17 acre property on U.S. 29 to allow for Light Industrial, Research, Development, and Related Manufacturing. This is within the Villages at Terrace Greene, a property rezoned in 2021. The Planning Commission recommended approval on October 18, 2023.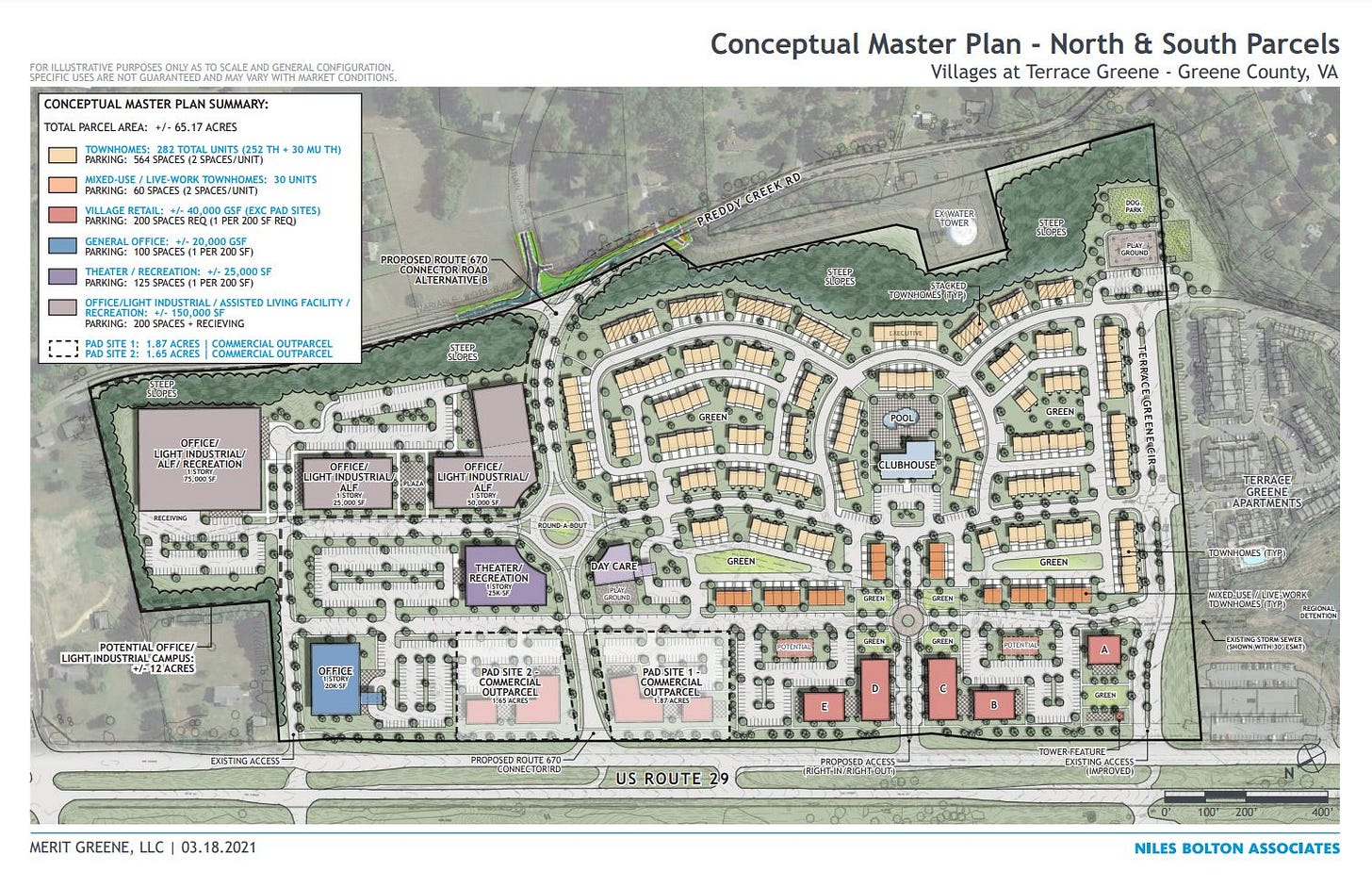 The second is related to language required by the Virginia Resource Authority related to leases with four commercial tenants at 8767 Seminole Trail. Greene County recently purchased the property and retains the leases and the VRA requires "subordination language."
The third is a public hearing to condemn sections of two different pieces of land that Greene County would purchase to build the White Run Reservoir.
"The County has made a bona fide effort to purchase these two pieces of land but has not been able to reach an agreement with the owners," reads the staff report.
One is a 0.96 acre portion of land at 596 Watson Road and the other is a 0.516 acre piece of land at 708 Watson Road.
The consent agenda has a few interesting items:
Under new business, Supervisors will consider the legislative program for 2024. This has been put together by the Thomas Jefferson Planning District Commission. (review the draft program)
Next, Supervisors will consider new guidelines for the use of the Public-Private Transportation Act. (review the guidelines)
Finally, there's action on a ban on outdoor burning. Greene's Emergency Services Director declared a local emergency on September 7 related to dry conditions and the Board of Supervisors ratified that action five days later. (staff report)
Violations will be a Class 1 misdemeanor.
Charlottesville PC to consider two big projects near UVA
The six members of the Charlottesville Planning Commission meet at 5 p.m. in the Neighborhood Development Services conference room for their off-camera, unrecorded pre-meeting. Then they'll travel up the corridor in City Hall to Council Chambers for their regular meeting at 5:30 p.m. (meeting info)
On the consent agenda is the Planning Commission's approval of a site plan for Belmont Condominiums, a 130-unit townhouse development being built by-right by Riverbend Development on land zoned in 2003 as Neighborhood Corridor Commercial. There was a recent procedural denial in October, but the project will go forward with this approval.
Also on the consent agenda is a "2232 review" of public facilities to be built as part of the VERVE Charlottesville. That refers to a check to see if they are compliant with the Comprehensive Plan.
At some point during the meeting they'll also become the Charlottesville Entrance Corridor Review Board to grant an approval for 1709 Jefferson Park Avenue.
But there are three public hearings for rezonings which will become a relic as soon as the Development Code is adopted. There will be public hearings for permits for special uses and possibly for special exceptions, but the days where the public can make a comment at a meeting before legislators will more or less be over for big land use changes.
The first public hearing is for VERVE Charlottesville which would see the demolition of 62 existing apartment units on 3.3 acres on Stadium Road near the University of Virginia's Bavarro Hall to make way for a very large building that would have between 524 to 550 residential units.
"The proposed building will have a height range of (75) feet to (135) feet and stories that range from (5) to (12)," reads the agenda.
The second public hearing is for a rezoning on Lankford Avenue that seeks a change on three parcels from R-1 Small Lots to R-3 multifamily residential. The developer also seeks a special use permit for an increase in density from 21 units per acre to 51 units per acre.
"The applicant is proposing a multifamily residential development with up to 48 units through new construction," reads the agenda.
That intensity would likely not be possible under the future zoning which is Residential-A.
The final public hearing is for the last remaining property in the 2100 block of Ivy Road that is not owned by the University of Virginia or its real estate foundation.
RMD Properties seek a rezoning at 2117 Ivy Road from Urban Corridor to Planned Unit Development to build up to 287 residential units in a single building.
"The proffers indicate the applicant shall choose one of the following options: either provide 10% of residential units as affordable dwellings to households at 60% of area median income, or provide a cash contribution to the City's affordable housing fund in the amount equal to double that which is required under Section 34-12(d)(2)," reads the agenda.
The Planning Commission will next meet on November 28, 2023 to hold a work session on the Capital Improvement Program for FY25 and beyond.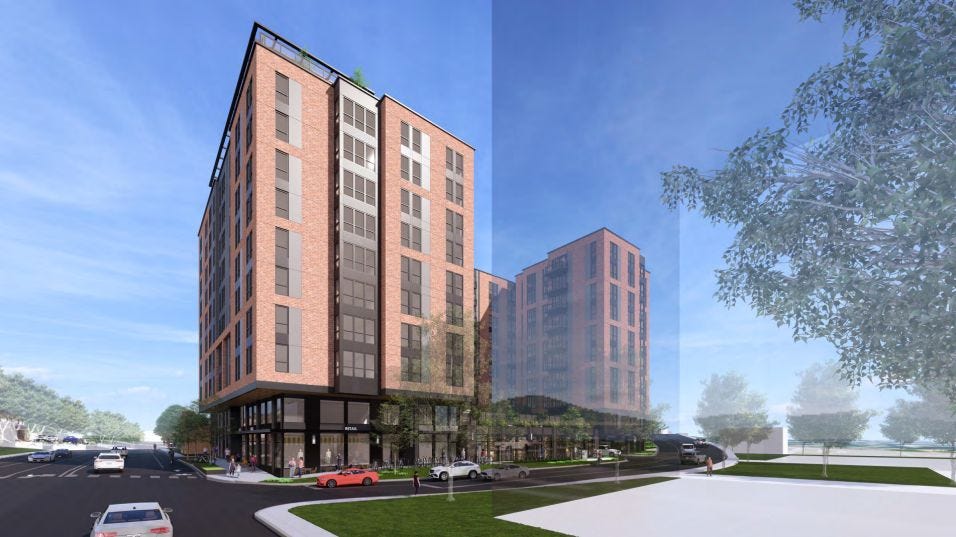 Albemarle PC to review draft housing and economic development goals for new Comprehensive Plan
The seven members of the Albemarle County Planning Commission will meet at 6 p.m. in Lane Auditorium of the county's office building at 401 McIntire Road. (meeting info)
The meeting begins with a work session on the draft goals for housing and economic development in the draft Comprehensive Place. If I'm behind on Charlottesville's Development Code, I don't appear to be in the same universe as the AC44 process. But here's one statement from the staff report.
"According to the 2019 Regional Housing Needs Assessment published by the Central Virginia Regional Housing Partnership, Albemarle County needs to add approximately 10,070 affordable units to our housing stock by 2040 to ensure all current and future residents can enjoy a good quality of life in our community," reads the staff report.
Yet many in the county as well as Charlottesville are not comfortable with additional density or have questions about whether the local governments can provide the infrastructure. Recall that the entire Village of Rivanna Community Advisory Committee quit in April 2022. Recall that the White Hall District Supervisor race in Albemarle was close in part because of this issue.
There are two public hearings. The first is for an addition to the Evans Kinloch Agricultural-Forestal District and the second is for a rezoning for the Cornerstone Community Church for 3.578 acres from Residential to Commercial.
"The subject parcel has long been a single family residential property owned by the Dettor family," reads the narrative produced by the civil engineering firm Line and Grade. "Recently the church has put the property under contract for purchase as a part of the church's intention to relocate their community's primary place of congregation."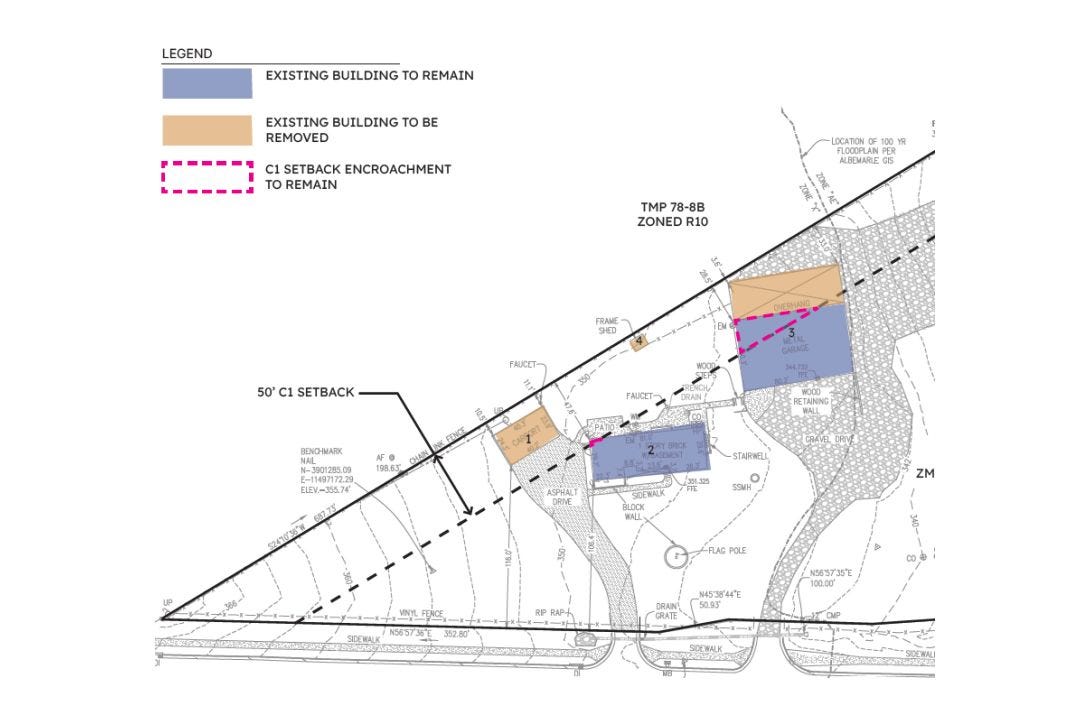 In other meetings:
The Albemarle Police Citizens Advisory Committee will meet at 9 a.m. in the county's office building at 1600 5th Street in Conference Room B. There will be an update on the county's formation of a mental health response team. (meeting info)
The delegation from Friendship City Huehuetenango will have a Coffee Open House from 9:00 a.m. to 11:00 a.m. at the Omni Hotel. This is a chance to learn more about Charlottesville's Sister and Friendship Cities and an opportunity to meet the delegation and drink free Guatemalan coffee brought from Huehuetenango. 
The Charlottesville Economic Development Authority will meet at 4 p.m. in CitySpace. They'll have a training session on the Freedom of Information Act as well as an amendment to the performance agreement with Piedmont Housing Alliance for the housing development formerly known as Friendship Court. Neither the agreement nor the amendment are available in the packet. FOIA doesn't require transparency or require a government to make it easy to know what's going on. The EDA re-authorized the agreement in October 2021, as I reported at the time. (meeting info)
The Albemarle Economic Development Authority will meet at 4 p.m. in Room 241 of the McIntire Office Building. Among other things, they will approve a performance agreement with Agrospheres and prepare for an upcoming joint meeting with the Board of Supervisors. (meeting info)
The Planning and Operations Group of the Albemarle Solid Waste Alternatives Advisory Committee will meet at 4 p.m. in Room 246 of the McIntire Office Building. (meeting info)
Wednesday, November 15, 2023
Albemarle Supervisors to consider financing for regional jail renovations, get update on clean fill ordinance
The six members of the Albemarle Board of Supervisors will meet at 1 p.m. in Lane Auditorium in the county's office building at 401 McIntire Road. (agenda) (meeting info)
After the usual pleasantries, the first item is a work session on interim financing for planned renovations at the Albemarle Charlottesville Regional Jail. The Jail Authority hired a design consultant in 2021 to address deficiencies such as a lack of compliance with the Americans with Disabilities Act, a deteriorating heating, ventilation and cooling system, and antiquated design.
"The [Community Based Corrections Plan] determined there was no need to increase the facilities operating capacity of 329 and provided a roadmap for meeting the programming needs for the facility," reads the staff report.
The General Assembly has agreed to pick up a quarter of the $49 million cost estimate and an interim financing plan is being worked out. Some money is needed in the near term and there is a proposal to enter into short-term financing of $4,150,380
"The interim funding will be used to procure architecture and engineering services to develop a final design," the report continues. "If approved, the debt will be issued by the Jail Board Authority and debt service will be provided by each jurisdiction based on inmate share."
According to a cost-share agreement, Albemarle is responsible for 45.93 percent of the cost, Charlottesville for 39.87 percent, and Nelson County for 14.74 percent.
A request for proposals for design services was issued in September.
Next up in the afternoon session is a work session on the five-year financial plan. This is a key moment in the development of the budget for FY2025.
"A long-range financial plan is different from the annual budget in that it emphasizes where the County may be headed at the end of the plan rather than the coming fiscal year," reads the staff report. "This planning can provide a helpful framework to inform the annual budget to ensure funding recommendations are aligned with County priorities."
The final session in the afternoon is an activity report on the Clean Earth Fill and Inert Waste Program. Supervisors approved a change to the zoning ordinance in September 2020 that seeks to restrict the amount of fill dirt and other materials that can be deposited in the rural area.
"During that time period, there have been two clearances submitted and 22 complaints investigated," reads the staff report.
This one deserves some additional reporting and I hope I can get to it.
There are three public hearings:
There is a special use permit for construction of a 195-foot tall cell tower on county-owned land at Walnut Creek Park. (materials)
There is a special use permit to allow a boarding camp of up to 250 cabins at Briery Creek Farm, as well as permission to build boat docks and boat liveries in the floodplain. (materials)
There is a proposed amendment to the zoning text ordinance to clarify that if no density range or maximum density in the Comprehensive Plan exists for a given parcel, bonus density can't be given. (materials)
Fluvanna Board of Supervisors to consider ordinance allowing short-term rentals
The five members of the Board of Supervisors will meet at 7 p.m. at the Carysbrook Performing Arts Center at 8880 James Madison Highway in Fork Union. (meeting packet)
There will be an appointment of Fluvanna County's citizen representative to the Thomas Jefferson Planning District Commission. The position is currently held by Keith Smith and he's applied again but there are eight other applicants.
There will be two presentations to start the meeting. The first relates to off-leash dogs in Fluvanna County parks.
"There has been an increase in dog related incidents at Pleasant Grove Park over the past few years," reads the staff report. "There is suggested wording attached to amend the current Fluvanna County Code regarding dogs off-leash on county property and clarifying that dogs are only allowed off-leash on certain trails, at the dog park, and at the dog exercise area." 
The second is a discussion of whether Fluvanna should enact a short-term rental ordinance.
"Fluvanna County currently permits the rental of rooms to tourists as a part of our Home Occupation zoning ordinance definition," reads the staff report. "Currently, short-term rental of an entire house is not permitted; however, a property owner could rent out one room of their home, provided that a member of the household is on the premises."
County Administrator Eric Dahl has supplied a draft ordinance as well as ordinances from Albemarle, Louisa, and Warren counties.
Nelson PC to review request for campsites with a yurt, a teepee, and an RV
The Nelson County Planning Commission meets at 7 p.m. in the General District Courtroom in the Nelson County Courthouse in Lovingston. (meeting packet)
There's one public hearing for a special use permit for a campground. The New York based applicant is seeking permission for three campsites on three parcels on Rockfish Valley Highway in Faber.
"These three adjacent properties are primarily wooded, with an existing cabin that the owner intends to secure a certificate of occupancy for and utilize as their primary dwelling." reads the staff report. "When not in use as the primary dwelling the owner intends to utilize it as a vacation house, a by-right use which is not part of this application."
The three campsites will each be different. One will have a trailer, one will be a yurt, and one will be in a teepee.
"According to the narrative and site plan, there is a shared parking area for all the sites, and guests will access the individual sites by foot along the south property lines," the report continues.
The Planning Commission will next meet on December 27, 2023.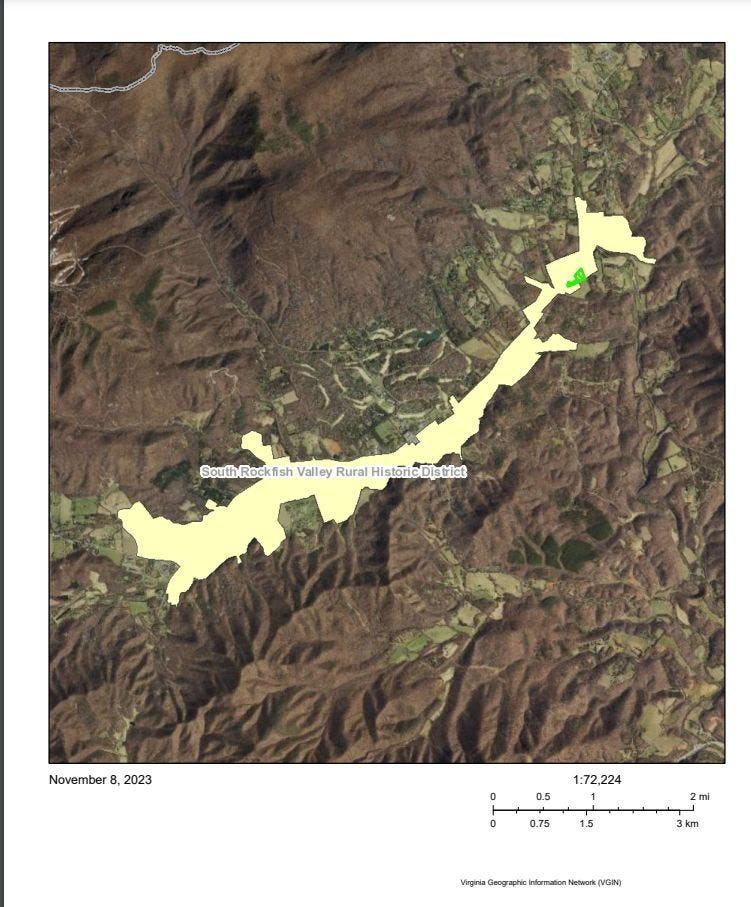 Greene PC to hold public hearing on child care center, work session on temporary events
The Greene County Planning Commission will meet at 6:30 p.m. in the Administration Building. (agenda)
There is a public hearing for a special use permit for a child care center at 181 Morning Glory Road. This will be to expand an existing business for up to 12 children in a given week. (staff report)
There will also be a work session for a revision of the ordinance related to temporary events.
"The Board of Supervisors has requested that the language for temp events in the zoning ordinance and county code be reviewed to ensure they are in concert," reads the staff report. "A suggestion from the County Attorney for the baseline discussions was to review the language and application that Powhatan County utilizes for its citizens."
In other meetings:
There will be a public reception and program for the delegation from Huehuetenango from 6:00 p.m. to 7:30 p.m. in City Space. Charlottesville Mayor Lloyd Snook and Huehuetenango Mayor Gustavo Cano will sign the Friendship declaration between the two communities. "The event will feature Marimba Music, a short program featuring words of friendship and welcome between the two cities and a choral arrangement from CHS ensemble."
Thursday, November 16, 2023
Nelson County Supervisors to vote on burn ban
The Nelson County Board of Supervisors will meet on a Thursday due to this week's Virginia Association of Counties conference. They'll meet at 2 p.m. in the General District Courtroom in the courthouse in Lovingston. (agenda)
There is usually a packet for the meeting but I can't seem to be able to find it today so I can't go into details. On the agenda is a proclamation declaring November 26 as Artists Sunday.
There will also be a vote on an emergency ordinance to ban outdoor fires.
There will be presentations from the Virginia Department of Transportation, the 2024 Legislative Program, and a proposed solar development from Savion LLC.
Under new and unfinished business, there will be a request from Rockfish Valley Volunteer Fire and Rescue for an interest free loan. There will also be an authorization to hold a future public hearing on an amendment to the ordinance that allows for tax relief for the elderly and disabled.
There will also be a proposal from PMA Architecture for design and construction of the proposed Department of Social Services building.
There will also be consideration of a two percent salary increase for employees effective December 1, 2023. This is within Virginia's biennial budget.
In the evening session there is a public hearing for a special use permit for a 20-site campground at 6973 North Fork Road. The Planning Commission had their public hearing on October 25 and the following comes from that week's newsletter.
"Currently, four (4) cabins have been constructed," reads the staff report. "This project is in a different location, although on the same property."
This second project would be done in two phases with six in the first with the rest to be built later.
"These 'luxury campsites' are proposed to be tents on deck platforms with access to utilities, accompanied by a bathhouse," the staff report continues.
The applicant said this project will free up spaces currently used for short-term rentals for long-term residents.
"We believe that this project is consistent with the Comprehensive Plan," reads the narrative from Jerry Bowman, the manager of the property. "This project will generate additional tax revenues for Nelson County with very little expense to the County associated with it."
I'll provide more from this meeting when I get a copy of the packet.
Site plan conference for Mount View project in Locust Grove
In one of several rezonings to be granted in the past two years since adoption of the new Comprehensive Plan, Mount View Baptist Church obtained the ability to build up to 72 units on land adjacent to their place of worship. Now the first phase of development is making its way through the system.
"Justin Shimp of Shimp Engineering (applicant) on behalf of Mount View Properties, LLC (owner) has submitted a Preliminary Site Plan to construct 59 residential units at 1221 Landonia Circle, 1133 Otter Street, and 1201 Landonia Circle (Subject Properties)," reads the public notice for the site plan conference that will be held at the Neighborhood Development Services
Conference Room of City Hall (610 E Market Street), on Thursday, November 16th at 11:00 a.m.
For more information, here's the most recent story I wrote on this development from last November. (meeting info)
Resilient Together to hold virtual open house
In September, Albemarle County and Charlottesville announced they would work together on climate change adaptation in an initiative called Resilient Together. (read my story)
On Thursday, the group will hold a virtual open house at 6 p.m. via Zoom in an attempt to get more people involved. (register)
"First, we'll have a general presentation about the state of our area – the vulnerabilities we face, and how this effort seeks to help our community," reads a press release sent out late last week. "Then, we'll open up topic-focused breakout rooms where you can visit, learn, and discuss heat and air quality, drought and flooding, and changing seasonal patterns and pests."
There will also be a game at the end related to disaster planning.
5th and Avon group to learn more about Riverbend's plans for Granger property
The 5th & Avon Community Advisory Committee will meet Thursday, November 16, at 7 pm in Room B at the 5th Street County Office Building, at 1600 5th Street Extended.
There are two items.
One is a community meeting for the rezoning for the Granger property. Riverbend Development seeks a rezoning of nearly 69 acres from Residential-1 to Planned Residential Development.
"The proposal is for 200 units, a mixture of single family detached and single family attached housing units, at a net density of 6 dwelling units per acre or a gross density of 2.90 dwelling units per acre," reads the agenda. "The proposal also includes 25 percent of the site as open space and land to be dedicated to public use for a greenway trail."
I wrote about the plans in the September 13, 2023 C-Ville Weekly.
The second item is on a stream restoration project at Biscuit Run with briefings from Albemarle County's Watershed Stewardship Managers.
In other meetings:
The Charlottesville Parks and Recreation Advisory Board will meet but the item included in the calendar is the agenda for the October 19 meeting. I'll update this when I can. (meeting info anyway)
The Charlottesville Human Rights Commission will meet at 6:30 p.m. in CitySpace. There's no agenda at publication time. (calendar #1)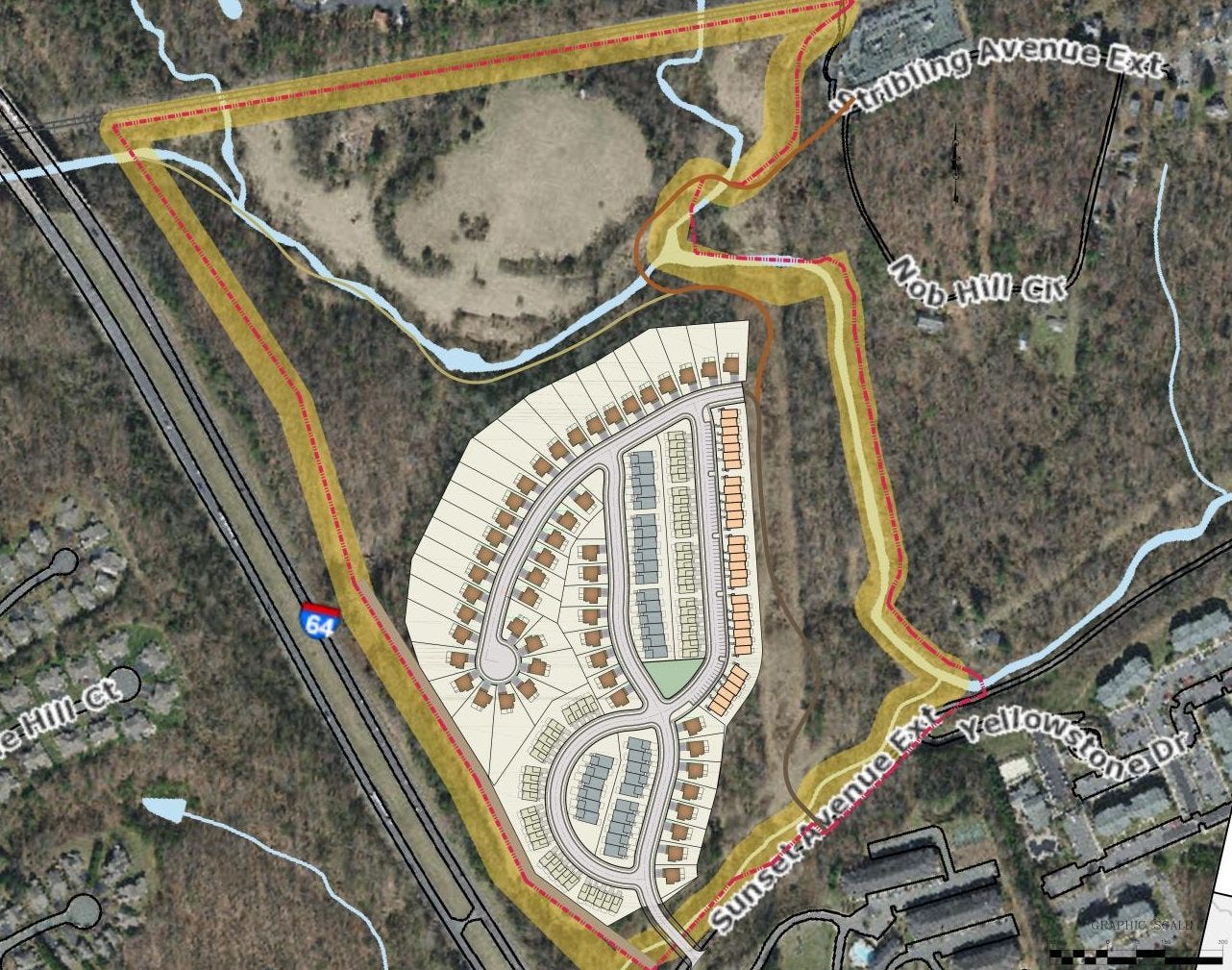 ---
This post was contributed by Sean Tubbs. Sean is a journalist working to build a new information and news outlet centered around Charlottesville and Virginia. In 2020, he launched a daily newscast and newsletter and also created a semi-regular podcast on the pandemic.
Support for Sean's "Week Ahead" update comes from The Piedmont Environmental Council.