This text was taken from an email alert. Join our connectivity advocacy email list >>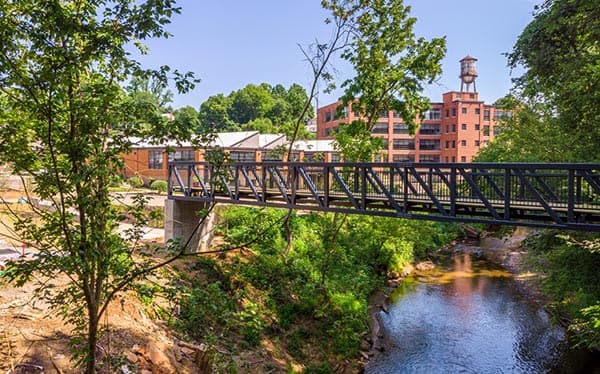 Dear Active Mobility Advocate,
Albemarle County took a significant step forward last week. On Tuesday, June 30, Brian Roy's team at Woolen Mills lowered into place a new pedestrian bridge spanning Moore's Creek, closing a critical gap in the Rivanna Trail. It brings what had been a little-used trail section back into service, providing everyday access to nature for nearby residents and opening the door to several enticing additional connections, including a pedestrian crossing of the Rivanna River, which is currently being studied.
The Moore's Creek bridge is a long-standing community priority and has been the work of many individuals and groups. The project began to crystalize when The Piedmont Environmental Council brought Chuck Flink to Charlottesville back in 2017. His ideas about greenways as human-centered infrastructure resonated with WillowTree CEO Tobias Dengel and Woolen Mills owner and developer Brian Roy, culminating in an agreement in which Albemarle County covered the cost of the bridge, dedicated trail parking, public access and other transportation improvements.
This is a version of Economic Development that focuses on community benefit. Localities with abundant connections and plentiful everyday access to the outdoors are healthier, more productive–and great places to live. I hope that both Albemarle and Charlottesville will replicate this successful approach when they think about infrastructure and investment. [read more]
This highly collaborative approach, in which multiple governments, private and non-profit sectors complement each other's efforts, calls to mind something else we have been working on.
—
Coordinated advocacy, information-sharing and collaborative problem-solving will be essential to implementing the comprehensive bicycle and pedestrian network we seek. PEC and its partners are forming an alliance of organizations who share a vision of a better-connected community for walking, biking and other forms of active transportation.
This will not be yet another new organization, rather a structure through which existing groups will amplify their own work by collaborating on common goals. We will talk about this new alliance at our next Advocacy Social:
Mobility & Connectivity Advocates Meetup
Thursday, July 9, 5-6 p.m.
Online Discussion
Connect with fellow connectivity advocates, planners and interesting people in the Albemarle/Charlottesville area via online web chat (Google Hangouts Meet). At the July 9 meeting, we will discuss the formation of an alliance of organizations who share a vision of a better-connected community for walking, biking and other forms of active transportation. [Meeting Info | FB Event to Share | Alliance Description]
—
I don't have the usual extensive list of public meetings to share, as I have been out of town and wanted to get this email out quickly. But there is one cool opportunity I want you to know about.
The Virginia United Land Trusts' Trails and Greenways Conference is open to everyone and it's free! The Trails and Greenways session is coming up (July 21), a full day that includes keynotes from our friend Mr. Flink plus Nathan Burrell, who is another hero of mine. I will be co-leading a discussion (along with Heather Barrar from FOLAR) in the afternoon as well. I highly recommend checking it out.
VaULT Greenways and Trails Mini-Conference
Tuesday, July 21, 9:30 a.m. – 4:45 p.m.
Online Discussions
Info | Registration | Schedule | FB Event
I will be back in touch soon with more updates. Until then, have a great week!
Peter
—
Peter Krebs
Albemarle-Charlottesville Community Organizer
The Piedmont Environmental Council
434-465-9869
pkrebs@pecva.org