This text was taken from an email alert sent out on August 17, 2023. Sign up for email alerts →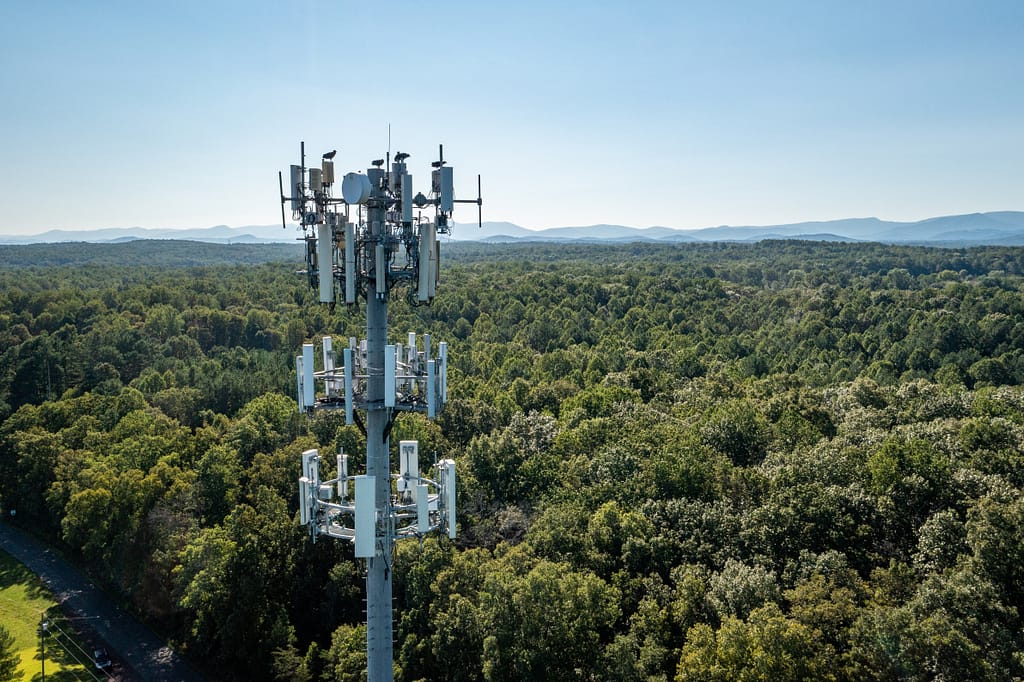 Dear Supporter,
Like many who live in or visit Albemarle County, I appreciate this place for its natural beauty, open spaces, and history. Likewise, I appreciate having reliable cell service. It is the County's responsibility to consider both of these values when planning for cell towers.
That's why I am reaching out — to let you know that Albemarle County is considering changes to its regulations for wireless infrastructure. The County has launched an online survey, where you can submit feedback about the quality of your cell service and how you think towers should be incorporated into Albemarle's landscape.
The Piedmont Environmental Council (PEC) believes the current cell tower ordinance has been mostly successful in balancing service needs with other features communities value, such as scenic byways and rivers, parks and recreational resources, rural villages, historic resources and the lands within the viewsheds of Shenandoah National Park. Our hope is that any update to the ordinance will continue to protect these important public resources.
We can balance these priorities by integrating design elements into conversations about coverage issues, by considering how the current ordinance has shaped Albemarle County up to this point, and by reminding decision-makers that specific policies for wireless service facilities have the ability to positively impact the people of Albemarle County.
Completing the survey is an important way to share how you think Albemarle should move forward regarding new cellular facilities.
---
Design Matters
The design and siting of a cell tower can have a significant impact on how visible or obtrusive it is and the range of service it provides. Companies often prefer fewer tall, more visually obtrusive towers because they cost less than more smaller, less obtrusive towers.
Similarly, designs that minimize visual impacts, such as painted monopoles that blend into the forested backdrop, can be equally effective, but usually cost more for the service provider (e.g. Verizon, AT&T, etc.). Topography and forested areas can also be used to conceal large towers, but these sites have to be carefully evaluated for suitability for such use.
As you'll see in the survey, some of the design options fit differently into the landscape: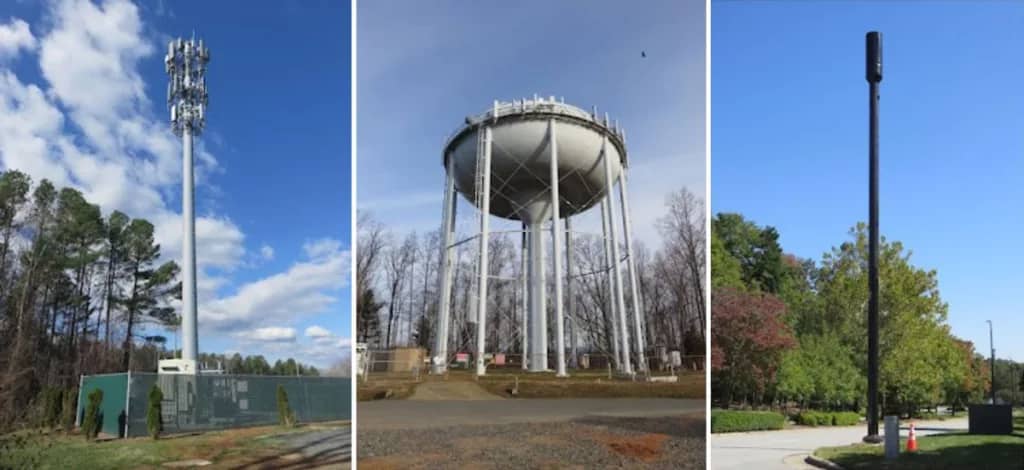 There's not one design that makes sense in all parts of the County, but it's important that we consider the tradeoffs of each design.
---
Background
Albemarle County has stated that it is "reviewing personal wireless services facilities and zoning ordinance text to proactively plan for future wireless infrastructure." This is the first such comprehensive review in 20 years; the County adopted its last policy in 2000 and the regulations were adopted in 2004. 
The review is being performed by consultants with guidance from County staff, the Planning Commission, and the Board of Supervisors. After this survey closes on Aug. 25, the community feedback will be shared with the Planning Commission and the Board of Supervisors at future public hearings this fall and used to help draft proposed regulations.
The Personal Wireless Services Facilities policy from 2000, which was based on extensive research on the technical and engineering potential of a variety of cellular communication strategies, recognized that strong cellular service can be planned, designed and engineered to complement historic, cultural and scenic resources.
County regulations are based on which tier a cell tower fits into. Tier I refers to facilities located within buildings or mounted on the exterior of buildings and structures, Tier II refers to treetop facilities with a height limited to a few feet above the nearby trees, and Tier III refers to cell towers that do not fit into either category (often taller and larger towers).
Below are some requirements in the current ordinance that demonstrate how the County is trying to balance community values:
Requires all Tier II and Tier III towers to be colored to fit in with natural surroundings
Requires screening facilities with existing and/or new vegetation and siting facilities in locations that will minimize their visibility from sensitive resources and places 
Requires that all cell tower sites have a plan for protecting existing trees
Allows for Tier I and II towers to be approved administratively, but requires a public hearing for larger Tier III approvals
Establishes rules that encourage cell service providers to share the same tower (in Tier I) with other cell service providers or to place their equipment on existing structures e.g. water towers or roofs of buildings
---
I hope you'll take a few minutes to fill out the survey and share your thoughts on how the County can improve the process for approving cell towers while minimizing their impacts on the landscape we all love.
On behalf of PEC, I thank you for your engagement and encourage you to learn more about the County's update of the cellular facilities ordinance by visiting its Cell Tower Regulation review webpage.
If you have any questions or concerns, please reach out!
Sincerely,
Rob McGinnis PLA FASLA
Senior Land Use Field Representative
Albemarle County and Greene County
rmcginnis@pecva.org