A walking history guide to the Blue Ridge Mountains of Northern Greene and Western Madison County, Virginia.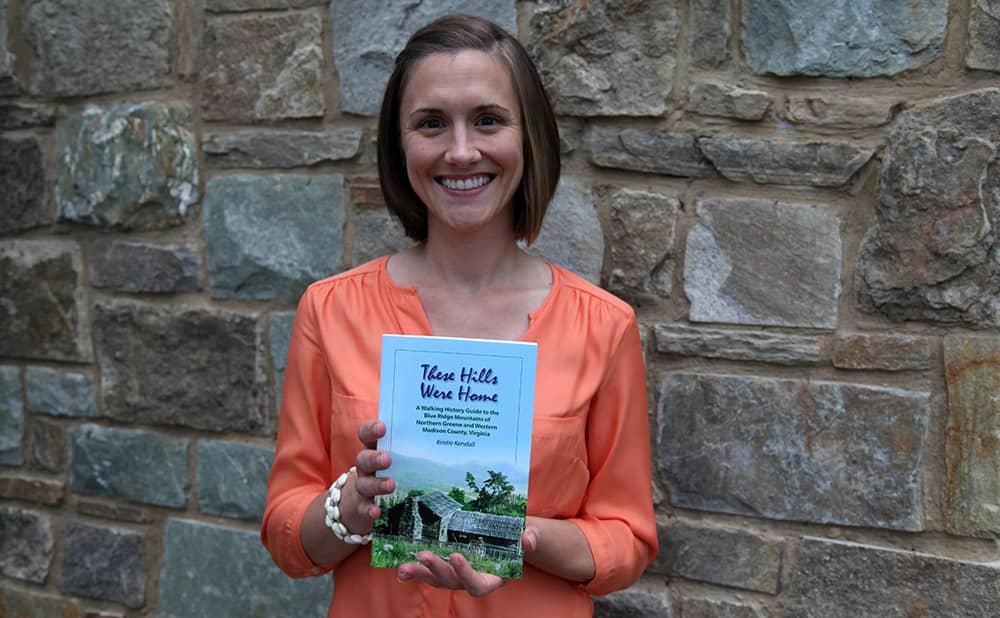 PEC's Historic Preservation Manager, Kristie Kendall, has a huge passion for the human history of the Blue Ridge Mountains. So much so, that she has spent years of her personal time researching the communities that once flourished in the mountains. In 2017, The Potomac Appalachian Trail Club (PATC) published Kristie's first book about her research entitled "These Hills Were Home: A walking history guide to the Blue Ridge Mountains of Northern Greene and Western Madison County, Virginia." PEC's GIS staff donated time to produce the maps in the book.
"This book was written as an extension of my graduate work, documenting the history of mountain settlements in Virginia's Blue Ridge Mountains," said Kristie. "The family of my paternal grandmother, Edna Tanner, had deep roots in the mountains of Madison County, Virginia, where her family had lived for nearly 250 years. They were part of a large group of mountain settlers that moved into the hills and hollows of the Blue Ridge beginning in the mid-1700s, establishing productive farms and thriving communities. Largely misunderstood and misrepresented, it was my hope that the book would provide an accurate portrayal of these mountain families and due justice to their story."
The book can be found at the Dickey's Ridge and Byrd Visitor Centers in Shenandoah National Park and online on both the Shenandaoh National Park Association and PATC websites.
More About the Book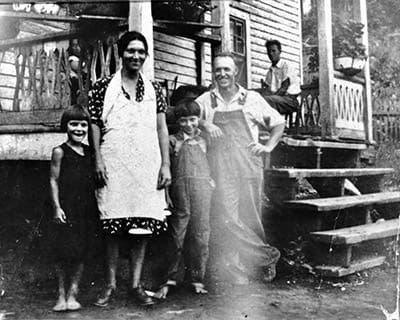 Located within an hour's drive of millions of people, Shenandoah National Park in the Blue Ridge Mountains of Virginia has an annual visitation of at least two million people. People traverse the 105-mile Skyline Drive, and hike and backpack Appalachian Trail and numerous side trails, among many other recreational opportunities. However, few stop to consider the history of human use and adaptation which lies partially hidden within the park's boundaries. In the course of the Park's creation, more than 450 families, many of whom had resided in homes and communities for several generations, were removed from what was to become parkland.
The purpose of the book is to breathe new life into the history of the mountain communities that once flourished in the Blue Ridge Mountains, by providing a historic context and trail guide for life in the mountains from the first white settlers through the 1930s, when land was obtained for the creation of Shenandoah National Park
The book is divided into chapters based on different areas of Shenandoah National Park, Rapidan Wildlife Management Area and adjacent trail systems. The Conway River Area makes up the northern and eastern-most trail system in the book, while Saddleback Mountain Trail is at the southern end. Most of the Appalachian Trail was purposely omitted from the project area for this book because very few remnants of the mountain settlements can be seen from the trail, and what there is to be observed has been exhaustively covered in numerous other books.
Each chapter provides an overview about the history of the specific area covered, a trail map, and other trail details. The opening chapter is intended to provide context for the material presented in the following chapters, by describing themes consistently mentioned throughout the book including community, religion, agriculture, and industry.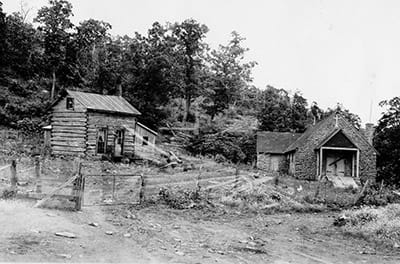 While the hikes mostly follow established and maintained trails, a number of areas mentioned herein cannot be accessed via trails and would require bushwhacking, or off-trail travel, through the backcountry to view them. Shenandoah National Park discourages hikers from attempting to travel off-trail for their own safety, and to protect Park natural and cultural resources from trampling and disturbance. When hiking, please heed caution and follow Park recommendations to use the maintained trail system for safe backcountry travel. Search and rescue missions into the backcountry areas of the Park are costly and time-consuming missions, which may take personnel many hours to accomplish and also distract Park employees and volunteers from other important Park operations.
Additionally, please use care and respect when passing by the sites described in this book. These are old home sites, churches, and cemeteries where generations of mountain families lived out their lives. Observe them, but do not disturb them. Take only pictures. Leave only footprints. Leave no trace.
Mapping Disclaimer
All maps included in this book are the product of The Piedmont Environmental Council, which graciously donated staff time to help make this book possible. The maps are for presentation purposes only, created by Jonathan Marquisee and Watsun Randolph. The data used to create these maps was acquired from a variety of sources, including: Shenandoah National Park, United States Geological Survey (USGS), Virginia Department of Transportation (VDOT) and in-person field data from handheld GPS Device (Garmin E-Trex 10). Although efforts have been made to verify data, accuracy is not guaranteed.