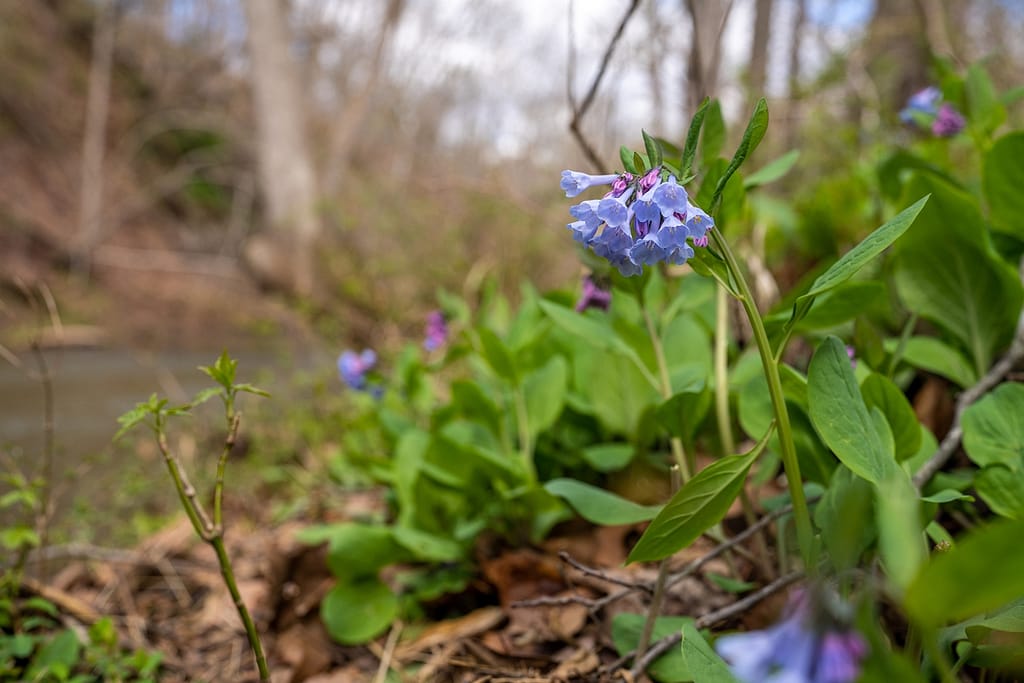 On April 9, 2022, The Piedmont Environmental Council's Julian W. Scheer Fauquier Land Conservation Fund hosted its annual "Bluebell Walk on Cedar Run" at Bonny Brook Farm in Catlett, VA. An inter-generational group from age five to 95 was led by our gracious hosts on a short hike to splash in Cedar Run, view a demonstration native tree planting and enjoy the stunning Virginia bluebells along the streambanks.
The event highlighted the results of the local conservation fund, which aims to accelerate farmland conservation and land and water stewardship in Fauquier County, with a focus on Cedar Run, the main public drinking water source for the Warrenton area and a source for the Occoquan Reservoir, which serves Northern Virginia.
PEC staff and other experts were on-hand to answer questions about conservation easements, the Fauquier County Purchase of Development Rights Program, and options for restoration, including PEC's Planting for the Piedmont initiative, a program for tree planting along the region's rivers and streams. We were fortunate to be joined by leading naturalist, Dr. Bert Harris, Executive Director of the Clifton Institute. The Clifton Institute is assessing the biodiversity on site and advising on restoration and land management. Dr. Harris documented countless species of plants and birds during the morning of our hike. A representative of the Virginia Department of Forestry, Zoe Bergman, which advises private landowners on forest management options, also attended.
'Thank you' to everyone who was able to be there! And for those who couldn't make it, we hope to see you at one of our upcoming events.
To learn more about the Julian W. Scheer Fauquier Land Conservation Fund visit: https://www.pecva.org/region/fauquier/julian-scheer-fauquier-land-conservation-fund/