The second month of 2022 begins with a final day of the first. This usually means a sort of holiday for anyone who covers local and regional meetings. Fifth Mondays do not happen often so I took a little bit of a break, but the regular schedule now resumes!
As such, it's sort of a slow week. There are no meetings this week in Greene County, Louisa County, and Nelson County. The main two themes are Albemarle County's Comprehensive Plan as well as planning for a big increase in capital spending in Charlottesville.
As always, thanks to the Piedmont Environmental Council for their continued support of the research and work. It's their 50 anniversary, you know!
Monday, January 31, 2022
No meetings today that I could find, which is one reason this is coming out on a Monday afternoon as opposed to a Sunday afternoon. We will be back to the regular schedule this week.
Tuesday, February 1, 2022
Albemarle is "Planning Together for a Resilient Future"
Albemarle County staff have been pre-planning for the update of the Comprehensive Plan for the past year, and the Planning Commission will get a briefing tonight on the kickoff process that will begin later this spring on what's being called AC44. Their virtual meeting begins at 6 p.m. (meeting info)
"This Comprehensive Plan update is an opportunity to incorporate our community's recent work, better understand the diverse, lived experiences of Albemarle County community members, and plan for an inclusive and resilient future," reads the county's website.
The project website is not ready at publication time, but the Community Development site states that several new plans have been adopted since the last Comprehensive Plan was adopted in 2015.
"A variety of new policies and plans have been adopted by the County, including plans for affordable housing, local economic development, and climate action, along with the creation of an Office of Equity and Inclusion," it states. "These priorities have not yet been integrated throughout the County's Comprehensive Plan."
While Virginia code assigns responsibility of the Comprehensive Plan to the Planning Commission, the Board of Supervisors has been clear so far on its expectations. Now, let's see what the Planning Commission has to say.
The Albemarle Planning Commission also has two public hearings.
One is on a proposed change to the zoning ordinance to alter the rules for homestays. The Board of Supervisors adopted that ordinance in August 2019 that requires a special exception for homestays if the structure is less than 125 feet from the property line in the rural area. That's required regular hearings before the Board and last October the elected officials agreed to revisit the rules. (staff report)
The other is for a request from Woodard Properties to alter the classification of sloped land on a proportion of a nearly five acre property off of Ivy Road to allow for a 74-unit apartment complex. Disturbing hillsides can lead to sedimentation, so Albemarle and other communities regulate the process. In Albemarle, the rules were update in 2014. "Managed" slopes are one that were created by human activity and "preserved" slopes are those that require mitigation if earth is moved.
This application is on land that predates the new slopes ordinance.
"In the late 90s a site plan was approved for a 74-unit apartment complex and a land disturbance permit was issued in 1997," reads the staff report. "Initial grading and utilities preparations were performed, and the development was later halted in 1998."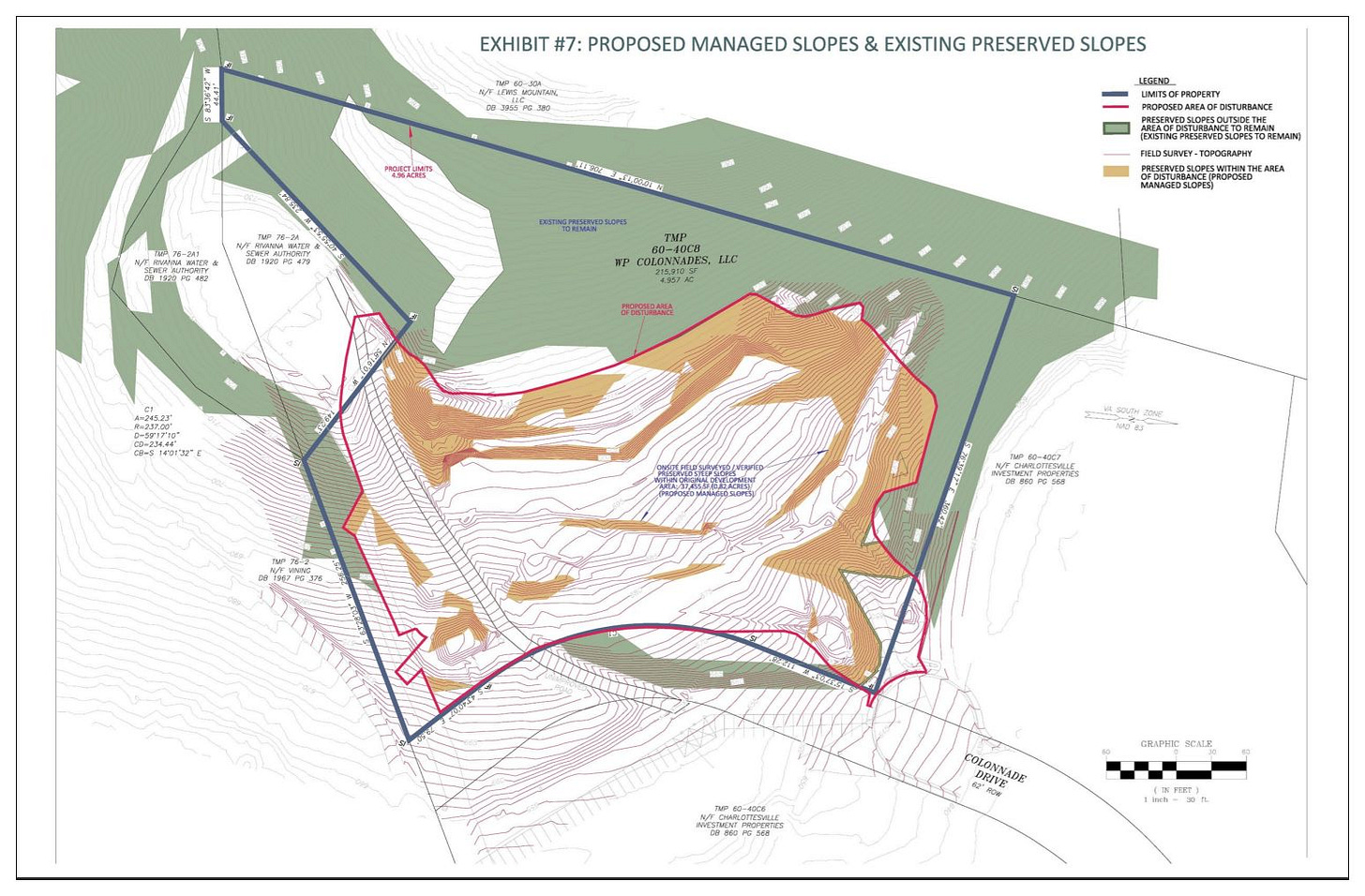 Charlottesville Tree Commission to discuss canopy report, Climate Action Together
This is a community in which many are calling for broad action on policy to respond to a changing climate. Yet, if you look at the workings of several committees, you will see work has been underway for a long time. Take a glance at the agenda for the Charlottesville Tree Commission, which meets virtually at 5 p.m. (meeting info)
On the agenda is a preliminary report on damage to trees in the various winter storms this month, as well as a report on new tree plantings. There will be a discussion of efforts to promote the benefits of a large tree canopy. But the main item is a review of the tree canopy study that has revealed the amount of Charlottesville covered by trees has dropped significantly in the past 15 years.
But, after that will be a report on Climate Action Together, the regional effort of Albemarle, Charlottesville and the University of Virginia. Take a look at the website, but it's not been updated for some time. Do make sure you're reading Charlottesville Community Engagement to remain up to date yourself, because that is my goal. (meeting info)
In other meetings:
Wednesday, February 2, 2022
Albemarle to take action on redistricting schedule, rezoning on Avon Street Extended
The Albemarle Board of Supervisors will meet virtually at 1 p.m for their first meeting of February. There's a lot on this one and let's hope it doesn't repeat ad infinitum on this Groundhog Day. (meeting info)
There are three actions items in the early afternoon, including one of those homestays mentioned in the Albemarle Planning Commission summary. Another would amend the lease for the Old Crozet School of Arts to lower rents in the short-term in the wake of the pandemic. Supervisors waived rent shortly after the pandemic.
"OCSA does not anticipate tuition income to approach pre-pandemic levels until as late as Fall of 2022," reads the staff report. "OCSA has requested a temporary rent adjustment to 50% of its normal rate, through December 31, 2022."
Next, redistricting. Last week, Albemarle held an information session on the mandated review of the boundaries for the six magisterial districts. The county is considering an accelerated scheduled in case there is a possibility that there will need to be a House of Delegates race this year due to a federal lawsuit. Three suggested maps have been provided, all of which show Albemarle continuing to have six Supervisors.
"The proposed schedule has the Board holding the public hearing on the redistricting ordinance on March 2, 2022, but with the Board not acting on the ordinance until March 23, 2022," reads the staff report.
In the afternoon, Supervisors will take up the Urban Rivanna River Corridor Plan, a project being created by staff at the Thomas Jefferson Planning District. They'll be asked whether to consider adding it to the county's Comprehensive Plan.(review the plan)
After that there will be an update on efforts to halt the spread of the Spotted Lanternfly. The briefing will be made by Natural Resources Manager Kim Biasiolli and David Gianino of the Virginia Department of Agriculture and Consumer Services' Office of Plant Industry Services.
In the evening, there will be a public hearing for a rezoning on Avon Street Extended. The request is rezone 3.627 acres from R-1 to Planned Residential Development.
"If approved, a rezoning to PRD would allow for a maximum of 85 units total to be constructed on the property, for a proposed density of 24 [dwelling units per acre], falling in line with the Comprehensive Plan recommendations of 6-34 [dwelling units per acre]," reads the narrative produced by Shimp Engineering.
The Albemarle Planning Commission recommended approval at their meeting on December 14.
Before we leave the Board of Supervisors, the consent agenda has several interesting items:
Dahl to unveil Fluvanna County budget
Different communities in the area have slight variations on their budget cycle. Fluvanna Administrator Eric Dahl will present that county's proposed FY23 budget at a Board of Supervisors work session. The five-member body meets in person at 5 p.m. for a regular meeting and again at 7 p.m. for that work session. (agenda packet)
Before we get there, though, there's also a presentation on a master plan for the 132-acre Fork Union Commerce Park which would be operated on five parcels of land the county owns. The plan calls for the industrial park to be developed in four phases, but that will take investment in roadway access, a wastewater treatment plan, and other infrastructure.
Charlottesville Council to meet with School Board
Legislation is technically still alive that would allow Charlottesville to hold a referendum on a one-percent sales tax increase to pay for upgrades to schools. But last week, a subcommittee of the House of Delegates' Finance Committee killed a bill that would allow that to occur. A Senate bill did passed, but will it meet the same fate? Will new Governor Glenn Youngkin support this effort?
With that as background, the new City Council will meet virtually at 5 p.m. with the new School Board for a joint work session on the School Board's operating budget request for FY23. That's another big component of Charlottesville's overall budget development and it is the first to be developed under new Superintendent Royal Gurley.
There will also be an update on the school reconfiguration project from VMDO's Wyck Knox. (meeting info)
Thursday, February 3, 2022
Interim City Manager Michael C. Rogers will not present a budget for FY23 until March, but the season has clearly already begun. At their retreat last week, City Council got a lot of background information on the development of that budget. The previous Council had signaled a willingness to move forward with spending $75 million to renovate Buford Middle School, but the new one will have to take the final vote. That may mean an increase in the tax rate, and Virginia law requires that to be advertised 30 days in advance.
More information on what that proposed rate increase may be will likely be presented at a virtual budget work session beginning at 5 p.m. (meeting info)
See also:
In other meetings:
Friday, February 4, 2022
The Albemarle Broadband Authority will provide an update on projects funded through the Virginia Telecommunication Initiative. (meeting info)
And I believe that's it? What have I missed this week? What are you most interested in learning more about?
---
This post was contributed by Sean Tubbs. Sean is a journalist working to build a new information and news outlet centered around Charlottesville and Virginia. In 2020, he launched a daily newscast and newsletter and also created a semi-regular podcast on the pandemic.
Support for Sean's "Week Ahead" update comes from The Piedmont Environmental Council.