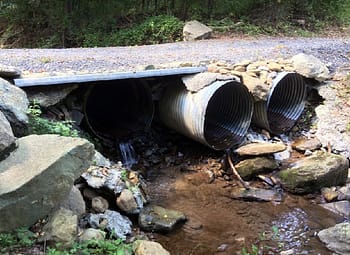 We're continuing our efforts to increase the habitat available to the eastern brook trout and other fish species with two pilot culvert removal projects, slated to begin this summer.
These current projects stem from work that began in 2013, when we partnered with Trout Unlimited. Together, we sent a survey to landowners to gauge their conservation interests. Once that was completed, PEC conducted an extensive inventory of brook trout streams in 2013- 2014 in Rappahannock, Madison, Greene and Albemarle Counties.
"We used the inventory data to compile a list of the worst barriers," says Celia Vuocolo, habitat and stewardship specialist for PEC. "After considering many factors, like channel constriction and culverts perched a foot above the water—trout can't jump higher than a foot, we selected two properties for restoration work."
This Summer
For both pilot projects, Ben Hutzell, biologist for the U.S. Fish and Wildlife Service, designed plans for fish-friendly crossings. As the efforts kick-off, Seth Coffman, project manager at Trout Unlimited, will help PEC staff secure permits and develop monitoring surveys.
In Madison County, one of the projects will remove a restrictive single pipe barrier on the Robinson River, and a low water ford will be installed in its place. "These efforts will reconnect 4.35 miles of stream habitat," explains Peter Hujik, PEC's Madison County land conservation officer and manager of the Robinson River project.
The other pilot, which reconnects two miles of stream habitat, will be conducted in Rappahannock County on Sprucepine Branch, which flows into Hittles Mill before connecting with the Jordan River. This restoration project will remove the only road-stream crossing barrier for fish passage on the tributary. Additionally, three perched round culvert pipes will be replaced with an open bottom arch, which will allow trout and other aquatic species to move freely under the new crossing.
"The restoration project has been a terrific partnership among local, regional, and federal partners," says Carolyn Sedgwick, PEC's Rappahannock County Field Officer and manager of the Sprucepine Branch project. "This is part of a larger initiative we're undertaking to conserve the headwaters of the Upper Rappahannock River Basin through barrier removals, land conservation, riparian plantings, community outreach and the promotion of best management practices along streams."
Funding for the Sprucepine Branch restoration project was provided by PEC's Krebser Fund for Rappahannock County Conservation, a National Fish Passage Program grant from USFWS, PEC, the participating landowners, and Trout Unlimited. The Robinson River project was made possible by a second USFWS National Fish Passage Program grant, the participating landowners, PEC, and Trout Unlimited.
---
This letter was featured in our Spring 2016 Member Newsletter, The Piedmont View.