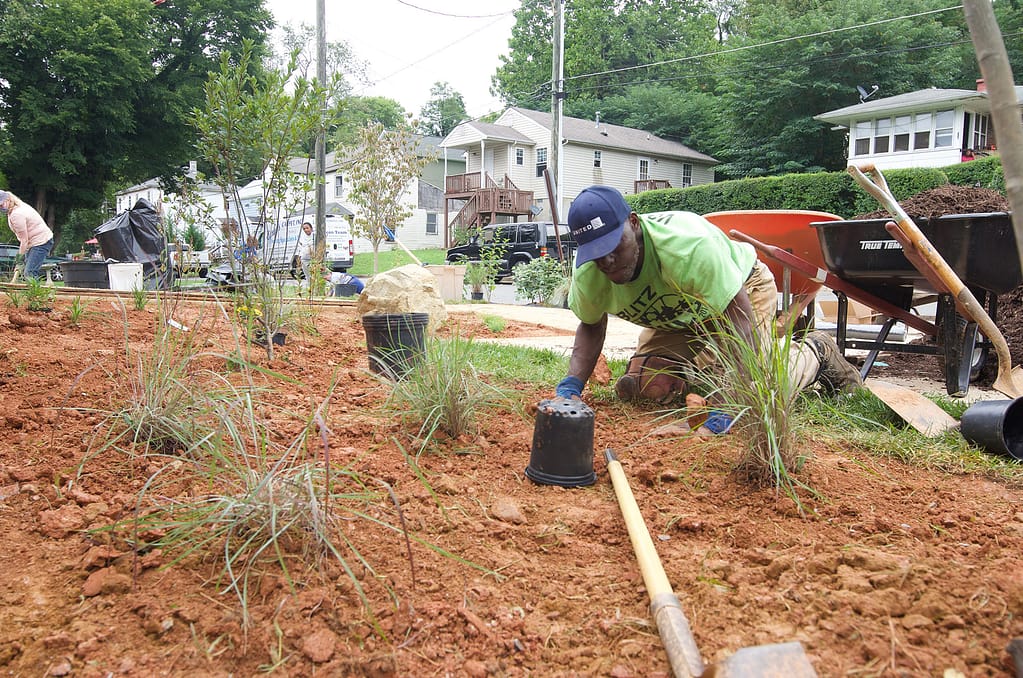 By Lou Emerson, reprinted with permission by FauquierNow
Fauquier Habitat for Humanity has gone "green" with construction and landscaping of its 55th home.
Last week, 15 volunteers and staff members transformed the Warrenton home's small yard into vibrant, low-maintenance landscape with 217 native plants.
The two-level house at 116 Haiti St. represents Habitat's new focus on building structures that pay homage to traditional architecture in the community. The 2,000-square-foot house has a standing-seam metal roof, HardiePlank cement board siding and exterior walls framed in 6-inch lumber.
Warrenton architect Jim Hricko designed the four-bedroom, two-bath house to squeeze every energy dollar with high-performance windows, doors, appliances and heating/cooling.
In keeping with the structure's EarthCraft standards, Habitat Community Development Director Mary Correia approached the Piedmont Environmental Council to help with landscaping. The new house stands just across part of the town's Eva Walker Park from the PEC headquarters on Horner Street. The environmental organization two years ago established the Larson Native Plant Garden there.
Dan Holmes, PEC's director of state policy, used his background in horticulture and master's degree in landscape design on that project.
Mr. Holmes volunteered to design the Haiti Street landscape for Habitat and specified the plants that cover much of the one-tenth-acre lot.
The plants range from dogwood, redbud and holly trees to cardinal flowers, sedge and Joe Pye weed.
Thirsty species line a very wet area behind the house, along the park's concrete fence.
"We're trying to keep everything as low-maintenance as possible," said Habitat Director of Operations and Planning Melanie Burch, who helped with the planting and mulching that took 10 hours on Thursday, Sept. 17.
The native plants will stand up better to drought and other extremes, according to Mr. Holmes.
Habitat has yet to select the partner family that will buy the new home. Its program requires buyers invest significant volunteer hours with the program and to complete an education regimen.
The new home represents part of an ongoing Habitat project, including new construction and rehabilitation, in the Haiti neighborhood. The PATH Foundation provided a $1-million grant that allowed the organization to buy nine properties there.
Special Note from PEC:
Native Plants at 116 Haiti Street
Native plants are trees, shrubs, flowers and grasses that occur naturally in Virginia's northern Piedmont and have evolved with our ecosystem. Because they are perfectly adapted to the soil, light, temperature and other climate conditions of our region, they offer great benefits to both people and wildlife, while also helping the environment.
PEC is excited that the native landscape design we produced for 116 Haiti Street will serve as a model for other Habitat for Humanity projects throughout the region. We designed the landscaping using Earthcraft House standards, aimed at a positive impact on both the resident's quality of life and on the environment.
Trees
Flowering Dogwood
Redbud
Serviceberry
American Holly
Shrubs
RedTwig Dogwood
Blackhaw Viburnum
Clethra Summersweet
Inkberry Holly
Highbush Blueberry
Witch Hazel
Spicebush
Chokecherry
Flame Azalea
Winterberry 'Southern Gentleman'
Winterberry 'Winter Red'
Great Laurel (Rhododendron)
Fothergilla
Virginia Sweetspire
Arrowwood Viburnum
Sumac 'GroLow'
Steeplebush
Ninebark
Grasses Sedges and Perennials
Narrowleaf Mountain Mint
Threadleaf Coreopsis
Moss Phlox
New England Aster
Cardinal Flower
Joe Pye Weed
Sallow Sedge
Frank's Sedge
Little Bluestem
Rose Mallow (Hibiscus)
---
This article was written by Lou Emerson and originally appeared in FauquierNow on September 25, 2020. It was re-published in The Piedmont Environmental Council's December 2020 member newsletter, The Piedmont View, along with a native plant list provided by PEC's Dan Holmes.
If you'd like to become a PEC member or renew your membership, please visit pecva.org/join.