This article was written by Teddy Pitsiokos, who joined the PEC staff in late 2022 as our new community farm coordinator. Over the past 12 years, he has worked on several farms in North Carolina and Virginia, and most recently managed the Allegheny Mountain Institute's educational farm campus in Highland County, Va.
---
At first glance, the Community Farm at Roundabout Meadows looks like many other small vegetable farms this time of year: early greens protected by row cover, onions and garlic starting to bulb, peas climbing trellis netting, and dandelions beginning to fade. The sound of traffic and the sight of airplanes overhead remind me that I'm not in Highland County anymore. But what called me from the mountains to this place is something not entirely visible at first glance.
Planted, literally and not accidentally, at the edge of rural and suburban Loudoun County, this farm plays many important roles. It's one facet of the larger Gilberts Corner property PEC acquired many years ago with the help of many community members, to demonstrate the value of conservation and open space — for creating public access to trails and historic sites, producing local food to meet the needs of food insecure communities, and showcasing agricultural best management practices for water quality and soil health. And, while even people who've never grown their own food know that farming starts in the soil, what makes this farm particularly meaningful to me is its particular blend of grounded, traditional work with forward-thinking goals in conservation, sustainable development, and community engagement.
Rooted in Community
Having worked on nonprofit, educational farms for the past four years, I can see that the heartbeat of this farm is the volunteer community. Farming practices, crop lists, and staff members have changed since this place first took root five years ago, but the community focus of the Community Farm at Roundabout Meadows has not.
Our work at the farm may be driven by our three staff members, but it's powered by volunteers who come to learn and to give back. Field trips abound, and the curiosity of school children regularly brightens the field even more than our barn red dahlias. Graduating seniors from Loudoun County schools have found the farm an exciting way to volunteer for their capstone projects. Sports teams, scouts, churches, and families come from Loudoun and surrounding counties to lend hands to a harvest that feeds the hungry. And this year, thanks to a grant from the Chichester Dupont Foundation, three interns will join us to learn about sustainable agriculture and community engagement while contributing to food production.
With a Mission to Feed
Before starting to work for nonprofit farms, I cut my teeth on market-style vegetable farms throughout the southeast, even running my own small farm business for five years. Along the way, I worked with incredibly productive farmers, whose systems, tools, and downright grit taught me how to be an efficient grower of many delicious foods. The feats of farmers across the world serve as a constant inspiration to me and a reminder of what's possible through dedicated hard work.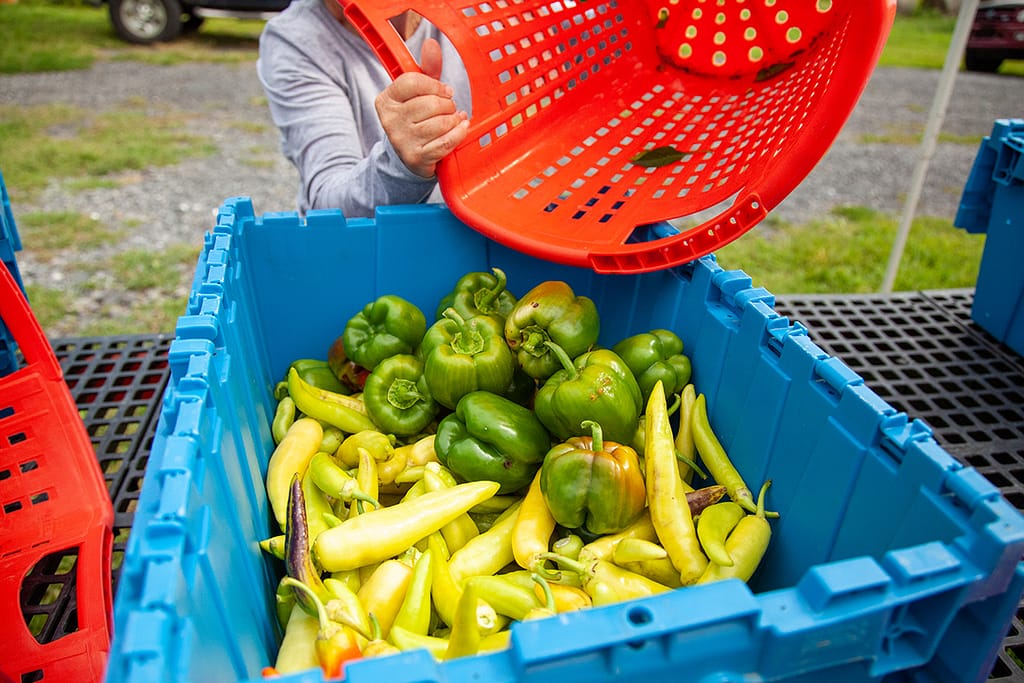 Since 2019, the Community Farm has donated roughly 100,000 pounds of fruits, vegetables, and herbs to Loudoun Hunger Relief, which then shares it more broadly with their many food distribution partners. Our goal for 2023 is 50,000 pounds of diverse vegetables, with a focus on popular crops like potatoes, onions, and tomatoes.
For PEC, the Community Farm is an important door to our community. On these grounds once slated to become a strip mall, we are fighting food insecurity in Loudoun County while also giving urban- and suburban-based residents the chance to experience the sensation of soil between their fingers and learn the joys of sustaining life through farming.
And Farming for the Future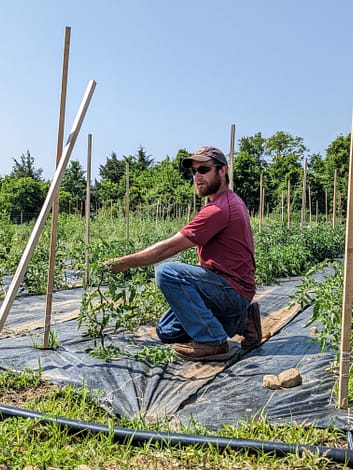 Another crucial part of our mission, and one that goes hand-in-hand with successful farming, is building soil health, and sharing what we learn with Piedmont farmers.
In the context of a working vegetable farm, building soil is accomplished through environmental practices and organic amendments. We rotate crop families around the farm to reduce pest and disease pressure and the need for organic pesticides and fungicides. By planting cover crops, we fix nitrogen and add organic matter to the soil. And to speed the process of cycling nutrients and making the soil more fertile, we rotate our grazing hens throughout the farm.
This year we also invested in a new tractor implement to reduce compaction and improve overall soil structure in our growing areas. Extensive soil testing allows us to take a targeted approach to fertility amendments, reducing the chance of nitrogen runoff while maintaining the optimal growing conditions for our vegetables.
I often joke that good farmers are always thinking at least six months into the future. Farming is so entwined in our human condition, so chock full of history, that one could easily spend seven lifetimes doing it and still not learn everything. Like everyone at PEC, I am energized by opportunities to learn how to better serve my community. The main thing I'm looking forward to this season is to teach what I know and learn what I can about how we can work together to make sure the Virginia Piedmont continues to be a shining example of a beautiful, healthy place to live.
---
This article appeared in the 2023 summer edition of The Piedmont Environmental Council's member newsletter, The Piedmont View. If you'd like to become a PEC member or renew your membership, please visit pecva.org/join.