In June 2011, the Albemarle County Board of Supervisors shocked constituents by holding an unpublicized, late-night vote to resurrect the Route 29 Western Bypass, northwest of Charlottesville. Since then, VDOT—under pressure from political interests in Lynchburg and the McDonnell administration—has put the Bypass on the construction fast-track. While communities north of Charlottesville may think this bypass is only a local issue, there are compelling reasons for Virginians everywhere to pay attention—and it's not just the quarter-billion dollar price tag. Big picture: this bypass is part of VDOT's vision to transform Rt. 29 into a Central Virginia Interstate; acting as an alternative to I-81 and I-95. This is not only a bad idea, it's not feasible without a massive right-of-way acquisition and billions of dollars in funding.
A look at the numbers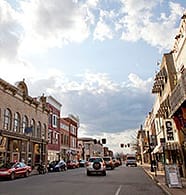 It's a 75-mile drive on Rt. 29 from the proposed northern terminus of the Western Bypass in Albemarle to I-66 in Gainesville. There are currently 37 traffic lights in those 75 miles, with another three approved by VDOT and on the way. That's roughly one stoplight for every two miles of road. Even in the stretches of Rt. 29 that counties have designated as "limited access" (a total of 21 miles), there are numerous stoplights, intersections, driveways and business entrances. The other 54 miles have too many existing and future by-right access points to even count.
Each community along Rt. 29 in PEC's region has taken a different approach to the opportunities and challenges presented by Rt. 29. Fauquier, for example, has several mixed-use service districts along Rt. 29 and has planned frontage roads to reduce the conflict with through traffic. Culpeper has reserved land around Rt. 29 for grade separated interchanges—allowing it to serve as a bypass around the Town of Culpeper. Charlottesville and Albemarle currently treat Rt. 29 as a main street, but had developed a plan to accommodate the small percentage of traffic that is not local.
Regionally, Rt. 29 serves as a primary connector; linking Piedmont communities of various sizes—from rural towns like Madison to cities like Charlottesville or Lynchburg. Within these cities and developed areas, most of the traffic on Rt. 29 is local—with only a small percentage (roughly 10% in Charlottesville) being through-traffic. Overall, truck traffic averages roughly 6% of the total volume, and a majority of these trucks are traveling to local destinations within the Piedmont.
All of these numbers prove that there is little justification—and not nearly enough money—to turn Rt. 29 into an interstate.
Rt. 29 is a highway, not an interstate
The range of community responses to Rt. 29 has been characterized by some state officials as "balkanized". The suggestion is that the lack of a uniform design along the corridor will ultimately prevent it from functioning as a through-route from Lynchburg to Northern Virginia and Washington, D.C.
However, the opposite may be true. The variety of responses, some of which are recognized as truly innovative, may be more effective at easing congestion and more fiscally responsible. A great example is Albemarle's Places29 plan. Places29 represented a detailed, comprehensive, vetted, and thoughtful solution to both local and regional congestion—a solution that the community and VDOT's planners endorsed. Places29 proved the Western Bypass to be an expensive, ineffective investment that shouldn't be prioritized. Unfortunately, this plan has been all but eviscerated by the decision to build the Bypass.
The reality is that VDOT has a vision for Route 29 becoming an interstate highway. Localities must realize that if they do not plan for their portion of Rt. 29, VDOT will do it for them. In lieu of progressive, locally driven, and forward thinking solutions, VDOT will mandate the narrow-minded default: a bypass. In Albemarle, VDOT manipulated the political process—leaving local residents without Places29 and in its place a quarter-billion-dollar project that will not alleviate congestion.
Construction of the Western Bypass brings all localities along Route 29 closer to having VDOT mandate its vision for the corridor—a vision that doesn't make much sense—and much further away from implementing a locally-driven vision. The Western Bypass is far from just a local issue for Charlottesville. We should all be upset.
>> For a better look at the alternatives to the Western Bypass, check out our slide show series, "Sketches with Jeff," at https://www.pecva.org/region/albemarle-charlottesville-region/jeff-sketches-part-1-2/
---
This article was featured in our Fall 2012 Member Newsletter, The Piedmont View