PEC's Fellowship Program, which just finished its sixth year, gives college and graduate students a comprehensive look at the work PEC does in this region—with the hope that the participants will take what they learn in the program into their future careers and communities.
Not too long after finding out that we had been accepted into PEC's Fellowship Program, twelve of us made our way from all over the country to the small town of Warrenton, VA.
Some of the Fellows were from Virginia and had an understanding of issues facing the Commonwealth— from Charlottesville's proposed Western Bypass to SNAP benefits at farmers markets. Many, however, were like me: not from Virginia and not quite sure what to expect. I graduated in May from the University of Colorado at Boulder and was interested in learning more about land conservation and water quality. I was happy to find that the Fellowship's combination of lectures, site-visits, and meetings with PEC staff resulted in an experience that surpassed many of my college courses.
We learned about a wide range of topics, including land use, land conservation, habitat management, energy, water quality, local agriculture, state politics, communications, and nonprofit development. These topics took us all around the Piedmont, as well as to Richmond and Washington, D.C.
While I found it all interesting, I would have to say that my favorite topic was land conservation practices. We visited farmers and landowners who were restoring the health of waterways that ran through their properties by fencing their livestock out of streams and installing "riparian buffers" along the banks. It was inspiring to see people working to protect the watershed—not only for the health of their farm and their local communities—but also for the people and communities downstream.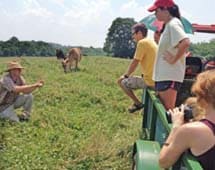 I also enjoyed meeting and talking to landowners who have made a lasting impact on their communities and the landscape by choosing to put their land under conservation easement. I was really impressed by Virginia's promotion of conservation easements and by the number of acres that will be protected for future generations. It made me want to learn more about what kind of land conservation work is being done in my home state of Colorado.
We covered so much in seven weeks, and I believe that we are definitely better informed for our future careers. This year's fellows were passionate and committed to environmental work and to their communities, and we are all excited to take what we've learned from this experience out into the world.
Before the fellowship, I thought PEC only worked on land conservation, but I was wrong. PEC's work goes so much further than simply conserving acres. They work with the citizens of the Piedmont to ensure that their communities are well-planned, healthy, and vibrant—helping to build communities that the people of this region are proud to call home. As I head back west, I will remember what I have learned in this beautiful part of the country and will work to protect the places that I love.
Written by Mindy Bridges, 2012 PEC Fellow
---
This article was featured in our Fall 2012 Member Newsletter, The Piedmont View