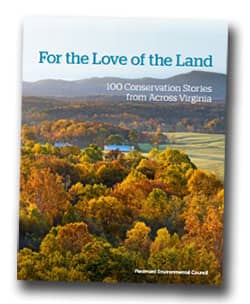 For the Love of the Land features 100 conservation success stories from across Virginia, representing every legislative district—a sampling from among thousands of places in the Commonwealth that are now protected forever. At a time when many of the special places in Virginia could easily be lost, these stories remind us why land conservation is so important.
Land conservation protects the essential resources we need for life—farmland to grow food, and forests and wetlands to provide clean water. It keeps alive the rich sense of history that sets Virginia apart from any other place. It supports Virginia's three largest industries—agriculture, forestry, and tourism. It maintains wetlands that can absorb the impacts of floods and storm surges. It preserves vast wilderness areas and brings vital corridors of nature into our cities and suburbs. It sustains the views that fill our lives with beauty.
---
Acknowledgements:
For the Love of the Land was produced by The Piedmont Environmental Council, with leadership from the following staff:
Christopher Miller, President
Heather Richards, Vice President for Conservation and Rural Programs
Bri West, Director of Outreach and Communications
Kristie Kendall, Land Conservation and Stewardship Coordinator
Watsun Randolph, Senior GIS Analyst
Tiffany Parker, IT Manager/Web Developer
Writing and editing by Rose Jenkins
Graphic design by Keith Damiani, Sequoia Design
In addition to the many landowners highlighted in these stories, the following partners made this project possible by providing stories, photos, and information from their conservation projects:
Blue Ridge Land Conservancy
Buckland Preservation Society
Capital Region Land Conservancy
Cave Conservancy of the Virginias
City of Hampton City of Manassas
Civil War Trust
Clarke County Easement Authority
Claytor Nature Study Center
Dan River Basin Association
Elizabeth River Project
Fairfax County Park Authority
Fauquier County Purchase of Development Rights Program
National Committee for the New River
The Nature Conservancy
New River Land Trust
Northern Virginia Conservation Trust
Northern Virginia Regional Park Authority
Potomac Conservancy
Prince William Conservation Alliance
The Trust for Public Land
Valley Conservation Council
Virginia Department of Conservation and Recreation
Virginia Department of Game and Inland Fisheries
Virginia Department of Historic Resources
Virginia Outdoors Foundation
Virginia Department of Forestry
Virginia's Eastern Shore Land Trust
Williamsburg Land Conservancy
This publication was created and published with the generous support of:
Mr. and Mrs. William C. Backer
Mr. and Mrs. James L. Ballheim
Mr. and Mrs. John H. Birdsall, III
Magalen O. Bryant
Mr. and Mrs. Childs F. Burden
Mr. and Mrs. Leslie Cheek, III
Conservation Partners, LLC.
Mr. and Mrs. Robert L. French
Glubiak Law Office (Peter Glubiak)
Mr. Frank Hartz
Mr. Brian C. Jones
Mr. and Mrs. Donald King
Martin, Hopkins & Lemon, PC
Mr. and Mrs. Matthew Mackay-Smith
Mr. Robert Musser and Mrs. Barbara L. Francis
The Nature Conservancy
Mr. and Mrs. George L. Ohrstrom, II
Lee Stephens Law, P.C.
The Trust for Public Land
Virginia Conservation Credit Exchange, Inc.
Mr. Wesley Woods
---
The maps featured in this publication were created by PEC for presentation purposes only. Data source: Virginia Department of Conservation and Recreation Conservation Lands Database. Although efforts have been made to verify data, accuracy is not guaranteed.