The following text was sent out via email on January 20, 2023. Sign up for PEC email alerts →
---
Dear Supporter,
I want to update you about two different land use issues that the Town of Warrenton took up at their meeting last Tuesday. First off, the Town Council decided to postpone its vote on the proposed Amazon data center until its next meeting on Feb. 14 – which means community members must keep the pressure on. Secondly, the Council withdrew (for the time being) its own request for a boundary line adjustment that would expand Warrenton's land area. I've included more details on each issue below.
---
Amazon data center vote postponed to Feb. 14
During the Town Council meeting last week, around 50 residents spoke, with all but two asking the Council to deny Amazon's proposed data center on Blackwell Road.
After some back and forth on the Town's proposed conditions to address noise concerns, Amazon representatives asked that the vote be postponed. The Town Council agreed to that request and has scheduled a continuation of the public hearing at its regular meeting on Tuesday, Feb. 14. Public comment has been left open, so anyone unable to speak on Jan. 10, including those who left early, still have a chance to weigh in. The webpage for new speakers to sign up will go live when the agenda is posted the second week of February.
Recognizing that the public hearing is inconveniently scheduled for Valentine's Day, we really appreciate your presence, for however long you can stay. You can and should also write letters in opposition.
The Town Council may still approve the data center despite numerous issues with the proposal, including the potential for multiple data centers in Town, and ongoing community opposition.
Town Council Public Hearing
Tuesday, Feb. 14, 2023 @ 6:30 p.m.
Fauquier High School (location tentative)
705 Waterloo Road, Warrenton, VA 20186
Unresolved noise issues – At the Town Council's morning work session, hours before the public hearing, Amazon brought forward a new noise study and new noise mitigation measures.
Residents and retired NASA scientist John Lyver found that the new noise study continued to apply incorrect measurement locations, topographic conditions, measurement requirements and correction factors to the analysis and did not properly incorporate the guidance of a Dec. 16 Zoning Determination letter provided by the Town.
Whether the conditions for noise mitigation will be changed ahead of Feb. 14, and how they would be enforced, remains unclear. Residents have pointed to ongoing controversy regarding noise from an Amazon data center near Great Oak, a neighborhood in nearby Prince William County.
---
Warrenton's proposed boundary line adjustment withdrawn
This decision follows a Town County Liaison Committee meeting held late last year, when a number of questions about the zoning authority, revenues and service obligations of both the Town and County were discussed. The Town cited the need to focus on other priorities as the reason for the withdrawal.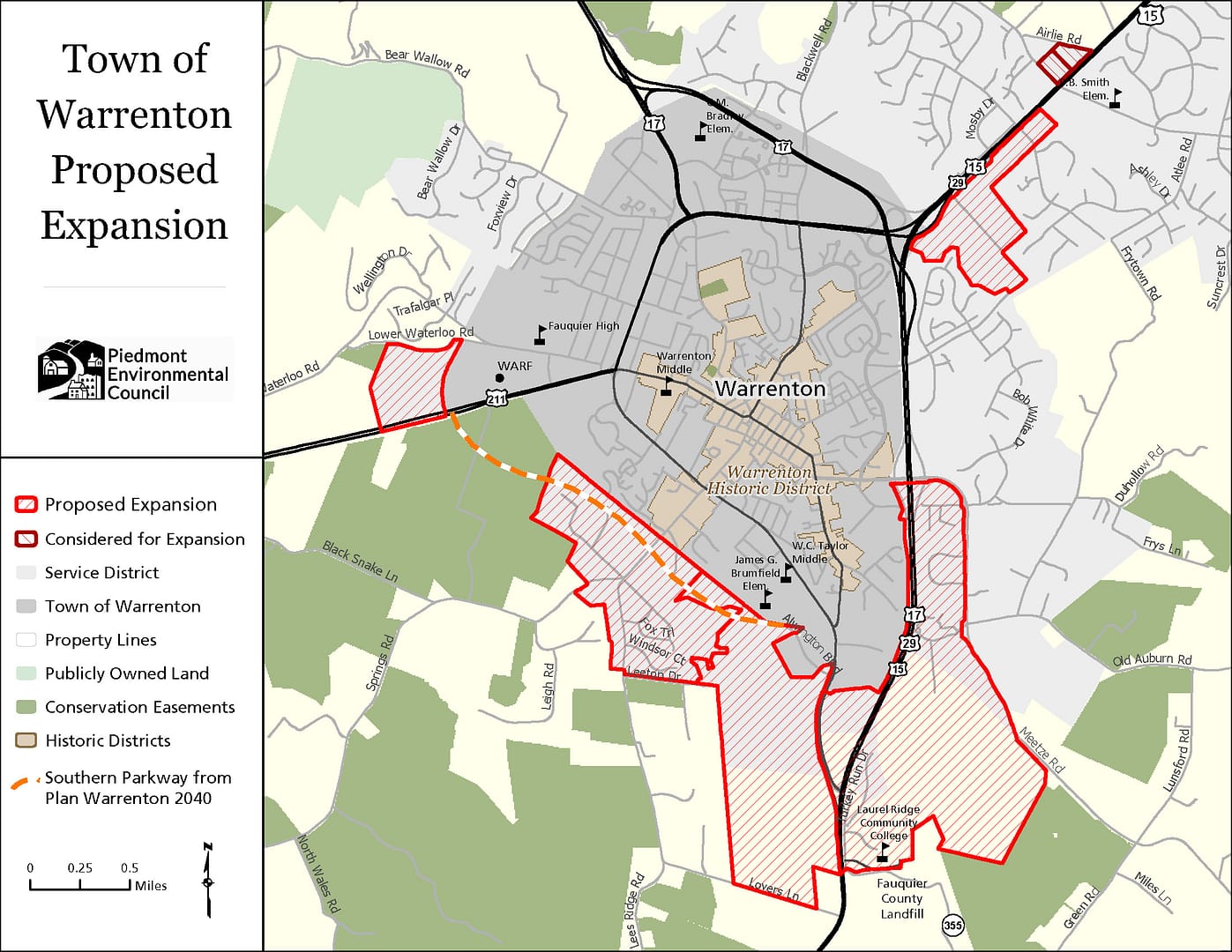 Although we are pleased to see the request withdrawn, Ward 3 Councilmember Brett Hamby, who initiated the motion, indicated at the hearing that this action would not preclude individual applicants from applying to be incorporated into Town. Any future requests from landowners to become part of the Town would raise many of the same questions discussed at the Town County Liaison Committee and should be adequately explained and justified. We will continue to monitor this issue and any future requests for expanding the Town's boundaries.
---
Thank you again for taking the time to come out and make your voice heard. It's inspiring to see so many residents committed to the cause, even staying at meetings until 1 a.m.! Please don't hesitate to reach out with any questions leading up to the public hearing on Feb. 14.
Sincerely,
Kevin Kask, AICP
Fauquier County Field Representative
kkask@pecva.org
540-347-2334 ext. 7046