The following text was sent out via email on June 23, 2023. Sign up for PEC email alerts →
---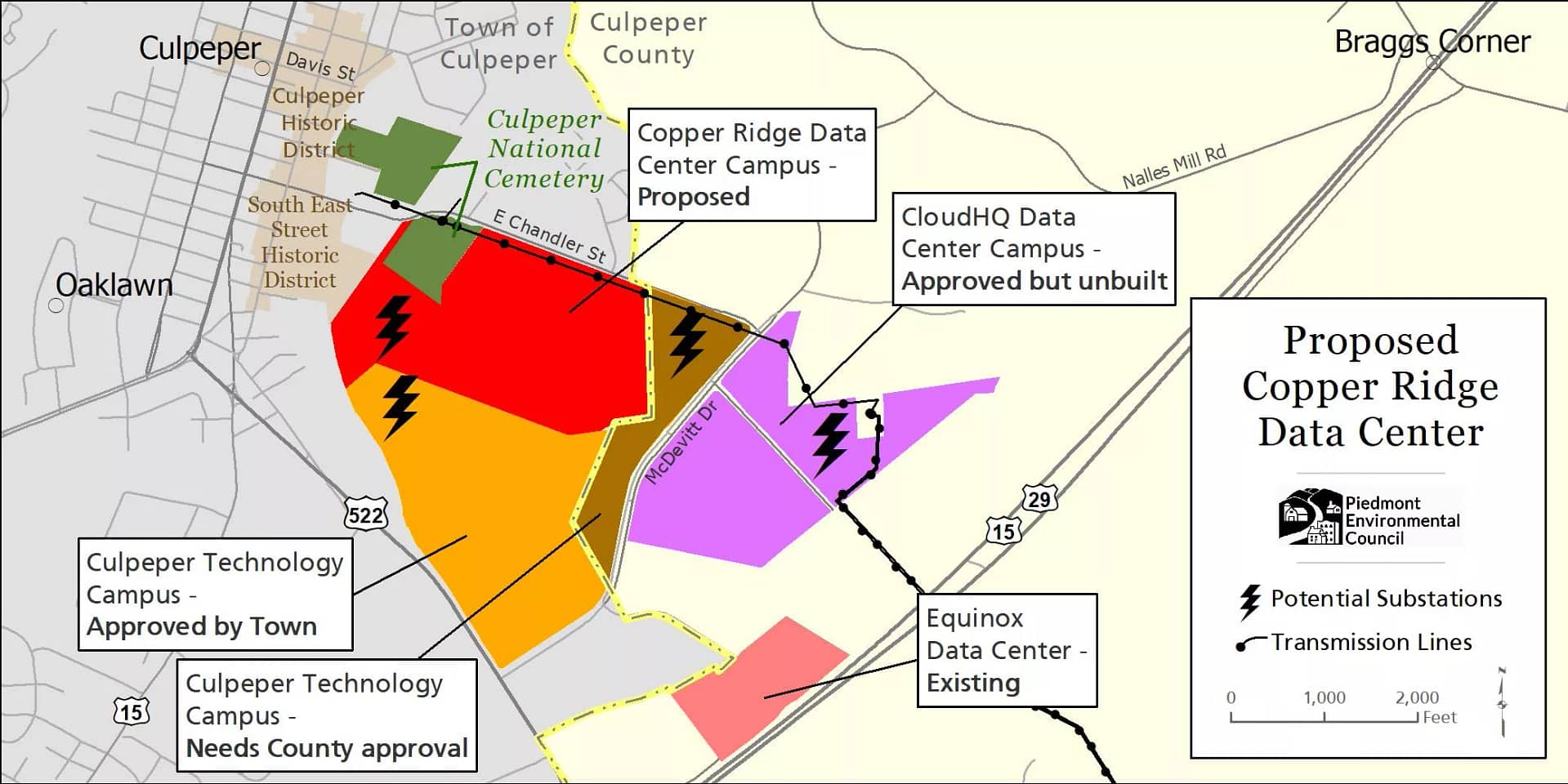 Dear Supporter,
As you may have noticed from local news headlines, Culpeper is currently experiencing unprecedented pressure to develop data centers. Most recently, the Town has been considering a rezoning application for Copper Ridge, a 116-acre data center campus with eight two-story (up to 70 ft tall) data center buildings, totaling 2.36 million sq ft, and an on-site substation.
Many issues surround data center development, including impacts to nearby homes, watersheds, electrical infrastructure, and much more. We are deeply concerned about the effects this project would have on the adjacent Culpeper National Cemetery, the final resting place of over 7,500 veterans, and on nearby homes on East Chandler Street and in the Mountain Brook Estates community.
The Culpeper Town Planning Commission is holding a work session on the Copper Ridge application on June 29 at 9 a.m. at the Culpeper Economic Development Center (803 S Main St, Culpeper, VA 22701). If you share our concerns, we encourage you to make your voice heard now, while the application process is still in the early stages.
We have made it easy to submit comments on the Copper Ridge Data Center to the Town Planning Commission (with the Town Council cc'd) through this form letter. You can also directly contact Andrew Hopewell, Director of Planning & Community Development, at ahopewell@culpeperva.gov or Sandy Puryear, Planning & Zoning Assistant, at SPuryear@culpeperva.gov.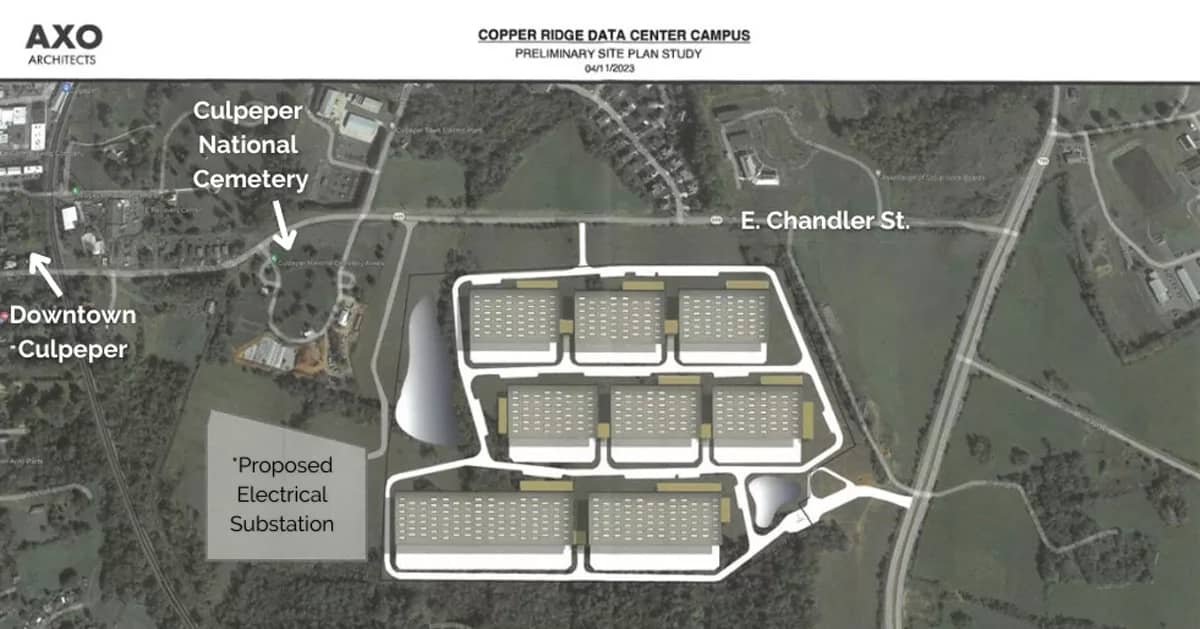 Noise concerns
In addition to the National Cemetery, Copper Ridge would be located within 1,000 feet of the Mountain Brook Estates neighborhood and several homes on East Chandler Street. Depending on the type of cooling equipment used, homes near data centers can be subject to a constant buzz or humming noise from rooftop cooling equipment and substations. If noise impacts are not proactively evaluated and prevented, this nuisance could greatly reduce the livability of homes, as has been seen in Prince William County, decrease property values, and create undesirable conditions for other uses like parks or cemeteries.
Although the Town regulates noise in industrial areas, which Copper Ridge would be if rezoned, it does not require a preliminary noise study as part of the rezoning process. Without a proactive evaluation of the noise Copper Ridge would emit, the Town could end up unknowingly approving a rezoning that is unable to meet its own industrial noise standards. This could further result in years of enforcement actions, attempts at retroactive fixes and costly litigation.
Visibility from cemetery and neighborhoods
The Copper Ridge site occupies a hill overlooking the National Cemetery. It's hard to see how 70-foot-tall buildings wouldn't be highly visible, even with a solid perimeter of vegetated buffers (trees may take years to mature). In addition to the potential noise, expanded overhead lines, and substation, the visibility of the data centers would create an industrial feel in the area, which is currently being used as pasture for cattle.
We expect this property will be developed in the future, but given the adjacency of the National Cemetery and existing houses, residential development may be more appropriate than a massive data center campus.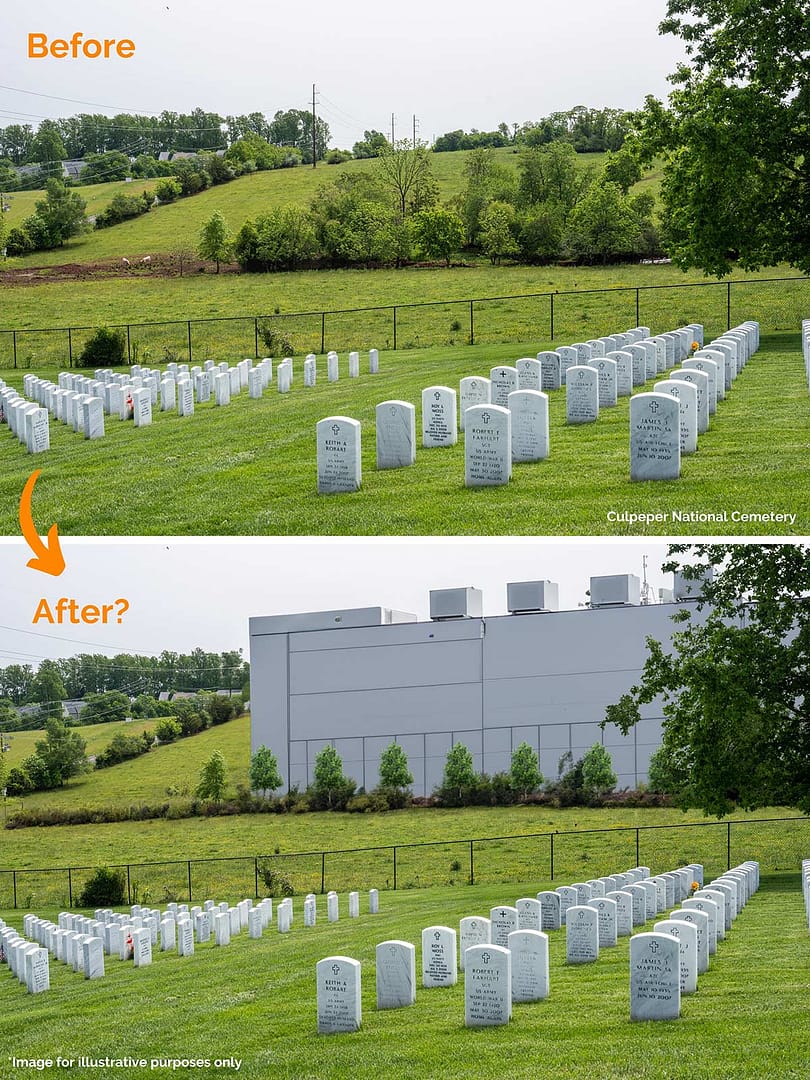 Power usage
As recent forecasts show, Virginia is seeing alarming increases in power demand from data center development. Often, the approval of massive data center campuses is followed by transmission line upgrades or new builds, which further support even more data center development. These upgrades and/or new lines are built at the expense of ratepayers in the form of higher energy bills, rather than by data center developers.
This brings us to one of the big picture issues with Copper Ridge — cumulative impact.
Cumulative impact of data centers
There are already multiple other data centers and data center campuses currently approved or already located in and around the Town, which contributes greatly to demands on Culpeper's grid.
For context, the 2023 Culpeper County Comprehensive Plan estimates the current electrical footprint for Culpeper in its entirety to be approximately 240 megawatts (MW). But JUST ONE recently approved data center campus (Culpeper Technology Campus) in Town is expected to require 600 MW of power at full capacity. That's more than double the power currently used by the 20,000 houses, plus farms and other businesses within the County.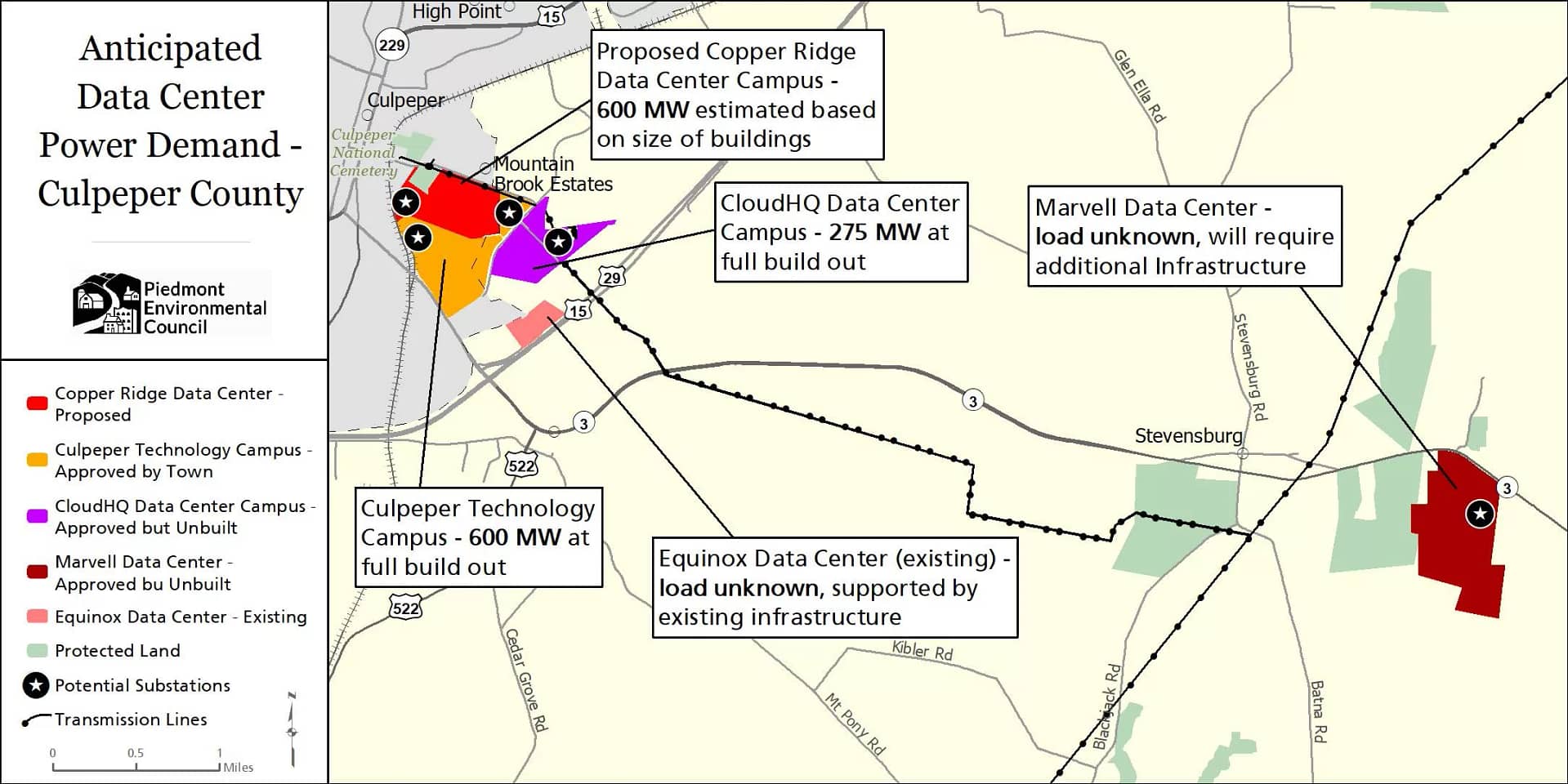 Copper Ridge has not published an estimated power demand, but based on the proposed size of the buildings, we expect it will likely need a similar amount of electricity. If all of these data centers and data center campuses are built, the energy demand of Culpeper County would increase sixfold, at the very least.
We are concerned that such an explosive increase in energy demand in this area will result in new transmission lines cutting through private land and potentially impacting sensitive environmental, recreational and historic resources throughout the County.
Take action
PEC is urging the Culpeper Town Planning Commission and Town Council to not move forward with Copper Ridge until all audio and visual impacts on the National Cemetery and existing homes have been properly accounted for.
We also hope the Town will hold a public meeting with Dominion and the County to look at load and transmission demand before approving any more data centers. We believe that if Culpeper is going to support this industry, then the Town must be fully aware of the cost to local citizens both within the town and the county.
---
Thank you for your continued engagement!
Sincerely,
Sarah Parmelee
Culpeper Land Use Representative
sparmelee@pecva.org
540-347-2334, ext. 7045