We enter the second season of 2021 while Virginia localities are engaged in review of their budgets. All of them are anticipating what the American Rescue Plan might mean for their revenue as the pandemic continues to throw in surprises to every aspect of our public and private lives.
This past week has been a busy one and I am still getting caught up! There are many meetings this week, but many either do not yet have an agenda available or only have a few items listed. There do not appear to be any major decision points by local bodies, but there is a lot to be learned by knowing what's going on. The details always matter.
As always, thank you to the Piedmont Environmental Council for their on-going support of this venture in providing community information to a wide audience. Please forward this on to someone you think might be interested. As always, I'm here to answer questions in email, so please drop me a line.
Monday, March 22, 2021
There appear to be a lot of smaller meetings today, and none really stands out as one to highlight. So, here they all are in bullet form:
Tuesday, March 23, 2021
The main event today is a public hearing before the Albemarle Planning Commission on proposed fee increases for land use applications. The PC had a work session on the topic on February 2, 2021 which includes raises for existing fees as well as proposed new ones. All current fees would be increased by up to 10.05 percent in order to help cover the cost of staff processing applications. (meeting info)
Twelve new fees are proposed, including $538 for advisory review by the Architectural Review Board to a technology surcharge of four percent for each transaction to help pay for an upgrade to the software that runs the permitting process. That's part of the Business Resource Optimization initiative for which $3 million is being set aside. (see March 17 edition of the newsletter for more info)
"Two important remaining work items included undertaking a comparison of Albemarle's proposed fees with fees charged in other jurisdictions; and conducting a set of case studies that would reveal how the fee proposals might impact the cost of developing different types of projects," reads a staff report from Steven Allshouse, the county's manager of forecasting and performance.
On the latter point, staff produced six case studies and found the fee increases would raise the cost of the overall value of projects by one percent.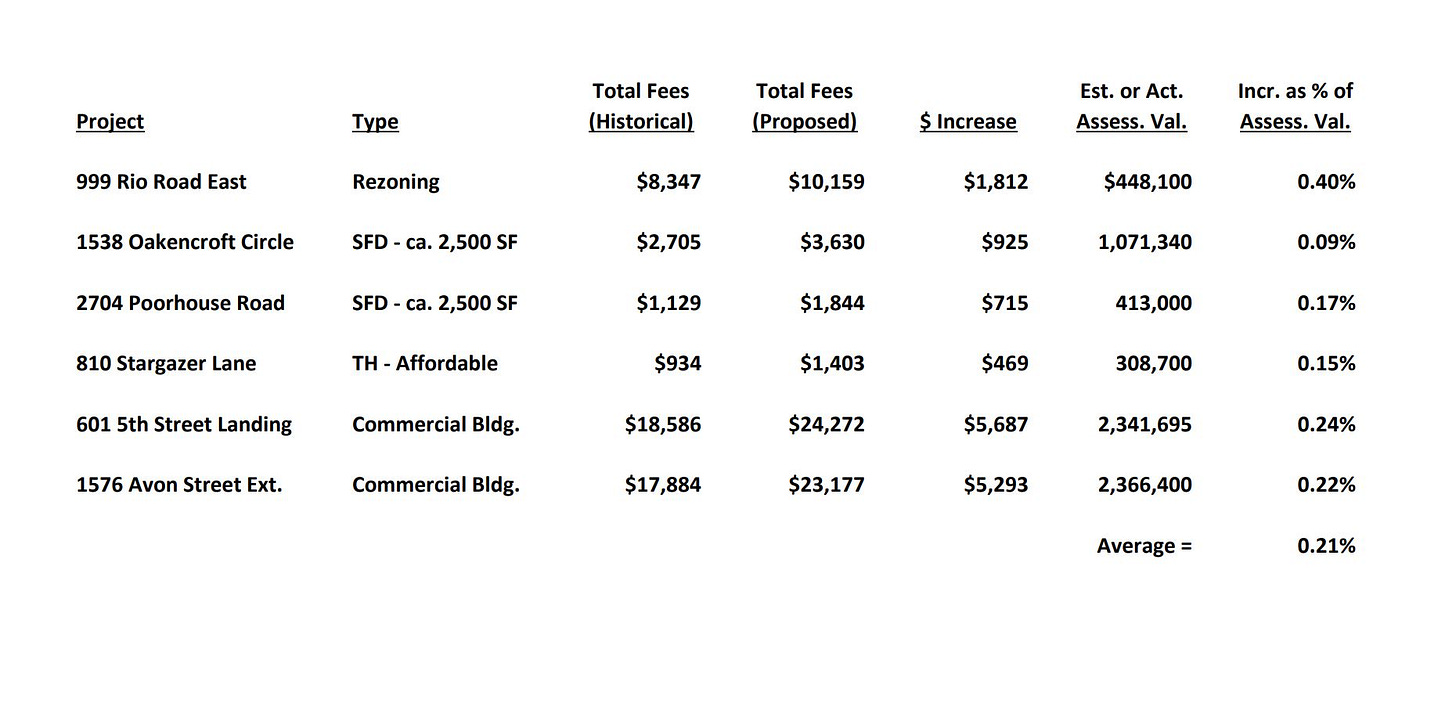 Following the fee discussion, there is a public hearing to amend an existing special use permit for Claudius Crozet Park to allow for expansion the community center to add a fitness center and an expansion of the pool.
The proposed new community center would be two stories and approximately 34,200 square feet, including spaces for an exercise facility and a meeting room," reads the staff report. "The pool expansion would include an 8-lane pool located in an indoor space of approximately 12,600 square feet."
The project also requires a special exception to a requirement that pools and pool buildings must be 75 feet away from the property line. The proposed structure would be 30 feet away from a boundary. As part of the work, a second entrance to the facility will be built onto Hilltop Street.
Staff recommends approval but does have the concern about additional traffic.
"The use will generate additional vehicular trips on the surrounding local street network," reads the unfavorable factor. "However, the applicant is proposing additional pedestrian paths throughout the park to provide better connections with the surrounding neighborhood and promote other modes of transportation."
The neighboring Parkside Village Homeowners Association wrote a letter raising concerns about the proposal. They don't want construction traffic to use the entrance onto Hilltop Street. They want the entrance to remain used only for emergency access.
"The emergency access point resides on the aforementioned parcel that was donated to the Park," reads their letter. "It's conversion to a permanent park entrance that would send additional vehicular traffic into our neighborhood at the expense of our and our children's safety was neither an anticipated nor intended use for our gift."
Following that, Planning Director Charles Rapp will present the 2020 annual report of the Planning Commission.
"The County continues to experience significant population growth, resulting in an increased demand for additional housing with a limited number of undeveloped properties remaining inside the development areas," reads the report.
In other meetings on Tuesday
Wednesday, March 24, 2021
The Thomas Jefferson Planning District Commission conducts a lot of activities in the name of regional cooperation. Participating localities are the city of Charlottesville as well as the counties of Albemarle, Fluvanna, Greene, Louisa, and Nelson. The population of those areas combined rose from 234,712 in the 2010 Census to 259,432 as estimated by the Weldon Cooper Center for Public Service at the University of Virginia. All six localities govern their own affairs, but the TJPDC offers a venue to share information and resources on housing, transportation, legislative affairs, and many more issues.
They'll run two regional meetings today.
First, the Central Virginia Regional Housing Partnership (RHP) board meets virtually at 2 p.m. There will be an update on the Porchlight search portal for affordable housing, an update on the regional housing plan that has been under development, and for the RHP's strategic plan. On the latter, the board members will be asked: "What do you feel is the value proposition of the RHP?"
For a glimpse into what the RHP has been talking about, read the minutes from the December 9, 2020 meeting. At that time, none of us had any idea that former TJPDC director Chip Boyles would be hired as the Charlottesville City Manager. Since then, the Charlottesville City Council has endorsed an affordable housing plan, Albemarle Supervisors have held a public hearing on their plan, and ground has been broken on 62 new units at the Charlottesville Redevelopment and Housing Authority's South First Street Phase One project. To get a broad overview of what's happening to increase the number of homes affordable to people who are currently overburdened by housing costs, begin following the RHP. (meeting agenda)
The Charlottesville Metropolitan Planning Organization's Policy Board (MPO) will meet virtually beginning at 4 p.m. This is the first meeting to be run by Christine Jacobs, the interim executive director of the TJPDC. (meeting info)
The first item is a request from Albemarle County to change the functional classification of certain roadways to make them eligible to be Entrance Corridors reviewable by the Architectural Review Board. (staff report)
The second item is the Unified Work Program for the next fiscal year. Projects include a study of the Route 29 North corridor in Albemarle and Greene, preparation for the 2050 Long Range Transportation Plan, and a strategic plan for the MPO. (draft UWP)
Before I write out the third, we're waiting to find out if the Commonwealth Transportation Board will approve recommend several Smart Scale projects in the area. The planning for the fifth round of Smart Scale is already underway and the MPO will be presented with ideas about how the process might be made more inclusive in selecting projects. Applications are not due until August 2022, but an advisory committee will be appointed to review potential projects. (staff report)
In other meetings:
Thursday, March 25, 2021
One day the pandemic will be over, and people will return to having to go to a workplace. Maybe. But, that's one assumption that will factor into any discussion of public transportation and how it may better function as an alternative to driving for commuting.
The Jefferson Area Regional Transit Partnership meets at 4 p.m.. One item on the agenda is a discussion of current needs for school buses given ongoing pandemic restrictions. (meeting info)
They'll also get an update on the Regional Transit Vision Plan and the process to select an advisory group to assist with the hiring of a consultant. (staff memo)
In other meetings Thursday:
Friday, March 26, 2021
Two meetings today. One of them is more about the 2021 election than day-to-day government.
The Charlottesville Electoral Board will meet in person at the City Hall Annex at 6 p.m. to determine the order that the Democratic candidates will appear on the June 8, 2021 primary. (meeting info)
Four candidates appeared at the March 10, 2021 forum held by the Fry's Spring Neighborhood Association. Take a listen on my archive site to hear from Carl Brown, Brian Pinkston, Juandiego Wade, and Yas Washington. (link to the forum podcast)
In the other meeting today, Albemarle County's ongoing series on stream health issues continues at noon. (meeting info)
"Homeowners Associations (HOAs) can have an important role to play in creating common spaces that benefit the greater good in local communities," reads the blurb. "Join us to hear from the Piedmont Environmental Council on how sustainable landscaping and management of common spaces can help improve watershed health, water quality, and wildlife habitat."
---
This post was contributed by Sean Tubbs. Sean is a journalist working to build a new information and news outlet centered around Charlottesville and Virginia. In 2020, he launched a daily newscast and newsletter and also created a semi-regular podcast on the pandemic.
Support for Sean's "Week Ahead" update comes from The Piedmont Environmental Council.